What Is Preventive Maintenance Software?
Preventive maintenance software schedules routine maintenance tasks to reduce the risk of production errors, work injuries, and asset damage. This specialized type of maintenance management software helps automate the creation of schedules for maintenance before any problems have occurred. This is opposed to reactive maintenance, which is required once a machine or asset has already broken down or experience delays.
Procedures can be put into preventive maintenance software that helps establish maintenance routines and balance machine workloads to avoid overuse. Advanced capabilities such as predictive maintenance can scan equipment data for performance trends and condition-based monitoring, which will alert staff to expected issues.
Preventive maintenance software can be used by any organization that may require routine maintenance on equipment. This is common in the manufacturing industry, where machine downtime has a huge effect on how profitable an organization you can be. PM software can also be used by maintenance and repair organizations (MRO) that act as outsourced maintenance departments for businesses.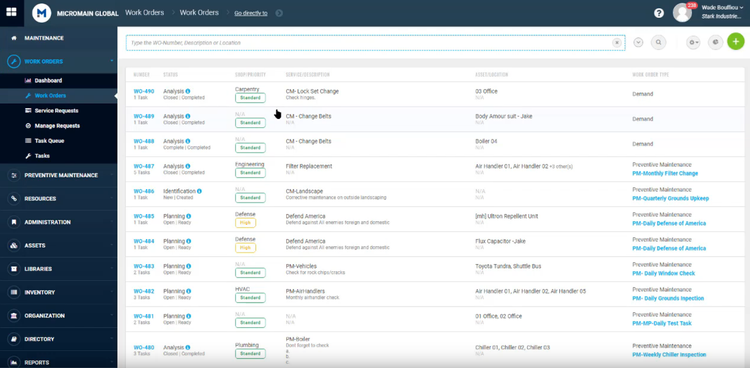 Features of Preventive Maintenance Software
Work Order Management: Create a trackable document identifying what work needs to be done and how it should be accomplished.
Maintenance Scheduling: Schedule maintenance resources to be used by, or at a specific date. Includes assembling needed information, personnel, materials, equipment, and more to ensure the job can be completed.
Reporting: Track key details about your maintenance activities, such as maintenance costs and preventive maintenance schedules. Analyze your repair processes to determine how effective they have been. Forecast when parts may need to be replaced.
Spare Parts Inventory: Maintain stock of vital supplies needed for your repair work. Manage inventory with barcodes, reduce parts from inventory when attached to work orders, and restock inventory with integrated purchase order capabilities.
Asset Location Tracking: Allow assets to be checked in and out and assign them to employees to ensure proper return. Locate assets on your shop floor for quick and prompt care. Manage the location of assets in real-time via passive RFID technology.
Purchasing: Issue orders for services and products by tracking all key order info in real-time including the vendor, purchase quantities, item or service purchased, delivery timeframes, payment terms, and costs.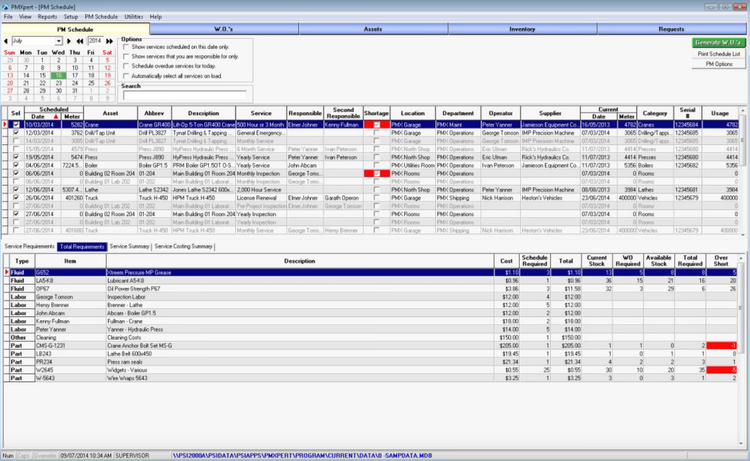 Benefits of Preventive Maintenance Software
The top benefits of preventive maintenance programs will include preventing major repairs from occurring, reducing your overall maintenance costs, prevent delays to your production, and increase worker productivity. Some of the most noticeable benefits offered by a properly implemented system include:
Extend The Lifecycle Of Assets
Maintenance activities may be an expensive nuisance for some businesses, but it doesn't compare to the cost of having to replace an asset. One of the most important reasons to implement preventive maintenance software is to extend the life of your assets. Being able to squeeze as much value as you can out of your equipment will ensure you see a return on investment of the original purchase of said equipment.
Since all maintenance issues will worsen with time, you want to attack problems as they arise. Better yet, you want to catch problems before they even occur. A preventive maintenance approach will help your maintenance staff develop a routine to ensure your assets are serviced on a regular basis, with limited interruption to their use on your shop floor.
The easiest way to decrease the lifespan of an asset is to be neglectful, not maintain proper maintenance, and only fix issues as they arise. A preventative maintenance management approach does require some time and money to be invested but will save money in the long run by not having to replace assets as frequently.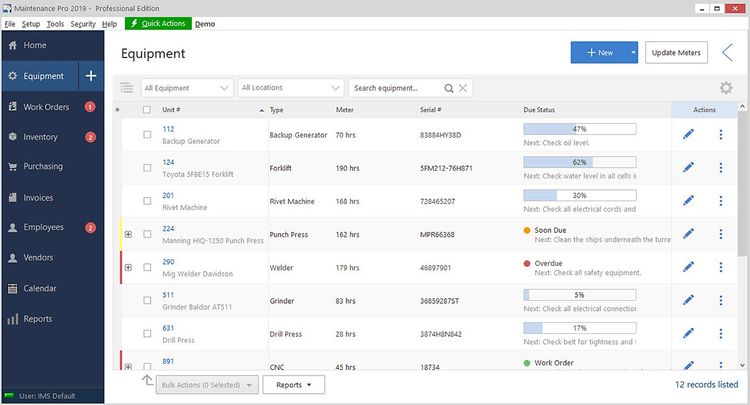 Prevent Delays By Stocking The Correct Spare Parts
In order to properly deal with preventative maintenance management activities within the organization, you need to start by controlling your spare parts inventory. This type of inventory shares similarities with normal inventory management, but differs in a number of ways. For an organization that requires a strong maintenance department, you may be doing yourself a disservice to keep your spare parts inventory included in your raw materials inventory that is used on the shop floor.
A preventive maintenance software with a strong spare parts inventory module will first help you understand your consumption of parts. In a reactive setting, repairs are unexpected, and you may never know if you have the needed parts on hand. A preventative approach will look at historical consumption or predictions based on manufacturer recommendations to help you better determine when parts may become faulty.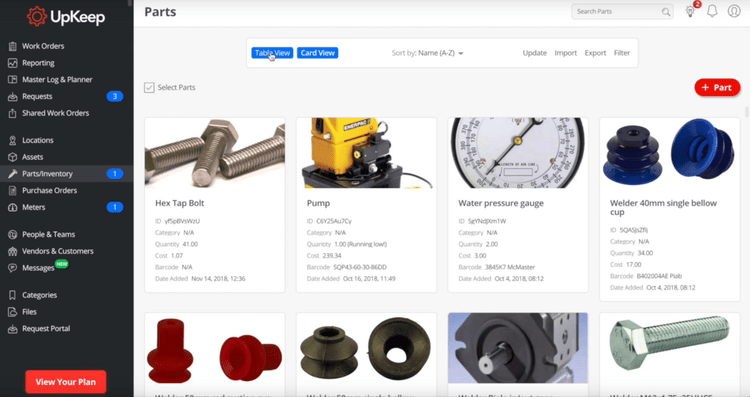 Reduce Spare Parts Inventory Maintenance Costs
If your production floor becomes interrupted for even a few minutes, it can throw off the rhythm of your manufacturing processes. This is especially true if you have a piece of machinery that acts as a single point of failure. For example, if every piece of product being produced has to go through a specific checkpoint, and that checkpoint falters, you're at a much greater time loss than if 1 machine (that you have 20 others of) needs to go down for repairs.
In the above scenario, you'll also want to ensure you have the correct parts on-hand to correct the issue. Frequently requested spare parts should be kept plentiful, and major parts should be kept on hand for the unexpected breakdowns. More importantly, having needed parts on hand for preventative maintenance situations can ensure your routine checkups are all your business has to worry about.
In a pinch, some spare parts wholesalers and distributors may be willing to let your business come to an agreement on consignment inventory. They will store needed parts at their own location, and you can pay for parts consumed. This lets you worry less about having needed repair parts on-hand, without the stress of having to wait for a purchase order to be sent out, accepted, and fulfilled.
Types of Preventive Maintenance Software
Whether you are trying to repair current broken equipment or prevent breakdowns from occurring, there is maintenance software for you. The word "preventive" implies that preventive maintenance software is only used for preventive purposes. This is not always the case. However, all types of preventive maintenance software will help limit or eliminate completely the need for any sort of reactive maintenance and help your team budget dollars to keep your business running smoothly, rather than on costly repairs.
Computerized Maintenance Management Systems (CMMS)
This type of preventive maintenance software provides a large database of information about the entire organization's maintenance operations. Computerized maintenance management systems, better known as CMMS software, helps track the upkeep of the assets and associated costs of the work with the ultimate goal of prolonging an asset's lifespan at minimal expense.
CMMS software is thought to be some of the most advanced preventive maintenance software available, generally for larger companies with more complex maintenance needs. Because of this, you can rest easy knowing that purchasing a CMMS software means you'll have your preventive maintenance needs covered.
Preventive maintenance is one of the core features provided in CMMS. This capability lets you schedule tasks based on meter readings, dates, or by setting up custom triggers. It will also let you view all current and future maintenance on an activity calendar.
Preventive maintenance is only one of the features offered by CMMS. Other modules include asset trackers, parts inventory, purchasing, and work order creation. Common assets tracked with CMMS software include facilities and buildings, equipment, vehicles, and machinery.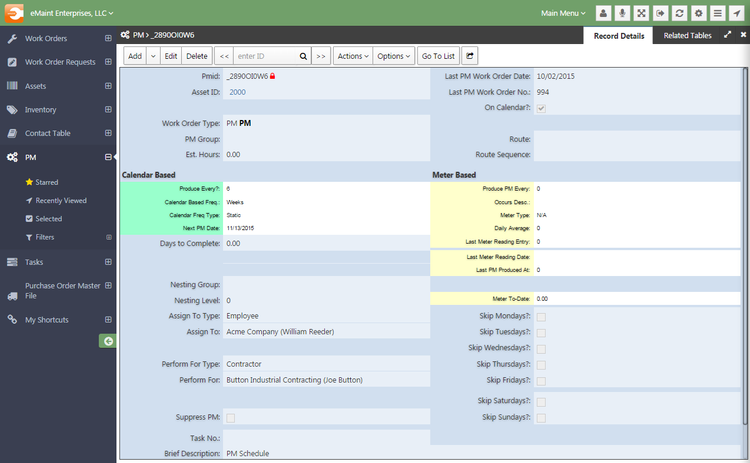 Maintenance Management Software
Preventive maintenance software helps manage the maintenance of your business. By definition, this makes all preventive maintenance software a subset of maintenance management systems. So how do they differ?
If CMMS is for more advanced maintenance needs, then maintenance management software can be thought of as a tool that still meets your needs; just at a smaller scale. However, CMMS and maintenance management software will provide you with the same functionalities.
CMMS tends to market itself as a more complete option and has more enterprise levels available. Meanwhile, a software that markets itself as simply "maintenance management" may be looking to work with a smaller clientele. The needs of both sizes of companies are the same, but maintenance management options may focus more on a strong work order creation tool, spare parts inventory, and recording asset history.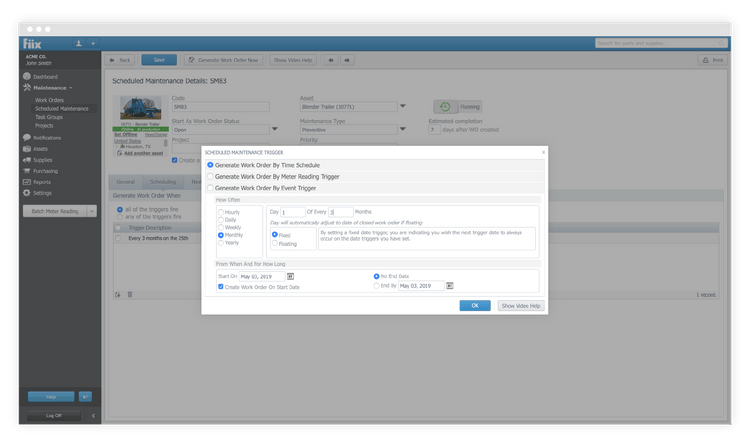 Work Order Software
One of the core features of any preventive maintenance software is the ability to create work orders. Likewise, work order software is a dedicated program for creating trackable documents that identify what work needs to be done and how it should be accomplished. Work orders can be created for both preventive maintenance scenarios (to prevent a problem from occurring) or as corrective maintenance (after a problem has arisen).
If preventive maintenance software includes the ability to create work orders, then why would you ever need to consider a standalone work order software? If a company already has an existing framework in place, such as a dedicated ERP application, companies may not be looking for a more robust maintenance management tool. Stand-alone work order software provides a simple way to create work orders, receive requests from your staff, and handling basic scheduling. However, if you are looking to ensure the operational health of your equipment (such as lowering the overall cost of maintenance), a CMMS software may be a better choice.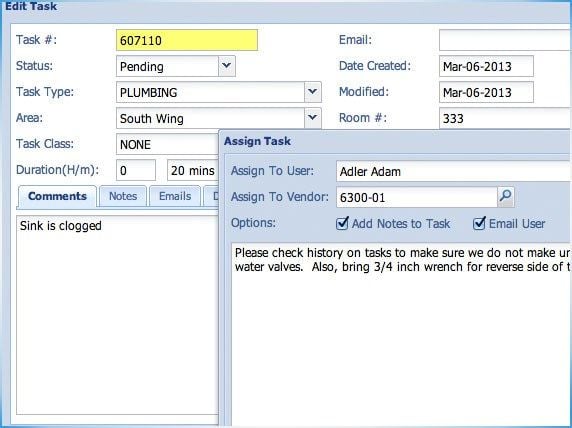 Asset Tracking Software
At its core, an asset tracking software is simply about keeping tabs on the location of your company assets. A simple asset tracking software will monitor your organization's assets, which usually include equipment, tools, and machinery. Information tracked usually includes asset information (such as a type), date of purchase, expected lifetime, warranty information, upkeep history, costs, and depreciation.
Since an asset tracking software does store data on expected lifetime, warranties, and upkeep history, the software is commonly used to help with work orders and maintenance schedules. If your business can keep track of the date an asset was last serviced, then you'll be better prepared as to the next date that preventive maintenance actions should be completed to ensure it remains in top working condition.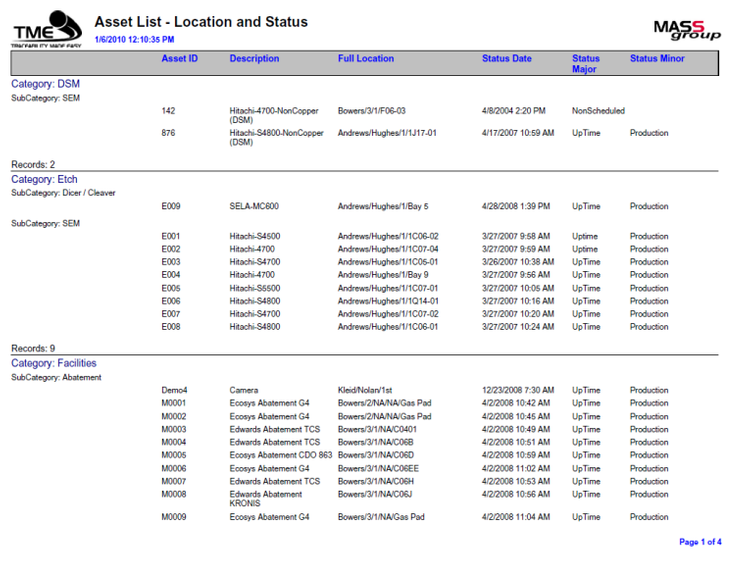 Enterprise Asset Management Software (EAM)
If your business desires a large volume of assets to be tracked across multiple departments and locations, you'll want to look into an enterprise asset management solution. Also known as an EAM software, the main purpose is to not only manage the repairs of your assets, but also track their physical movement around your facilities, and keep strict records of the financial costs involved with current and past repairs.
While other types of preventive maintenance software can handle this, the enterprise part of EAM refers to the scope of assets being tracked. EAM software is used when assets are being tracked across multiple departments and locations, which will have an impact on every part of your business.
EAM software is usually thought to take preventive maintenance a step further, by including more extensive predictive maintenance capabilities. EAM software can collect data on how well your machines are operating towards pre-set conditions. Machinery falling below specific outputs can be brought to your maintenance staff's attention.