We've has conducted in-depth industry research to determine the best fleet management software. Here are our top picks.
1

AUTOsist - Best Overall

AUTOsist software gives fleet operators an easy way to track maintenance, inspections, fuel, and other important vehicle records. The system is web-based and offers a mobile app for both iOS and Android so you can manage your fleet on any type of device entirely in real-time. Easily set services reminders, upload fuel receipt, and assign multiple drivers to vehicles. AUTOsist can be used with any type of fleet helping you increase efficiency, reduce downtime, and reduce costs.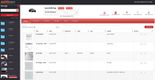 What We Like
Tracks maintenance, inspections, fuel, and more
Includes document management and history log
Web-based and mobile app
Overview
Price Range: $$
Starting Price: $50/user/month
Client OS: macOS, iOS, Android, Web
Deployment: Cloud Hosted
2

Fleetio - Best Cloud-Based Platform

Fleetio is a modern web-based fleet management software that lets fleet managers, drivers, and technicians manage vehicles from first acquisition to final disposal.

The Fleetio cloud streamlines fleet maintenance processes to ensure preventative maintenance reduces the need for urgent repairs. The software also collects data from telematics devices, fuel cards, and external maintenance shops, to help you understand the true cost of ownership of your fleet over time.




What We Like
Low starting cost per month
Collects telematics data
Cloud-based
Overview
Price Range: $$
Starting Price: $3/vehicle/month
Client OS: Web
Deployment: Cloud Hosted
3

Samsara - Best Mobile Apps

The Samsara fleet management solution is built for small businesses to large enterprises. The software is fully cloud-based and includes mobile apps compatible with iOS and Android devices so you can manage your fleet from anywhere, anytime. Real-time GPS tracking is available as well, allowing you to ensure driver safety and regularly monitor vehicle locations.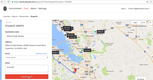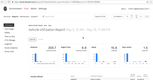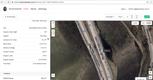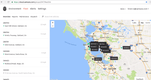 What We Like
Real-time GPS tracking
Compatible apps for iOS and Android
Cloud-based platform
What We Don't Like
Contracts are limited to 1, 3, 5, or 7 years
Difficult to navigate
Expensive hardware requirements
Overview
Client OS: iOS, Android, Web
Deployment: Cloud Hosted
What is Fleet Management Software?
Fleet management software provides management tools related to the acquisition, operation, and maintenance of an organization's vehicles. This is useful for any business which requires multiple vehicles in the field. Fleet operations can range from delivery trucks and vans to corporate cars for management and C-suite executives.
Fleet management systems primarily help manage and maximize the lifetime performance of company cars, vans, trucks, buses, and other vehicles. Most systems are designed to keep track of the following in real-time:
Vehicle metadata (make, model, VIN, etc.)
Vehicle history (miles, fuel consumption, etc.)
Driver safety and performance (i.e. insurance, behavior, etc.)
Predictive and preventive maintenance
Route optimization
Purchasing and leasing information
By providing all this data in one place, fleet management software makes it easy to optimize your entire fleet.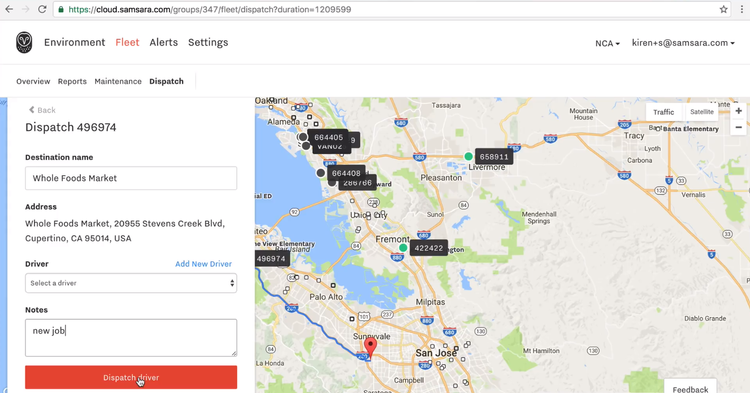 Features of Fleet Management Software
Basic systems allow for simple asset tracking. Other features associated with powerful fleet management solutions also include:
Driver records. Keep records of driver information such as insurance information and driving history. Measure driver performance to ensure work is being done on time, or analyze long-term driver behavior for signs of potential issues.
Work orders. Maintain accurate work orders for all maintenance requests, vehicle history, and driver behavior.
Service management. Create alerts for scheduled maintenance based on driving behavior, warranty information, and fuel usage. Maintain a historical list of maintenance performed.
Parts inventory database. For those companies with internal maintenance management, track spare parts and materials used for maintenance.
Route mapping. Customizable mapping systems can include geographic information system (GIS) mapping and turn by turn instructions. A GPS fleet provides a map of all your assets in their current locations.
Vehicle location history. track vehicles with animated vehicle history trails to see where the vehicle has been down to each turn, each stop and time at each stop. Decrease route times and hold your drivers accountable. The mapping function also allows you to see when your drivers are driving faster than posted speed limits.
Route optimization. Route optimization will help you and your drivers to create the best and most efficient route for better fuel management. Also allows you to re-route drivers or technicians as needed to reduce fuel costs when idling.
Maintenance. Whether you manage your fleet maintenance in house or you outsource to a third party, maintenance schedules can reduce downtime and keep your fleet up and running.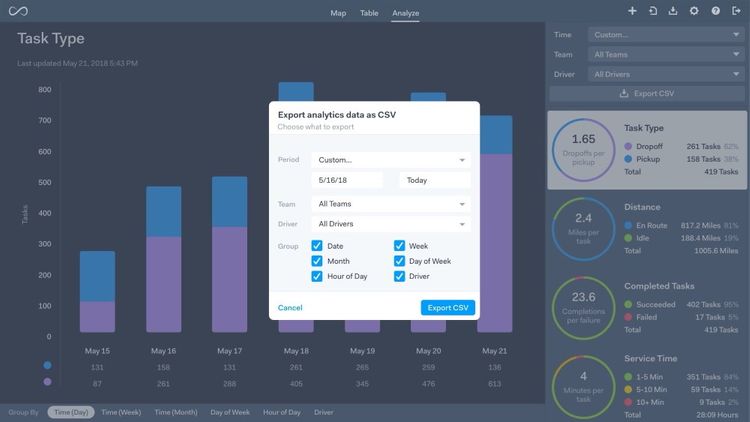 Fleet Management Software Pricing
Fleet tracking software prices vary by product, but typically are dependent on required features and number of managed vehicles. Knowing these two factors can help you calculate potential costs to generate a reasonable budget. Additionally, knowing if you want an on-premise or cloud-based solution can influence the total price.
Typically premium features like GPS tracking, route planning, or condition monitoring increase costs. Most systems are priced per vehicle, per month, with prices ranging from $15 to $150 per vehicle, per month. Typical use cases average $35 per vehicle, per month.
In-House Vehicle Maintenance in Fleet Management Software
There are two main ways to handle your fleet's vehicle maintenance: in-house or through third-party sources. Managing your fleet internally takes a lot of resources, especially when you need to remove vehicles from the fleet for repairs, schedule drivers, and plan out predictive maintenance to minimize downtime. Fortunately, the right fleet maintenance software can help you take some pressure off of those resources by streamlining your review process. Managing staff, scheduling work, ordering parts, and maintaining records in-house is all possible with fleet management software.
Parts Inventory Management
Unlike a GPS vehicle, your spare parts aren't tracked with real-time satellite coverage. The parts you need, including filters, oil, and fuel, can all be tracked with a fleet management software solution. Also maintain an inventory of other parts that may not be used as frequently based on vehicle make, model and year.
Coordinate Scheduling
When managing a small fleet, scheduling vehicle inspections and maintenance may not seem too difficult. When you are managing dozens or hundreds of vehicles, scheduling becomes more important. You need to make sure your fleet management platform can coordinate between staff on hand to complete the work and the parts available, so you can get the vehicle back into service and out on the road.
Reduce Liability
Keeping records on drivers and vehicle history can pay off for your company in more ways than one. Fleet managers can use GPS tracking tools to see which drivers follow assigned routes and stay within posted speed limits. These records can lower your insurance costs by providing proof of good driver behavior. Similarly, maintenance records can protect your company in the event of an accident by showing when maintenance was last performed and what parts were used.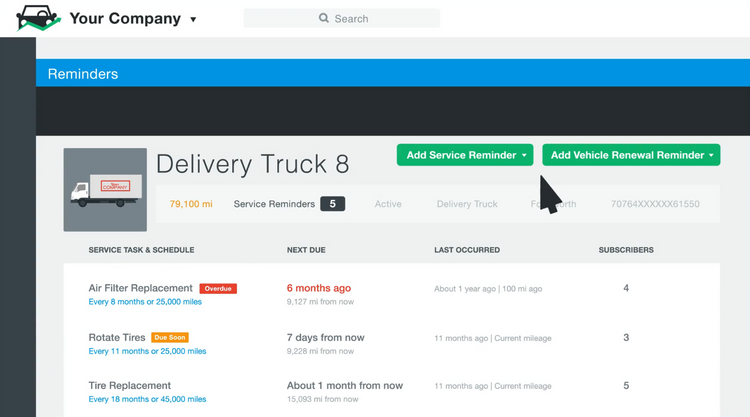 Outsourced Vehicle Maintenance in Fleet Management Software
If you outsource your maintenance to a dealer or repair shop, it is still important to track the work completed. You need to keep a service history of those items and the associated cost of the repairs. Additionally, use the service history to determine when the vehicle needs to go in for scheduled maintenance.
Third-Party Fleet Services
If your fleet maintenance is provided by a third party organization, integrated management software can make it easy to keep track of their work. Fleet tracking tools show real-time updates to vehicle locations and maintenance work orders, keeping your third-party partners accountable.
Out-of-State Fleet Services
Have employees in multiple states? No problem. Have the driver mail or scan the invoice and service record into the system where the document can be stored with the vehicle for better records management. Gather records from different repair facilities and store those records in the software.
Vehicle tracking systems are particularly valuable for fleets which operate over multiple states or countries. Know which vehicles are under maintenance and which are on the road at all times. And real-time fleet tracking services let you know where all your vehicles and drivers are, no matter where they are in the world.
Best Fleet Management Software Options
Fleet management depends on business processes provided by software. Some systems are Cloud-based for access anywhere, ideal for global corporations. Others include mobile apps for on-the-go updates. The right software will fit your needs.
If you are at the point where you are ready to find which fleet management software options are right for you, we can help. Through a brief phone call, our software specialists will look to better understand your business and software needs to help you locate a handful of solutions that can address the issues you are currently experiencing. Get started today with Software Connect.
---
Further reading
---