Job shop software provides a tailored solution for small to medium-sized manufacturers, streamlining production processes and enhancing overall operational efficiency. By managing everything from estimating costs and lead times to inventory control and scheduling, this software offers a comprehensive system to effectively handle a wide array of manufacturing tasks.
We've examined 20+ providers across 7 metrics to rank the best job shop software. Our ratings take into account factors such usability, support, scalability, security, value, performance, and the range of features offered. All ratings are determined solely by us, enabling you to make the most informed decisions for your business's needs.
1

SYSPRO - Best Overall

SYSPRO is a flexible ERP system built for distributors and manufacturers. SYSPRO Delivers advanced tools to help users integrate AI, ML, cloud, IoT, and more into their ERP. Serving a variety of manufacturing industries, SYSPRO addresses discrete as well as mixed-mode operations. For distributors, SYSPRO maximizes profitability with inventory optimization tools.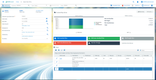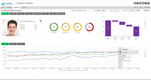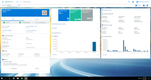 What We Like
Cloud, on-premise, or hybrid deployment
Accessible from any device
Parallel accounting supports both IFRS and global local regulations
What We Don't Like
3rd party add-ons may be necessary, like EDI and shipping notifications
Difficult to customize
No payroll or HR modules
Overview
Price Range: $$$$
Starting Price: $199/user/month
Client OS: Windows, Web
Deployment: Cloud or On-Premises
2

Global Shop Solutions - Also Great

Global Shop Solutions is an ERP system used to simplify manufacturing processes and ensure parts are delivered on time. Manage your shop, inventory, scheduling, accounting, CRM, quality control, and more, all with this complete system. Whether you choose on-premise or cloud, you can benefit from increased sales, improved delivery times, inventory accuracy, and lower administrative costs.



What We Like
Support for 30 industries and more than 25 countries
Windows and cloud deployment
Designed primarily for manufacturing industry
What We Don't Like
Need for extensive training
Occasional system lag
Traditional user interface
Overview
Price Range: $$$$$
Client OS: Windows, iOS, Android, Web
Deployment: Cloud or On-Premises
3

JobBOSS² - Best Ease of Use

JobBOSS² is a cloud-based ERP software designed to help make-to-order manufacturers and job shops maximize profits, increase productivity, and scale effectively. For accurate estimates and quotes, JobBOSS² gives users access to historical data and detailed cost reports. Shop floor tasks can be automated with workflows for inventory tracking, sales reports, managing materials, and more.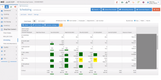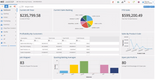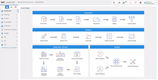 What We Like
Detailed cost reports with access to historical data
Logical database structure
User-friendly interface
What We Don't Like
Confusing visual cues
Limited support availability
Pricing requires consultation call
Overview
Price Range: $$$
Starting Price: $4,995 (perpetual license)
Client OS: Windows, Web
Deployment: Cloud or On-Premises
What is Job Shop Software?
Job shop software facilitates the complex processes of job shops and machine shops with manufacturing functionalities like job costing and estimating, inventory management, order management, scheduling, and material resource planning. While some of this functionality is offered by general manufacturing software, specific solutions are necessary to address the unique needs of job shops.
Job and machine shops are different from other types of manufacturing businesses since they often specialize in make-to-order or engineer-to-order manufacturing. This real-time demand makes it significantly more difficult to plan ahead for materials you'll need for a project, provide accurate estimates and quotes to clients, determine ROI, and predict labor requirements. Having the right job shop software will ease many of the challenges you face on a daily basis.
Features of Job Shop Software
| Feature | Functionality |
| --- | --- |
| Manufacturing Accounting | Track your expenses and revenue with accounts receivable, accounts payable, and general ledger modules. |
| Manufacturing Resource Planning (MRP) | Calculate and plan material requirements, and coordinate machine workloads and personnel. |
| Bill of Materials | Provides instructions on the materials and assemblies required to create a product. |
| Manufacturing Execution Systems (MES) | Includes shop-floor control, scheduling, and corrective action guidance for performance and quality improvement. |
| Job Costing | Assigns costs to materials, labor, and equipment needed to improve cost control and monitor the profitability of a job. |
| Inventory Management | Tracks the materials and parts you have on-hand, so you can order more when needed. |
| Work Order Management | Includes features like scheduling management, change orders, rules-based approval management, and reporting. |
| Purchase Orders | Track important order information including costs, payment terms, type of product, product quantities, delivery timeframes, and vendor info. |
| Quoting | Create an accurate quote based on the cost of materials, equipment, and labor needed to complete the job. |
| Project Management | Coordinate the execution of tasks including planning, scheduling, quality management, document sharing, and time tracking; Common for engineer-to-order jobs. |
Benefits of Job Shop Software
Accurate estimating and job costing. You know that quoting too low can make you lose money, but quoting too high is also an issue. If your quotes are significantly higher than your competition, you won't be able to close sales. Finding the right balance is easier with job shop software. You'll have a record of how much it actually costs to manufacture similar products, as well as have records of the costs of the materials, equipment, and labor you have available at the moment.
Put out quotes faster. Providing accurate quotes with a quick turnaround time will help you land more work. Job shop software has all of the records and documentation you need about the cost to complete a project, making quoting easier and faster. You don't have to spend hours, or even days, finding all the data you need and putting it together into a quote.
Complete more jobs on time. Managing production schedules on paper, in a spreadsheet, or on a whiteboard is not an efficient way to manage your jobs. Job shop software keeps track of production deadlines and lets you create reports on current projects to see if any issues might make the job late, allowing you to take corrective action to avoid delay.
Accurately determine ROI for your jobs. With job shop software, you can easily keep tabs on how much you're spending on a project vs. how much you made on a project down to the materials, labor, equipment, and any other expenses used to complete the job. This information provides valuable insight into where you're gaining and losing money, so you can make adjustments to pricing as needed.
More accurate billing. Job shop software tracks labor, equipment, and material costs back to specific production jobs to ensure accurate billing and cost capture.
Guidance in business development decision-making efforts. With job shop software, you will be able to project revenues and expenses in order to provide meaningful targets for performance management.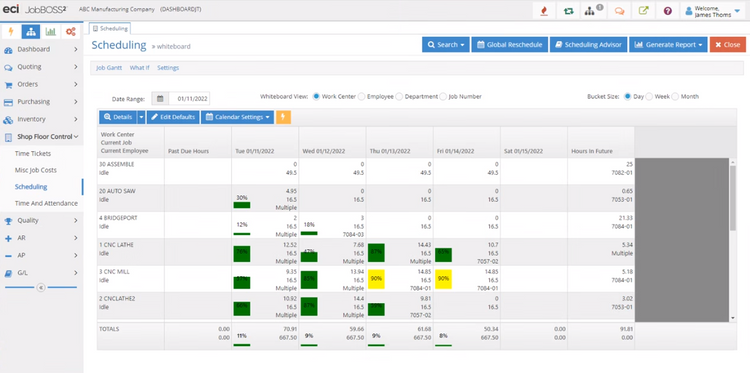 Solving Common Pain Points with Software
In addition to the main benefits provide by job shop software, these solutions can solve common pain points:
Charging too much or too little for a job. Job shops and machine shops lose money when they make bad estimates. Job shop software identifies the costs of raw materials needed to provide accurate quotes, so you can develop competitive bids and see a better ROI.
Bottlenecks from sending scheduling and deadline information through one person. In many job shops, scheduling and deadline information is sent through a single supervisor or manager with an Excel spreadsheet. Too much being given to one person can result in bottlenecks which delay the lead times and slows down the manufacturing process. Job shop scheduling software coordinates amongst the entire team digitally, eliminating the one-person bottleneck.
Unexpected schedule changes. If an unforeseen issue arises during production, the entire schedule can be thrown off. Job management software keeps all of your scheduling deadlines well-organized, allowing you to move other projects around as needed to avoid delays.
The unpredictability of material and process requirements. Custom made-to-order products make it difficult to predict what materials and equipment you'll need for any particular project. Inventory management in job shop software lets you see what you have on-hand if any of the required materials are similar to other projects you've done.
What Does Your Business Need?
Small manufacturers: If you're a small or medium-sized job shop or machine shop, you'll want a software solution that keeps you organized to keep schedules on time and ensure you see a good ROI on all of your projects. Look for job shop software that has job costing, order tracking, and scheduling. A module-based software is ideal as it will let you add features as you grow. If you want to continue using QuickBooks or another software system, find a solution that will integrate easily.
Large businesses: Large job shops and machine shops should look for a solution that features a manufacturing execution system (MES) and an extensive MRP to improve production planning, workflow management, and quality management, as well as streamline the manufacturing process through production scheduling and purchase planning. Look for a solution that can be customized to the unique needs of your existing enterprise resource planning (ERP) as well.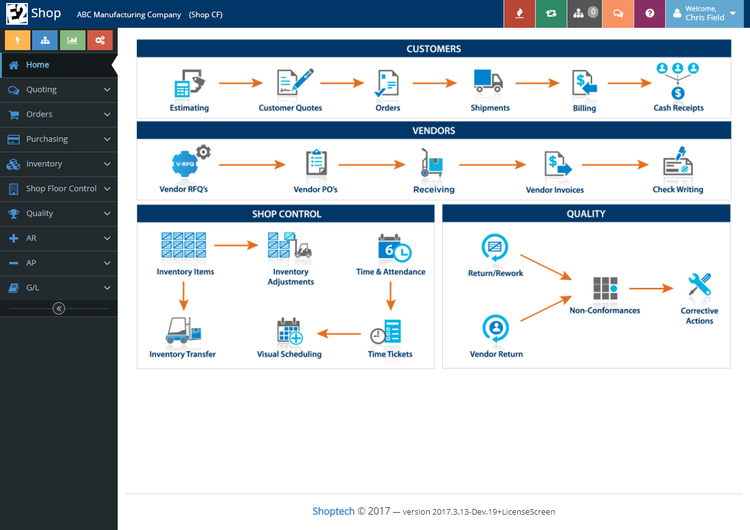 Recent Industry Trends
Additive manufacturing technologies: According to Modern Machine Shop, 37% of Top Shops surveyed were using additive manufacturing and 3D printing equipment in 2017, up from 19% in 2016. About 74% of those using these technologies also 3D print their own fixturing and tooling. Additive manufacturing will improve the efficiency of your job shop by providing rapid prototype development and making manufacturing completely custom parts easier and at a lower cost.

Automation is becoming more accessible: Industry Today's article "Trends for Custom Manufacturers in 2018" noted that automation options are becoming a more affordable way to improve efficiency for job shop manufacturers. More businesses are incorporating things like work-holding devices, SMT (surface mount technology) systems (also referred to as pick-and-place machines), and automatic tool changers into their manufacturing operations.
Can QuickBooks be Used as Job Shop Software?
QuickBooks Enterprise is branded as a manufacturing accounting software and is popular with smaller job shops for managing accounts payable, accounts receivable, basic inventory, purchasing, and sales orders.
Medium to large businesses find QuickBooks lacks important core functionalities of job shop software, like material requirements planning, equipment maintenance, engineering, and production management. In fact, many manufacturing companies eventually replace QuickBooks with another solution like a true ERP system.