CMMS software boosts your equipment's operational health, reducing maintenance costs while enhancing productivity via equipment availability.
We've reviewed 20+ providers using 7 criteria to rank top CMMS software. We've tested features such as work order creation and preventive maintenance triggers to better determine the top options on the market today.
1

eMaint CMMS - Best Overall

In our eMaint review, we liked its flexibility and user-friendly interface. Based on our other reviews of CMMS, we found that eMaint offered unique features not found in all CMMS such as interactive plans and proprietary sensors, along with plenty of customization options–allowing businesses to tailor the software to their specific needs. The strong customer support and extensive help resources, including eMaint University and webinars, made it easy for us to adopt the system and maximize its potential.

We would not recommend eMaint if you are a very small business and/or feel like you would not fully utilize the software's extensive features. We felt the price quoted to us would make the software more of an investment than what a typical small business likely needs.
2

MicroMain - Also Great

In our MicroMain review, we recommended MicroMain for manufacturing companies looking to digitalize their assets and streamline their maintenance processes. In our experience with the demo, we felt the software allowed for efficient task management with regard to maintenance requests. It also included a free requesting module for all employees to submit work order requests. The multi-site functionality allows businesses of all sizes to ensure they have their facilities covered.

We would not recommend MicroMain if you need integrated purchase order functionality or require a large number of custom integrations for smart devices. At this time, meters require manual input.
3

Hippo CMMS - Best for Small Businesses

Hippo CMMS software is a web-based solution that is able to be used by organizations of all sizes. Their goal is to make using a CMMS software easy for all industries. The solution has an unlimited users capability and allows you to set permissions according to the user's role in the organization.

The combination of low monthly cost, ease of use, the simple web-based user interface, and it's ability to still provide the necessary capabilities such as preventive maintenance, work order management, equipment maintenance, and inventory, makes it our top choice for small businesses. One testimonial on Hippo's website talks about how much time it saved their business:
The way Hippo CMMS allows us to streamline our maintenance requests and work orders has been huge in saving us time and manpower to complete our tasks. Our maintenance technicians receive prompt e-mail notifications when a work order has been submitted and that allows us to get a jump on things much quicker than we normally would. Tylar Stauffer
4

Maintenance Care - Best Free

Maintenance Care has a forever free edition of their solution that provides online work orders, task management with notifications and updates, notes history, search filters, and basic reporting. Once activated, you'll have instant access to their user guides that help teach you how to get the most out of the software. The online work order page is the heart of the free edition, which lets you submit work order requests, manage pending work orders, view a maintenance list, receive instant notifications, send tasks via email, and check for duplicate entries.

To take full advantage of what Maintenance Care has to offer, such as unlimited users, dashboards, multiple facilities, mobile access, and capital planning, you can seamlessly upgrade to their premium versions that start at $75/month. One user of Maintenance Care talked about how easy the transition to the solution was:
It was the easiest transition to any piece of software we've had to. It was so simple. The team at Maintenance Care were beyond helpful and patient with our users down to the tiniest thing and training our users on things that had nothing to do with the software, just so they knew how to tie it into the software. Joe Forman, Nationwide Healthcare Services
5

Upkeep - Best for Manufacturing

UpKeep is a CMMS software that provides a strong asset management and equipment tool for manufacturers. The CMMS tool lets you keep everything up and running through preventative maintenance features that identify trends in breakdowns and overall reduces unplanned downtime to save on costs.

UpKeep's asset management system helps you manage your manufacturing facility by creating recurring work orders for light checks, floor cleaning, and safety walkthroughs. The parts and inventory module can also streamline inventory control. Moving your manufacturing business to UpKeep can help improve asset reporting, increase the usability of your machinery, and automate your maintenance work order creation. One manufacturing company enjoyed it's ease of use:
We use it to run inspections and handle maintenance. UpKeep is user-friendly. The interface is really easy for our technicians and for our requesters that do in-work requests. Art Lopez, Stratasys Manufacturing Direct
6

Limble CMMS - Best Mobile App

Limble CMMS was designed to be a mobile-first CMMS solution. The use of their mobile app encourages a paperless approach to boosting productivity among your maintenance staff, improving communication, and improving asset diagnostics. Available on both iOS and Android devices, the mobile app lets your workers view their assigned work orders and PMs, log work orders, receive push notifications, start new work orders, log problems, and look up critical asset info.

Users of the mobile maintenance app from Limble CMMS have reduced time spent handling work requests by up to 34%. They've also reduced time communicating with requesters by up to 41% (calls, emails, texts). One testimonial on the Limble CMMS website discussed how the time savings benefited them:
On average, Limble saves me an hour to two hours a day, depending on the workload. The biggest thing for me is being able to do things on my phone, on the fly. Rob Siler, Myriad Genetics
7

MaintainX - Most Scalable

MaintainX is a maintenance software that's easy to use on both computers and mobile devices. It's great for team communication, with a chat feature and a mobile app that lets you update and add photos on the go. Some advanced features are only in the pricier plans, but the basic tools are available for everyone.

The software is popular in industries like manufacturing, hotels, and schools. It helps businesses keep track of tasks, improve safety, and communicate better. There are different price plans, starting with a free option, which should let businesses know rather quick if it's something they want to invest money into. From there, it's up to you how much data you want tracked. Overall, it's a good choice for businesses that need to manage maintenance tasks at an affordable price point.
What is CMMS Software?
CMMS, or computerized maintenance management software, maximizes the runtime and lifespan of machinery or equipment systems by managing maintenance operations in real-time. This is accomplished through a comprehensive set of software functionalities for equipment management, such as asset management, predictive and preventive maintenance alerts, and work order management.
Also referred to as just maintenance management software, CMMS software programs are important tools to be familiar with for companies with significant equipment assets. This is largely because they track maintenance activities and the upkeep of the assets. This helps track the associated costs of the work, with the ultimate goal of prolonging an assets lifespan at minimal expense.
Assets commonly tracked in CMMS software include facilities and buildings, equipment, vehicles, machinery, and spare parts. Sometimes called enterprise asset management software (EAM software), the goal of CMMS software is to track the upkeep of assets and the associated costs of the work, with an ultimate goal of prolonging an assets lifespan at the most minimal expense possible. This means your business and maintenance team can spend time and resources getting profitable jobs done, rather than dealing with equipment related problems.
Features of CMMS Software
Maintenance scheduling, work requests, barcode scanning via mobile app functionality, and user-friendly tools are some of the most desired features of CMMS software. The common CMMS features used in maintenance programs by facility managers include:
| Feature | Definition |
| --- | --- |
| Asset management | Record general information on company assets (buildings, vehicles, technology, and more) such as the frequency of asset use, issues, ongoing costs, and asset specifications. |
| Equipment inventory management | Tracks information on equipment used in maintenance and repair operations usually including tools and parts. View maintenance history of specific items. Alerts can be set to warn of low stock levels to ensure the proper materials and tools are always available for both routine and emergency maintenance. |
| Predictive maintenance | Scans equipment data for performance trends and uses condition-based monitoring to alert the appropriate staff of any potential issues. |
| Preventative maintenance | Create schedules, track procedures, set maintenance routines, balance workloads, and more. |
| Work order management | Create a trackable document identifying what work needs to be done and how it should be accomplished. Can include advanced features such as rules-based approval management, scheduling management, change orders, and reporting. |
Benefits of CMMS Software
The most common benefits of CMMS software include:
Lower Total Cost of Maintenance With CMMS
A capable equipment maintenance system means less time and money spent on both planned and unplanned maintenance. By keeping accurate tracking on equipment maintenance, a CMMS allows you to plan maintenance before expensive repairs are required:
Track when preventative maintenance is required and identify optimum times to perform it
Provides a centralized repository for maintenance instructions and info
Offers consistency in reporting, managing, and tracking repairs.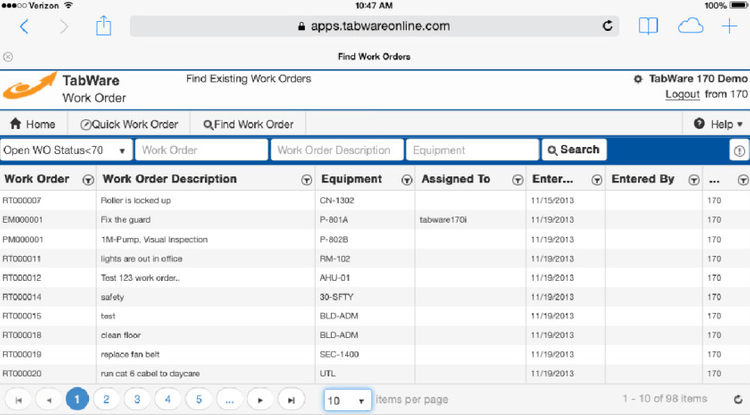 Ensuring Quality Control and Productivity With CMMS
A business that provides top-notch goods and services has a large impact on customer satisfaction and retention. Limiting breakdowns is critically important to reducing cycle times. The speed of your delivery is a business differentiator, as equipment kept in sub-standard condition yields inferior products and services.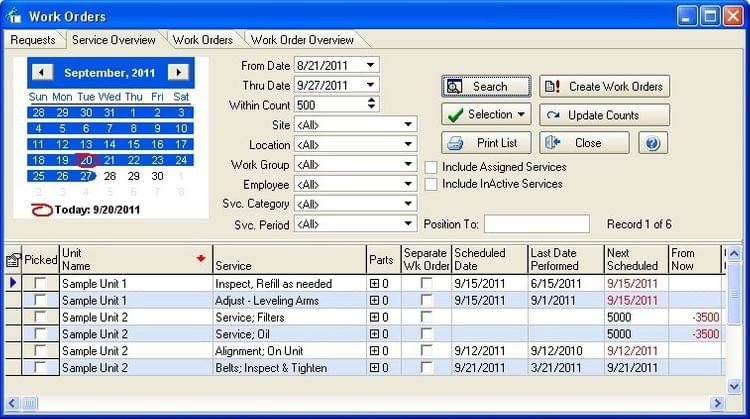 Cash-Flow and Planning With CMMS Software
Equipment failures are a major source of unplanned expenses. Implementing and executing a proper maintenance plan is a fundamental step toward eliminating unexpected and burdensome costs.
CMMS software helps you limit unpredictable and large costs. They also help you spread costs much more evenly and predictably. Some CMMS programs even provide sophisticated tools that allow you to make repair versus replace decisions based on reliable data.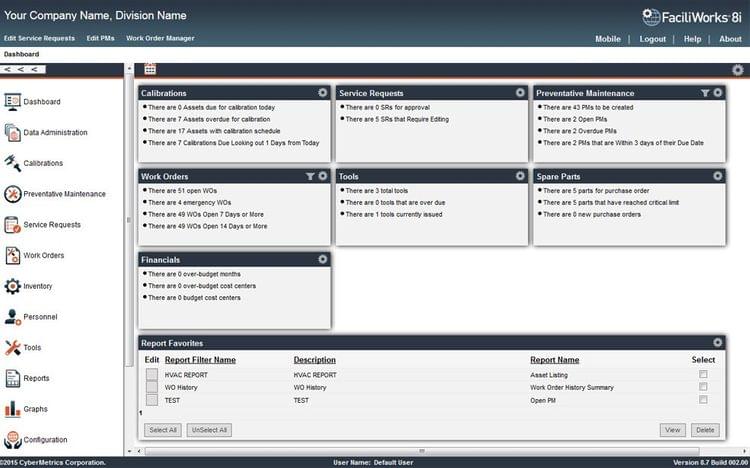 What CMMS Software Does Your Business Need?
CMMS solutions apply to a huge variety of industries. Manufacturers, facility management firms, industrial and commercial service firms, contractors, agricultural operations & more. The benefits of a computerized maintenance management system remain the same:
Lower total cost of maintenance.
Improvements in quality control.
Increased productivity.
Stronger ability to accurately budget and plan cash-flow.
If you're in the market for CMMS software, you'll want to analyze what your exact needs are based on a number of factors, such as the size of your company.
New buyers and small businesses: Smaller businesses will need maintenance management of some sort, but is CMMS right for them? CMMS allows for a very customizable approach to your maintenance management. Because of this, many industries can benefit from what CMMS has to offer, and it can be a good fit for a small business for the same reasons it benefits a larger enterprise.
Existing CMMS users desiring additional functionalities: Advanced CMMS will be able to provide you with better reporting, which will help your business make smarter decisions. A better CMMS tool will offer important performance metrics and trackers to look at things like average times to repair, and look at the lifespan of certain pieces of equipment to judge overall equipment effectiveness.
Large companies: All businesses may have regulatory compliance issues, but larger enterprises tend to be under the microscope more when it comes to adhering to them, and thus, will want to ensure they are recording procedures and inspections accurately. This helps them work with OSHA, FDA, and any type of compliance agency so they can provide detailed documentation.
Is QuickBooks a CMMS Software?
A solution like QuickBooks Online is not going to give you CMMS software functionality that will provide long-term sustainability. It does not offer the handful of required functionalities most CMMS options will provide you, such as scheduling maintenance, as well as predictive analytics to ensure preventative maintenance is doing its job. Because of this, we recommend you keep QuickBooks for accounting and find an add-on for CMMS.
While QuickBooks may not be able to offer any CMMS functionality, there are many CMMS solutions that will integrate with QuickBooks. This will help ensure all of your business software is linked together. There are also many field service software add-ons available for QuickBooks that may provide some (but not all) of the functionality typically found in CMMS, such as work order management and scheduling.
CMMS Software Pricing
The cost of CMMS software will start between $29-$70/user/month. This reflects entry level software that is usually intended for use by less than 3 users. Onboarding costs for these subscription-based pricing models will range from $600-$2,500 upfront.
Most vendors will charge a monthly cost per user, which usually means the bigger your company, the bigger the cost. CMMS solution vendors may also charge depending on the types of assets being maintained, the number of assets stored in your system, and more. A large majority of CMMS software options are cloud-based, meaning they have a subscription-based pricing model. While still possible with some vendors, most CMMS software is subscription-based and can not be bought outright.
Many companies may try to go without CMMS software and handle their preventive maintenance with manual methods. Combined with the low cost of QuickBooks for your basic accounting and inventory, this is one way to keep your software costs at their lowest. This manual method is typically by using spreadsheets. However, these methods become much harder to track your equipment due to the fact that spreadsheets lack sustainability.
The more tasks each repair job has, the more that needs to get added to the schedule. Having to go back and forth to check off maintenance steps is far too time-consuming to be practical this way.
Common Pain Points of CMMS Software
Some of the most common headaches people experience in selecting, buying, implementing, and maintaing CMMS software include:
Integration Issues
Very often CMMS users are not office-based workers. The average CMMS user at your organization may well be someone on the production floor. Or, they may primarily work on the job site or in the field. As a result, mobile device access can be particularly useful. Many systems offer support for mobile access.
One of the challenges of implementing a computerized maintenance management software system is the number of points of integration that may be present. CMMS programs very frequently need to integrate with software providing the following functionality:
Inventory control
Fixed asset management (asset depreciation)
Scheduling
Accounts payable
Project management
Material resource planning
Costing
Production floor management
Work order management
Budgeting
The wide array of integration points is one of many reasons it's usually advisable to partner with an experienced CMMS provider for implementation services.
Work Order Assignment Issues
When dealing with a high volume of work orders, it can become difficult to be managing who is getting assigned what, and the combination of needing to schedule based on past work history can be time-consuming with a weaker CMMS software (or a manual process). A good CMMS software will be able to automate most of this process from beginning to end.
Maintenance Software Technology Trends
Integrated QMS and CMMS software in manufacturing. Manufacturing used to be an industry where companies got by handling areas such as machine maintenance, order processing, bill of materials, and quality control, all separately. However, a live production environment that has you processing an order requires that you know which equipment is available, has you handle a bill of materials, and monitor the resulting product to ensure objectives can be met. A unified software helps bridge the gap, given the relationship each task in the manufacturing process has with each other.
CMMS Software Cloud Adoption and Mobile Use. Recent years have shown a lot of CMMS solutions move to the cloud. This is due to faster install times and less of an IT involvement. Companies thus can save money on hardware fees and labor costs as less personnel are needed to maintain the system. The rise in mobile technology allows maintenance managers to have all the information at their fingertips via a mobile device. This eliminates the need for them to step into the office for the day to receive any sort of dashboard, reports, or schedules for the day.
Condition-based maintenance. This type of maintenance is done when the need arises. Condition-based maintenance, or CDM, is likely to make it's way to CMMS solutions in time. Limiting maintenance to just preventative and predictive can sometimes miss certain situations where maintenance can be needed; as it pops up. CDM relies on machine readings to determine how a machine is currently doing and if maintenance needs to be handled immediately. Benefits of CDM include decreased maintenance costs and a reduction of human error influences. Disadvantages can include high upfront costs and unpredictable maintenance periods, making it hard to budget accordingly for these maintenance costs.