What is CMMS Software?
CMMS, or computerized maintenance management software, maximizes the runtime and lifespan of machinery or equipment systems by managing maintenance operations in real-time. This is accomplished through a comprehensive set of software functionalities for equipment management, such as asset management, predictive and preventive maintenance alerts, and work order management.
Also referred to as just maintenance management software, CMMS software programs are important tools to be familiar with for companies with significant equipment assets. This is largely because they track maintenance activities and the upkeep of the assets. This helps track the associated costs of the work, with the ultimate goal of prolonging an assets lifespan at minimal expense.
Assets commonly tracked in CMMS software include facilities and buildings, equipment, vehicles, machinery, and spare parts. Sometimes called enterprise asset management software (EAM software), the goal of CMMS software is to track the upkeep of assets and the associated costs of the work, with an ultimate goal of prolonging an assets lifespan at the most minimal expense possible. This means your business and maintenance team can spend time and resources getting profitable jobs done, rather than dealing with equipment related problems.
Features of CMMS Software
Maintenance scheduling, work requests, barcode scanning via mobile app functionality, and user-friendly tools are some of the most desired features of CMMS software. The common CMMS features used in maintenance programs by facility managers include:
| Feature | Definition |
| --- | --- |
| Asset management | Record general information on company assets (buildings, vehicles, technology, and more) such as the frequency of asset use, issues, ongoing costs, and asset specifications. |
| Equipment inventory management | Tracks information on equipment used in maintenance and repair operations usually including tools and parts. View maintenance history of specific items. Alerts can be set to warn of low stock levels to ensure the proper materials and tools are always available for both routine and emergency maintenance. |
| Predictive maintenance | Scans equipment data for performance trends and uses condition-based monitoring to alert the appropriate staff of any potential issues. |
| Preventative maintenance | Create schedules, track procedures, set maintenance routines, balance workloads, and more. |
| Work order management | Create a trackable document identifying what work needs to be done and how it should be accomplished. Can include advanced features such as rules-based approval management, scheduling management, change orders, and reporting. |
Benefits of CMMS Software
The most common benefits of CMMS software include:
Lower Total Cost of Maintenance With CMMS
A capable equipment maintenance system means less time and money spent on both planned and unplanned maintenance. By keeping accurate tracking on equipment maintenance, a CMMS allows you to plan maintenance before expensive repairs are required:
Track when preventative maintenance is required and identify optimum times to perform it
Provides a centralized repository for maintenance instructions and info
Offers consistency in reporting, managing, and tracking repairs.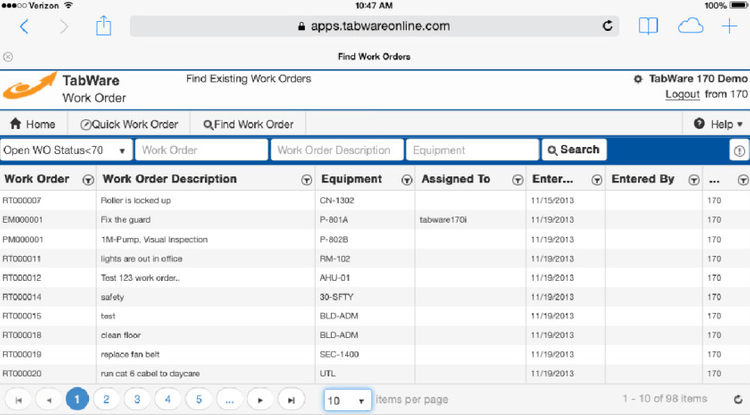 Ensuring Quality Control and Productivity With CMMS
A business that provides top-notch goods and services has a large impact on customer satisfaction and retention. Limiting breakdowns is critically important to reducing cycle times. The speed of your delivery is a business differentiator, as equipment kept in sub-standard condition yields inferior products and services.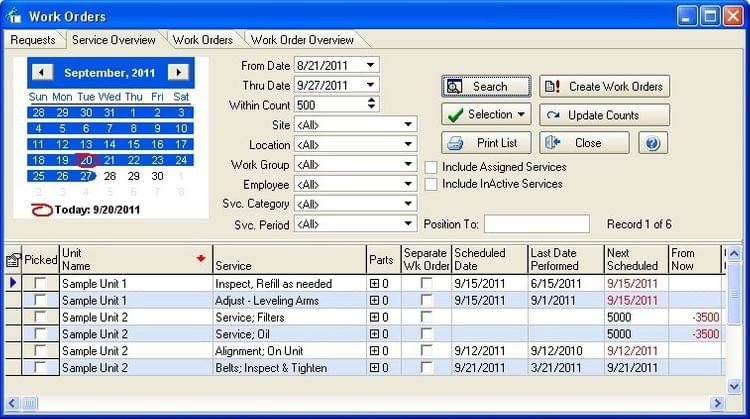 Cash-Flow and Planning With CMMS Software
Equipment failures are a major source of unplanned expenses. Implementing and executing a proper maintenance plan is a fundamental step toward eliminating unexpected and burdensome costs.
CMMS software helps you limit unpredictable and large costs. They also help you spread costs much more evenly and predictably. Some CMMS programs even provide sophisticated tools that allow you to make repair versus replace decisions based on reliable data.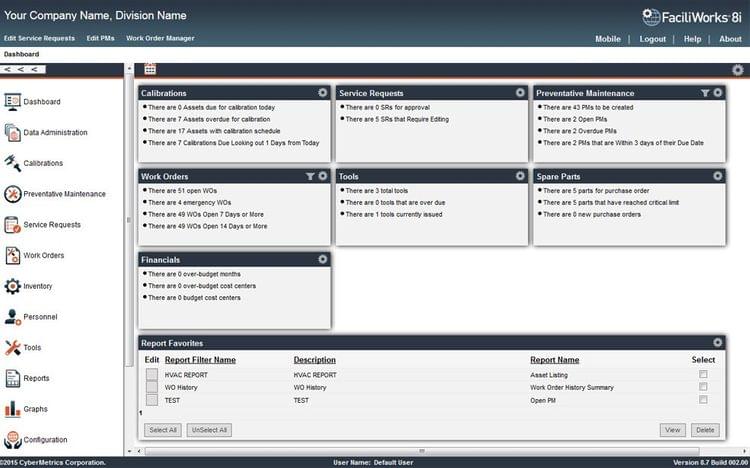 What CMMS Software Does Your Business Need?
CMMS solutions apply to a huge variety of industries. Manufacturers, facility management firms, industrial and commercial service firms, contractors, agricultural operations & more. The benefits of a computerized maintenance management system remain the same:
Lower total cost of maintenance.
Improvements in quality control.
Increased productivity.
Stronger ability to accurately budget and plan cash-flow.
If you're in the market for CMMS software, you'll want to analyze what your exact needs are based on a number of factors, such as the size of your company.
New buyers and small businesses: Smaller businesses will need maintenance management of some sort, but is CMMS right for them? CMMS allows for a very customizable approach to your maintenance management. Because of this, many industries can benefit from what CMMS has to offer, and it can be a good fit for a small business for the same reasons it benefits a larger enterprise.
Existing CMMS users desiring additional functionalities: Advanced CMMS will be able to provide you with better reporting, which will help your business make smarter decisions. A better CMMS tool will offer important performance metrics and trackers to look at things like average times to repair, and look at the lifespan of certain pieces of equipment to judge overall equipment effectiveness.
Large companies: All businesses may have regulatory compliance issues, but larger enterprises tend to be under the microscope more when it comes to adhering to them, and thus, will want to ensure they are recording procedures and inspections accurately. This helps them work with OSHA, FDA, and any type of compliance agency so they can provide detailed documentation.
Is QuickBooks a CMMS Software?
A solution like QuickBooks Online is not going to give you CMMS software functionality that will provide long-term sustainability. It does not offer the handful of required functionalities most CMMS options will provide you, such as scheduling maintenance, as well as predictive analytics to ensure preventative maintenance is doing its job. Because of this, we recommend you keep QuickBooks for accounting and find an add-on for CMMS.
While QuickBooks may not be able to offer any CMMS functionality, there are many CMMS solutions that will integrate with QuickBooks. This will help ensure all of your business software is linked together. There are also many field service software add-ons available for QuickBooks that may provide some (but not all) of the functionality typically found in CMMS, such as work order management and scheduling.
CMMS Software Pricing
The cost of CMMS software will start between $29-$70/user/month. This reflects entry level software that is usually intended for use by less than 3 users. Onboarding costs for these subscription-based pricing models will range from $600-$2,500 upfront.
Most vendors will charge a monthly cost per user, which usually means the bigger your company, the bigger the cost. CMMS solution vendors may also charge depending on the types of assets being maintained, the number of assets stored in your system, and more. A large majority of CMMS software options are cloud-based, meaning they have a subscription-based pricing model. While still possible with some vendors, most CMMS software is subscription-based and can not be bought outright.
Many companies may try to go without CMMS software and handle their preventive maintenance with manual methods. Combined with the low cost of QuickBooks for your basic accounting and inventory, this is one way to keep your software costs at their lowest. This manual method is typically by using spreadsheets. However, these methods become much harder to track your equipment due to the fact that spreadsheets lack sustainability.
The more tasks each repair job has, the more that needs to get added to the schedule. Having to go back and forth to check off maintenance steps is far too time-consuming to be practical this way.
Common Pain Points of CMMS Software
Some of the most common headaches people experience in selecting, buying, implementing, and maintaing CMMS software include:
Integration Issues
Very often CMMS users are not office-based workers. The average CMMS user at your organization may well be someone on the production floor. Or, they may primarily work on the job site or in the field. As a result, mobile device access can be particularly useful. Many systems offer support for mobile access.
One of the challenges of implementing a computerized maintenance management software system is the number of points of integration that may be present. CMMS programs very frequently need to integrate with software providing the following functionality:
Inventory control
Fixed asset management (asset depreciation)
Scheduling
Accounts payable
Project management
Material resource planning
Costing
Production floor management
Work order management
Budgeting
The wide array of integration points is one of many reasons it's usually advisable to partner with an experienced CMMS provider for implementation services.
Work Order Assignment Issues
When dealing with a high volume of work orders, it can become difficult to be managing who is getting assigned what, and the combination of needing to schedule based on past work history can be time-consuming with a weaker CMMS software (or a manual process). A good CMMS software will be able to automate most of this process from beginning to end.
Maintenance Software Technology Trends
Integrated QMS and CMMS software in manufacturing. Manufacturing used to be an industry where companies got by handling areas such as machine maintenance, order processing, bill of materials, and quality control, all separately. However, a live production environment that has you processing an order requires that you know which equipment is available, has you handle a bill of materials, and monitor the resulting product to ensure objectives can be met. A unified software helps bridge the gap, given the relationship each task in the manufacturing process has with each other.
CMMS Software Cloud Adoption and Mobile Use. Recent years have shown a lot of CMMS solutions move to the cloud. This is due to faster install times and less of an IT involvement. Companies thus can save money on hardware fees and labor costs as less personnel are needed to maintain the system. The rise in mobile technology allows maintenance managers to have all the information at their fingertips via a mobile device. This eliminates the need for them to step into the office for the day to receive any sort of dashboard, reports, or schedules for the day.
Condition-based maintenance. This type of maintenance is done when the need arises. Condition-based maintenance, or CDM, is likely to make it's way to CMMS solutions in time. Limiting maintenance to just preventative and predictive can sometimes miss certain situations where maintenance can be needed; as it pops up. CDM relies on machine readings to determine how a machine is currently doing and if maintenance needs to be handled immediately. Benefits of CDM include decreased maintenance costs and a reduction of human error influences. Disadvantages can include high upfront costs and unpredictable maintenance periods, making it hard to budget accordingly for these maintenance costs.