Computerized maintenance management systems (CMMS) and enterprise asset management (EAM) both optimize the maintenance of equipment and assets. The systems are so similar in functionality that many businesses are left wondering if they're different at all.
The short answer? Today, CMMS and EAM are almost the same thing. However, there's one key difference: EAM software covers the entire asset lifecycle while CMMS is more limited asset maintenance management. Learn more about these differences before implementing either of these at a business.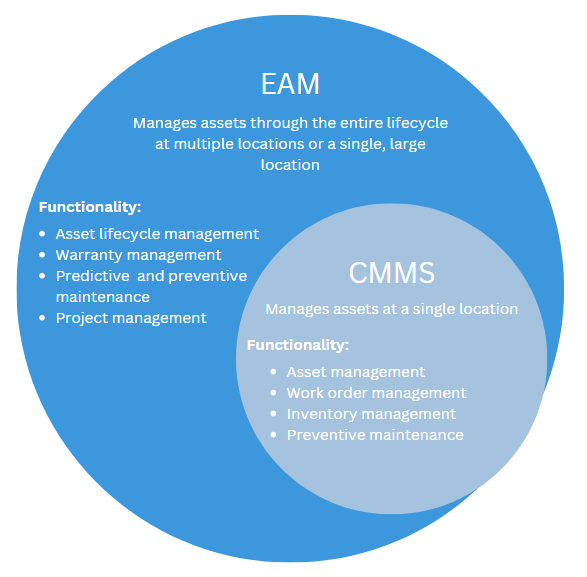 What is CMMS?
Originating in the 1960s, CMMS has been used to manage assets through regularly scheduled maintenance ever since. When properly utilized, this type of software can prolong an asset's lifespan, reducing costs from downtime, disposal, and replacement.
By monitoring real-time asset upkeep, businesses can lower the associated costs of maintenance work. For example, preventive and predictive maintenance schedules can minimize downtime from unexpected asset breakdowns. Also, taking care of equipment can extend its overall lifespan by regularly addressing wear and tear before it causes damage.
CMMS is ideal for companies with significant equipment assets, especially if they are contained to one physical location. However, businesses with more than one facility can implement separate CMMS for each in order to achieve multi-site support.
Main Software Features
CMMS software includes:
Asset management and equipment history: Track the history of assets after acquisition along with general information such as use, past maintenance, and more.
Equipment inventory management: Keep a maintenance history of all equipment and record what's necessary regarding maintenance tasks.
Predictive and preventive maintenance: Schedule maintenance-related tasks before assets have the chance to break down and cause production delays.
Work order management: Create digital documents detailing maintenance work and how it should be done.
What is EAM?
Decades after CMMS, EAM solutions were developed to provide businesses with one program with an all-encompassing overview of all physical assets a company owns. More importantly, it manages the entire lifecycle of those assets, from acquisition to disposal. This expansion from previous CMMS offerings was made possible by the concurrent growth of online networks that could store and share more data than ever before.
One major benefit of EAM is the ability to track multiple assets across different locations. By keeping all assets in one program, businesses with multiple locations can track changing conditions from a single source. Now, these businesses can avoid updating separate spreadsheets at each location, which can cause miscommunication issues.
In addition to keeping asset records, EAM systems can automatically create checklists used in equipment inspections and audits. And just like with CMMS, better maintenance scheduling can lead to lower maintenance costs and more uptime.
Main Software Features
EAM software offers:
Asset lifecycle management: Continuously monitor the condition of all assets to be automatically alerted when maintenance is needed.
Work orders: Record whenever work is requested on an asset and detail how related tasks should be completed on shared digital documents which replace paper audit trails.
Inventory management: Store detailed information about maintenance and repair operations inventory to ensure there's no shortage of spare parts when it's time to perform repairs.
Predictive and preventive maintenance: Use advanced planning to reduce asset breakdowns by performing maintenance tasks on a set schedule.
Warranty management: Keep track of asset warranties can make it easier for the maintenance department to submit claims and recoup losses from breakdowns.
Project management: Some EAM software includes limited project management modules to streamline specific projects related to maintenance tasks and asset management.
What Makes Them Different?
As seen above, CMMS and EAM share a lot of key features. However, the primary difference lies in their scope of functionality. EAM covers significantly more than CMMS. In fact, CMMS can be seen as part of a complete EAM system.
Another key difference is the focus on how each software improves asset management.CMMS primarily schedules and dispatches maintenance work, while EAM is designed to create an asset's optimal life cycle. In general, the first is reactive maintenance while the latter is more proactive maintenance.
Finally, a CMMS is more likely to be offered as a standalone solution while EAM software is more likely to be integrated with ERP software and other programs. However, both types can be integrated into existing operating systems to keep business running smoothly.
Which is Best for Business?
CMMS and EAM software can mostly do the same tasks, but there are times one solution might be better than the other. which is more appropriate largely depends on the scope of assets. For example, EAM is usually more appropriate for businesses tracking assets across multiple locations and requiring a large number of users.
The specific industry should be taken into consideration, especially those which are trying to manage higher costs associated with asset management. Both CMMS and EAM are popular with production and manufacturing, although EAM tends to be prominently used in:
Oil and gas
Mining operations
Electrical work
CMMS is slightly more affordable for small businesses to have, at least at the start. As the business grows and acquires more assets, companies may want to upgrade to a full EAM software to meet changing needs.
Examples of Top EAM and CMMS Software
Here are just a few of the top rated CMMS and EAM software products:
Buying an EAM or CMMS can be confusing since many vendors no longer distinguish between the two different software options. It's incredibly common for a CMMS to also be listed as an EAM and vice versa. Request a free consultation with Software Connect to find the right asset management software for your business.