CMMS (computerized maintenance management systems) help with all sorts of businesses optimize their maintenance operations. Any company dealing with regular maintenance needs, whether it's high end machinery or point-of-sale terminals, can actually benefit from implementing a CMMS system. Learn how this software can help your company increase equipment uptime and extend asset lifecycles:
What is CMMS?
CMMS, which can also stand for computerized maintenance management software, increases the lifespan of your machinery or equipment systems by automating maintenance practices in real-time. Mostly used in manufacturing and related industries, these work order systems use comprehensive asset management, scheduled predictive and preventive maintenance alerts, and work order management to ensure the most important equipment is subject to maintenance tasks before a breakdown can happen.
Traditionally, a company might manage their maintenance workflows through written out charts and spreadsheets. A clipboard might be passed around each shift detailing any performance changes amongst the equipment. With this limited data, supervisors and managers try to calculate when or if any preventive maintenance should be performed. Unfortunately, human error and miscalculation can lead to missed opportunities, leading to equipment failure. For example, a handwritten note requesting maintenance can easily be overlooked during a shift change. Or an accidental coffee spill can render the request illegible to maintenance teams.
Sometimes shortened to maintenance management software or even enterprise asset management (EAM) software, CMMS streamlines your maintenance processes with digitization. Over the last few decades, computerized systems have replaced the traditional pen and paper maintenance plans which are frequently subject to human error. In the above example, the risk of a physical maintenance request note is replaced by an electronic CMMS which can send an email or text alert automatically when maintenance activities are due.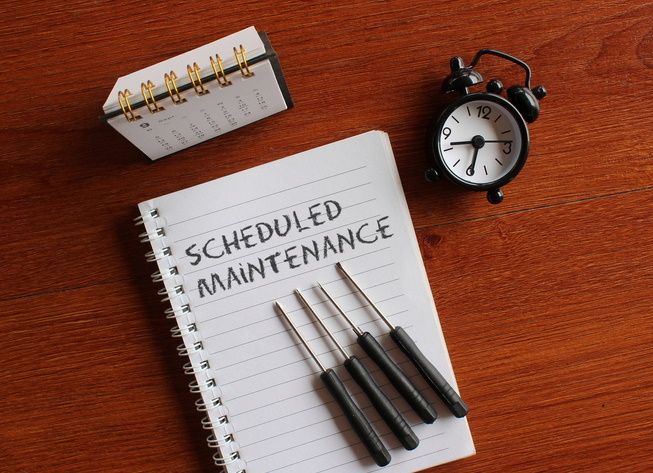 What is a CMMS System Used For in Business?
The main goal of CMMS software is to track the upkeep of assets across your facilities, whether it's advanced machinery on a production line or a fleet of vehicles. Automated notifications provide timely reminders for when preventative maintenance is due or when checkups are necessary. Modules can also track how many spare parts are available for quick replacements and calculate the cost of new equipment against repairs.
In short, CMMS work is used to prevent asset breakdown which can lead to unscheduled equipment downtime which shuts down production. This can cost your company not just in making necessary repairs, but in overall productivity. An unexpected assembly line shutdown can lead to missed production quotas and product shortages. And underperforming equipment can lead to low quality products which do not meet regulatory compliance as well.
In fact, advanced CMMS can provide your company with better reporting tools, allowing you to plan out significantly farther in advance for when to perform maintenance or replace aging equipment with minimal interruption. By prolonging an assets lifespan with CMMS, the associated costs of your work can be minimized. Learn more about the best benefits of a CMMS and how it can optimize your maintenance program.
Examples of CMMS in Action
Here's a fairly standard example of why CMMS matters for manufacturers:
A car manufacturer works long hours in order to meet production deadlines. Machinery runs at all hours of the day, with no or limited rest periods between shifts. However, the constant work puts a lot of strain on the already outdated equipment along the assembly line. Before long, machines start to malfunction or break down completely. By ignoring regular and preventative maintenance, the manufacturer is left with catastrophic failure.
In the future, they can implement a CMMS to track which machinery is in need of minor repair in order to schedule predictive maintenance at ideal downtimes before breakdowns happen. The system will keep digital tabs on when maintenance was last performed, when inspections should be made, and which replacement parts are in stock and available.
Now imagine CMMS in a retail environment:
Cashiers experience slow load times with their POS system. They report the issues to a supervisor, who enters in a maintenance request online through a cloud-hosted CMMS. An employee in IT or maintenance can then know immediately that there are potential issues which need to be addressed and use the CMMS to forecast when there might be a convenient break in sales in order to check over the POS terminal with minimal downtime.
Automatic reminders help all employees stay on top of scheduled maintenance. No more overlooked checklists with outdated asset information - the CMMS tracks it all instead. Each manually created maintenance order can generate a work request which is easily tracked, so you know exactly what work comes next and plan ahead accordingly.
Note: If you specifically want a CMMS for a fleet of vehicles, consider a fleet maintenance software system for a more vehicle-specific solution, for example, measuring tire tread and scheduling oil changes.
How is CMMS Different from ERP?
Some people might manage their maintenance with enterprise resource planning (ERP) rather than CMMS. However, the two systems are quite different in their overall functionality. An ERP software is an integrated suite of business applications designed to automate all back-office functions of your organization, such as financials, sales, and human resources which may include maintenance. These comprehensive dashboards would be useful if you want to have an all-in-one solution for managing your day-to-day operations.
In contrast, a CMMS will be wholly devoted to improving and perfecting your maintenance practices only. Popular CMMS features include limited metrics reporting on key performance indicators (KPIs) such as asset performance and preventive maintenance schedules.
Fortunately, both Cloud-based and on-premise CMMS software can integrate with ERP systems and other office-based solutions, though there are limitations. This can increase the total cost, so be sure to research which providers make products compatible with your existing software.
CMMS Pricing Options
For a company looking to replace traditional maintenance scheduling kept on Excel spreadsheets or printed out calendars, there are a lot of great CMMS software options available. However, it does add on to the budget and needs to be carefully considered. Understandably, many manufacturers want free or low cost options.
Selecting the right one for your business will largely depend on how many users you plan to have, along with which exact features you want. While there are a few free CMMS solutions out there, most SaaS plans range between $30 to $70 per month per user. Fortunately, free trials make it possible to test out software connectivity before you commit to a new CMMS.
Despite the cost, implementing CMMS can actually reduce your overall maintenance costs. As previously described, CMMS software can cut down on manual labor related to performing equipment checks while preventative maintenance can increase machine uptime. Every minor issue which gets caught and fixed early is a potential breakdown avoided. And increasing the longevity of your equipment is better than making regular, expensive replacements. Over time, CMMS can help you see higher outputs and better labor distribution, all increasing your bottom line.