What Is Business Management Software?
Business management software is any solution that meets business needs via an integrated set of functionalities or applications intended to automate and streamline your business process. Similar to ERP software, business management software will help you manage projects, create reports, manage clients, and overall increase productivity and provide analytics into how your business can improve in specific areas.
Business management software usually includes functionalities such as CRM, accounting, workflow management, and invoicing. As a business grows in size, they'll need advanced functionalities such as human resource management, warehouse management, and more.
Features
Invoicing: Create invoices detailing what products or services you've sold. Create custom invoices to show your company details, add due dates, any potential taxes or fees, and more. Give customers the ability to pay invoices online.
Accounting: Tracks financial transactions such as income and expense tracking through a general ledger (GL). Advanced options include tracking payments to vendors via accounts payable (AP) and keeps a customer database of payments received or still awaiting payment in accounts receivable (AR). Additional functionalities include payroll, billing, inventory management, and order management.
CRM: Customer relationship management via an integrated view of your customers and prospects so you can get the most out of your marketing, sales, and customer service efforts.
Project Management: Tracks real-time progress throughout a project lifecycle, task management via assigning tasks to specific employees, time tracking and pairing worked hours to specific workflows and projects, and clearly described project requirements within the system.
Ecommerce: Integration with websites to provide an online store front. Let customers shop online, view prices, monitor deals, and deliver your goods straight to their doorstep.
Team Collaboration: Let employees involved in common tasks collaborate together. Cloud software provides data that changes in real-time and can let users view edits at a greater capacity, leave comments on work, assign work or tasks to other employees, require verification, submit proposals, and more.
Best Business Management Software for Small Businesses
Zoho is cloud software that acts as a complete business suite for your needs, whatever they may be. Zoho is one of the most versatile software options on the market, as it provides an app-based approach to filling your needs. You can start with their "books" app to manage your accounting and later add on their CRM app for customer management. Need inventory? You can add-on the inventory app to manage stock levels at any time.
If you're confused about what apps you'll need to make your perfect business management software, Zoho does offer pre-packaged sets of apps, such as "CRM Plus" for a strong sales and marketing approach, or "Finance Plus" to cover all your accounting needs.
Pricing: Zoho will vary in price depending on the applications needed. Their CRM starts at $12/month, while their Books package starts at $9/month.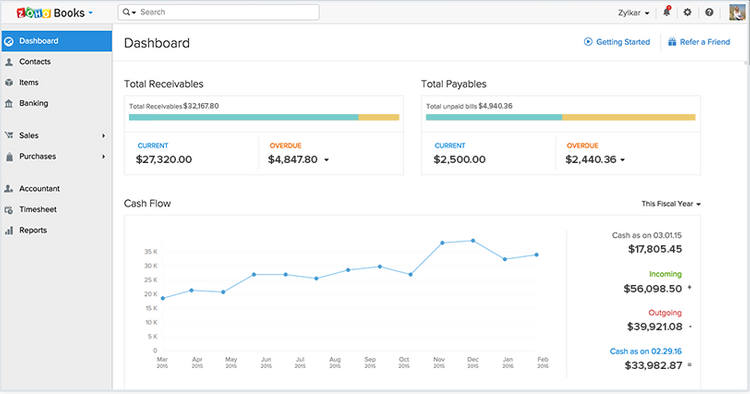 Odoo is an open source ERP and CRM solution. The software is completely free to use starting off. So why is it featured in our list of "best" business management software instead of "free"? While it does start as a free solution (one app for free for unlimited users if hosted online), you'll find yourself paying for increased access and applications needed to run your business. Nonetheless,given its scalability, it's still a very affordable solution and is one of the most scalable solutions out there.
Similar to Zoho, the software will let you add on an app whenever you need it, and integrating the app into your current workflow is easy and requires no advanced implementation.
Pricing: Some apps, such as the invoicing app, start at only $12/month. More complex apps such as CRM and Accounting will run you $24/month.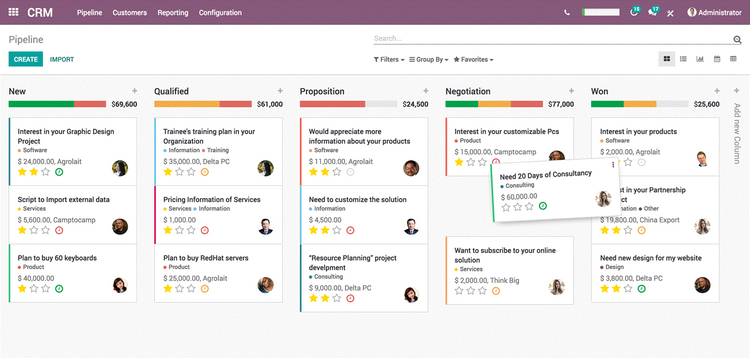 Developed by Microsoft, Dynamics 365 Business Central is their attempt at capturing both the small business and larger business market looking for a complete business management software. The software promises to help manage financials, automate your supply chain, improve customer service, keep projects on time, and optimize your operations.
Microsoft's strong suit with Dynamics 365 is the ability to provide prebuilt solutions to meet your needs, while also offering 3rd party applications on AppSource. In that sense, Dynamics 365 Business Central acts as it's own operating system that lets 3rd party developers create add-ons to meet very unique and narrow customer needs. This lets the solution be versatile in the industries and applications it can cover, outside of generic business tools such as CRM and accounting.
Pricing: Dynamics 365 Business Central Essentials starts at $70/user/month.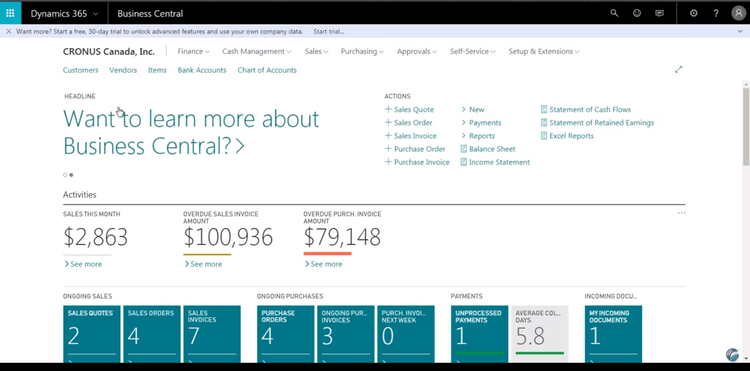 Free Business Management Software
Bitrix24 calls itself a "collaboration platform", providing any tools you might need to get your business operating to it's fullest potential. Bitrix24 can potentially provide you full CRM, marketing automation, project management, and even a website for your business. Used correctly, Bitrix24 can be the missing tool to store your data and manage your customers.
While the base package of Bitrix24 is free, it will only provide you with limited access to all of its functionalities. Because of this, the free version is only advised to be used for business just starting out. Once you grow in size and need a decent amount of users (around 5-6) and have a larger database of prospects and clients, you'll want to look at their paid options.
Bitrix24 is free to use. Paid versions start at $69/month.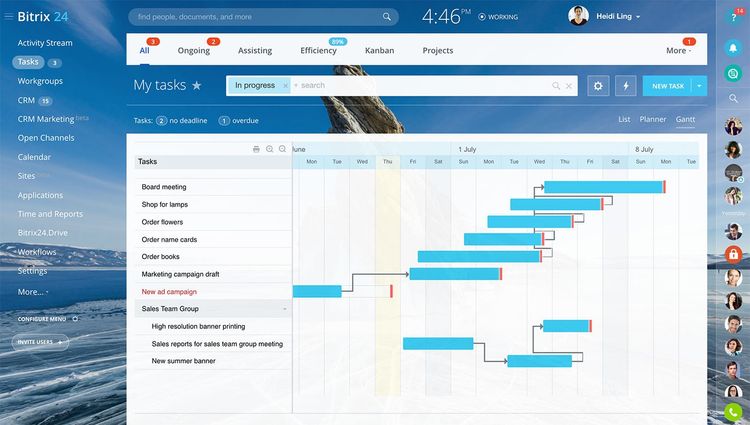 Knack is a free business management software from Theoretical Inc. The solution's biggest draw is the level of automation it can provide such as issuing invoices, generating statements, and reports. The solution has its roots in CRM and grew to also provide accounting, project management, and team collaboration as equally strong features.
While Knack is completely free to use, the most desirable feature (the automation) is only included in the "Pro" version. However, lucky for most, Knack Pro is incredibly affordable, meaning once you hit the ground running with the free version, you can decide if automating certain tasks is worth the price they charge. It's a great way to demo a program.
Knack is completely free to use and has an unlimited capacity for storing data on prospects and quotes. Knack Pro starts at $3.95/user/month.