What is Small Business HR Software?
Large-scale human resource software is often meant to serve entire HR departments where each worker has specialized training and resources. Yet small businesses, from startups to decades old mom-and-pop shops, often have no dedicated HR staff. Instead, the owner handles everything from payroll to attendance tracking personally in addition to all their other duties.
Fortunately, small business HR software handles core features like employee record-keeping, regulatory compliance, time and attendance, payroll, and more. Some small business owners may feel their small number of employees means they can get by without human resource software. It's understandable: if a company starts out with only 3 or 4 founders, why spend the limited budget on complicated software to cover what a spreadsheet can do? Yet there is no denying how valuable HR tools are in automating various HR processes, freeing up valuable time for business owners to focus on other aspects of running a company.
Of course, small businesses have different HR needs than enterprise-level corporations. For example, performance management systems are not as necessary if you don't have to manage hundreds or thousands of employees. Small businesses will primarily want their software to focus on core HR functionality: payroll, time tracking, and benefits administration. Small business HR software offers exactly those features, along with some valuable add-ons for companies hoping to grow.
Features of Small Business HR Software
Employee information database: Build a directory of current and former employee profiles including personal information, job description, salary history, banking and tax details, contact information, and applicable benefits such as insurance enrollment, time off requests, and performance feedback
Recruiting: Instantly share job openings on various job board websites, then screen applicant resumes to find qualified candidates and use templates to send out official offer letters; use an applicant tracking system to organize CVs, resumes, and cover letters
Onboarding and training: Welcome new employees into the company with detailed training to familiarize them with all proper work procedures related to products and services
Time and attendance tracking: Report employee work time (either in real-time or after-the-fact) down to the minute for wage calculation; manage time off or vacation requests
Payroll: Manage employee compensation, including wage calculation and payroll tax management; then automate check printing or direct deposit for payday
Benefits administration: Streamline the employee enrollment process into benefit programs such as insurance; determine employee eligibility for select programs based on selected criteria
Best HR Software Benefits for Small Businesses
There are several useful benefits to utilizing an HR software at your small business. Learn how you can help your organization with:
More Time for Other Workflow
Running a small business is not easy, and often involves the owner wearing a lot of different hats to get the job done. Spending time on HR tasks can limit the time allocated for other, more important business processes. This is the key benefit for small businesses on the fence about paying for HR software: save time.
Another popular option among small businesses is to hire HR professionals, either as a full-time employee or a temporary consultant to clear up any HR-related backlog. While this can free up time, in the long run it will cost more money overall than installing a small business HR software which can automatically cover those processes.
For example, planning out employee vacations can take time when done manually. Double-checking each schedule to ensure there are no shortages takes time. And it's actually harder when you only have a few employees who all want to take the same time off around certain holidays. Larger companies have enough workforce to cover these absences even at the last minute. HR software shows schedules simultaneously so it's clear how much coverage your business will have even when employees are off work.
Faster Hiring Process
Many small businesses can experience high turnover, particularly if the work is seasonal. In order to stay ahead of hiring demands, HR software expedites the recruiting process so you can get new, qualified workers faster than ever before. Your job posting can detail exactly what you're looking for in order to avoid wasting time on unqualified candidates.
HR software with recruiting tools helps you to reach more qualified candidates through online listings, social media, and job boards. As a small business, these online avenues can drastically widen your search parameters for the perfect candidate without increasing your outreach costs. Even if you are operating a single location in a small town, you can get your job openings seen by applicants in different cities or states.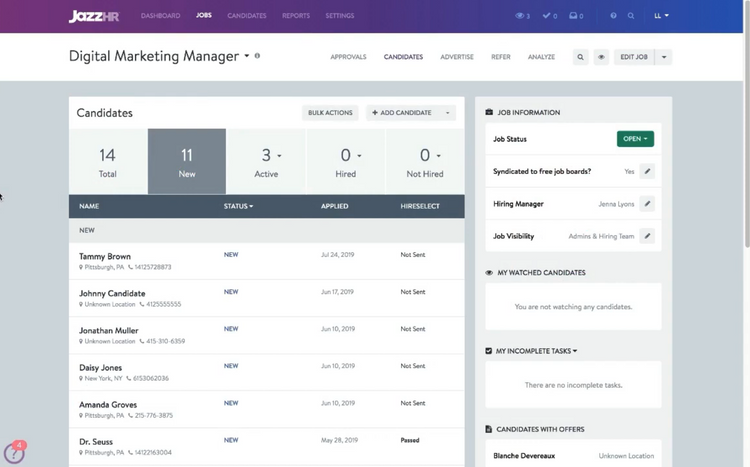 Better Onboarding and Training
Just because your corporate footprint is small doesn't mean your workload is small. An owner or manager taking time out of their schedule to train new hires without a set plan can add up to big backlogs in other areas. Fortunately, HR software streamlines both onboarding and training so your new hires can start working sooner. From the moment an offer letter is sent to the first day on the job, you can control the entire process so new employees get the best experience possible.
These employee training and onboarding processes can make your workers more productive, allowing your small business to make a bigger impact. In fact, well-trained workers can directly lead to lower turnover, meaning you're not scrambling to fill vacancies and can instead depend on your current employees for longer. If they feel like you care about their success beyond their basic job performance, they'll care about the success of your business beyond earning a paycheck.
More Accurate Payroll
Another major advantage of small business HR software is the ability to accurately and efficiently calculate employee benefits, starting with payroll services. Time and attendance tracking modules allow you to know exactly how many hours an employee has put in during each pay period, leading to accurate payroll numbers for everyone on payday. Mobile apps accessible through self-service portals even allow the workers themselves to clock in and out from smartphones or tablets, useful for anyone who works outside of a traditional office setting. And individual employee data entered into the system can reflect different compensation rates based on factors like seniority.
For business owners, time really is money. Instead of wasting an entire day balancing employee payroll in a spreadsheet, let a software handle it. Simply input the necessary data taken from the time and attendance tracking module and let the software do the rest. Intuitive HR management software frees up even more time by being user-friendly and easy to navigate with minimal training for team members. As a bonus, digitizing your in-house HR processes cuts down on physical paperwork, freeing up more resources for other business needs.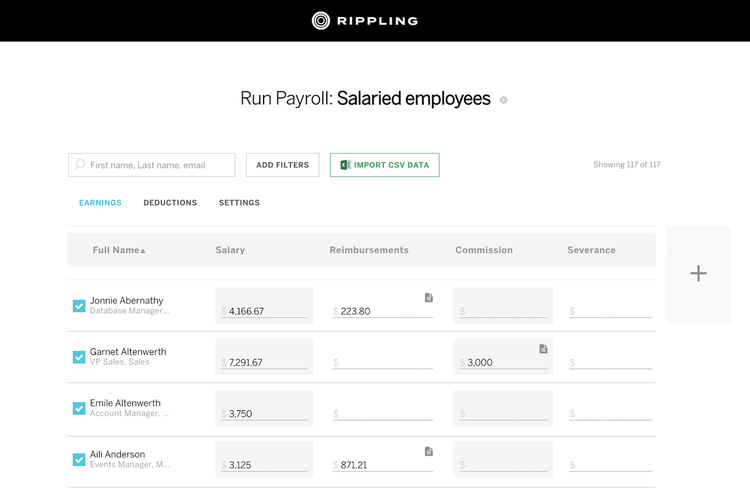 Meet Legal Compliance
Depending on where you live and operate your business, there are many different legal requirements for dispensing payroll and benefits administration. HR software helps you to keep track of these standards in order to remain compliant. For example, time tracking automatically records how many hours employees worked during a pay period. If someone is about to incur overtime, the system can ensure correct compensation based on legal guidelines. This goes beyond just payroll, as HR software can outline processes for handling employee terminations, family leave, and similar situations.
Use HR software to account for:
Americans with Disabilities Act (ADA)
Equal Employment Opportunity Commision (EEOC)
Occupational Health and Safety Administration (OSHA)
Internal Revenue Service (IRS)
Then there are internal company policies to consider. Who qualifies for what benefits? A small business HR software can keep tabs on different policies to ensure the right employees are enrolled in the correct programs. Smooth running benefits administration keeps employees informed while waiting for insurance payments or work-related reimbursement.
Small Business HR Software Pricing
Due to limited budgets and financial resources, small businesses should look for HR software that makes them as efficient as possible at the most affordable price. Some SaaS plans charge per user, with options as low as $1 per month per employee. Others are charged monthly, with different payment tiers depending on the total number of employees. There are many customizable pricing options out there to best match your company's budget and employee base.