Small businesses have different needs from multinational corporations with thousands of employees. While big companies may have entire departments dedicated to managing payroll, chances are your small business doesn't have the same resources. In order to handle your employee compensation, automate the process with payroll software specifically designed for small businesses like yours.
What is Small Business Payroll Software?
Managing your payroll requires an intricate knowledge of wage calculation and local tax codes, for withholding and deductions. Small business payroll software provides payroll solutions for automating these employee compensation processes.
Payroll software for small businesses is made to minimize the time you spend on calculating employee payments during each pay period. Tools streamline the process by automatically calculating wages based on time worked and then deduct funds based on tax withholdings. Your employees can get accurate paychecks and you can spend less time focusing on payroll.
Payroll software sometimes overlaps with human resource services since it tracks employee hours and benefits. However, since many small businesses do not have dedicated HR departments, they often need to use independent payroll solutions to manage employee compensation.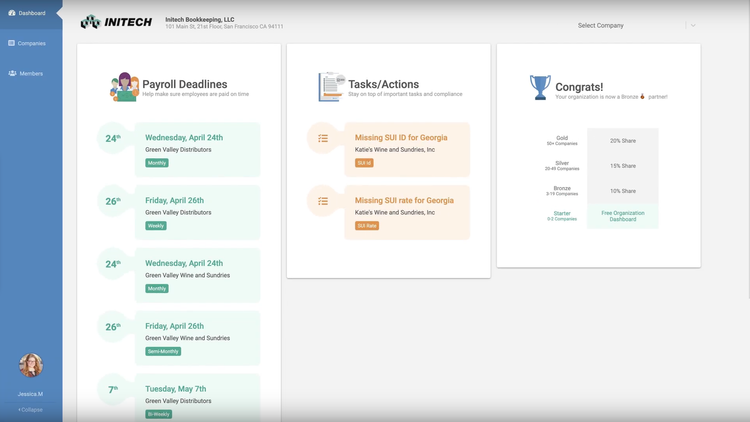 Features of Small Business Payroll Software
Salary and wage calculation: Determine employee paycheck amounts based on hours worked, specified salary and wage rates, and any other contributing factors like bonuses or incentives
Check printing and direct deposit: Batch print employee paychecks and/or deposit payroll funds directly to your employees
Pay stub records: Generate pay stubs to document employee hours worked, wage rate, salary earned, overtime, tax withholdings and deductions
Deductions management: Correctly withhold employee funds for taxes, legal garnishments, health insurance premiums, retirement contributions and benefits, etc.
Time and overtime tracking: Let employees report in real-time or after-the-fact; calculate overtime compensation for employees based on hours worked
Electronic payroll tax filing: Submit accurate tax documentation digitally for faster results and reduced errors
Certified payroll: Use 3rd party verification of wage payments to confirm payments are in accordance with prevailing wage standards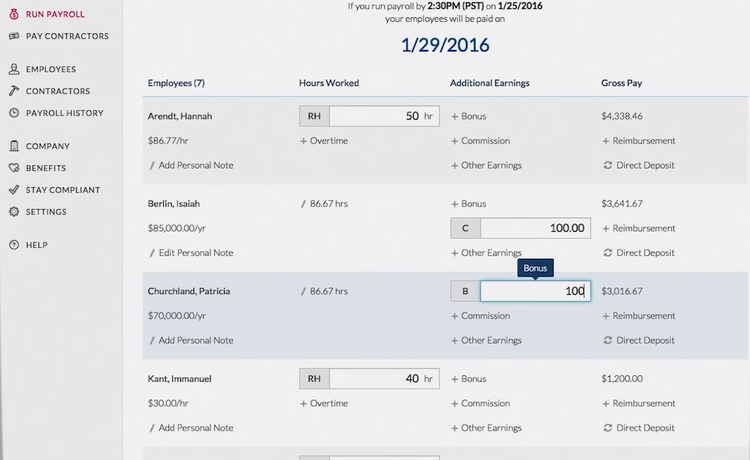 Benefits of Payroll Software for Small Businesses
Small business owners can improve their payroll services by using the right software. Here are just a few of the benefits small businesses find when they use custom payroll software:
Full Service Payroll
Enjoy a full service payroll software no matter how small your business is. Unlike general accounting software, payroll features target every possible issue with employee compensation. Popular solutions include time tracking features to help you record worker hours and then calculate their correct wages. There are tools to find and fill out the correct local and federal tax forms based on where your business is located.
By automating your payroll system, you can stay focused on your day-to-day tasks without worrying about how you're paying your employees.
Easy Direct Deposit
Payroll processing takes time, and one way to increase your speed is to offer direct deposit. However, many small businesses feel they can't offer direct deposit to their employees because of the additional transfer expenses. Fortunately, payroll software makes it easy to ensure the approved funds are in the right bank account and ready for pay day.
The more payroll options you have, the happier your employees will be. Some workers prefer instant access to their paycheck from direct deposit. Others prefer paper checks in order to do their banking in person. By using payroll software, you can continue to offer physical checks and pay stubs when necessary.
Keeping your payroll options open can also make it easier to manage special payments. For example, if an employee has accrued significant overtime, you can cut a bonus check directly rather than adjust their direct deposit in order to keep your payroll records accurate.
Instant Paycheck Auditing
Using a small business payroll software lets you better manage employee pay records. Instead of digging through physical paper trails, you can generate payroll reports on a regular basis. If you ever need to audit, simply using your software tools to create weekly, monthly, quarterly, and annual reports on your payroll runs.
Several small business payroll software tools are accessible on mobile apps. You can review employee paychecks while on the go. And employee self-service portals allow your workers to check their pay stubs online whenever they want. This gives you and your employees more opportunities to identify potential discrepancies with wages or withholding.
Accurate Tax Records
No matter how small your business, doing your taxes without a team of accountants can be a daunting task. Fortunately, software can streamline the process for your small business. After auditing your payroll, you can accurately report your taxes to the state and federal agencies. Payroll software automatically calculates deductions, withholding, and other information necessary for assembling your tax documents.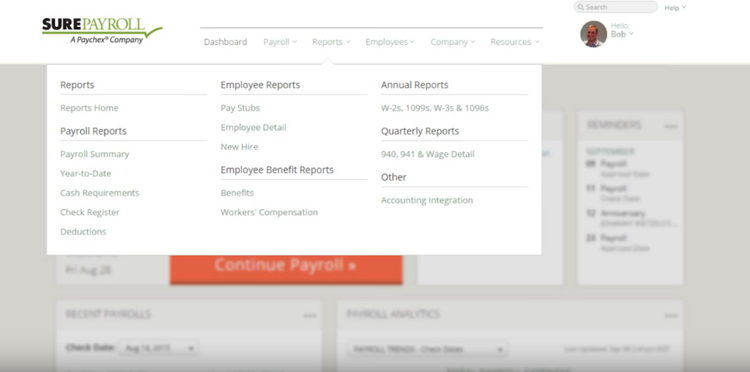 Manage Employee Benefits and Garnishments
Running payroll can be complicated by several factors. Are there different pay rates based on each department? Do your employees have retirement savings accounts? Are there annual company bonuses? Payroll software includes benefits administration so you can manage all types of employee compensation plans. Evenly distribute the holiday bonus through direct deposit or cut checks to share at the annual end-of-year party.
On the opposite end of the spectrum, payroll plans can even cover workers' compensation for employees who are not on your regular payroll due to on-the-job incidents. And if an employee has a court order to repay their debts, you can keep records of wage garnishment to prove compliance to debtors. Saving this unique payroll data can come in handy when going over your tax calculations.
Small Business Payroll Software Pricing
Online payroll software is intended to help small businesses save on the time it takes to run payroll, cut checks, and calculate taxes. In order to meet the budget of your business, most payroll solutions bill on a per employee/month basis, meaning the bigger you get, the more you'll pay. SaaS rates begin at $8 per month on a per employee basis. The base price may increase if you require special customer support, training, or implementation. More expensive plans with additional finance or HR features approach $45 per month per user. One-time implementations for a perpetual license are around $1,600.