What is Performance Management Software?
Performance management software tracks, analyzes, and evaluates the performance of your employees to ensure individuals and teams are engaged and on-track with organizational goals. By coordinating and collection performance reviews, these performance management systems help train managers and employees by letting companies better understand employee performance and productivity.
Performance management software can sometimes be referred to as a talent management system, which is a specific type of human resource software. Managers can collect data on their people in many different ways, but will primarily use this software to better align their employees with organizational goals set by upper management. The most productive employees that consistently meet their goals can be awarded for quality work, and feedback can be provided for those who do not.
For employees, a performance management solution can help inform management of how beneficial of a team member you've been–which can influence compensation, career trajectory, company goals, and even streamline hiring decisions. This can be through annual performance reviews or through self-assessment tools where employees can set individual goals.
Employee performance management software can be considered a subset of human resource software. It provides a more advanced approach to what might be offered as a basic performance management functionality found in a more integrated program. These programs are best used by HR teams who are utilizing other finite HR software options, such as applicant tracking software, and onboarding software.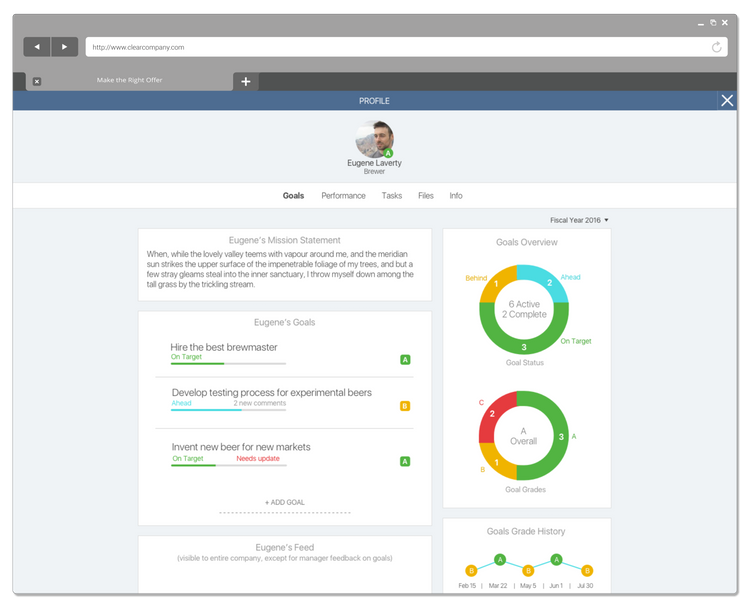 What Are The Features of Performance Management Software?
360-Degree Feedback: Provide employees with confidential and anonymous feedback from their colleagues, subordinates, and supervisors. Multi-layer feedback can be passed across the company hierarchy that relates to abilities surrounding problem-solving, interpersonal skills, business acumen, technical capabilities, influence, and communication skills.
Goal Management: Manage and track performance goals for your employees and management staff. Set weekly, monthly, quarterly and yearly goals. Conduct audits to maintain ongoing communication about goal setting and progress.
Performance Reviews: Self-assessment can let employees evaluate their own performance which can be compared with real-time feedback received from their team members or from management. Help facilitate management/employee communication, identify employee strengths and weaknesses, set individual goals, make informed compensation decisions, and ensure human resources are leveraged to the maximum benefit of the organization.
Succession Planning: Craft and execute strategic and long-term succession plans to help employees take the next step in their career based on competencies and skills. Track and analyze employees to discover high-performing individuals who can succeed as company leaders. Keep track of employee talents and skills and ensure training and development can be encouraged for replacements.
Reporting: Run performance reports and share information among key personnel, department heads, and senior leaders. Create customized reports based on performance evaluation needs such as completion status reports.

What Are The Benefits of Performance Management Software?
The top benefits of a performance management platform includes:
Improve Employee Engagement and Autonomy
A high-performing workforce is essential for your business to continue to grow and survive against your competitors. An engaged workforce will be more productive, innovative, and deliver better results at a more consistent pace.
Performance management software can help automate employee engagement surveys that ask clear questions that measure employee satisfaction. These surveys help your business break down what is working and what isn't, along with what your employees are the least satisfied doing. By providing this information to senior management, you'll be able to inform better strategies moving forward.
Employees can use performance management software for their own benefit as well. This includes tracking their career progression, their evaluations are given (from other employees or management), and their overall understanding of their performance in relation to the goals of the company.
A survey by Harvard Business Review found that 71% of respondents said employee engagement was important to achieving success. 72% ranked the recognition given to high performers as one of the most significant motivators.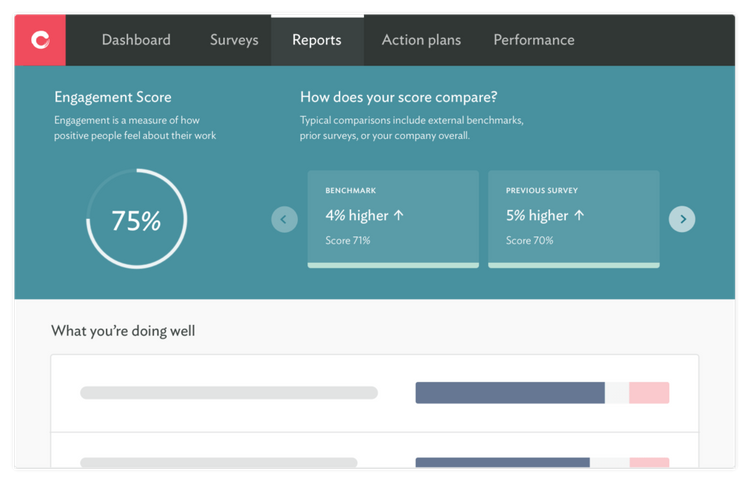 Gather Continuous Feedback On Employees and Management
Rather than conducting annual reviews of employees, continuous performance feedback helps align and develop your workforce on a more consistent basis. This human-centered approach helps promote, evaluate, and improve the performance of your employees. By continuously meeting with employees to go over their current workload, you ensure all employee goals are staying aligned with one another.
It may appear to be a form of "micro-managing", but the transparency helps communicate progress across your organization and enables response to changing business needs. Performance management software helps create this trusted environment where employees feel empowered to take control of their own development. One example is through the use of an employee recognition program. By clearly displaying all employee goals and their progress towards them, constructive feedback can become more normalized.
Other features offered by performance management software that ties in with a continuous feedback philosophy include:
Check-ins: Allow managers to periodically check in with employees regarding their performance
Crowdsourced feedback: Let employees ask for advice from their coworkers and managers through message boards and chats
Performance dashboard: A unified view that displays feedback, summaries, and established goals for each employee with their own login.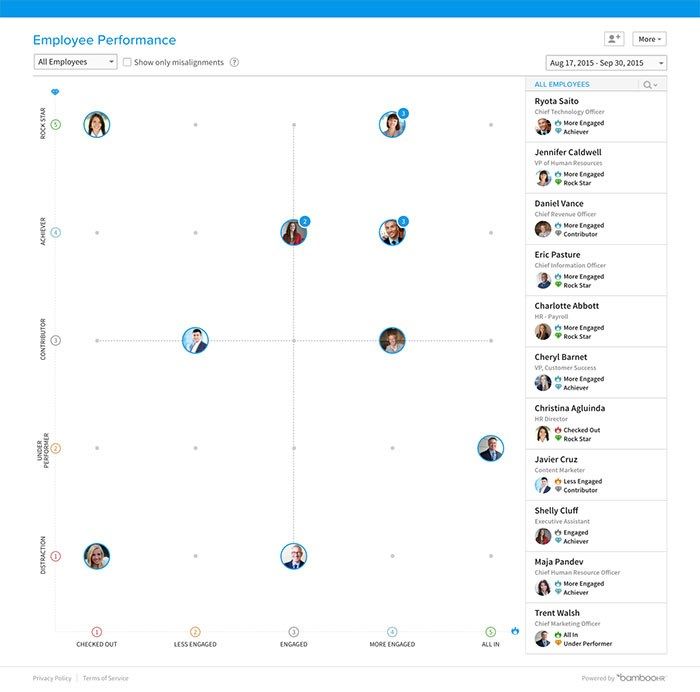 Career mapping and development planning components within a performance management software are the most critical part of planning the long-term careers of the individuals in your company. A performance management software will identify areas for improvement, set goals, measure progress, and outline a strategy to ensure the person can stay on the path to new career opportunities to better serve the company.
A performance management software provides personalized development plans–letting your employees feel empowered to direct their professional development, as well as correcting performance within your team. This combination will allow both employees and managers to evaluate their own career goals to ensure their contributions to the company are within their skillset.
Many activities may come about for your team members to prove their worth. By monitoring employee performance on new projects, workshops, seminars, and even new qualifications they may garner such as certifications, a performance management software will conduct performance reviews and prepare performance development plans.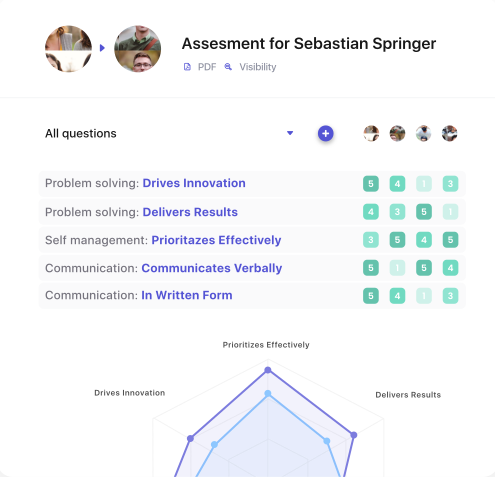 What Does Performance Management Software Cost?
The cost of performance management software pricing starts between $4 to $8/employee/month. The pricing model is generally a subscription that takes into account the total number of employees you will be running performance reports on. At times it may be stated as a per user/month cost, but as long as your employee will be logging in to access a portal or to view information about their performance, they will require their own user license.
For example, if your business has 100 employees and finds a performance management software that is advertised at $6/user/month, you will be looking at an overall monthly cost of $600/month. These solutions may have upfront costs associated with them, such as cost for implementation and training.