We recommend the best products through our own independent review process.
The best seed-to-sale software should maintain compliance with state and local regulations, ensuring that businesses can track and report on all transactions and activities. It should also enable businesses to manage all aspects of their operations, from cultivation and harvesting to inventory tracking and point-of-sale transactions.
After researching and comparing 20+ options, here are our top picks for the best seed-to-sale software:
1

BiotrackTHC

BiotrackTHC provides end-to-end tracking and management of cannabis-related activities, from cultivation and harvesting to inventory tracking and point-of-sale transactions.

One of the reasons we consider BiotrackTHC as one of the best seed-to-sale software options is its compliance with state and local regulations. It's designed to meet the strict requirements of each state's cannabis program, ensuring that all transactions are transparent and traceable.

BiotrackTHC can also integrate with other systems, such as accounting software and electronic data interchange (EDI) systems, which helps streamline business processes and increase efficiency.

Furthermore, BiotrackTHC offers a wide range of reporting tools that help businesses stay on top of their compliance obligations and track their performance metrics.




What We Like
Compliance with state's cannabis program
Integration with accounting systems
Reporting tools for compliance
Overview
Price Range: $$
Starting Price: $200/month
Client OS: Windows
Deployment: Cloud or On-Premises
2

Canix

Canix offers a range of features for managing cultivation, inventory, and compliance.

What makes Canix stand out as one of the best seed-to-sale software is its focus on mobile capabilities, allowing growers and other personnel to access and manage their data from anywhere using their mobile devices. This makes it easy to stay on top of tasks and track data in real-time, improving operational efficiency and reducing errors.

Another unique feature of Canix is its ability to integrate with hardware devices such as RFID scanners, which can help automate inventory tracking and streamline compliance reporting.

In terms of compliance, Canix offers a range of tools for meeting state and local regulations, such as license tracking and audit preparation. The software can also generate custom reports that meet the specific needs of each state's cannabis program.




What We Like
Mobile capabilities
Hardware integrations (RFID)
Customizable reporting
Overview
Price Range: $$$
Starting Price: $1,000/month
Client OS: Windows, macOS, iOS, Android, Web
Deployment: Cloud Hosted
3

GrowFlow

GrowFlow offers a range of features for growing, tracking product, and staying compliant with state and local regulations.

One of the key differentiators for GrowFlow is its focus on providing user-friendly tools for growers and dispensaries. The software offers drag-and-drop functionality for managing inventory, which can reduce the time and effort required to manage daily operations.

Another unique feature of GrowFlow is its pricing model, which is based on the number of active plants being tracked, rather than a per-user or per-month fee structure. This can be particularly appealing to smaller businesses or those with fluctuating inventory levels.

GrowFlow meets state and local regulations using customizable templates for compliance reporting and automated audit preparation. The software can also generate detailed reports on everything from plant health to sales data, enabling businesses to make data-driven decisions and identify areas for improvement.








What We Like
User-friendly
Innovative Pricing
Plant health reporting
Overview
Price Range: $$$
Starting Price: $250/user/month
Client OS: iOS, Web
Deployment: Cloud Hosted
What Is Seed to Sale Software?
Cannabis seed-to-sale software, alternatively known as either cannabis or marijuana software, manages your entire cannabis cultivation operation. As more US states and territories legalize marijuana, CBD and THC-based products, growers and cultivators need a way to monitor production, maintain state regulations, and track sales. Seed-to-sale software offers the tools necessary for simple compliance monitoring and dispensary point-of-sales (POS) functionality, in addition to predictive analytics, seed to sale software ensures you operate every facet of your licensed cannabis business the way it should.
Given strict regulations in the cannabis industry, you need seed to sale software to manage the entirety of your supply chain processes. Companies looking for additional functionality like back-office accounting and inventory control may want to consider a fully integrated cannabis ERP software.

Seed-to-Sale Software Functionality
| Feature | Functionality |
| --- | --- |
| Cultivation Tracking | Monitor and automate your real-time grow performance. Track any waste to account for potential errors in weight with moisture loss. Find inefficiencies in your operation by better tracking time, labor, and other key cultivation metrics. Record genealogy and potency details in log notes. |
| Compliance Management | State regulators monitor every step in the cannabis supply chain, including where it was planted, harvested, processed, and sold. Strict traceability is a must. Compliance functionalities in seed to sale software go over plant and product procedure to ensure compliance. Automatically generate reports in a compliance-friendly manner. |
| Processing and Manufacturing | Optimize future product yield by keeping a close watch on use of watering, lighting, and pesticides. |
| Inventory Management | Track both raw materials and finished goods, with methods such as barcoding or RFID, to ensure inventory can be audited and ensure proper weight and dosage has been recorded. |
| Supply Chain Management | Track transportation manifests detailing the products in case of any regulatory review in transit. |
| Dispensary POS | Process cannabis sales through in-person transactions, online ordering, and more. Establish purchase order limits, if any, to meet cannabis compliance in your state. |
Best Seed-to-Sale Software Benefits
A seed-to-sale platform can provide a multitude of benefits to your business, including:
Chain of Custody Tracking
Whether you're a cultivator, packager, or retailer, you'll need a reliable way to track inventory. Seed to sale software helps cultivators, manufacturers, processors, and even retailers meet the same standards set for pharmaceutical manufacturers and distributors.
Different cannabis products include varying weights and concentrations. Use streamlined data entry methods to check in on your product throughout your workflows.
Compliance with Local Laws and Safety Measures
Cannabis can be manufactured and produced into a number of final products ranging from topical oil to an edible snack. Seed to sale software helps you maintain compliance for every product.
Given strict regulations in the production of cannabis, you'll want to ensure your workers are not causing infractions that could lead to legal trouble. Cannabis needs to be handled with as much care as any other pharmaceutical, and thus comply with state and federal traceability requirements throughout the production process.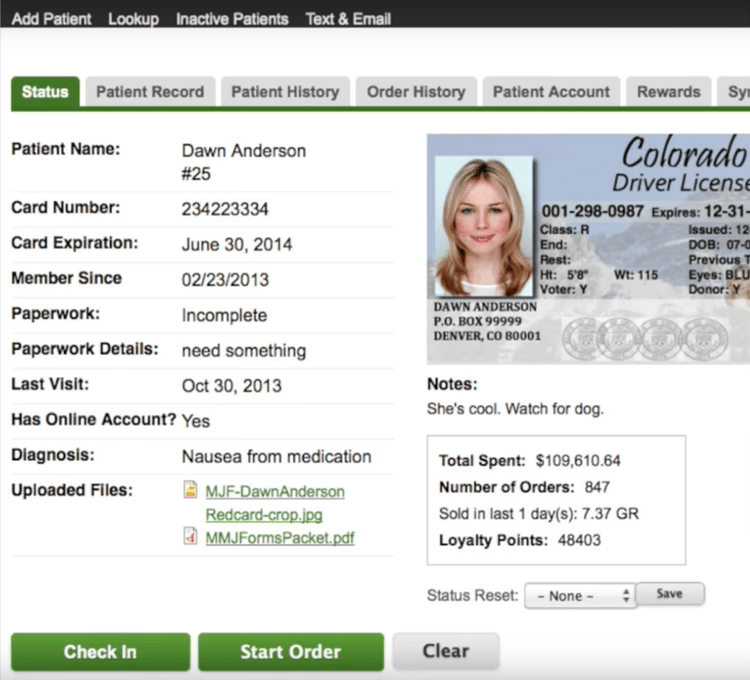 Proper Plant Nutrition
Plants of all shapes and sizes need proper care to ensure they are growing on schedule. They need more than just water and sunlight: they require nutrients and pesticides to grow as healthy as possible. Seed to sale solutions allow easy logging of when these nutrients have been given to a select crop of plants, creating a tracking system for growers and cultivators to use when determining harvest times.
What Does Your Business Need?
Depending on the size of your business, you may have differing needs than others within the industry:
Start-ups and Small Businesses
At its core, seed to sale systems need to focus on compliance. While some industry-neutral software works great when you are small, and industry-neutral software options may be able to handle your initial manufacturing, distribution, inventory, etc., you'll want to look at finding a software vendor with experience serving cannabis-based companies to keep up with the latest compliance regulations.
Mid-sized Operations
As your client base expands and your sales rise, you should consider a scalable solution to match your growth. Companies of this size need to determine where they land in the seed to sale process: Are you a dispensary dealing with point-of-sale issues, or just a cultivator? Even if your company operates in every area, a scalable, user-friendly cannabis ERP solution can help you focus on your more successful areas.
Large Enterprises
Larger operations manage a true seed to sale process from cannabis cultivation, to processing and distribution, and finally to sale. As such, they require a cannabis ERP solution with the full suite of supply chain management, inventory tracking, and accounting modules to better manage operations across multiple departments and facilities.
Localized Compliance with Seed-to-Sale Software
Each state which has legalized marigjuana sales has done so by different means. As such, there are different regulatory agencies which set compliance standards, regulations which can vary by county, and sales limitations, all in addition to the usual requirements of running a retail operation. Businesses using the same regulatory compliance software as their state's enforcement division can be assured they're ready for audits conducted by state agencies.
Additionally, compliance tracking software solutions specific to the seed to sale industry, such as Marijuana Enforcement Tracking Reporting Compliance (Metrc) system, make it possible to keep up with ever changing regulations and focus on business. Now serving more than 19 states and territories, Metrc software ensures compliance with specific states' regulations that govern the growth, distribution, processing, and overall sale tracking of cannabis products.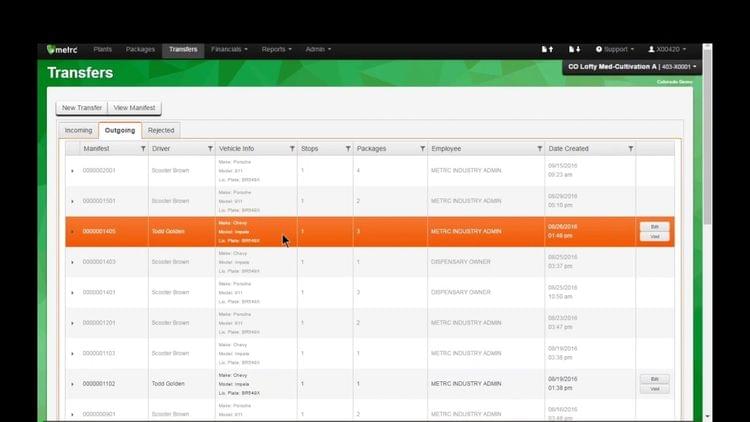 Canadian Compliance
Medical cannabis has been legalized in Canada since the early 2000s under the Access to Cannabis for Medicinal Purposes Regulations (ACMPR). The passage of the Cannabis Act has led to an increase in the sale of recreational marijuana. For Canadian operators, seed to sale tracking options such as Ample Organics meet reporting requirements set forth by both the Cannabis Act and ACMPR.
Can QuickBooks be a Seed to Sale Software?
QuickBooks, a popular small business accounting software, is often used by startups within the marijuana industry. However, QuickBooks is not the best long-term fit for the unique challenges associated with cannabis operations, such as meeting government compliance.
Industry-specific seed to sale software may provide you with the needed manufacturing and supply chain functionalities, but lack the accounting needed to become a "fully integrated option". These types of seed to sale software options may suggest the use of entry-level packages such as QuickBooks Pro or Sage 50c.
Trends and Pain Points in the Cannabis Industry
Rapid growth. The legal marijuana industry can include anything from hemp to THC to CBD and more. The industry has grown by billions and now employs hundreds of thousands of people. Unfortunately, this can cause some growing pains, leading to many startups selecting software to streamline growth.
Vertical Integration. This level of involvement occurs when the supply chain of a company is owned by that company. In the cannabis industry, the combination of complex regulatory issues prompts cannabis businesses to establish vertical value chains. This means cultivators may also look into opening up dispensaries or adult-use venues, so their product can go from farm, to cultivation, to processing, and to sale.
Specialty accounting professionals. As the cannabis industry continues to grow, entire accounting firms are being created with the sole purpose of handling marijuana-based businesses.
Higher taxes. The IRS states no deduction or credit will be allowed for businesses which incur expenses in relation to trafficking in controlled substances prohibited by federal law. Given marijuana's mixed status, this can mean cannabis companies are ineligible for normal tax breaks. Seed to sale software keeps your business compliant so you can maximize any potential tax incentives.
"Finding processors". Prior to the 2018 Farm Bill being signed, almost half (47.4%) of hemp cultivators found the biggest business challenges they had were finding processors and seeds or clones. However, with the bill's passage, growers can ship crops across state lines to access a larger pool of licensed processors.