Every year In the United States, more states are ending marijuana prohibition. However, marijuana is still illegal on a federal level, so these states require extensive record-keeping and reporting.
All licensed recreational cannabis establishments must use a seed-to-sale tracking system. Also called "track-and-trace," these systems track the cannabis life cycle from seed germination to product sales, and monitor compliance with state regulations.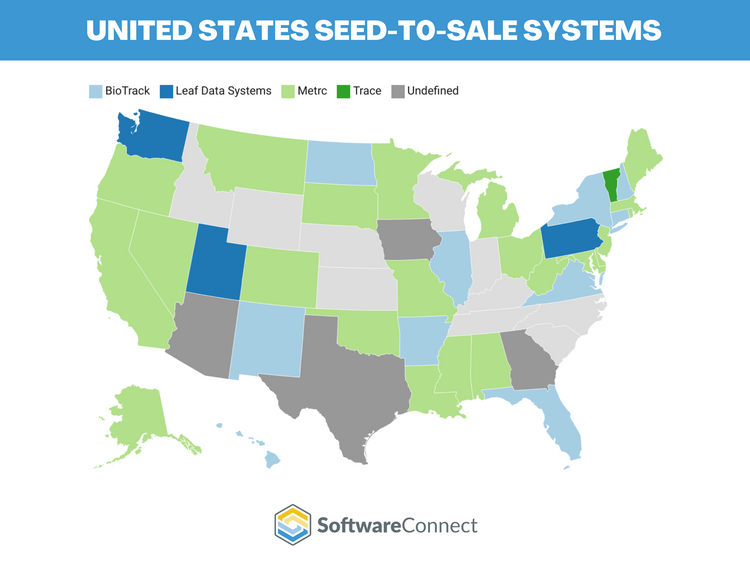 Software Compliance by State
Each state with legal medical or adult-use marijuana has a contracted software system they use to monitor compliance of all marijuana establishments in the state. The table below contains the link for each state's cannabis regulatory agency, each state's legal status, and the seed-to-sale software currently contracted with the state.
What Is Seed-To-Sale Tracking?
Seed-to-sale tracking manages every stage of recreational cannabis cultivation, from the seed germination to sold products. This system helps legal marijuana businesses track production, sales, and compliance with state regulations.
The cannabis product life cycle starts with planting, then harvesting, testing, processing, packaging, and finally selling. Marijuana plants receive an RFID or barcode tag during early growth and are tracked with this tag throughout their lifecycle. Growers refine cannabis plants to create different products, so tracking the plant from seed to final product can be complex.
Each stage of the product life cycle compiles hundreds of data points that are not only helpful for monitoring cannabis business efficiency but are mandatory for government accountability.
Marijuana operations must send data from seed-to-sale systems in daily reports to the state's cannabis regulatory body. This government agency monitors compliance, collects taxes, verifies product quality, and ensures that every gram is fully legal at every stage of the product life cycle.
Specialized seed-to-sale software can streamline this complex reporting and compliance process and make it easier to stay up-to-date with regulations. Seed-to-sale software sends data in real-time to state-contracted systems and also offers predictive analytics and tools for dispensary POS systems.
The Importance of Compliance for Cannabis Businesses
Because of marijuana's federal prohibition in the United States, states require legal cannabis businesses to create and keep extensive records and reports. Therefore, maintaining compliance is a vital component of retaining cannabis business licenses and permits, without which their companies couldn't legally function.
Compliance reporting helps state governments differentiate between legal and illegal markets and ensures that legal marijuana isn't being sold on the black market. Also, tracking legal marijuana products helps state regulators recall unsafe products.
Without proper compliance and reporting, cannabis operations can face hefty fines and even the loss of their entire business. Since the legal cannabis industry is in its infancy, rules and regulations are constantly changing. Seed-to-sale software keeps track of these evolving regulations to help legal marijuana businesses remain compliant.
Cannabis growing operations have limits on the number of plants they can grow, and seed-to-sale systems track plants and report the numbers to state regulatory bodies.
It is important to note that every state has its own rules for cannabis cultivation, sales, and reporting methods. Check with your state's cannabis regulatory agency to learn the required tracking systems.
The Seed-to-Sale Software Market
As states adopt legalization for both medical and recreational marijuana, the seed-to-sale software market is growing alongside the legal cannabis market. As a result, by 2028, the global cannabis software market is on track to be worth 3,617.07 Million.
Within the 43 U.S. states and territories where cannabis is legal in some capacity, these four systems control the seed-to-sale software market: Metrc, BioTrack, Leaf Data Systems, and Trace. Metrc comes in first, holding roughly 53% of the market share. Coming in second is BioTrack with 28% of the market share, then Leaf Data Systems with 7%, and Trace with 2% (Vermont only).
Check out some of the top seed-to-sale software systems:
FAQ
Q: Do all legal marijuana businesses require seed-to-sale software?
A: No. Not all businesses that grow marijuana are required to implement seed-to-sale software. Though, if they do use software, they are often required to use the software chosen by their state government or a software that integrates with the state-approved software. Check your state's cannabis regulatory agency for specific rules regarding software use.
Q: Do medical marijuana businesses require seed-to-sale tracking?
A: No. Not all states require medical marijuana businesses to use seed-to-sale tracking. However, some states with both recreational and medical marijuana require seed-to-sale tracking for medical marijuana businesses. Check your state's cannabis regulatory agency for specific rules.