The world of the ERP software market overview has existed in some shape over the last 40 years, and the competitive landscape continues to grow every year. The global ERP software market size was valued at $50.57 billion in 2021 and is expected to reach $123.41 billion by 2030, a compound annual growth rate of 10.7% from 2022 to 2030.
This market growth can be attributed to changes in technology as well as ever-evolving business needs. Because of this, new ERP vendors have sprung about to enter the ERP market and become leaders–mostly due to trends they laid forth or due to the size they have become.
Thinking of what may be the most popular ERP software in the global market brings up a number of recognizable names, such as Infor, SYSPRO, and Epicor. But what software vendors have a stronghold on the ERP market share? Which products are the driving force behind these company's popularity?
We've analyzed the 2022 ERP Market research and forecast a few top key players that will be very involved in the ERP market segmentation today and in the future.
ERP Buyer Trends
ERP providers constantly shift the goals of what their software can provide for their customers. This usually comes in the forms of routine updates to their software, which allow customers to have the most up-to-date version of software free from any bugs.
This motivation to improve their product can also come from a desire to gain a competitive advantage in today's ERP market, while looking at current technology trends and pain points facing existing ERP users.
Examples of these trends include:
Increased use of Cloud ERP and Mobile ERP
Artificial intelligence in ERP
Increased focus on business intelligence
The Internet of Things (IoT) and Industrial Internet of Things (IIoT)
3D Printing and Additive Manufacturing
Top ERP System Providers by Market Share
While determining which top enterprise resource planning solutions will work best for your business, it's important to know that the answer will first be whatever you will get the most use out of. What works for a large enterprise may not work for your small business. What works for your business in North America or Canada may not work for a company in Europe.
An ERP system should improve business processes by making your employees more productive, your operations more efficient, and your reporting more accurate. We here at Software Connect researched a variety of ERP software vendors in search of the most widely-used and desired systems. We've identified the following five as the top ERP system providers by market share:
Microsoft
SAP
Deltek
Sage
Oracle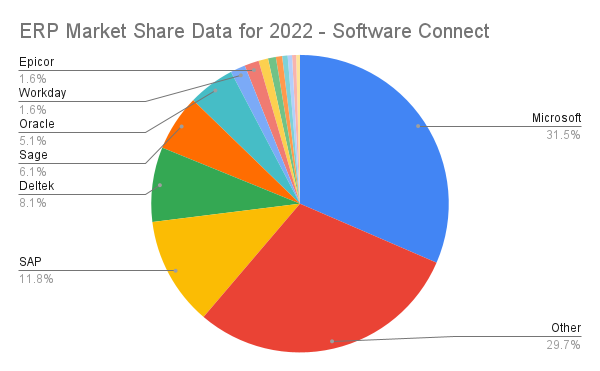 Microsoft
Microsoft represented 31.5% of ERP market share. They have been a leader in the ERP software market for many years through its Dynamics product offerings. These ERP solutions provide a fully integrated tool for financials, supply chain, operations, reporting, manufacturing, and human resource activities.
Some of the most popular ERP solutions of the past 20 years have been from Microsoft, which includes Dynamics 365 Business Central–the successor to the popular Dynamics NAV software.
Many of Microsoft's offerings have become industry-focused or provide an app-based approach that lets you customize your solution to fit your needs. Dynamics 365 fits the mold with an app-based approach. This comprehensive business management solution is designed for small to medium-sized businesses. The cloud-based ERP lets you consolidate multiple systems/modules into a single, connected application–one that integrates closely with other Microsoft products your office may already be using on a daily basis, such as Outlook and Office 365.
Microsoft's biggest draw with Dynamics 365 is the combination of ERP and CRM capabilities. This gives it the feel of a true "all-in-one" tool that looks crisp and is incredibly easy to use with a layout similar to popular applications such as Microsoft Outlook and Office 365.
The solution is intended for use by small and mid-market companies, providing a scalable way to get the features your business needs to be more profitable.
Top Features
Finance
Inventory
Project Management
Purchasing
Sales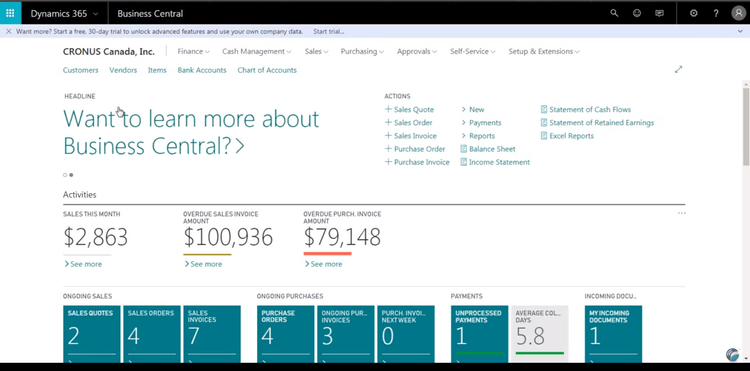 SAP
SAP represented 11.8% of ERP market share. They have been a leader in business applications since the launch of its first ERP system in 1972. Today, the company has over 425,000 customers in over 180 countries and employs over 100,000 people worldwide. They offer dozens of ERP solutions for seemingly every size of business and every type of industry.
SAP Business One is an affordable and easy-to-implement business management solution designed specifically to meet the needs of growing small companies. Your managers will have on-demand access to critical real-time information through one single system containing financial, customer relationship management, manufacturing, and management control capabilities.
Most SAP products such as SAP Business One were originally intended to be on-premise. SAP has evolved and now has a large library of cloud ERP software that can be externally hosted if the user chooses. SAP Business One is one of those options.
SAP Business One has a reputation as a proven software solution backed by a more reputable developer. Due to this, they may be perceived as having more stability and experience in ERP compared to others. Which works best for your business will come down to your tolerance levels with affordability, reliability, scalability, and performance.
Top Features
Accounting
CRM
Human Resources
Inventory Control
Material Requirements Planning (MRP)
Purchasing
Warehouse Management
Top Industries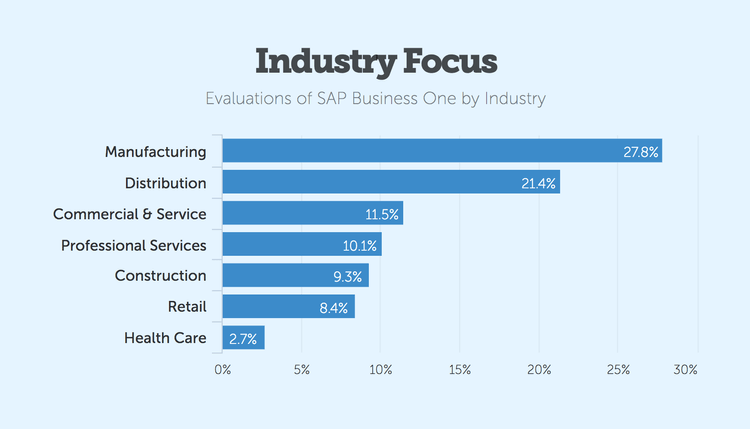 Deltek
Deltek represented 8.1% of ERP market share data. Deltek is the leading global provider of enterprise software solutions for project-based businesses. Their solutions are best used for project intelligence, project management, and project collaboration.
Deltek has it's beginnings in 1983–immediately capturing the project-focused niche, with a big focus on government contractors. These government contracts must, under U.S. government procurement law, track costs by contract–something many systems at the time did not have a good grasp on. This led to the creation of their original system, Deltek Government Contracting System.
Today, with products such as Deltek Vantagepoint (formerly Deltek Vision), Deltek offers project accounting options to architects, engineers, and consulting firms. The product offerings operate as a combined project-based ERP and professional services automation (PSA) solution.
Top Features
Accounting and Financial Management
CRM and Pipeline Management
Project Management
Reporting and Business Intelligence
Resource Management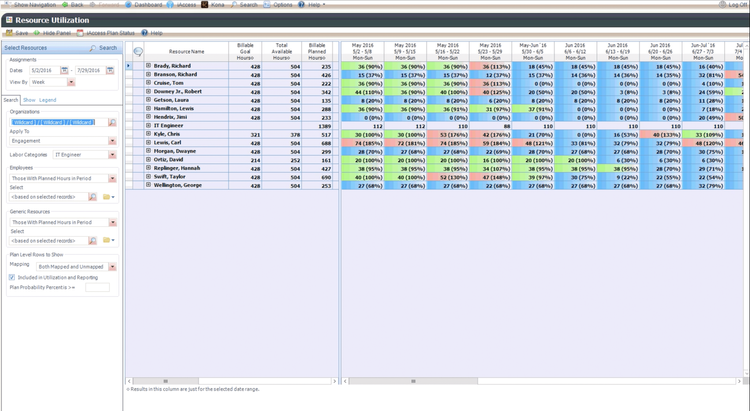 Sage
Sage is a worldwide provider of accounting software and ERP systems. Sage is one of the leading choices for small businesses and the largest current supplier to small businesses–with over 6.1 million customers worldwide.
Millions of customers are managing their financials, payments, operations, and people with Sage Business Cloud options. Sage offers a large profile of solutions that help your business make smarter business decisions and plan for the future through user-friendly automation.
Sage 300 primarily helps businesses to increase their cross-departmental collaboration via an integrated management platform which is fully accessible via the cloud. This gives users from all over the company an up-to-date view of corporate finances and operational performance metrics, allowing for responses to ongoing situations in real-time.
Founded in 1999 before being acquired by The Sage Group in 2017, Sage Intacct was built by finance professionals, meaning it can provide powerful automation of complex processes and multi-dimensional data analysis.
One of the first web-based cloud accounting products available for the SMB market, Sage Intacct is most known for being an in-depth financial management system, as it offers a suite of accounting software that could serve medium and large-sized businesses with consolidated ERP and e-commerce features.
These financial-based applications include accounts payable, accounts receivable, cash management, a general ledger, order management, purchasing, and reporting and dashboards. Intacct also includes support for financial reporting, billing, sales and use tax, inventory management, and project accounting.
Oracle
The Oracle Corporation represented 5.07% of ERP market share. They are one of the largest software companies in the world, selling database software and technology, cloud engineered systems, and enterprise software products.
They are most known for their own brands of enterprise systems that handle ERP, human capital management (HCM), CRM, and supply chain management (SCM). Oracle Cloud Applications are built on machine learning that helps enable fast innovation with a modern UX and customer-first approach.
NetSuite was acquired by Oracle back in 2016, who has continued to improve upon the NetSuite product all while being backed by a multinational computer technology corporation. Oracle was recently listed as one of our top ERP vendors, who continues to make NetSuite work great for companies with multiple locations and/or supports growing organizations.
Top Industries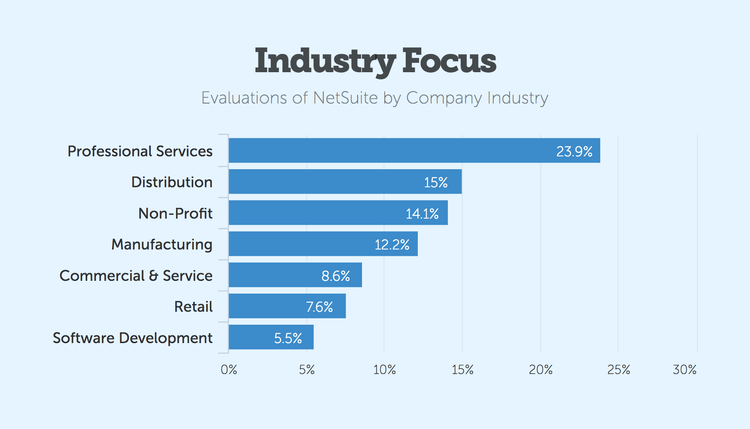 Oracle Cloud ERP is an integrated suite of business modules comprised of various ERP products depending on your needs. The cloud applications assist with your business functions of finance, project management, procurement, risk management, and other day-to-day activities.
The Oracle Cloud is ideal for customers seeking subscription-based access to leading Oracle applications, middleware and database services–all hosted and expertly managed by Oracle. Some of the top Oracle Cloud ERP applications include Financials Cloud, Procurement Cloud, Risk Management Cloud, EPM Cloud, and SCM Cloud.
Together, the combination of these solutions provides great potential for enterprise and mid-market companies looking to grow. The organization may start with Financials Cloud and quickly expand the functionality reach by implementing SCM cloud and Risk Management Cloud to work alongside it as one unified database system.
Top Features
Financials
Project Management
Procurement
Risk Management and Compliance
Enterprise Performance Management (EPM)
Supply Chain and Manufacturing
Artificial Intelligence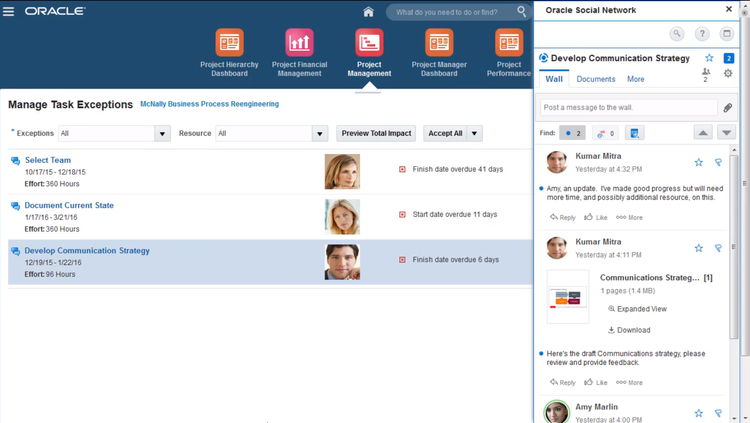 Other ERP System Providers by Market Share
Through our research efforts, we uncovered a large number of ERP software vendors that had some percentage of market share. For the sake of brevity, we've limited our report to only providing the top 5 in detail. Other ERP system providers we looked at include:
Workday (1.62%)
Epicor (1.57%)
Aptean (1.04%)
Infor (0.85%)
Odoo (0.68%)
SYSPRO (0.59%)
Acumatica (0.47%)
Blue Link (0.44%)
ECI (0.42%)
Other (29.74%)
Methodology
To find our top ERP software by market share, we combined three of the top ERP market share data sources together along with our own internal data. Software Connect surveyed our top 250 products by looking at total submissions to our website. Total submissions refers to how many site visitors requested additional information on a product. We narrowed the number of top ERP products down based on this visitor data, and combined this data with the results provided from the other sources to create an aggregate.
The other ERP market share data sources used were: