The best construction project management software simplifies intricate construction tasks, optimizes resources, mitigates risk, and fosters team communication, boosting efficiency, cost reduction, and timely project completion.
Our experts at Software Connect have diligently evaluated 2023's leading construction management software, helping you find the ideal fit for your business needs.
1

Procore - Best Overall

Why We Chose It: Procore's strength lies in its construction project management, while also offering a financial management portion if in need of something fully integrated. The construction project management application includes quality and safety, design coordination, and building information modeling (BIM). The tool lets construction companies know what needs to get done to stay on schedule, and lets you identify issues before they impact your budget or schedule.

Procore states that 75% of construction project managers reduce project duration by at least 3 days using their program. The software also offers easy integration with other financial solutions such as Sage 100 Contractor and Viewpoint in case you are not looking to use their construction accounting application.

Want more options? Check out our list of best project management software.
2

Contractor Foreman - Best for Small Businesses

Why We Chose It: Contractor Foreman was created specifically for small and medium sized businesses, whether they be residential or commercial, trade or general contractors. Marketed as an all-in-one solution, Contractor Foreman has over 35 features available through its varying plans.

Contractor Foreman understands the struggle of changing systems, which is why it's best used as an extension of your existing office software practices. This commonly includes QuickBooks, Zapier, MS Project, and more. This means you can continue with your standard AP/AR/GL reporting within the accounting software you already have, and use Contractor Foreman for estimates, bid management, change orders, and purchase orders.

When it comes to price and value, Contractor Foreman provides the best combination of functionality and savings. Their standard version starts at $49/month, with a 25% coupon, paid annually. This is on top of a 100 day money back guarantee, a 30 day free trial, and 2 hours of free private training. Any price paid is for the company as a whole and not per user (although you are capped at a certain number of users depending on which version you choose).
3

Buildertrend - Best for Home Builders

Why We Chose It: Buildertrend is a cloud-based project management software, empowering the construction industry with a better way to build by reducing delays, eliminating communication errors, and increasing customer satisfaction.

It includes tools for Estimating, Scheduling, and Change Order features, along with Client Communication and Document Management tools. All these features are designed to streamline every aspect of the construction process.
4

ProjectSight - Best for Mid-Sized Businesses

Why We Chose It: ProjectSight by Trimble is a robust, configurable construction management software, designed to cater to mid-sized to larger contractors and specialty trades. With features like project status monitoring, user permissions, cost management, and tracking of change orders, it offers a comprehensive solution for mid-sized operations seeking deeper control over project management processes. Its integration with other Trimble solutions and Trimble Connect, which provides automatic backup of project files and data, ensures seamless operations.

Despite its extensive project management capabilities, ProjectSight also recognizes the essentials of construction accounting. It provides internal options through other Trimble offerings and an open API for external integrations. The platform uniquely integrates 3D modeling, aiding in effective planning and conflict resolution, and offers mobile applications for constant access to project information. However, it does come with certain limitations, including rigid workflows and the need for a separate accounting solution.
5

Fieldwire - Best Free

Why We Chose It: Fieldwire is a field management solution popular with construction teams, powering 500,000 job sites worldwide. It acts as a hub for coordinating with your project team, tracking the performance of jobs, and reducing your overall risk. Features include messaging, task lists, scheduling, and reporting.

The free "Basic" version of Fieldwire is intended for small teams looking to try some core features. The solution is limited to 100 sheets and 3 projects. Given the customization options and the ease of upgrading into a paid plan, the free version of Fieldwire is a great way to see if it's right for you.
6

Spectrum - Best Online

Why We Chose It: Spectrum from Viewpoint is an easy to use construction ERP software that is completely web-based. This fully integrated set of tools includes construction accounting, construction project management, equipment and materials management, service, HR and payroll, and reporting.

Note: Spectrum was developed originally by Dexter and Chaney before the Viewpoint acquisition in 2017. Because of this, the solution has years of history operating as its own powerful tool. It continues to be sold today as a powerful tool in the Viewpoint line of products.
7

STACK - Best for Estimating

Why We Chose It: STACK is one of the leading estimating and takeoff tools for pre-construction. The solution helps general contractors with the tools to win more bids, helps subcontractors find the most profitable projects, and helps suppliers and manufacturers connect with customers during the purchase consideration stage.

The centralized hub in STACK lets teams work together to improve their efficiencies and increase company revenue. STACK offers a limited free version (up to 10 takeoffs) that is great for smaller construction companies, or for a larger company looking for a trial of the program.

Want more options? Check out our list of best construction estimating software.
8

ClickUp - Best for Residential and Commercial

Why We Chose It: ClickUp offers comprehensive solutions that cover various aspects of construction project management. The ability to customize workflows, set objectives, and track progress in real-time makes it a valuable tool for planning and managing construction projects from pre-sales to delivery.

We've noted ClickUp's effectiveness in streamlining both residential and commercial construction businesses, emphasizing its superiority over more expensive custom construction management solutions. And the affordability, starting at $5/user/month, makes this software best for businesses looking to enhance their construction project management processes without breaking the bank.
9

Clockify - Best for Time Tracking

Why We Chose It: Clockify is an efficient time tracking software for the construction industry. This software has the ability to calculate billable hours based on hourly rates eliminates the need for manual time calculations, streamlining invoicing processes for construction companies. And for construction projects involving large crews, the unlimited free users makes an ideal solution for tracking crew hours without incurring additional costs.

Clockify is available across various platforms like Windows, Mac, Linux, Android, and iOS, making it accessible to field workers and office staff alike. Users can even set up dedicated kiosks for easy clocking in/out.
10

Wrike - Best for Storage Integration

Why We Chose It: Wrike is a project management software with tools like custom workflows, collaboration tools, Gantt charts, and request forms for construction. The scalability of Wrike is particularly useful for construction companies, as it can meet the needs of both small teams and large enterprises even as they grow.

One of Wrike's key strengths for construction project management is its resource management capabilities. With tools for time tracking, contractor hour logging, and resource allocation, construction teams can efficiently manage their resources, ensuring projects are delivered on time and within budget.
Our Methodology for Choosing Construction Management Software
At Software Connect, we personally review software to help you find the right solution for your business needs. When looking at construction project management software, here is the review methodology we use when evaluating a product:
1

Features

The first thing we look at when evaluating construction management software is the scope of functionality. Based on our survey of construction management software buyers, the features we find the most critical include:
Job costing
Project management, tracking, and estimating
Scheduling
We also look for software which goes beyond these essential functions, as our survey found 14% of buyers wanted tools for migrating data to other industry-focused software. Add-on modules or third-party integrations can bring a software to the next level of performance.
2

Value

Next, we check the value of the construction management software by comparing the estimated starting price against all the included features. One of our buyer trend surveys found 43% of construction businesses spend 1%-2% of their total revenue on construction software. With industry costs always rising, we know how important it is to find reasonably priced software.
3

Performance

FInally, we test out the software ourselves to see how it performs in different scenarios. We look for potential delays when sharing data from a mobile application to a desktop version to see what conditions would be like when working in the field. And we test out the navigation to see how intuitive it is to new users.
What is Construction Software?
Construction management software is a combination of applications to aid project managers, engineers, general contractors, and architects in improving decision-making in performing the necessary planning, building, and assembling task management in construction projects. These software tools include project and contractor management, estimating and bidding, and job cost accounting. This management software can organize your jobs, win more bids, and ultimately make your work more profitable by running your construction business better.
Cost accounting capabilities help project managers determine the project costs of a construction job by analyzing labor, materials, equipment, and subcontractors. Construction project management (PM) capabilities coordinate planning, scheduling, resource allocation, quality management, time tracking, and collaborative document sharing. Together, these features help construction businesses to plan and control their build process more effectively.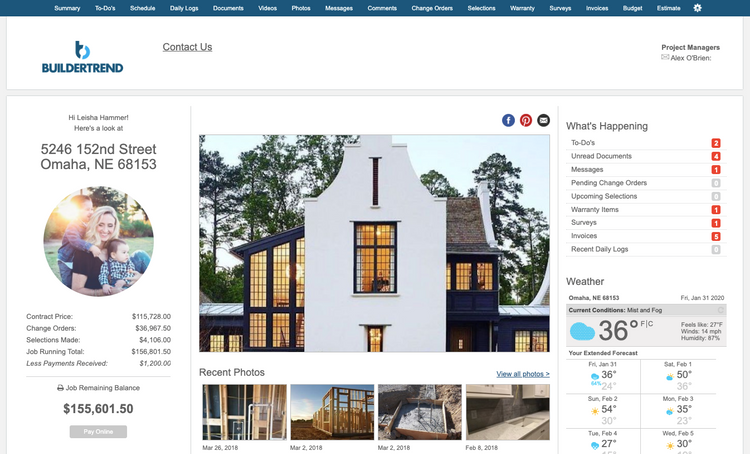 Features of Construction Management Software
When shopping for construction management software, a business should concentrate on specific functionalities to boost efficiency and effectiveness. Construction software should be tailored to your specific needs while also taking the future into consideration.
Depending on if your team is made up of home builders, remodelers, real estate professionals, or a large commercial contracting business, your project team will want to select tools to accommodate current needs. For instance, you might want mobile apps for productivity in the field, such as time cards that let your staff closeout on site. Software and apps have the capacity to scale as your business expands and you increase the scope of your construction process.
| Feature | Functionality |
| --- | --- |
| Construction Accounting | Tracks revenue and expenses. Includes modules such as accounts payable, accounts receivable with invoicing, and a general ledger. |
| Job Costing | Facilitates the assignment of costs to individual cost categories in order to enable improved cost control and job profitability analysis. Such cost categories typically include labor, equipment, materials, and subcontractors. |
| Estimating | Builds cost models for executing job-based work. Includes functionalities such as takeoff and easily syncs with purchase orders required to complete a job. |
| Project Management | Coordinates the execution of project tasks, including planning, plan markup, equipment tracking, project scheduling, resource allocation, quality management, time tracking, and collaborative document sharing amongst team members, clients, and specialty contractors. |
| Document Management | Keeps digital copies of all documents for the entire project in one secure and easy-to-access location. |
| Bid Management | Streamlines the entire construction procurement and bid process, such as project planning with customizable quote templates. Handles RFIs and submittals between your team members and any change orders required. |
| Project Scheduling | Assists in project scheduling by managing the distribution of labor and resources to create ideal timelines. Kanban boards and Gantt charts measure project progress to calculate an accurate completion date. |
| Customer Relationship Management (CRM) | Keeps detailed information on past clients, current customers, and prospective leads. |
According to our recent Construction Technology Trends survey, two-thirds of construction software buyers desire project management tools for job costing, project tracking, and project estimating.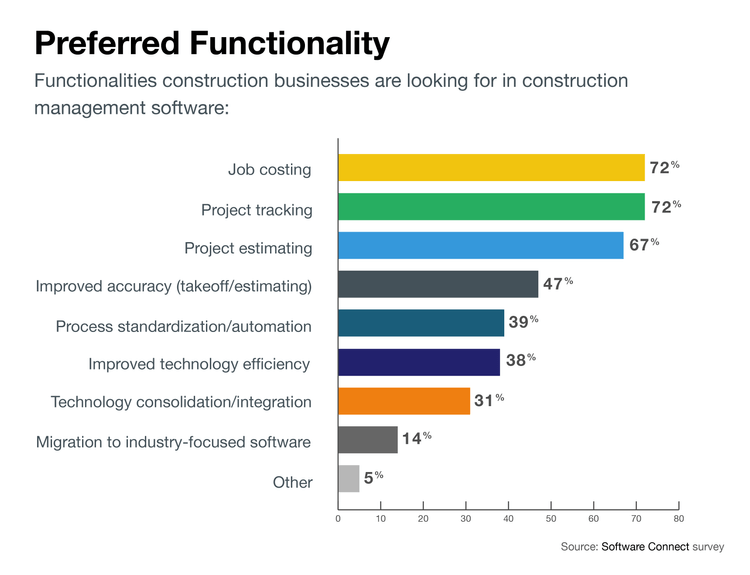 Best Construction Management Software Benefits
Users of construction management software can improve their business workflows in a number of ways. Some of the top benefits of implementing a construction software include:
Everything Under One Roof
A fully integrated management system lets you manage all your tools within one optimized software, rather than having several disjointed programs which may or may not communicate well with each other. This can mean coordinating your efforts with just your project team, or involving third-party partners such as an architectural company or electrical contractor connected to your current construction project.
Eliminate Time-Consuming Manual Processes
Manually tracking projects in a spreadsheet or jotting down cost estimates with paper and pencil might be a familiar or comfortable way of running a business, but it's not the most efficient. Software can optimize how you schedule your workers and predict project timelines. And with cloud-based apps, you can even make updates from mobile devices while out in the field.
Gain Control of Job Costs
Cost management tools help to keep project expenses in line with functionality such as job costing, project tracking, project estimating, material take-off, time and materials billing, bid management, and purchasing. With real-time updates, you can see how you're spending your budget before going over. And you can make updates to the final bill for accurate invoicing at the end of each project.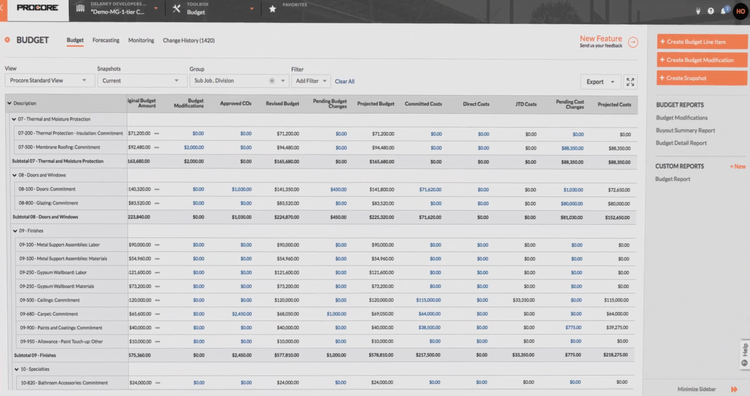 Get More Organized
Construction management software offers a broad, consolidated view of the business in one spot. This can help construction professionals make more effective use of their time through project tracking, reduce expenses through job costing, and collect on-time payments through simplified billing and invoicing.
Improve Document Management
Keeping track of paperwork is hard enough in a 9-5 office job. Properly organizing and storing documents on a jobsite? Nearly impossible. Construction software provides document management tools for easily storing and retrieving digital versions of all your most important documents, from project bids to final invoices. Project teams can immediately collaborate by creating, sharing and archiving documents while adding quality to the process and providing greater job satisfaction. These materials can be compiled into daily logs to show real-time progress. As a result of this data, contractors can learn to better manage day-to-day tasks, time and risks.
Work On-Site and Away from the Office
Construction software can provide collaboration in real time so users can access and upload project contacts, plans, drawings, and photos at any time, from any location. Project teams can also improve their project collaboration via punch lists created in the field. Punch lists will let project teams conduct efficient walkthroughs and inspections to close out faster. Construction software will allow you the tools necessary for on-the-go field service management.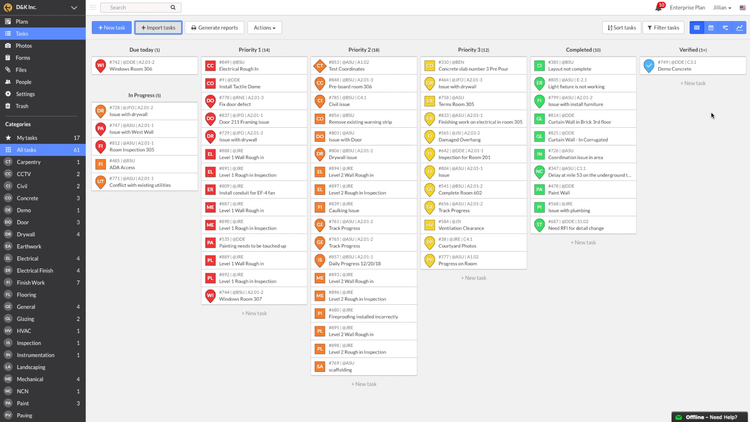 Construction Management Software Costs
The starting cost of construction management software ranges from $7 per month to $200 per month for a cloud-based software on a subscription-based pricing model. The total SaaS price is generally dependent on the number of users and the level of applications needed. There are some free construction management software options, though there are often associated costs for additional users or specific functionality.
Our construction buyers trends survey found 43% of construction businesses spend between one and two percent of their revenue on software, making it a worthwhile investment. This is particularly critical as the price of doing business in the construction industry keeps going up.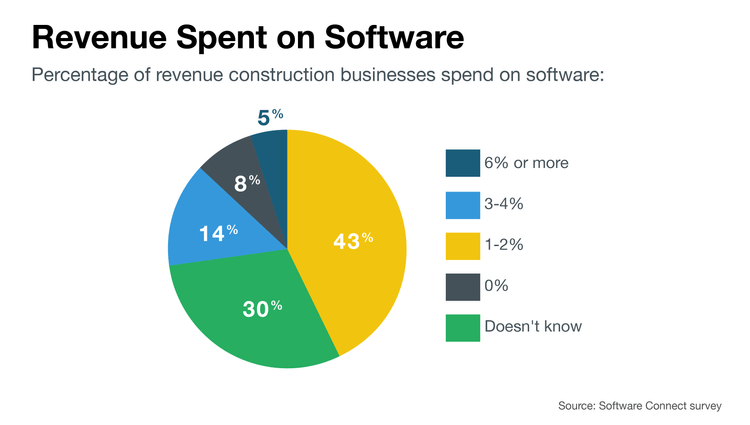 "With rising material and labor costs, firms will likely struggle to maintain their margins in the coming year," according to Construction Dive in a review of construction industry trends for 2017. Construction management software can help a business trim those costs and ensure profit margins aren't squeezed.
Types of Construction Software
Most construction project management software will be created with a specific scope of business in mind, such as accounting or project scheduling. Depending on your size, you might weigh certain project management solution features above others:
Small Builders and New Companies
If you're small or new, job costing will be the most important feature to help you manage your basic accounting much easier. Most basic construction accounting software should offer some sort of cost management functionality for making general estimates on upcoming projects.
Mid-Level Companies
Growing and established companies looking to upgrade will likely desire a more in-depth functions beyond basic accounting software, such as estimating tools and some level of bid management. These functionalities are best provided by an industry-specific construction management solution or from a vendor specializing in software implementation in construction environments.
Large Construction Companies
Companies in need of a full suite of functionalities should look towards construction ERP solutions to provide enterprise-level construction management. These will be popular software solutions with a long proven track record of assisting construction companies. Advanced ERP software can have a level of custom-development to make them more in-tune with a company's estimating and bid management needs, to ensure the solution works along the project lifecycle as a complete all-in-one system.
---
In our recent technology trends survey, 37% of construction businesses identified ease of use as the most important consideration when buying construction software. Other notable considerations include: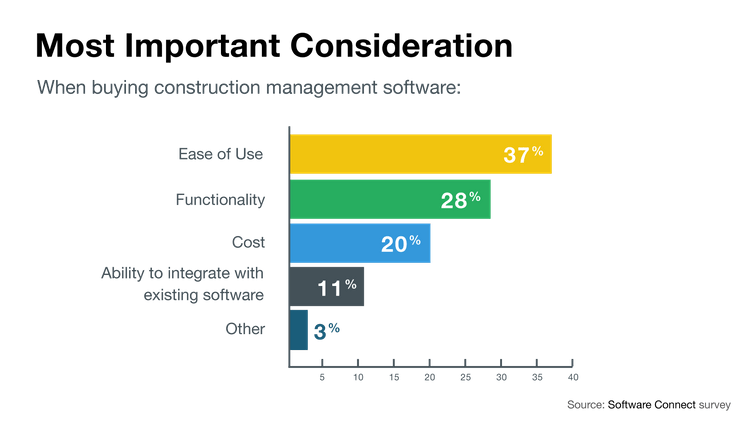 Construction businesses should be clear about who'll be using the software and, as such, who'll need to be trained on how to operate it. Before a business buys the software, it should inquire about the availability of training and customer support from the vendor.
Is QuickBooks a Construction Management Software?
QuickBooks Online has been used successfully by thousands of construction companies. While not an industry-specific construction management software, the solution can handle the needed accounting for most construction businesses. This includes managing job costs, tracking time and expenses for projects, and running various reports on a job/project level.
However, QuickBooks may be limiting what a construction business can do technologically. Fortunately, a number of QuickBooks alternatives are available for construction businesses that have outgrown the product. The research over the past few years shows more than 35% of construction businesses have been looking to upgrade from QuickBooks in some way.
Many QuickBooks users fall for the seductive marketing messages that boast 'easy to set up, easy to learn to use' and fall prey to the myth of do-it-yourself accounting," Nancy Smyth, author of the QuickBooks for Contractors blog.
For a construction business considering a shift away from QuickBooks, ask this question: Is QuickBooks serving the company's needs? If the answer is "no," it's time to contemplate another software product that's more robust and geared more toward construction management.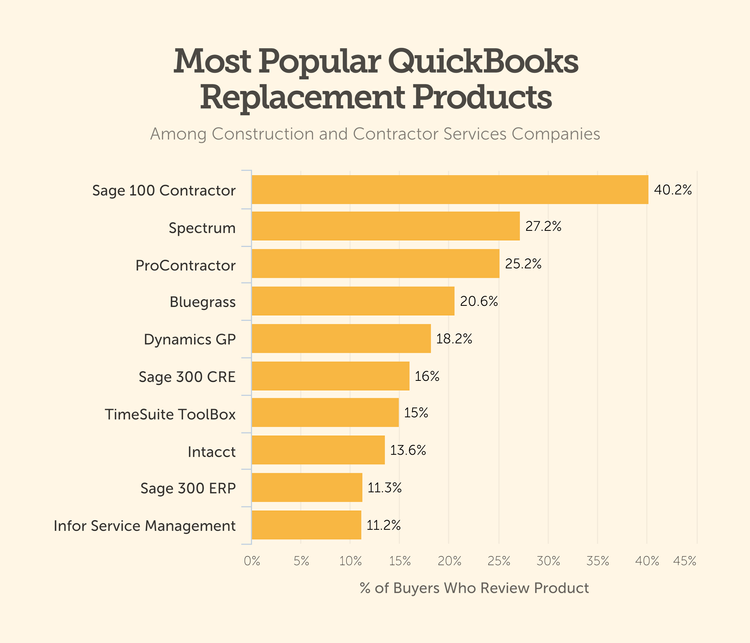 Market Trends in Construction Management Software
Based on a recent technology survey by Software Connect, some of the top trends in construction software include:
80% of companies on manual methods to carry out basic business functions.
Job costing and project tracking are the top two functionalities sought by construction businesses (72% each), with project estimating in third place (67%). While this ranking of functionalities should not dictate the software needs of a construction business, it does offer some guidance.
56% of construction businesses said they use construction management software. The remainder (44%) don't use construction software and, as a result, might be wasting time and money.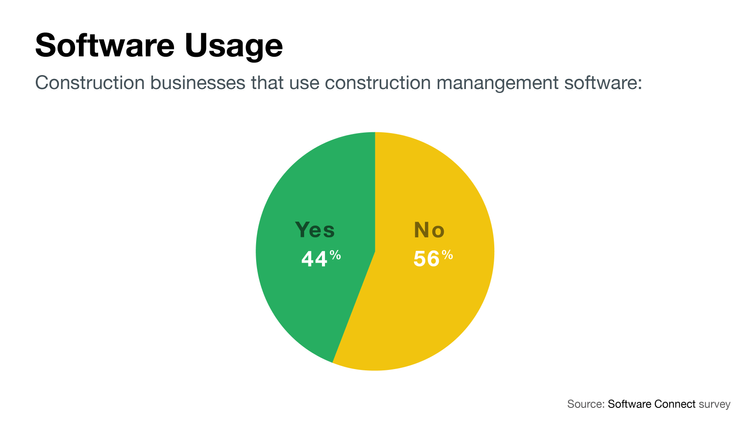 ---
Slow Adoption of New Technology
Construction and engineering professionals surveyed in 2016 by professional services firm KPMG said their companies had numerous software platforms in place that are monitored manually, and just 20% had access to fully integrated task management solutions across the entire organization.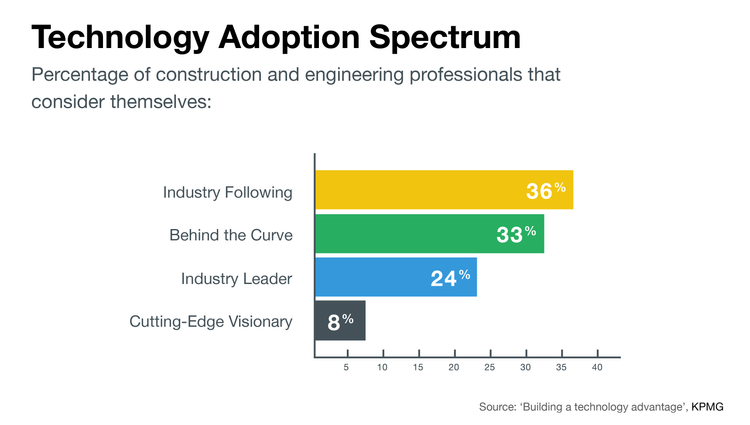 "Without fully integrated automation, the effectiveness of these tools is severely compromised," KPMG points out. Further, the World Economic Forum report declared construction businesses have largely failed to embrace new technologies, "and the gap between the innovation leaders and laggards is widening," according to the report. This means companies may be hesitant to look into newer web-based construction or cloud-based software. Start your search for construction management software with the experts at Software Connect.