What Is Heavy Civil Construction Software?
Heavy civil construction software provides integrated construction management software tools to contractors that primarily work in the highway, road construction, infrastructure, and civil construction industries.
Road projects that require heavy civil construction software will usually include construction accounting with job costing, project management, and estimating functions specific to the needs of heavy and civil contractors and highway construction companies.
Estimating and takeoff in the civil engineering industry will include 3D takeoff, a cost item database for equipment, fuel costing, DOT databases that offer pre-built cost details for items required, and crew templates that help save time during bid preparation.
Construction project management software capabilities will assist in billing based on units completed, logging hours worked and assigning them to specific projects, handling the dispatch of crews and equipment, and tracking fuel consumption.
Accounting is important for the specialized pricing that is involved in heavy work, purchasing the needed materials, regulatory reporting, and multi-entity management (if the heavy construction side of your business is a subsidiary of a larger contracting business).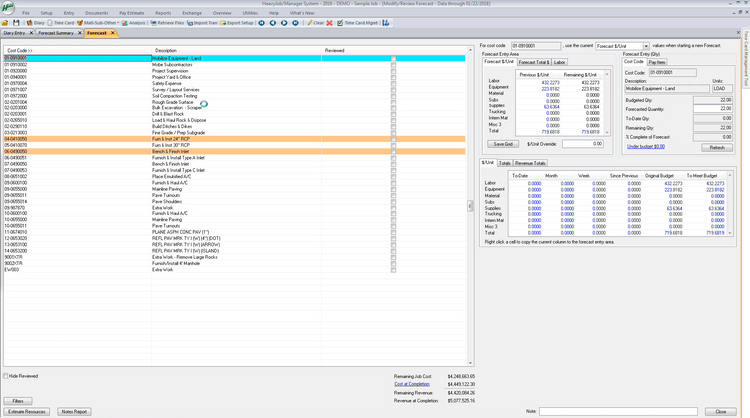 Also known as heavy construction software or civil construction software, companies that specialize in paving, grading, excavating, concrete, materials, demolition, and drilling/blasting should seek to use this type of specialized contractor software on the jobsite. All options will provide an integrated approach to using whatever tools are needed in your highway and infrastructure business.
A properly implemented solution will help your business unify the management of construction jobs, work orders, and maintenance contracts. Advanced options will collect labor time, equipment usage data, and provide mobile accessibility for field reporting.
Features of Heavy Civil Construction Software
Accounting: Provides project accounting capabilities that break down the income and expenses of all construction projects. Includes job costing, contract revenue recognition, retainage, and specialized billing such as progress billing.
Estimating: Helps estimate project costs. Calculates labor costs, material costs, subcontractor costs, and equipment costs. May include digital takeoff to extract dimensional information from blueprints.
Bidding: Manage bid project data, documents, and subcontractor communications during the preconstruction stage. Includes capabilities such as contact management, project calendars, proposal request management, prequalifications, and RFI creation tools.
Project Management: A combination of capabilities that aid project managers, engineers, and architects in improving decision-making during planning, building, and assembling. Coordinates the execution of project tasks, including planning, project scheduling, resource allocation, quality management, time tracking, and collaborative document management.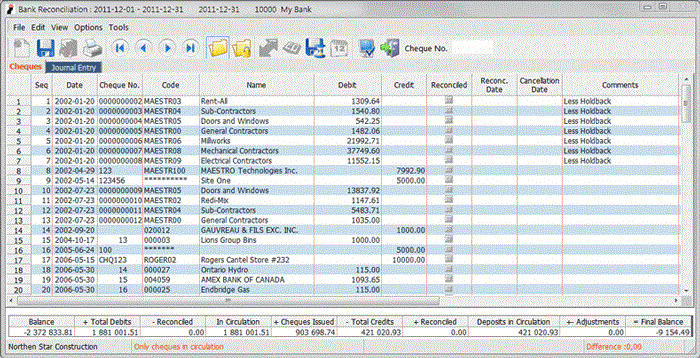 Benefits of Heavy Civil Construction Software
Contractors on the heavy highway construction line of work face a number of challenges. They are required to capture accurate costs, maintain their equipment in working order while recording proper utilization and production, and support multiple profit centers. Some of the top benefits of highway construction software include:
Access Data In Real-Time With Cloud-Based Software
Business intelligence tools can help heavy highway and heavy civil contractors gather information on their teams in the field, which provides the most flexible ways of managing operations, improving productivity, and enabling better decision making.
Many civil contractors may have concerns about migrating data from their existing systems into the cloud. They may also have a concern about the process change impact on their end-users. This fear is common in all industries and can lead to a delay in a cloud deployment.
The truth is, a web-based system will provide a single source of information with no APIs, connectors, or imports needed. Cloud, or SaaS, hosting will also enable your business to avoid future server refresh cycles, and let your IT department focus on higher-value activities.
Cloud civil construction software will tend to be more affordable for organizations. These solutions are billed on a subscription-based pricing model, meaning you pay a smaller monthly cost to continue using the solution as opposed to a large investment up front.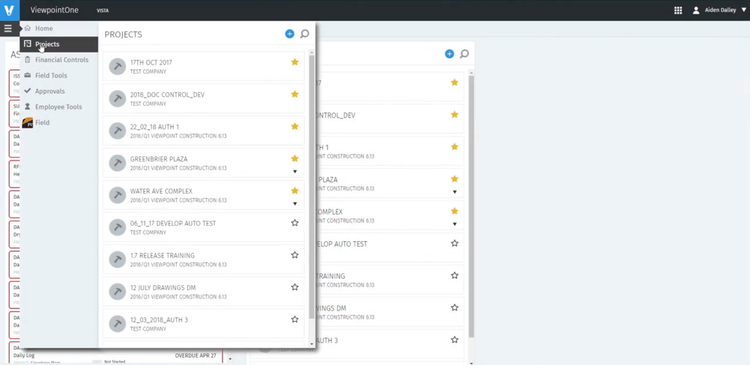 Streamline Your Estimating Process With Improved Bid Management
How profitable your construction business is or will become starts with accurate estimates. This is because your estimating tool will gather the time, materials, subcontractors, and equipment management costs that will be required to complete the job. Specialized estimating software that operates as a stand-alone can provide a unique combination of speed, accuracy, and ease-of-use that can help you wins jobs at a quicker pace.
The reason your business should consider a fully-integrated heavy construction software that includes estimating is for a seamless connection between other areas of your business.
For starters, estimating needs to sync in with field tracking. Any discrepancies between what was bid and what should really be in the field can be handled immediately. This cohesive pair mesh together and reduce the possibility of errors. It also helps connect your estimating and project teams, which opens up the lines for constructive criticism and ideally an improved business.
Once the bid process is over, data from your estimating application will need to be translated into your accounting and project management functionalities. Using a disparate system may make it difficult than a simple export/import from the estimating program into your accounting program. Having a unified system will connect all departments, so when a job is set up, a budget is approved upon, and the final cost can be sent to accounting for proper adjustments to your financial records.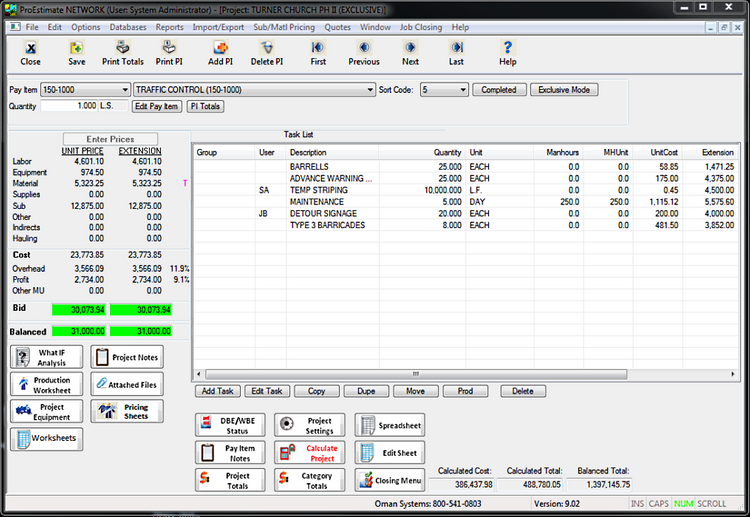 Link Your Heavy Civil Construction Estimating Process With The DOT
Estimating needs to connect seamlessly to the electronic Department of Transportation (DOT) bidding. Internet bidding for highway construction projects becomes more common each and every year, which will help save your business time when dealing with proposals, submissions, and posting of bid results.
Civil construction estimating software will give you a leg up on your competition by providing a high-speed and efficient way to submit your bids in the required DOT format. The right software can also help store cost information on all of the required items usually found in DOT databases. This will let you pull the necessary cost of items required in DOT bid forms.
Prepopulating cost items according to DOT structures will, in essence, give you a structured and unified approach to your bids, which will allow for an increase in the number of earthwork, highway, and utility projects your business gets awarded each year.
Accurately Handle Payroll Requirements
Some solutions may include payroll within their accounting module. Payroll is a unique administrative challenge for the heavy civil construction industry, given the labor-intensive nature of the work at hand. Due to this, any payroll application needs to include union reciprocity, labor distribution, employee and department utilization rates, qualification tracking, and mobile field time reporting.
The heavy civil construction industry may also need to handle certified payroll and prevailing wages. Certified payroll refers to a feature capability used to ensure 3rd party verification that wages are in accordance with prevailing wages; it is a condition that needs to be satisfied most often by contractors servicing government clients who may need to demonstrate that they are complying with specific wage standards.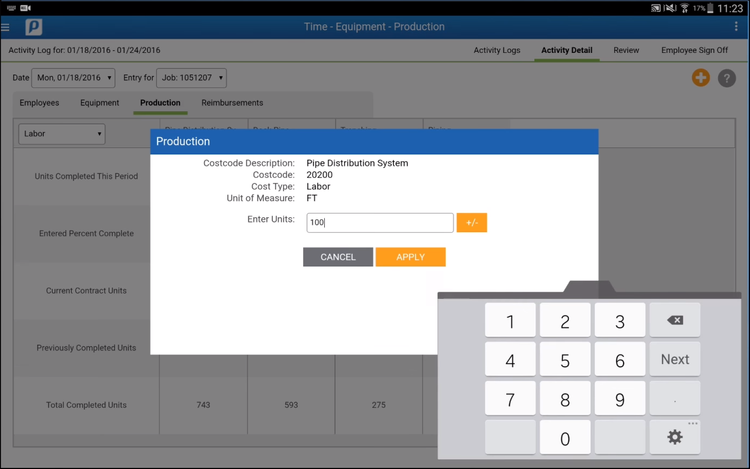 Heavy Civil Construction Software Pricing Guide
The cost of heavy civil construction software will be dependent on the size and scope of your business. A solution that provides a more narrow focus, such as only estimating, will come in at a lower price point than a fully-integrated construction ERP software. Heavy construction software starts at $100/month and can get as high as $2,000/month ($24,000/year) for solutions on a subscription-based pricing model.
Civil construction businesses can also consider a locally installed software that is usually purchased upfront. These solutions start at around $7,000/one-time and will increase depending on the size of your operations and how many projects you expect to use within the program each year.
Many solutions have a modular pricing model, meaning you can purchase access to the functionality you need now, and add on features at a later date. This is great for smaller businesses looking to expand into a more complete heavy construction management tool down the road.