What is Billing and Invoicing Software?
Billing and invoicing software is a specific type of accounting software that helps customers pay your business on time through automatic payment reminders and notifications. A major feature of billing and invoicing software is recurring billing, which is a part of the larger accounts receivable process. This lets customers set up automatic payments, which prevents missed payments and lets your business count on the funds being available.
Letting customers pay you back on their preferred payment schedule is just one of the mamny ways billing and invoicing software can improve customer relations, with the added bonus of having customers pay you within your own accounting schedule.
For newer businesses who require a more simple option that is cost-effective, small business invoicing software is available specifically for startups and freelancers.
Features of Billing and Invoicing Software
| Feature | Description |
| --- | --- |
| Invoice Templates | Modify customizable invoice templates and send invoices to customers. |
| Payment Processing | Accept payments from credit cards, PayPal, mobile apps, bank account transfers, wire transfers, eChecks, and more. |
| Recurring Billing | Automatically send regular bills to customers for regularly scheduled services or shipments. |
| Late Payment Fees | Automatically assign late fees to overdue invoices. |
| Time Tracking | Track time spent on a project and billable hours to determine the amount a customer owes. |
| Reporting | Create reports for expense tracking, revenue tracking, cash flow, and overdue invoices. |
| Expense Tracking | Track the cost of reimbursable expenses to add to an invoice. |
Create Invoices and Set Up Recurring Bills
Billing and invoicing software have customizable templates for creating bills and invoices. The templates allow you to add services performed or products purchased; then, prices will be calculated and a final invoice can be sent directly to the customer.
Companies that rely on billable labor can include tracked time in the price calculation. This will ensure you're getting paid for the right amount of work.
If your business offers recurring services or product subscription plans, the software gives you the ability to automatically send out bills and invoices regularly.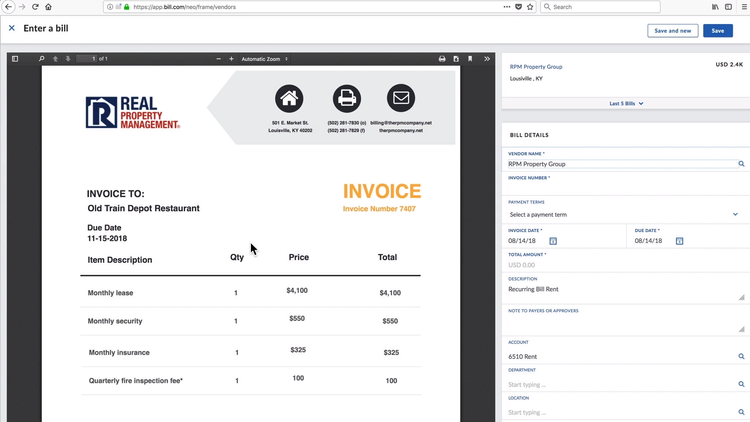 Process Payments
Billing and invoicing software makes it easy to process one-time payments, as well as recurring payments.
eCommerce stores can accept online payments and add taxes and shipping fees. If your online store sells internationally, the system will also automate currency conversion.
Billing and invoice software gives customers many electronic payment options including:
Debit card, gift card, and credit card payments
Payment gateways like PayPal
ACH bank account transfers and wire transfers
Mobile apps including Google Pay on Android devices and Apple Pay for iPhones
Customers are able to set up automatic payments for recurring invoices. Payment reminders can also be sent to customers for upcoming minimum payments or overdue invoices. These features improve on-time payment rates and help you get paid faster.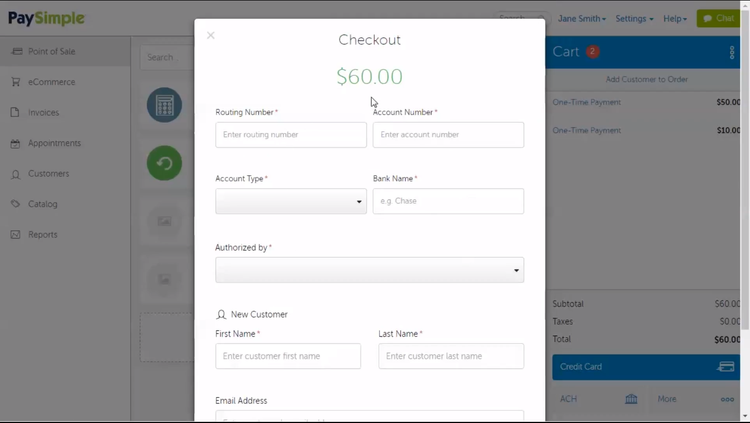 What Does Your Business Need?
Standalone Invoicing Solutions
Standalone billing and invoicing software are generally better at managing subscription services and discounts, as well as creating customized payment plans than what's included with basic accounting software. Standalone software is great if you already have a system in place for handling other business processes like accounting or CRM. These billing and invoicing solutions typically integrate with popular programs like QuickBooks and Salesforce.
Accounting Software with Billing and Invoicing
Small business owners looking to move away from Excel for financial management often start with accounting software that handles basic billing and invoicing. Accounting solutions like Freshbooks, Xero, and Zoho Books are good low-cost options for small companies. These systems manage accounts payable and accounts receivable, as well as invoicing, project management, time tracking, and reporting.
Robust Solutions for Larger Businesses
Robust enterprise resource planning (ERP) software like NetSuite and Dynamics 365 often include billing and invoicing within the system. These solutions are popular among businesses that are looking for an all-in-one solution that includes invoicing, revenue and expense tracking, inventory control, project management, purchasing, sales order management, and more. Many ERP systems can be tailored to your specific business's needs, so you don't end up paying for more functionality than you need.
Free Billing and Invoicing Software
The majority of free billing and invoicing software is not completely free. Most solutions charge a percentage per transaction if you want to receive online payments. Free software is best for freelancers and startups that just need some help while they get on their feet. These solutions have very limited features and often only give you the ability to send invoices.
Some free billing and invoicing solutions include:
Invoicely: A free online invoicing solution marketed to small businesses. This solution allows you to send unlimited invoices to an unlimited number of clients. Only the paid plans can send unlimited emails and add team members. Paid plans start at $7.99/month when billed yearly.

Wave: A financial software for small businesses with free features for accounting, invoicing, and receipting. Additional charges apply for credit card processing (2.9% + $0.30 per transaction) and ACH bank payments (1$ per transaction with $1 minimum).

PayPal Invoice: An invoicing tool that lets you generate and send free invoices. There is a 2.9% + $0.30 fee for each domestic credit card transaction and 1% for each bank account transfer. Transaction fees can vary based on location and transaction type.