Acumatica is a relatively new player in the world of ERP software. Founded in 2008, the ERP solution has quickly become one of the leading options on the market with its integrated approach to financial management, customer relationships, and project-based accounting.
NetSuite has been one of the leading cloud ERP software suites since the company was formed in 1998. The solution is usually brought up in conversation when discussing the best enterprise resource planning software options on the market, due to integrating business accounting, CRM, and eCommerce capabilities.
What ERP software is better: Acumatica ERP or Oracle NetSuite ERP? Both systems help companies around the globe increase productivity, reduce errors, and influence business decision making with real-time data visibility.
NetSuite vs Acumatica: Quick Overview
NetSuite ERP is a cloud-based, developer-hosted, cloud ERP software platform offered on a software-as-a-service (SaaS) basis. NetSuite advertises its ERP solution as "the world's most deployed cloud ERP" solution. NetSuite ERP is used by over 21,000 organizations in 200+ countries.
NetSuite is designed for modern small business and midmarket companies that require cloud access and mobile-enabled tools. This works great for companies with multiple locations, as they can access the same information as another in real-time, wherever they are located. NetSuite is designed to support growing organizations, as it lets you add or customize features as your company grows.
What we like about NetSuite ERP includes:
Strong in-house developers
Modern user interface
Feature sets for multiple industries
Oracle's acquisition of NetSuite in 2016 has paved the way for NetSuite to be a stable and experienced cloud solution backed by a reputable multinational computer technology corporation. Due to this, Oracle–with their NetSuite offering–was recently listed as one of our top ERP vendors.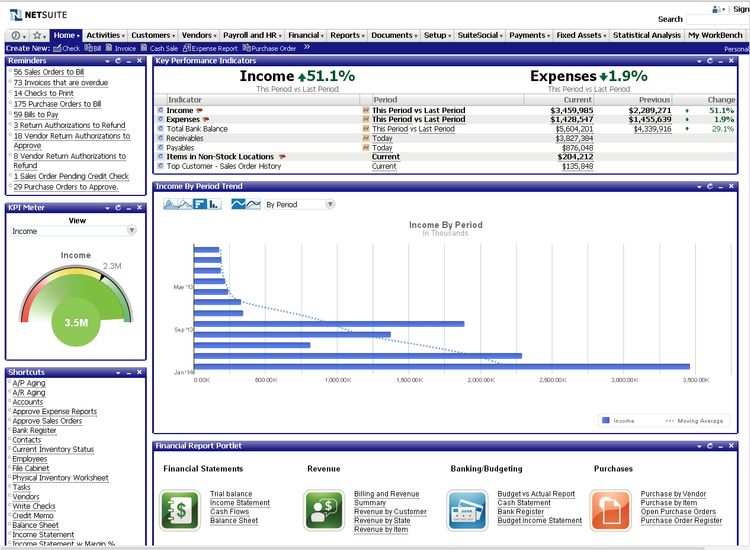 Acumatica cloud ERP system is designed for the SMB market. Acumatica includes functionality for financial management, customer management, project accounting, distribution management, manufacturing management, field service management, and multi-channel order management.
While Acumatica was designed and built for the cloud, it can also be deployed on-premise. The software can be accessed via a web browser on your company's own internal web server, giving you more options for how you want your data stored.
Acumatica will provide a centralized management system to enable all of your business data in a single unified system. They also try to be as mobile of a solution as possible–offering support for any device by allowing access via a web browser. Compared to other ERP systems, Acumatica is extremely flexible in what features it can provide to it's end-users.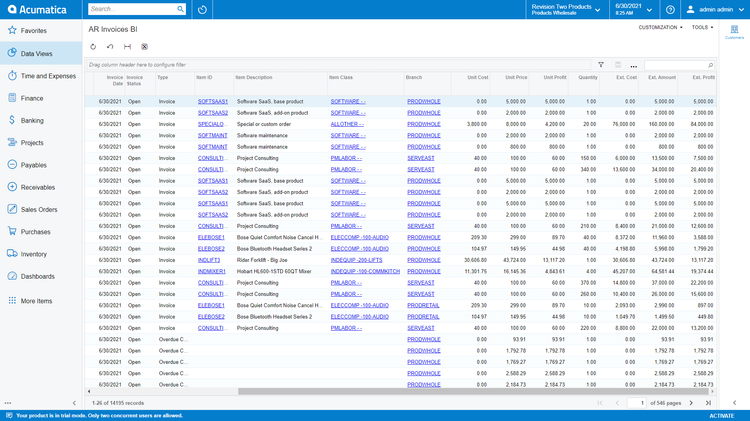 Software Features Available
Acumatica includes a broad offering of functionality typical of ERP programs including financial management, customer management, project accounting, distribution management, manufacturing management, field service management, and multi-channel order management.
The functionality modules are intended to be grouped by categories, that help shows how versatile Acumatica can be, and how the solution can cover a multitude of industries.
For example, field service management capabilities include service contracts, warranty management, equipment maintenance, and dispatching. These features would work great for an HVAC company provided on-call service at customer's homes. Since Acumatica can be implemented on a modular basis, there would be no need to pay for or set up these functionalities if your business was involved in wholesale distribution (for example).
Key features of NetSuite include financial management, fixed assets, billing and invoicing, and inventory management. The solution aims to improve employee productivity via software automation and cross-departmental system integration.
These goals are accomplished through real-time data visibility that provides for better business decision making, and the reduced technology support costs via outsourced application hosting and the elimination of dedicated server hardware investment costs.
Here is an exhaustive functionality list for both Acumatica and NetSuite.
| Functionality | Acumatica Support | NetSuite Support |
| --- | --- | --- |
| Accounts Payable | Yes | Yes |
| Accounts Receivable | Yes | Yes |
| Equipment Management | Yes | No |
| Bank Reconciliation | Yes | Yes |
| Benefits Management | No | Additional |
| Bill of Materials | Yes - Native | Yes |
| Billing | Yes | Yes |
| Budgeting | Some | Yes |
| Business Intelligence | Yes | No |
| Cash Flow Management | Yes | Yes |
| Commissions Management | Yes | Yes |
| Credit Card Processing | Yes | Yes |
| Customer Relationship Management | Yes | Additional |
| eCommerce | No | Additional |
| EDI | Yes | No |
| Employee Records | No | Yes |
| Estimating | No | Yes |
| Field Service Management | Yes | No |
| Fixed Asset Tracking | Yes | Yes |
| Fund Accounting | No | Yes |
| Fundraising Management | No | Yes |
| General Ledger | Yes | Yes |
| Human Resources | Yes | Yes |
| Inventory Control | Yes | Yes |
| Job Costing | Yes | Yes |
| Manufacturing Execution System | No | Yes |
| Material Requirements Planning | Yes | Yes |
| Payroll | Yes | Yes |
| Point of Sale | No | Additional |
| Project Management | Yes | Additional |
| Purchasing | Yes | Yes |
| Quotes | Yes | Yes |
| Recruitment and Talent Management | No | Additional |
| Sales Forecasting | Yes | Additional |
| Sales Order Management | Yes | Yes |
| Time Tracking | No | Yes |
| Warehouse Management (Advanced) | Yes | Yes |
| Work Order Management | Yes | Yes |
Deployment Options
As mentioned previously, Acumatica has the ability to be deployed in the cloud or on-premise. Acumatica strongly encourages users and resellers to be using/selling the cloud option (Acumatica even brands themselves as "The Cloud ERP" on their homepage).
Benefits of deploying Acumatica in the cloud include:
Avoiding stagnation: Keep your ERP updated frequently and avoid the software becoming outdated. Easily add users when necessary and allow for new integrations to become a part of your software environment.
Mobility: Allow access from multiple locations via web browsers or use mobile apps for a variety of functions.
Avoid downtime during updates: While updates are available for on-premise software, they are usually conducted less frequently than a cloud system that is continuously being updated. Because of this, updating a legacy system can be a slow and painful process, leading to expensive charges or downtime that affects your bottom line.
Benefits of deploying Acumatica on-premise include personalized security, all features being included "out of the box", unlimited users, and more robust customization options.
NetSuite ERP is only available as a cloud ERP option, making it a true cloud SaaS solution. This isn't a detriment to the solution at all; in fact, it probably strengthens it's argument as being a reliable cloud ERP solution, since it's what the developers always intended for it to be (rather than older legacy systems being converted to cloud options).
When NetSuite was originally developed in 1998, it was to be a web-based accounting system. Since 2008, NetSuite has acquired a number of companies in eCommerce, professional services, and manufacturing, in order to bolster the functionalities it can offer in the cloud.
NetSuite points to lower ownership costs, streamlined system upgrades and enhancements, improved system performance/accessibility, and faster deployment speeds as reasons why their cloud ERP ranks higher than others–especially when comparing to on-premise options.
Pricing Model
The pricing of Acumatica and NetSuite is a key difference between the two ERP systems. Acumatica can be sold modularly with a "pay for what you use" approach. This means businesses can start small and expand their software suite as they begin to grow as a company or require more features or users (and pay a higher price accordingly). NetSuite, on the other hand, has a more standard approach to its pricing model where the third parties that sell it have straightforward costs for a complete package.
Pricing for Acumatica depends on a variety of factors including selected module suits, deployment preference (internal/SaaS), bandwidth/storage (SaaS only), and implementation and support requirements. Unlike many other ERP solutions, however, user count does not affect Acumatica pricing, as Acumatica licenses support unlimited users.
The following chart displays a breakdown of the estimated maximum spending range reported by recent software buyers who considered Acumatica for a purchase.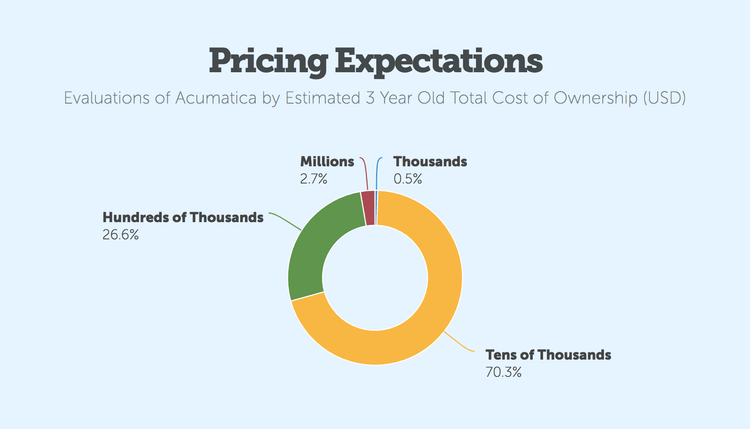 Since Acumatica providers will let you pick and choose what applications you want, your initial pricing can be hard to determine. There is also the matter of your deployment preference; a locally installed version will incur a significant upfront cost, while a cloud-based version will have an ongoing subscription cost. While most on-premise software options will incur high upfront fees for the licensing, Acumatica offers an on-premise subscription license that lets you pay as you go and avoid an initial software investment.
Lastly, Acumatica may factor the projected level of use into their pricing models–meaning the more data you store and the more transactions you handle, the more your software may cost. This can be beneficial for businesses just starting out but turn costly overtime.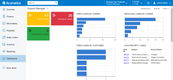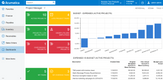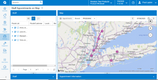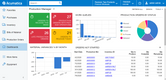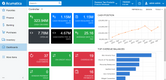 Open architecture for rapid integrations
Multi-entity support
Mobile accessibility
Must schedule a consult for pricing calls
High learning curve
Tedious setup
Price Range: $$$$
Starting Price: $1,800/month
Client OS: iOS, Android, Web
Deployment: Cloud or On-Premises
Pricing for NetSuite varies depending on user count, support expectations, module selections, implementation needs, and a variety of other factors. The following chart provides a breakdown of the estimated maximum three-year spending ranges reported by software buyers who recently considered NetSuite as a possible purchase option.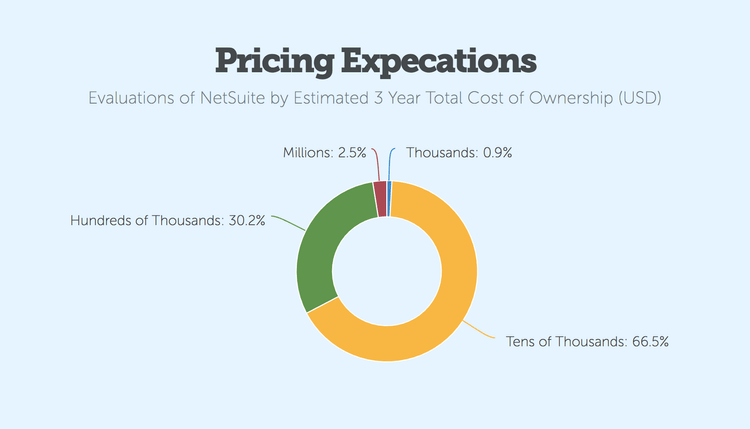 The cost of NetSuite will generally start at $99/user/month which includes a 10-user minimum ($999/month total). This usually comes with a contract you will need to renew annually. Additional setup fees will exist for the implementation, needed integrations, customizations, and data migration. These setup fees will range from 100%-200% of your overall annual subscription cost. For example, if your business expects to spend upwards of $20,000/year on your NetSuite subscription costs, you'll also have around a $20,000 to $40,000 price tag for your setup fees.







Hundreds of third-party add-ons available
Feature sets for multiple industries
Highly customizable
Must schedule a consult for pricing details
Tedious setup
Difficult to build reports
Price Range: $$$$
Starting Price: $99/user/month
Client OS: Web
Deployment: Cloud Hosted