To help you choose the right solution for your business, we found and ranked the best small business ERP systems in the market today.
1

Dynamics 365 - Best Overall

Dynamics 365 Business Central manages finances, operations, sales, and customer service designed specifically for small and medium-sized businesses. With features like financial management, inventory management, project management, sales and purchasing management, and customer relationship management, Business Central offers a complete solution to help businesses streamline their operations and improve productivity.

One of the key advantages of Dynamics 365 Business Central is its scalability. The offered flexibility means it can be tailored to the specific needs of individual businesses.

Businesses can access the cloud-based platform from anywhere and on any device, making it easy to work remotely. Additionally, Business Central offers a low total cost of ownership, making it an affordable solution for small businesses with limited budgets.
2

NetSuite - Runner Up

NetSuite offers a wide range of features but focuses on finances, operations, and customer relationships. This means it can dive deep into inventory management, order management, CRM, and ecommerce capabilities, whenever needed.

With its customizable interface and scalability, NetSuite is a good fit for small businesses looking for a comprehensive, flexible, and affordable solution.

One of the key advantages of NetSuite for small businesses is its ability to streamline processes and improve efficiency. By providing a centralized system for managing all aspects of the business, NetSuite can help reduce manual processes and minimize errors, saving time and increasing productivity.

NetSuite's cloud-based platform allows businesses to access their data and applications from anywhere, providing greater flexibility and mobility.
3

SAP Business One - Also Great

SAP Business One provides a comprehensive solution to manage all aspects of a small business, including financial management, inventory management, purchasing and sales, manufacturing, project management, and customer relationship management.

SAP Business One can be customized and configured to meet the specific needs of individual small businesses, making it a more flexible option than some other ERP systems. Many SAP Business One implementation teams specialize in specific industries–ensuring your needs will be covered.

Additionally, it offers real-time data insights and reporting, allowing businesses to make informed decisions quickly. This means users can use dashboards, crystal reports, and dra-and-drop report creation–making it easy for non technical users to generate reports and gain insight into business performance.

The software can integrate with other software solutions, such as CRM and eCommerce platforms, to streamline processes and improve efficiency. This includes third party integration to leverage functionality of other software tools, or cloud integration with popular tools like Salesforce and Microsoft Office 365.
4

Odoo

Odoo is an open-source ERP system, which means businesses can access the source code and customize it to fit their specific needs. This can help small businesses save on software costs and ensure they have a system that meets their unique requirements.

The solution is used by over 4 million users worldwide. With 10,000 applications, Odoo can handle any business need you may have, such as billing, accounting, manufacturing, and project management.

"But doesn't open-source ERP require a lot of software knowledge to customize it the way you want?"

Yes, but only if you want to limit your expenses. Odoo offers a variety of paid options that include pre-developed modules that start at $12-72/month. This makes Odoo a great choice for the small business that has the time to access the source code and find opportunities for customization, or a great choice for the small business who is willing to pay for applications–like they would for any other software.

Odoo has a large and active community of developers and users who share knowledge, best practices, and custom modules. This can help small businesses get support and find solutions to common challenges.
5

Acumatica

Acumatica is a cloud-based ERP solution that is perfect for a small business. The platform has been recogized for delivering advanced features and functionalities on a resource-based pricing model. This means small businesses pay for the resource they actually use, rather than for the number of employees or users added to the system.

Beyond the licensing model, Acumatica offers a wide variety of third-party add-ons and can be personalized to fit the way your small business operates. This includes CRM, eCommerce, and other financial management systems.

The high level of customization means Acumatica can fit any industry. Acumatica even offers specialized industry solutions for construction, manufacturing, retail, and distribution.

As your small business expands, it will need to grow and adapt. Being able to pick and choose the modules you need and add more as your requirements change means Acumatica is a scalable software perfect for a growing small business.
What is Small Business ERP Software?
Enterprise resource planning (ERP software) specifically built for small businesses gives your company an affordable, easy-to-use, and secure way to manage business processes, financials, and sales in real-time. Software streamlines your work across multiple areas, from back office accounting to front-end customer support. Both small and midsize companies can benefit from using one ERP software solution to cover a variety of business operations.
Read more: What is ERP?
Running a small business is no easy feat. Depending on your industry and market, there might be a lot of behind-the-scenes tasks you need to complete yourself. Fortunately, ERP systems typically include customizable modules you can choose from based on your company's specific needs. For smaller businesses and startups, it's important to only choose the modules you really need to cut down on costs - you can always add more functionality later on as your business grows.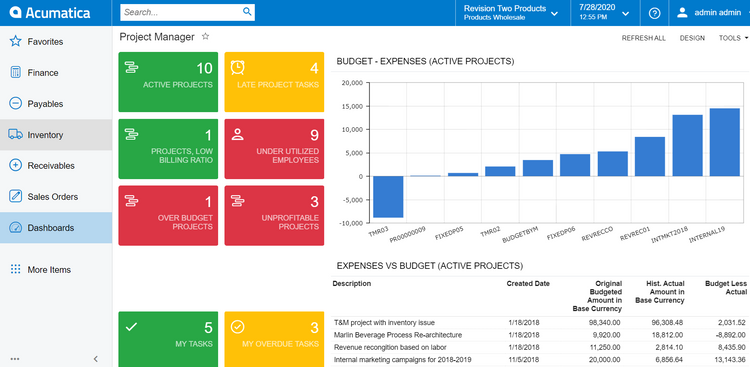 Features of Small Business ERP Software
| Feature | Function |
| --- | --- |
| Human Resources (HR) Management | Automate payroll processing, track time and attendance, and manage employee records like performance reviews, payroll benefits, and scheduling. Self-service HR functionalities allow employees to request time off or view their attendance record. |
| Financial Management](/financial-management/) | Track income and expenses through recorded transactions and account structures in order to forecast profit and loss. |
| Inventory Management | Record information on items you build, store, buy, or sell. Keep up-to-date stock records to avoid running out of items or buying items unnecessarily. |
| Customer Relationship Management (CRM) | Manage customer contact info, order histories, invoices, and quotes. |
| Supply Chain Management | Manage the flow of goods and services from raw material acquisition to delivery of the finished product to the customer. |
| Analytics and Reporting | Measure key performance indicators (KPIs) like income (Accounts Receivable) and expenses (Accounts Payable), top performing products, or open orders over a set period of time. |
Benefits of ERP For Small Businesses
The primary benefit of implementing an ERP at your growing company is the ability to streamline many separate business functions into one solution. Both on-premise and cloud-based ERP can help your business in a variety of ways:
Streamline workflows and processes across a common interface and database
Visibility and transparency into business management workflow to increase optimization
Better decision making by analyzing data by region, location, profit center, employee, and more
Improve data security to ensure key company information is not compromised
Increase opportunities for interdepartmental collaboration on documents, files, audio and video media
Scale operations to match your expanding business needs as you grow
Additional benefits vary depending on the exact nature of your work, your industry, and projected growth.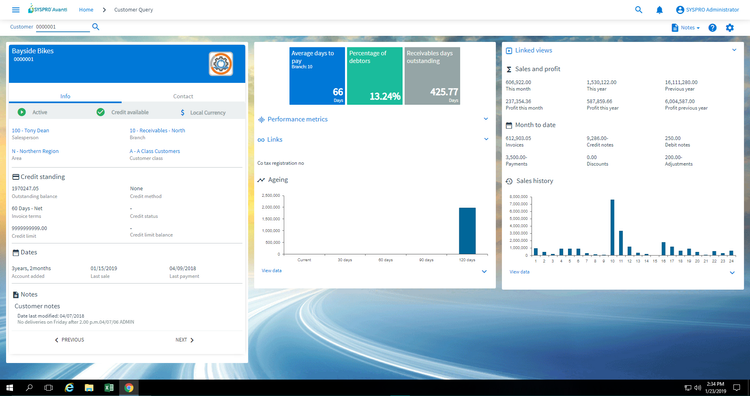 How Much Does Small Business ERP Cost?
ERP pricing varies greatly due to a variety of cost factors, including the number of concurrent users, add-on modules, implementation fees, maintenance, and employee training. Some plans are available for as low as $20 per month per user while others start at over $5,000 per month. Over the course of ownership, expect to invest between $25,000 to $150,000 on an ERP system for your small business.
Be aware of hidden ERP costs which can make ERP software much more expensive. You might think you've found a cheap solution only to be hit with hidden fee after hidden fee. The ERP vendor you choose should be able to help you narrow down the functionalities you need to ensure your solution is as cost-effective as possible.
Free Small Business ERP Software
When running a small business, your operating budget is likely small, at least to start. Luckily, there are many cheap and affordable ERP solutions for SMBs. Some are even free, though sometimes this is limited to a short-term trial of services. However, there are usually some costs associated with these systems, such as installation fees, training, maintenance, and any add-on functionality.
Some examples of free and open source small business ERP software include:
Odoo: The free SaaS plan, Odoo Community, is an open-source ERP software including one app of your choice (some examples include CRM, invoicing, expense tracking, eCommerce, appointment scheduling, and POS). You can add on additional apps ranging in price from $12 per month to $72 per month. Integrations with eBay or USPS will increase costs to another $36 to $72 per month.
Dolibarr: A free, open source ERP system featuring CRM, HR, CMS, inventory control, marketing automation, and project management. Free and purchasable add-ons are also available.
Integrating Small Business ERP With Other Software
When evaluating ERP solutions, don't just rush into implementing a system because it fits at the moment - think about what you'll need in the coming years. You might bring on more employees, open another location, or expand your professional services. As your business brings in more sales, you'll need a more comprehensive system for order management, multi-location inventory, and more.
Many small business ERP systems allow you to add and remove modules as needed, as well as provide integration with other management systems. Some standalone software like business intelligence (BI) systems, CRM, and manufacturing execution systems (MES) might not be required for you business now, but could play an important role as you grow in the next few years. You can purchase a standalone system when you're ready and integrate it with your ERP system without much trouble.
Other Small Business Software Solutions
Is a full ERP still too much for your growing business or startup? As mentioned before, there are specific small business ERP alternatives for different business processes:
With the right ERP software, you can help your SMB grow into a medium or even enterprise-level business.
Types of Small Business ERP
Some ERP solutions are marketed as being only for small businesses. These solutions can be on-premise or cloud-hosted, with web-based SaaS options being more popular due to the lower upfront cost. ERP software exclusively for small businesses is less complex than more expansive systems, with limited scalability to cut costs and tailor to the needs of smaller companies.
Going with a small business-specific ERP means you're not paying for features you don't want or need. For instance, if you operate a local store with no eCommerce capabilities, you won't need a full-scale ERP to handle multiple currencies and exchange rates. A small solution will cover what you need without charging you more for what you don't.
Types of Small Business ERP: Industry-Specific
Many companies, regardless of size, prefer to use industry-specific ERP solutions to cater to their unique business needs without paying for extra customization. For instance, small business manufacturers should seek ERP with supply chain management functionality while construction contractors would want a solution with project management capabilities.
Examples of some well-known industry-specific ERP software include Apprise ERP for distributors, JustFoodERP for food manufacturers, and abas ERP for general manufacturing. Just remember, these may be designed for companies of all sizes and may be more expensive as a result.