What is MES?
Manufacturing Execution Systems (MES) are pivotal components in today's manufacturing landscape, bridging the gap between enterprise-level planning and shop floor operations. MES streamlines the manufacturing process, providing real-time data collection, monitoring, and control of production resources.
By integrating seamlessly with other systems and equipment, MES enhances visibility, enforces quality, and ensures maximum efficiency across all aspects of the manufacturing journey, from raw materials to finished products. A company that uses MES wisely will optimize their manufacturing operations and drive improvements in overall production performance.
How Does MES Work?
MES uses computers and software to monitor raw materials in real-time as they are purchased, gathered, transported, stored, and produced. The goal of MES is to provide manufacturers a clear overview of how materials, ranging from consumables to equipment, are used on a plant floor through every step of production. They also ensure procedures are in accordance with international regulations such as ISA-95 standard*.
These standards include:
Product definitions
Resource management
Scheduling of production processes
Production order dispatching and execution
Production data collection
Performance analysis
Track and trace of production
A comprehensive MES can connect information from multiple manufacturing plants with vendor and supplier updates. Decision makers can then get performance metrics in real-time to better adjust production based on factors such as scrap and rework.
Further, you can get details on both labor and equipment being used within your manufacturing facility. An MES solution can show which machines are most reliable, or which workers have the necessary labor skills for certain processing tasks, all vital information for making more informed decisions on the factory floor.
*/Set by the International Society of Automation, ANSI/ISA-95 is the result of merging MESA-11 with the Purdue Reference Model.
What are the Benefits to using MES in a Manufacturing Environment?
MES offers many benefits to manufacturers, including:
Maximized resource utilization
Streamlined manufacturing cycle times (reduced downtime, increased uptime)
Reduction of scrap and/or rework
Increased production quality and control
Mobile inventory
Improved regulatory compliance standards
Real-time material and product traceability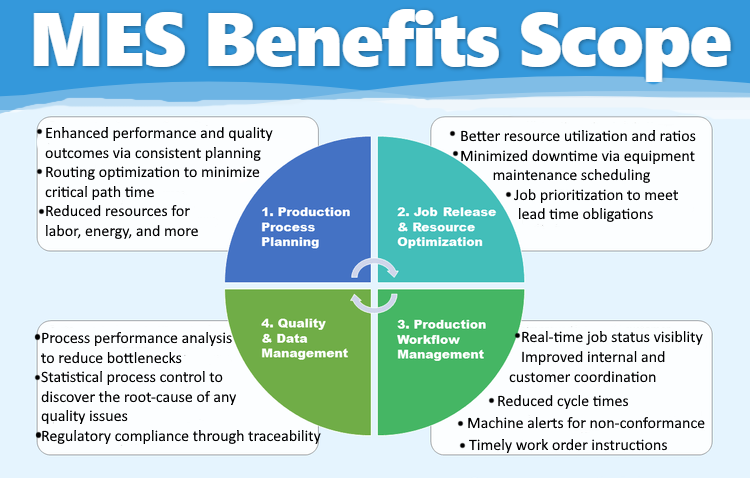 Together, these benefits provide improved business performance from the initial acquisition of materials to the final customer interaction. With a single MES in control of the shop floor, you can make instant adjustments in the face of unexpected downtime or changing delivery dates.
Core Functions of MES Software
In order to provide these benefits, the key functionality of MES systems can be categorized into the key areas of data collection, forecasting, and traceability, though the Manufacturing Enterprise Solutions Association International (MESA) has 11 core functionalities. The main manufacturing process modules used for each are:
Data Collection
Paperless document management: Store and retrieve operational documents such as SOPs, CAD drawings, production specifications, and other file types
OEE analysis: Measure overall equipment effectiveness (OEE) based on collected performance, loading, and availability data
Labor management: Track the time and attendance of workers and correlate it to the their respective job assignment data
Waste tracking: Document raw material waste and production scrap to find ways to reduce waste
Process Forecasting
Order management: Optimize order processing by tracking orders across multiple sales channels by connecting inventory and sales order data
Production scheduling: Prioritize work in progress based on deadlines or priority orders based on sales predictions or vendor demand
Inventory management: Track information on all products your company builds, buys, stores or sells
Change management: Coordination for order changes including alterations to material, equipment, processes, or routing
Downtime management: Scheduling and tracking of machine downtime based on connections with programmable logic controllers (PLCs) or via manual input
Product Traceability
Electronic traceability: Utilize barcodes, SKU numbers, or RFID to perform part, batch, or lot tracking and pinpoint order/material position in production flow without manual data input
Job tracking: Gain real-time data visibility into order status as job progress through the factory
Line log book: Digital record of shift events including set up conditions, tool changes, material changes, and process adjustments
Quality management: Analyze risks, set quality objectives, implement workflows to meet quality control standards, and prepare for audits
Inspection management: Coordinate workflow controls in accordance with local, federal, or internal standards for your industry to remain compliant in the event of inspections or audits
Supply chain management: Create control systems for materials at every stage of the supply chain, whether on the shop floor or warehouse storage
Labor skills validation: Documentation of employee competencies and certifications for management of adherence to ISO and other quality standards
Does MES Work With Other Manufacturing Systems?
Sometimes known as manufacturing operations management (MOM), MES can be integrated via software APIs or as part of a larger software system, particularly product lifecycle management (PLM) and enterprise resource planning (ERP) systems. And that's certainly not all: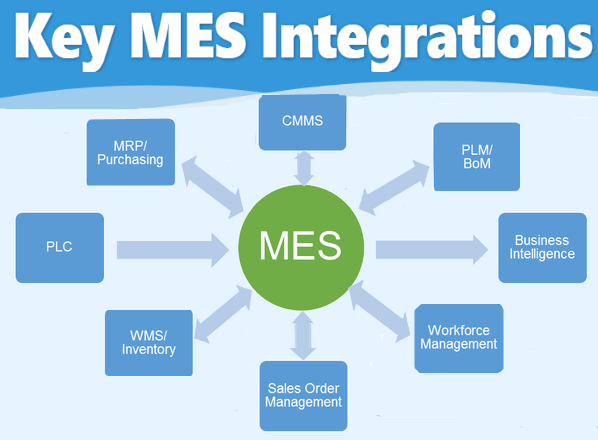 Some standalone MES are dependent on other types of manufacturing software to function effectively. Along with ERP and PLM, the main applications which can be connected to manufacturing execution systems include:
The question is whether buyers are better suited to purchase an ERP which includes MES as one component of a larger suite of business management modules, or whether MES should be purchased as a separate program and connected to existing systems.
Whether you purchase MES as a standalone software will largely depend on what legacy systems you have and what additional functionality your business needs. For instance, not all ERP systems are suited for industry-specific manufacturing, which can make them inadequate for your business.
What is an MES Platform?
An MES platform simply refers to the full-scale software which streamlines raw material production processes for a company through a central hub. Data can be shared between multiple users and locations in real-time through a Cloud-based platform as part of a smart manufacturing system.
In some circumstances, a MES platform may combine both manufacturing software and factory floor hardware which are compatible, which may also refer to a Supervisory Control and Data Acquisition system (SCADA).
Looking for MES software for your production facility? Start your search today.