The automation and improved shop-floor decision-making capabilities enabled by manufacturing executions systems offer manufacturers an indispensable competitive advantage. But selecting the right manufacturing execution systems (MES) software from the wide variety of MES software vendors is a difficult task. This guide provides a practical how-to for manufacturers looking to purchase the right MES software solution to maximize efficiency and improve the profitability of their manufacturing operation.
This guide will give you information on the following:
What is a Manufacturing Execution System (MES)?
Manufacturing execution systems (MES) enable complete shop-floor control and scheduling capabilities, while also supplying monitoring and corrective action guidance for quality and performance continuous improvement.
Sometimes known as manufacturing operations management (MOM), capable MES software supports a number of key manufacturing initiatives including:
Maximization of throughput and resource utilization,
Decreased manufacturing cycle times,
Reduction of scrap and rework,
Increased ability to reliably achieve quality targets,
Minimized inventory holding costs based on just-in-time inventory, and
Improved ability to meet regulatory compliance standards.
This comprehensive MES software guide provides a starting point for executives interested in accessing the benefits of improved MES functionality by providing insights into critical features and benefits, mapping system scope alternatives, reviewing the relation of MES with key emerging technology trends, plotting a step-by-step approach to MES solution review, and identifying a variety of popular products from top MES software vendors.
Features of MES Software
The sophistication of program functionality and breadth of features varies widely between MES products. Understanding the key functional capabilities to look for in commercial MES products is an important step for grounding an evaluation process that results in the selection of the most appropriate system. Making sure you have a combination of these features will provide you with the most benefits of an MES system.
| Functionality | Definition |
| --- | --- |
| Change management | Coordination for order changes including alterations to material, equipment, processes, or routing |
| Customer complaint management | Workflow management for converting customer complaints into actionable inspections designed to discover the root-causes of production quality issues |
| Document management | Multi-format data storage, search, and retrieval for operational documents such as SOPs, CAD drawings, production specifications, and quality procedures |
| Downtime management | Scheduling and tracking of machine downtime based on connections with programmable logic controllers (PLCs) or via manual input |
| Electronic travelers | Barcode or RFID enabled part, batch, or lot tracking to pinpoint order/material position in production flow without manual data input |
| Energy management | Tracking of energy and resource consumption with equipment, job, and process energy consumption segmentation analytics to improve efficiency |
| Expedited jobs | Job prioritization based on deadlines or manager overrides enabling rapid completion of priority orders |
| Inspection management | Specified workflow controls for coordination and execution of product and process quality inspections |
| Job tracking | Real-time visibility into order status as job progress through the factory |
| Labor skills validation | Documentation of employee competencies and certifications for management of adherence to ISO and other quality standards |
| Labor tracking | Tracking for labor time & attendance with job assignment data |
| Line log book | Digital record of shift events including set up conditions, tool changes, material changes, and process adjustments |
| Master production scheduling | Planning of production orders based on assessed capacity, resource availability, and deadlines |
| OEE analysis | Overall equipment effectiveness operational analytics based on collected performance, loading, and availability data |
| Order prioritization | Dynamic prioritization of orders based on definable inputs such as order deadline or customer value metrics |
| Output counting | Recording of production quantities within time intervals or by run via machine interface or manual system input |
| Personnel performance evaluation | Reconciliation of performance and quality metrics with contributing personnel for improved labor management |
| Production workflow modeling | Design of all production steps that should be followed for optimal execution of manufacturing processes |
| Quality management | Coordination of quality management processes including data collection, defect tracking, and corrective actions |
| Rule-based routing | Definition of inventory and production routing throughout the production process based on conditional business logic inputs |
| SPC | Statistical process control (SPC) analytics for measurement of process variation, analysis of process capability, and reduction of process variation |
| Supplier quality performance | Recording, investigation, and management of supplier product quality non-conformances |
| Traceability | Post-production genealogy for material movement and item process histories enabling quality improvement and adherence to regulatory compliance standards |
| Waste tracking | Documentation of material waste and scrap |
| Work-in-process tracking | Identification of inventory position at all stages within production process |
| Workload projections | Incorporation of order forecast data for production scheduling and requirements analysis |
Benefits of Manufacturing Execution Systems
MES software represents a key IT resource for manufacturing operations of all sizes and types. Because of its role in coordinating the full operational scope of manufacturing execution work, the benefits of MES software are equally relevant for made-to-stock, made-to-order, and process manufacturers. The chief benefits of MES software are derived through improvements in the following process areas: production planning, job release and resource optimization, production workflow management, and quality management.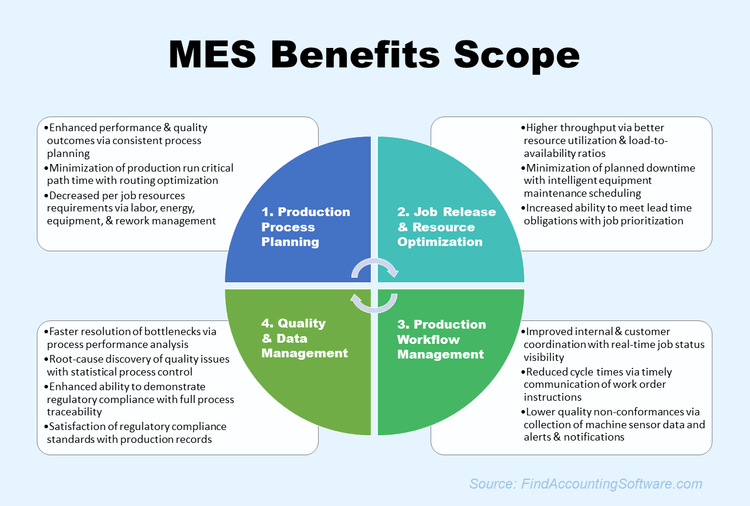 What Does Your Business Need?
Small businesses: Since most MES solutions have initial investment costs into the $10,000s, small businesses are not the prime demographic for an MES. Many manufacturing options exist for small businesses that will provide integrated financials, MRP, and advanced inventory to better improve your manufacturing process.
Established manufacturers users requiring additional functionality: MES can come in many different forms. This includes a custom built solution, a large pre-made software package, a small point solution, or an extension of an existing solution, like an ERP.
Large enterprises: Companies with the resources to purchase and implement a new system are usually looking ahead to the future. They will be trying to increase their future growth, and know that an MES purchase is an investment to make the company more money, not a cost that will drag down the business. A lot of times, an enterprise will go to their trusted software vendor they have their ERP with or the company that has helped custom create a solution that works for them. These larger organizations have the flexibility to find a solution that will work for them, and can avoid working with software vendors that simply say "do things our way or the software won't work".
System Factors to Consider
When evaluating MES software it's important not only to consider what task work the software functionally supports, but the system features that enable adequate software performance. Buyers of MES software should carefully consider the following global system capabilities:
Multi-company support. The ability to maintain individual, company-specific data files enables improved administrative control for companies with multiple legal operating entities.
Multi-language/multi-currency support. Multi-language and multi-currency capabilities enable a consistent platform for user communities across international operating locations.
Security. User-based permissions enable tighter control over system access allowing system administrators to control the viewing, creation, editing, and deletion of records privileges on a per employee basis. Full user action logging to a complete audit trail enables forensic investigation in cases of fraud or user error and is required for adherence to many regulatory standards. Data encryption capabilities provide an additional layer of protection for sensitive proprietary information.
API. MES applications require a variety of data inputs to function effectively. A robust software application programming interface (API) enables the ability to integrate other business systems and support the automated transfer of key business data to and from manufacturing execution systems.
User interface. Because of the complexity of coordinating manufacturing execution work, a consistent and easy-to-understand user interface is particularly important in MES software. Well-designed MES user interfaces will balance the presentation of input controls, navigational components, and usage information such as tooltips and notifications. The ability for individual users to customize interfaces for heavily used workflows is an example of the way that the quality of the user interface capabilities can impact the efficiency of task work performed within the system.
Reporting. The volume and density of information provided by MES software demands strong system reporting capabilities. Capable MES systems will provide a wealth of reporting tools including: customizable user dashboards for key manufacturing KPIs, robust visual reporting presentation choices, ad-hoc reporting capabilities, a library of predefined report templates, and reporting alerts and notifications.
Device/OS support. Users may need to consume MES capabilities from a variety of different device types, including: client workstations, laptops, mobile devices, and shop-floor kiosks. Cross OS client support or the ability to support web interfaces improves the flexibility of ensuring consistent user access across required device types.
Configuration & customization. MES products offer two means of altering system functionality to better support the needs of organizational users: configuration & customization. Configuration capabilities are generally managed through administrator interfaces that allow modifications such as the addition of data fields, changes to the naming of system elements, or management of step-by-step workflows. Customization involves more in-depth changes to program functionality, usually related to the modification of code. In advanced MES products, developer frameworks may be provided that offer accessibility to code libraries in order to support the creation of unique business applications.
Support Factors to Consider
Deciding which program to purchase is only part of the decision when provisioning new MES software. Selecting a software provider who can assist during set-up and post-implementation is equally important. The following support factors are important to consider when making your MES vendor selection:
Help availability. A key component of selecting the right MES provider is understanding the service level provided for ongoing troubleshooting support. Support hours can vary. The most typical models are 24x7 and 8x5. Additionally, the means of support access may include phone, chat, and email options. MES buyers will often have a choice between multiple support plans–with options differing not only by accessible hours and communication methods, but also by response time standards.
Training. Because of the complexity of MES products and the breadth of functionality supported, user will require training to become proficient with system capabilities. Typical training formats include online/video, classroom-based seminars, and in-person, vendor-led sessions. For organizations with a large number of expected users, a train-the-trainer approach is often employed to minimize training costs.
Integration experience. One of the most challenging elements of managing an MES implementation is ensuring effective integration between the new software and existing business systems. Vendors with experience integrating their MES system with the particular systems used by a prospective client may be able to accomplish the integration work in a shorter amount of time, at lower costs, and with better results.
Industry/vertical experience. Manufacturing businesses naturally vary by operational mode, product type produced, and organizational size. As a result, so too will the experience that individual vendors bring to support MES implementations. Vendors with vertical specific experience and will bring a wealth of knowledge related to best practices and can be an important asset in solving industry-specific business challenges.
Alternative support choices. At the outset of any business relationship, there's an expectation things will go well. But it doesn't always go that way. Relationships can sour. Companies go out of business. Things can change. The option to switch to a different company for support services can be a beneficial fallback to have when entering into a critical business relationship. Many MES solutions are supported by a variety of different solution provider organizations. Identifying alternative sources of support is an element of vendor selection worth considering in advance of entering into any formal support relationship.
Physical proximity to vendor. The relative importance of local support is a matter of debate. The introduction of remotely hosted web-based systems and the viability of remote implementation services have made foregoing local support a more common choice. However, many buyers like to have a local presence to receive face-to-face support and to remove travel costs if onsite visits are required
Data center (hosted options). For buyers interested in having their software hosted by their provider, evaluating the data center capabilities of the prospective system is host is an important consideration. When reviewing provider data center capabilities, there are three primary dimensions to consider: security, bandwidth, and scalability for adding computing resources.
Best MES Software
An MES solution from Aegis Software that has been redeveloped plenty over its 20-year history. Its core modules include new product introduction (NPI), logistics management, production management, analytics, integration capabilities, and device management.
Offers both an ERP solution as well as a standalone MES offering, which allows them to become a prominent and flexible software provider in the manufacturing industry.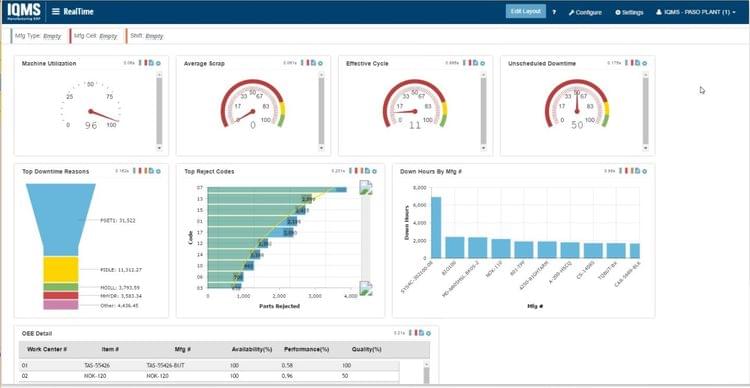 Does QuickBooks Have MES Capability?
QuickBooks does not have an MES module included with any of its base packages. However, there are a handful of add-ons or standalone solutions that offer integrations with QuickBooks to provide you with some of the commonly found functionalities in most MES software.
Data Ninja can be found in the QuickBooks App Store as a barcode inventory management with batch tracking solution. The software provides traceability features for better batch manufacturing.'
Fishbowl is one of the more popular solutions that integrates with Quickbooks. The solution intends to provide QuickBooks users with inventory management tasks not found in QuickBooks, such as barcoding, part tracking, advanced bill of materials, and work orders. Fishbowl Manufacturing provides these features to help maximize efficiency in the production process.
Simply put, these solutions fill holes for manufacturing companies, but don't operate as a true MES option. Some MES solution providers, such as IQMS, suggest leaving QuickBooks and investing in an ERP solution geared towards manufacturers.
Manufacturing Execution System Integrations
Manufacturing execution systems are dependent on inputs from a variety of other business management systems to function properly. MES systems can be integrated with other management technologies via software APIs or provisioned as part of a larger software system, such as an ERP platform.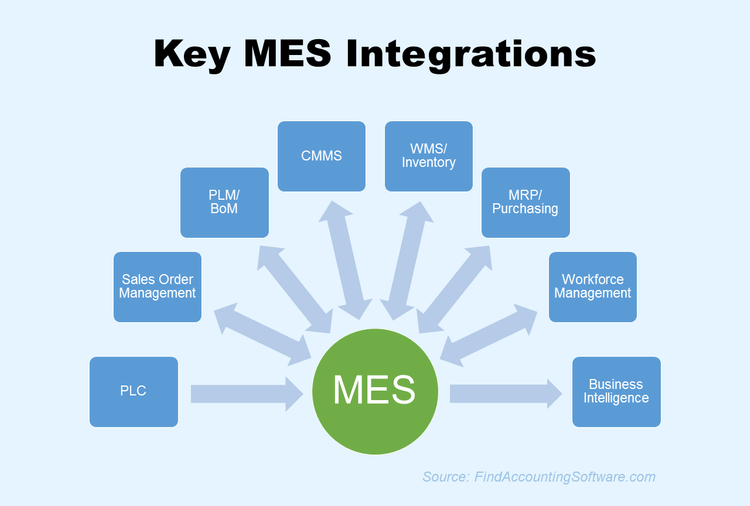 Programmable logic controllers/machines. Programmable logic controllers are industrial computers that have been ruggedized for use in a factory setting and which manage sensor data from shop-floor machines and equipment.
From: Information from machines or PLCs passed to MES software includes equipment status, output, count, and availability information.
Sales Order Management. Sales order management software enables entry of order information, tracking of order fulfillment status, and communication of transactional information.
From: Data from sales order management systems documenting contracted customer requirements is passed into manufacturing execution systems to facilitate production scheduling.
To: MES software passes order fulfillment status information back into sales order management systems in order to enable sales personnel to keep customers apprised of expected lead times, order status, and delivery dates.
Product lifecycle management/bill of materials. Product lifecycle management software provides a central repository for product related design, engineering, production, and maintenance information. Bill of materials software lists the material quantities and assemblies required to manufacture an end product.
From: Data from PLM and BoM is passed into manufacturing execution systems to coordinate the steps required to produce a particular product.
To: Diagnostic quality information captured by MES systems can be communicated back to PLM and BoM systems to improve the definitions of how products should be manufactured for optimum efficiency and quality.
Computerized maintenance management software (CMMS). Computerized maintenance management software schedules and records operation and maintenance activities for enterprise equipment and machines.
From: Data from a CMMS application is provided to MES software to enable intelligent scheduling that takes into account scheduled downtime for equipment maintenance.
To: Sensor data about equipment health collected in MES software is passed into CMMS applications to coordinate required maintenance events.
Warehouse management software (WMS)/inventory. Warehouse management and inventory systems track stock quantity, location, and other attributes of products and materials, and provide workflow coordination for managing their movement.
From: WMS and inventory software provides information on stock availability which is used by MES software to coordinate material availability and production scheduling.
To: MES software provides information back to WMS and inventory applications to provide detail on work-in-process inventory tracking, and to deplenish inventory stock counts upon material usage.
Material resource planning (MRP)/purchasing. Material resource planning (MRP) software provides the intelligence for coordinating forecasting, materials management, production, and purchasing activities for manufacturing operations.
From: Demand forecast information captured by MRP systems can be provided to manufacturing execution software to schedule production to optimize resource utilization.
To: MES systems can provide data about shop floor conditions to MRP software that can be used to coordinate the timing of material procurement activities to support just-in-time initiatives that lower inventory carrying costs.
Workforce management. Workforce management software provides labor scheduling and tracking functionality, including time and attendance capture.
From: Employee availability and shift scheduling information held in workforce management software can be communicated to MES software to coordinate production scheduling.
To: Employee performance information captured by manufacturing execution systems can be passed to workforce management software to improve future workforce scheduling.
Business intelligence. Business intelligence software allows for the aggregation of business data from multiple sources, while providing report generation and visual data analysis tools to support more effective business decision-making.
To: MES data such as OEE analytics, throughput, quality metrics, and more can be communicated to BI systems for additional reporting capabilities including visual display in executive decision-making dashboards.
Platform Scope Options
In order to function effectively, MES applications must be connected with other management software systems such as WMS/inventory, order management, and MRP, among others. The question is whether buyers are better suited to purchase an ERP which includes MES as one component of a larger suite of business management modules, or whether MES should be purchased as a separate program and connected to existing systems.
Advantages of Provisioning Functionality as a Component of an ERP System
Pre-configured integration. Provisioning an ERP system that includes an MES component offers the most confidence for strong inter-application integration, as developers of a consolidated system will have had ample opportunities in both development testing and live use cases to verify integration capabilities.
Single vendor support. Managing multiple support relationships and contracts can be difficult. Working with a single ERP provider for support of MES functionality can make contract negotiations easier and avoid issues of finger-pointing between solution providers.
Common user interface. In today's matrixed organizations, many users may have cross-departmental roles. The ability to rely on a single ERP program can reduce the friction related to having to learn multiple system interfaces and promote quicker training.
Advantages of Connecting With Other Business Management Software
Departmental focus. Convincing finance, sales, service, and HR to switch their main management software may not be possible. Purchasing an MES-specific product and integrating it with other systems allows other departments to continue using preferred existing systems.
Best of breed applications. While ERP providers have a wide range of cross-functional business management capabilities to support, MES developers are able to focus more narrowly on supporting manufacturing management improvements.
Lower barrier to entry. For smaller manufacturers, advanced requirements can accumulate in higher concentrations around production activities, while more basic accounting or order management systems can suffice. In cases where robust technology is required at the production level, but not across a broader set of functional modules, MES-specific products can be a good choice.
MES Software Technology Trends
The pace of technological change in MES software market is rapid. Customer appetite for improvements in MES functionality and fierce competition among developers vying to supply product differentiators have ensured that MES programs are some of the most cutting-edge products on the market. It's no surprise then that MES software options have embraced some of the leading technology trends, including the Internet of Things (IoT), artificial intelligence (AI), and cloud computing.
When looking ahead to the technology use in the next 3 years, we found in our study that 34% of software buyers already use or plan to implement MES software within the next three years. After MRP software, MES was cited as the most common tech manufacturers need.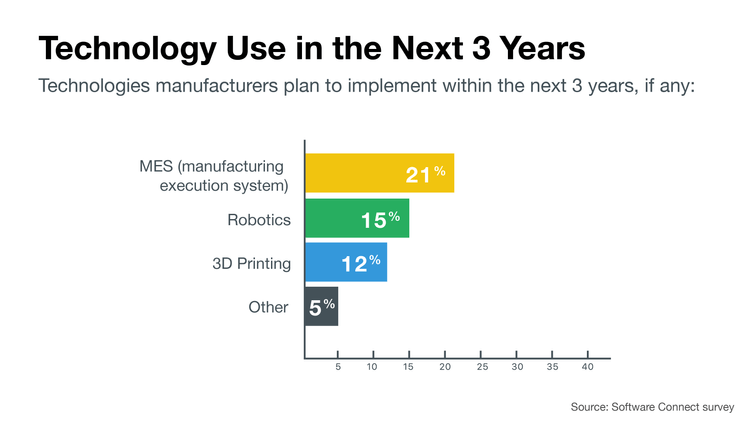 Internet of Things (IoT)
Manufacturing execution systems have been one of the commercial application types at the technological forefront for the adoption of IoT. While the popular usage of the term "IoT" has exploded in the last few years, manufacturers have been collecting data from industrial equipment via web interfaces for many years before the "Internet of Things" became a household phrase. Manufacturing execution systems benefit from the IoT collection of data from a variety of sources including: automation systems, robots, NC machines, digital gauges, cameras, sensors, and wireless tools. Data collected can provide information on equipment usage, condition, current job, and output statistics, as well as more basic conditional equipment attributes like temperature, pressure, speed, and location.
The impact of taking advantage of IoT capabilities to collect and integrate production data is significant:
Production-level KPIs can be combined with other business metrics for analysis in a single system
Asset tracking and maintenance management can be improved to lower equipment costs
Real-time resource utilization information can be used to coordinate and optimize shop-floor scheduling
The power of the IoT is enabled by web APIs. Application programming interfaces (APIs) enable the sharing of data between interconnected devices and software platforms. As more manufacturing devices are equipped with web APIs, the opportunity for IoT integration possibilities for MES applications will continue to increase.
Artificial Intelligence (AI)
Artificial intelligence is a complicated and highly contested term. But at the core of its meaning, artificial intelligence suggests the capability of machines to take on the characteristics of human intelligence. Cognitive abilities covered under the scope of AI can include perceiving, learning, reasoning, and problem-solving.
While the promise of AI capabilities remains a future prospect for many types of technology, MES software represents an instance where it is already significantly established. Examples of existing AI functionality in manufacturing execution systems, include:
Dynamic scheduling of production activities based on software assessments of resource availability,
Intelligent timing of materials provisioning based on pending orders and stock availability, and
Automated recommendations for process corrections and improvements based on the collection and analysis of quality and performance inputs.
Cloud Computing
Cloud computing has a created a host of new opportunities for companies looking to improve their management software capabilities.
The benefits of cloud adoption have a number of potential impacts for MES buyers:
Cloud enables anytime, anywhere access, so managers outside of the office or away from the production floor are still able to monitor plant floor conditions.
The ability to host MES applications on vendor hardware in their data centers allows manufacturers the ability to minimize support and technology investments, while focusing on core manufacturing competencies.
The SaaS pricing model which is often paired with cloud solutions means that the initial investment costs for manufacturing execution systems can be minimized, lowering the barrier to entry to cutting-edge technologies.
Many developers of MES software have released web-based software versions that enable native cloud capabilities. Additionally, traditionally client-server options can be made cloud-accessible with the usage of remote access technologies and hosting services, enabling a wider range of product options for the cloud-inclined MES software buyer.
Pain Points Solved by MES Software
High costs of investment: Companies have tighter budgets than ever, and a lot of MES configurations rely on a heavy amount of customizations. Some say that that the for every $1 spent on licensing, you'll spend $5 on services. This can quickly increase the overall cost of a software investment, in addition to any additional costs of managing the solution over its lifecycle (such as support down the road or needed upgrades).
Difficulty changing company culture: With any software solution implementation, you may deal with resistance from staff who are set in their ways, or quite comfortable with current software processes. Even with the benefits of a new system laid on in front of them, some floor workers or managers may still resist change in light of having to spend hours being trained on something new and making mistakes along the way. In manufacturing, this will likely jam up production during the learning process and lead to delays in orders being fulfilled.
How to Evaluate & Choose
Few business decisions will have greater impact on how manufacturing processes are planned, communicated, executed, and improved than the decision of which MES product to use. Following a pre-defined software selection plan allows for more seamless coordination of software selection activities among project stakeholders and an improved chance of selecting the right program.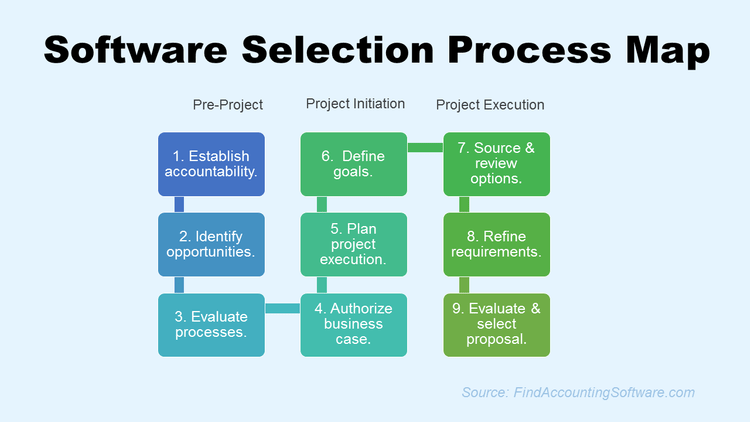 Establish accountability. A single individual should bear the final primary responsibility for the optimization of manufacturing management systems. Before undertaking an effort to purchase software, this responsibility should be clearly assigned.
Identify opportunities. Accountable leaders should monitor developments in both software technology and the organizations own business model that may present improvement opportunities.
Evaluate processes. Structured examination of core manufacturing processes and systems should be undertaken on a periodic basis to identify addressable shortcomings which can be corrected with improved management technology.
Examine business case. Executive/organizational support should be sought whenever a significant opportunity to overcome a process shortcoming has been identified.
Plan project execution. Basic project planning tasks include selecting team members, setting scope, determining project methodologies, and establishing a timeframe.
Formalize goals. With input from team members, formalize goals in to guide solution selection and create benchmarks for success.
Source & review options. Engagement with top solution providers offers an opportunity not only to explore potential product options, but a chance to identify overlooked process improvement opportunities.
Finalize selection criteria. Following an in-depth review of options, translate broad project goals into specific feature requirements, cost parameters, & vendor expectations documentation.
Evaluate & select proposal. Request proposals from all competing vendors itemizing costs and service level deliverables. Conduct ROI estimation for top solutions and select best option after thoroughly confirming capabilities.