What Is Order Management Software?
Order management software streamlines order processing by helping merchants capture, track, and fulfill orders across multiple sales channels (multi-channel order). This is accomplished by connecting inventory and sales orders, creating shipping schedules, tracking fulfillment, and creating reports.
Order management systems (OMS) will help improve sales visibility, increase the efficiency in your order process by minimizing delays and back-orders, and make customers more likely to re-order through increased customer relations. Order management solutions are found primarily in retail and eCommerce environments, but can also be apart of larger-scale distribution and manufacturing operations as an application in a larger ERP package.
Order processing software functionality is a key part of supply chain management systems. Advanced order management software can keep detailed records on your vendors and suppliers, get a better sense of demand via demand planning, anticipate sales levels to aid production processes via sales forecasting, and more.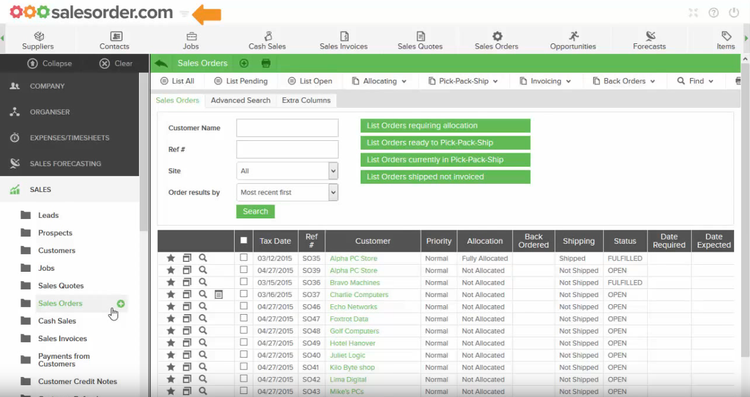 Features of Order Management Software
Order entry: Provides both internal instructions for order fulfillment and enables the creation of customer-facing order documentation
Order status tracking: Visibility into the position of orders in the order fulfillment process and allows sales staff to communicate expected delivery timeframes
Billing and Invoicing: Invoicing capabilities allow sales staff to create billing documents detailing customer payment obligations
Inventory Control: Handles shipping integration with carriers such as UPS, FedEx, DHL, and more. Can handle in-house control via pick tickets and pack lists.
eCommerce: Manage your entire web store. Take orders placed on your website, adjust inventory counts, and use the sales data for accounting purposes.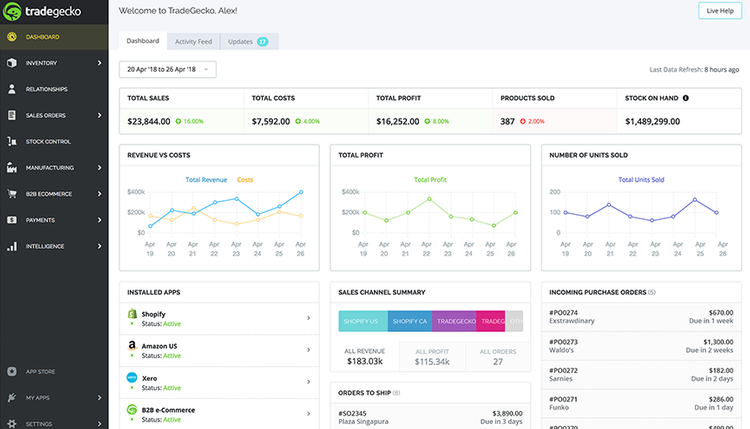 Benefits of Order Management Software
A business needs order management software to improve performance. Misplaced items can lead to delayed deliveries, dissatisfied customers, and a reduction in sales. Order management software will help prevent your company from dealing with many frustrations, whether during the slow season or during your peak selling times. These benefits will ensure you can meet consumer demands at any time:
Speed Up Shipping with Order Management Software
The automation of order management software can help you increase your shipping times, meaning the customers are receiving their products in a shorter timespan. This leads to customer satisfaction and hopefully return business.
Shipping times can be improved upon with order management solutions by creating specific pick lists that tell you exactly where an item is located in your warehouse or inventory. When initially inputting items into the inventory management module of your order system, you can assign aisle and bin locations that correspond with their exact location.
When items are shipped out from your inventory, they can be scanned to give notice to your OMS solution. This will update the order status and the tracking information within the program. Customers can sign up to receive tracking notifications so they know where their orders are at all times.
For companies who utilize outside shippers, labels can be printed for the appropriate vendor such as USPS, FedEx, UPS, and more. The tracking details for these labels will automatically be linked to the correct order and the customer notified.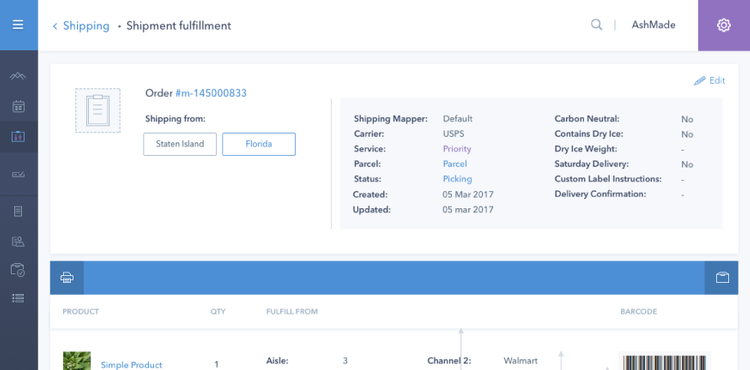 Reduce Costs With Order Management Software
The investment in order management software can be substantial depending on your needs. Over time, however, software should pay for itself through reduced operating costs. These operating costs can include labor costs and inventory costs.
For example, in a manual order management setup, an order may come in via a phone call or a fax. An employee would have to spend time formatting that order into whatever paper methods your company required. They'd then have to spend time locating where this item is in their inventory, or determine if the item is even in stock (if not, they'll have to take care of ordering more from a supplier or setting up a dropship).
An order management system lets the customer have a hands-on approach to browsing your catalog, choosing what they want, and placing the order. Integrations with inventory will alert you if any attention is required to fulfill the order.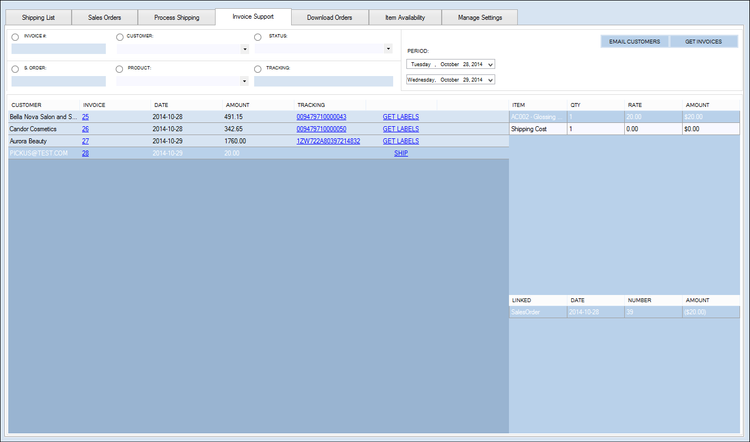 Improving Inventory Management With Order Management Software
Syncing your inventory with your order management system is the most essential way to ensure that any sales orders you are taking on can be fulfilled. If you are low or out of specific items, the software can properly notify you to place a purchase order with your supplier or manufacturer for more. If you are anticipating a new shipment of orders soon, you may be able to accept orders on products you do not have in-stock, with the expectation that they will be shipped to the customer upon the arrival at your facility. You may also get into dropshipping, where you have the ordered product shipped directly to the customer from the supplier.
Inventory management software functionality within order management software can also help simplify your picking, packing, and shipping. Systems can link with third-party carriers to ensure you are creating and printing accurate shipping slips and details. For those handling shipping in-house, the inventory control module will be able to organize your inventory with categories and attributes (stock and matrix items), create assemblies (bill of materials), and create unique tracking information such as serial numbers, warranties, service history, and more.
The biggest benefits of inventory management within your order management software are:
Real-time Stock Tracking: Know the detail of all items in stock, including the quantity remaining and when you'll expect to receive more based on your usual timing of orders
Multi-location Management: Organize stock in multiple warehouses.
Dropship Management: Fulfill dropship orders by specifying which items in each order need to be shipped directly to a customer. Select the appropriate carrier for each delivery.
Larger companies with multiple locations may also consider warehouse management software (WMS) that can handle advanced needs, such as RFID tracking.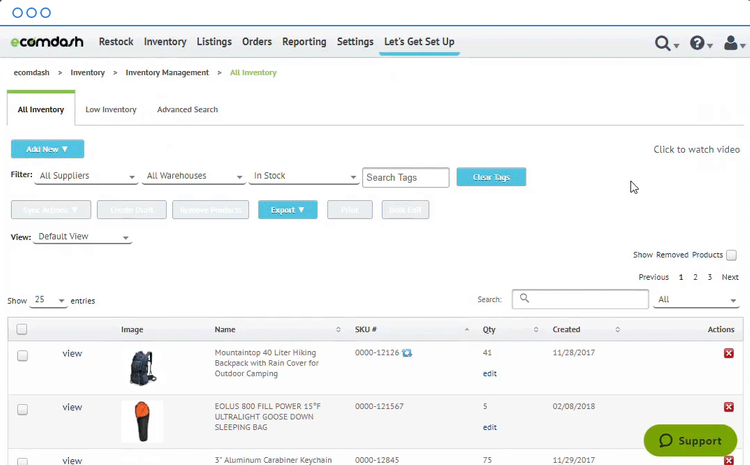 Manage eCommerce Sales With Order Management Software
If your business sells its products online and lets customers place orders via your website, you'll want to make sure you have strong ties and integrations with an eCommerce platform. Ecommerce capabilities can be found within order management software, which can help connect the dots between your inventory, sales, shipping, and more.
Order management software can help you become a multichannel seller with a strong eCommerce feature set. Many order management systems will include integrations with popular online platforms such as Amazon, eBay, Shopify, WooCommerce, and more.
The best capability of an eCommerce feature within order management software is the integration with your shopping platform. You'll want to make sure your order management system can extract all the necessary data from your online shopping cart, which will allow the creation of sales orders, and also let these orders be sent through the proper channels.
Integration with various shopping cart solutions will let you synchronize your orders for faster handling, provide easy to access order status, let you easily locate customer details, and automate the product count in your inventory once a new order has been received.