What Is Order Fulfillment Software?
Order fulfillment software automates order processing via sales order entry, inventory management, picking and packing items, and tracking shipments of goods to customers. These software options help simplify the workflows needed to efficiently ship the most amount of goods in the quickest amount of time.
These fulfillment solutions leverage automation triggers that respond to specific conditions and actions. These actions can be defined and scheduled so your business is operating at maximum capacity.
Whether you operate your own warehouse or use third-party logistics providers (such as an Amazon fulfillment center), order fulfillment software will increase efficiency and automate your fulfillment process. This is accomplished via integration with your eCommerce platforms, which help track new sales orders, create purchase orders for needed items, manage invoices, manage inventory, track shipped goods, and process returns.
Order fulfillment is typically found as a feature set within a supply chain management software. These larger enterprise-level systems usually include additional capabilities such as demand planning and sales forecasting.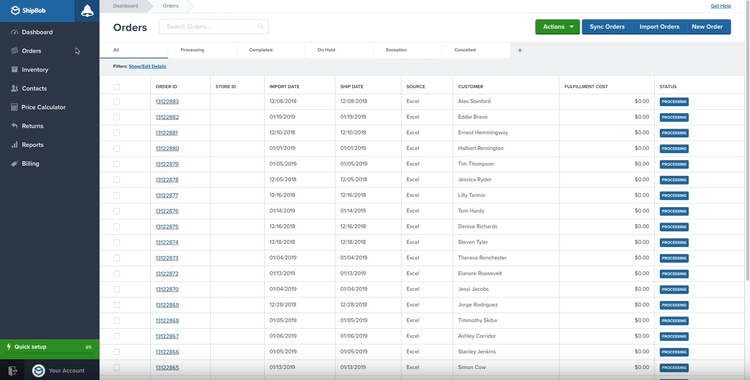 Features of Order Fulfillment Software
Order Management: Manages receiving, tracking, and fulfilling customer orders across multiple sales channels. Track all shipments and push tracking details to customers. Automates the decision making on approvals, backorders, and processing orders.
Inventory Control: Keep track of stock count for items you sell, create notifications for low stock counts, link with purchase order capabilities to restock goods. Track items via UPCs, serial numbers, lot tracking, and barcoding.
Warehouse Management: Determines the most efficient warehouse picking method.for maximizing fulfillment and optimizes available storage space. Send pick lists to warehouse pickers that contain customer info, date and time of order, order number, product location, product SKU, and a description or photo of the item.
Kit Assembly: Allow for multiple items to be combined to form another item. Assemble all needed components into a kit to fulfill your distribution list. Supports the design and production of kits that are later sold to customers.
Returns Management: Coordinate tasks associated with the return of items, including stocking goods back into your inventory, proper shipment to your warehouse or to a waste site, creation of return shipping labels.
Shipping Label Creation: Create shipping labels that detail origin and return address, a destination address, weight, shipping class, and tracking numbers or barcode details. Ensure labels are created in compliance with whatever shipping carrier being used.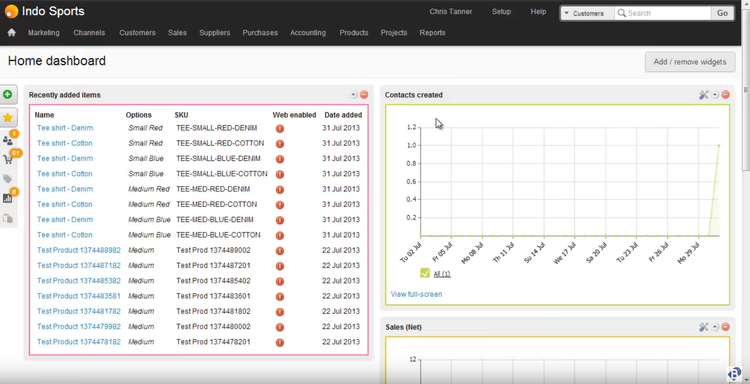 Benefits of Order Fulfillment Software
The best order fulfillment software will integrate order management, inventory control, and warehouse management to provide you with a complete fulfillment solution. Some of these basic benefits include lowering your operating costs, eliminating errors, finding new business easier, and more. These benefits can be prioritized however your business needs. Some of the top benefits of these systems include:
Maintain Inventory Accuracy
Order fulfillment software will help track every movement made in your inventory. This provides an easy to discern audit trail which internally can let you know which employees were involved with fulfilling orders and how efficient they have been. Externally, clients can keep track of your current and historical inventory levels.
These systems can also track inventory at multiple locations. Depending on whether your inventory will be pulled from a storefront, a back office, ordered from a supplier, or picked directly from your warehouses, order fulfillment systems can help find the most optimal place to grab an item. They can also help transfer items between your physical locations.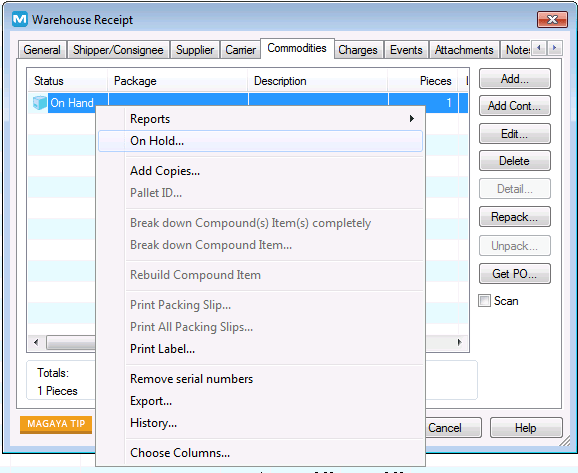 Integrate With Your Marketplaces
When you sell items over multiple channels, you'll need a multichannel sales management tool. Retailers and wholesalers who sell goods on various marketplace stores desire a centralized solution to manage their online sales. When selling your goods on a 3rd-party marketplace, it can be difficult to automatically track orders and stock counts.
Many order fulfillment software options will integrate with popular online marketplaces, such as Amazon, eBay, Shopify, and Etsy. This level of integration can provide the following benefits:
Update stock levels on your selling platforms. This prevents you from having to manually update stock counts after every new order. When a business sells on multiple channels, this can become a tedious task.
Update your client database. Anytime a new customer purchases from you, their details can be imported into your client database, which can create a customer profile for this customer.
Centralize all orders. Rather than having multiple marketplace ledgers to look into, centralize all of your daily, weekly, and monthly sales into one unified screen to better analyze and understand company profit.
For eCommerce businesses that strictly sell on one marketplace, you may be better off looking into a solution intended to be used with that specific outlet, such as accounting software for Amazon sellers.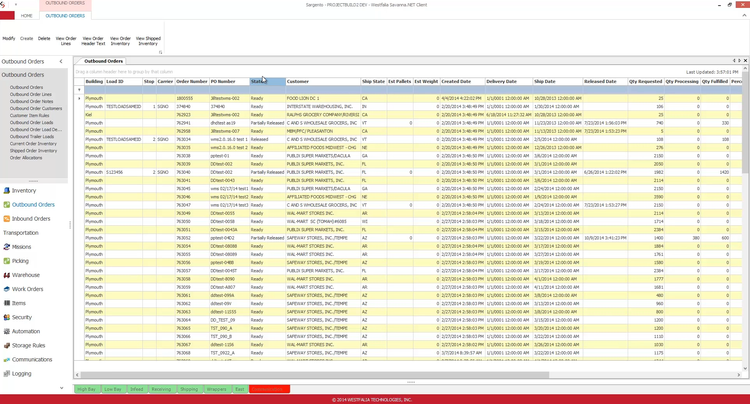 Track Shipments With Your Carriers
Order fulfillment software can integrate with shipping carriers and help manage your shipping via shipping label generation, real-time shipping cost shopping, tracking information, and post-shipment updates. These integrations can ensure the correct shipping method is used and that the correct postage and labeling is applied to all orders.
Communication can also be given to each customer to inform them of the carrier being used and any tracking details that will let them track their shipment. Internally, it can ensure that proper details on the item weight, value, and more are communicated to the shipping carrier so appropriate priority can be assigned.
Whether you use FedEx, USPS, UPS, DHL, or others, there are numerous order fulfillment and WMS options that can help you calculate the best rates, track packages, receive address verification, and more.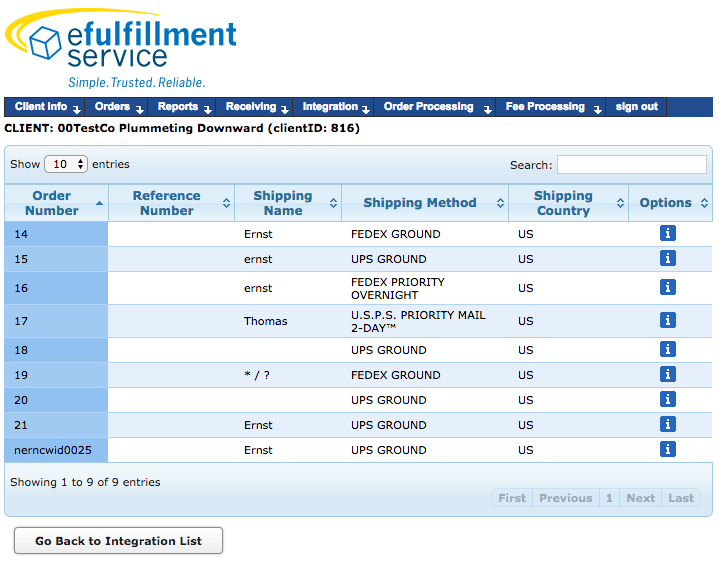 Cost of Order Fulfillment Software
The price of cloud-based order fulfillment software starts as low as $9/month for a product such as ShipStation. For locally installed options, a simple order fulfillment solution such as Pomodo can be found as low as $500 for a one-time purchase. For more advanced options, solutions can range as high as $135/month (Megaventory) or up to $25,000 one-time (Savanna.NET). These ranges don't take into account the costs of any needed services such as implementation and training.
The cost of order fulfillment software is typically based on the:
Number of warehouses
Number of needed users
Number of orders processed each month
The size of the inventory
Some solutions can take all of these variables into account and come up with unique pricing for your business model.
For example, a solution such as Shipmonk will price their software based on:
The type of fulfillment needed (eCommerce, retail, amazon, etc.). This will have the biggest effect on the item per order cost, as shipping different types of items will cost different prices.
The number of orders processed per month. The first item pick fee is $2.50/order. If the order only has one item, this will be the only charge for that order. Additional items per order are picked at $.50/order. Promotional inserts are $.20/order.
Any needed services. Software providers that also provide fulfillment services may charge you for storage (based on SKUs or according to size), shipping options provided, or additional one-off costs (packaging materials, unloading fees, and more).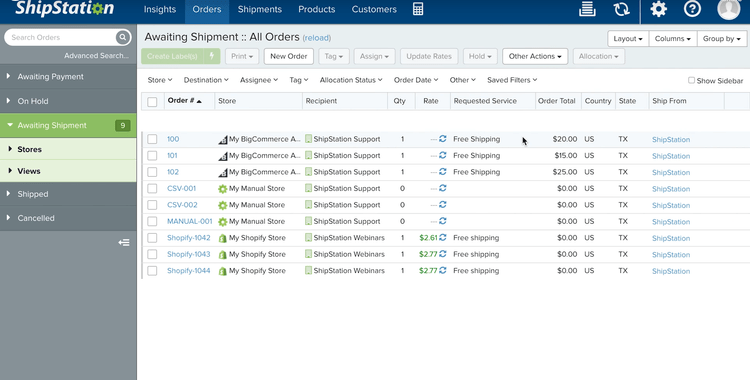 What Does Your Business Need?
Depending on your size, your ecommerce fulfillment needs may be different.
Small Businesses
Startups and small operations should consider finding an eCommerce fulfillment option that will integrate with existing technology, such as any small business accounting software. Having a solution that can add-on to your existing infrastructure can help ease you into the world of fulfillment, and provide a low-cost way of doing so.
Many cloud-based options have little to no upfront costs and can provide you with the same functionality many larger solutions offers (at a limited clip, such as being restricted as to how many orders you can fulfill each month).
Mid-Sized Operations
A growing business looking to become a more efficient supply chain operation will want to find a fully-integrated option to meet their needs. At this size, you'll want to ensure all incoming orders from all your channels are combined into one area, which will let you easily edit orders, manage return, and communication shipping updates.
Large Enterprises
Large businesses looking to automate their order fulfillment process will first want to ask themselves if what they truly need is an order fulfillment software or a supply chain management ERP software. Some may use the term synonymously, but many ERP-level options can be bought as an order fulfillment software.
A large enterprise will want to ensure any order fulfillment option includes advanced eCommerce capabilities for building a brand identity, being able to process a large volume of orders when operating at full capacity, and give their customers a 24/7 portal for orders, updates, invoicing, and support.
Does QuickBooks Handle Order Fulfillment?
Newer versions of QuickBooks Enterprise (18.0 and later) have a sales order fulfillment worksheet, which helps create a workflow for efficient order fulfillment. This is only if you have enabled the Advanced Inventory preference. Users can manage and fulfill orders within the Customers menu. This newer feature works alongside the existing order entry, order update, and order tracking features already offered with varying levels of QuickBooks.
Even newer versions of QuickBooks Enterprise (19.0 and beyond) have access to the "Pick, Pack, and Ship" feature. This enhancement tool provides a dashboard intended to help increase speed and accuracy in your order fulfillment process. The pick tab can let you view and manage your pick lists. Once created, you can track their status in your warehouse with proper updates.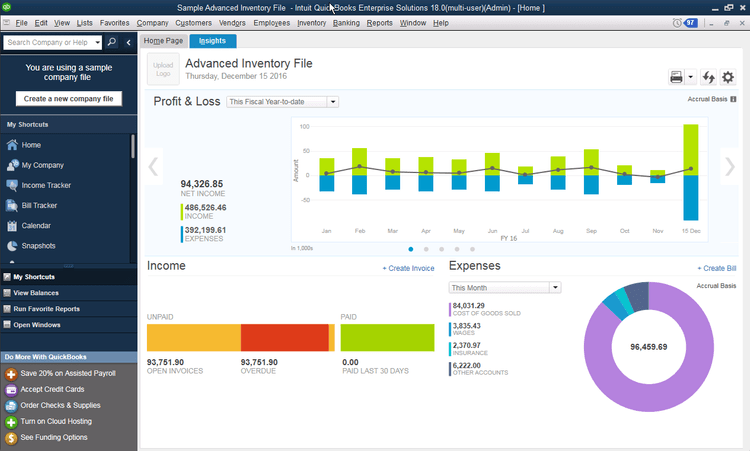 Outgrown QuickBooks?
Alternatively, there are many solutions that provide advanced inventory and order fulfillment capabilities that will integrate with the accounting side of QuickBooks. One example is Acctivate, which markets itself as "QuickBooks Inventory Management Software". Core capabilities include inventory, order management, and purchasing. The appeal of these solutions are for businesses comfortable with QuickBooks as their primary accounting option but feel they've outgrown their distribution and fulfillment features.