If you are managing complex assemblies, a bill of materials software application will provide you with the functionality you need to make your manufacturing more organized and efficient. Find out about the top bill of materials (BOM) software options on the market and how they can benefit you.
1

OpenBOM - Best Overall

Why We Chose It: OpenBOM emerges as the top BOM management software due to its cloud-based architecture and seamless integration with popular CAD tools. It's primarily designed for professionals who require efficient and effective bill of materials management. Its "Excel-like" interface ensures users feel familiar and helps shortened the learning curve, all while its multi-tenant data model provides flexibility in data structuring. Additionally, the software's capabilities in real-time collaboration make it stand out, ensuring teams can work cohesively even from remote locations.

This combination of an intuitive interface and cloud-based collaboration means that teams can streamline their operations, cutting down on the hours spent creating parts lists manually.
2

Oracle PLM Cloud - Best for Enterprises

Why We Chose It: Oracle Fusion Cloud Product Lifecycle Management (PLM) stands out as a top-tier PLM solution for supply chain and development teams in larger companies. By offering a unified process and effective data management, enterprises can align on requirements essential for consistent innovation and timely commercialization of products and services.

The highlight is its digital thread, which streamlines design, planning, manufacturing, and service processes, ensuring businesses are agile, compliant, and primed for transformation. The benefits range from reducing latency and ensuring global compliance to eliminating supply chain risk throughout product lifecycles.

Users have have enjoyed Oracle PLM for its user-friendliness, extensive customization capabilities, and integrative features. They have particularly emphasized its robustness and data reporting tools. However, some users highlighted the challenges with report structuring and pointed out that certain functionalities can be intricate.
3

MRPEasy - Best for Small Businesses

Why We Chose It: The bill of materials offeered in MRPEasy are intricate and have a tailored approach to manufacturing. Recognizing the nuanced needs of both discrete and process manufacturing, MRPEasy adapts its BOM functionalities for distinct industries, from electronics to food production. We liked the flexibility to manage both single and multi-level BOMs. If a business has simple or highly complex products, MRPEasy can work–making it attractive to smaller businesses as a scalable option.

MRPEasy lets you get more precise with your BOMs since it offers both engineering BOMs and manufacturing BOMs. This is important in accounting for real-world variables like wastage. Its intuitive interface also aids in adding or revising BOMs, which can simplify the manufacturing process.

And since BOMs aren't siloed and are tied directly to production planning, purchasing, and sales, MRPEasy works great as a complete MRP software that gets involved in the whole production process. The version control system embedded within the software ensures traceability, making BOM revisions straightforward and transparent.
4

Katana MRP - Best for Production Planning

Why We Chose It: Katana is an accurate and optimized MRP that offers an in-depth Bill of Materials (BOM) module. The solution is catered for both small manufacturers and expansive factories. Katana ensures real-time insights into production progress, design alterations, and raw materials consumption.

Katana is successful for businesses transitioning away from static spreadsheets. The BOM module auto-allocates available raw materials and products, providing a form of resource allocation that prioritizes schedules.

Moreover, Katana's commitment to precise costing is evident. With the ability to track sales and production orders in real-time, businesses can adjust raw material and resource costs, making pricing decisions more straightforward. Multi-level BOMs with subassemblies further refine the costing process, providing a clearer understanding of product margins and cost of goods sold.
5

Arena PLM - Best for Product Lifecycle Management

Why We Chose It: Arena PLM can handle bill of materials and much more beyond that. With its cloud-native platform, we were able to centralize vital product records. This could be a great boon to enabling real-time collaboration among internal and external stakeholders.

The comprehensive access to designs, parts, BOMs, and quality management processes paves the way to eliminating operational silos and should (in theory) foster agile product development.

This product is a great choice for those who need more than just a simple tool for creating a BOM. By connecting BOMs, design files, and change processes, Arena PLM accelerates product delivery, reducing costly production errors. The platform not only enhances visibility across design and supply chain activities but also gets the process started on moving products towards commercialization.
What is Bill of Materials Software?
Bill of materials software specifies the raw materials, parts, and sub-assemblies needed to manufacture each specific product. By providing precise instructions on what is needed for each manufacturing job, a bill of materials module allows you to complete more jobs in less time with cost savings on both labor and materials.
Bill of materials software breaks the manufacturing of an item down to the component level. Bill of materials software provides specific instructions on both material needs and assemblies required for the creation of a product.
In order to create the requirements, the bill of materials software takes information from order entry systems, inventory control, and master production schedule modules. By integrating different functional areas, a bill of materials allows you to coordinate a variety of tasks, from provisioning of materials to specifying work, into a single instruction set.
Having a clear explanation of how to complete each manufacturing job will allow you to eliminate waste in materials and better coordinate machine usage and labor.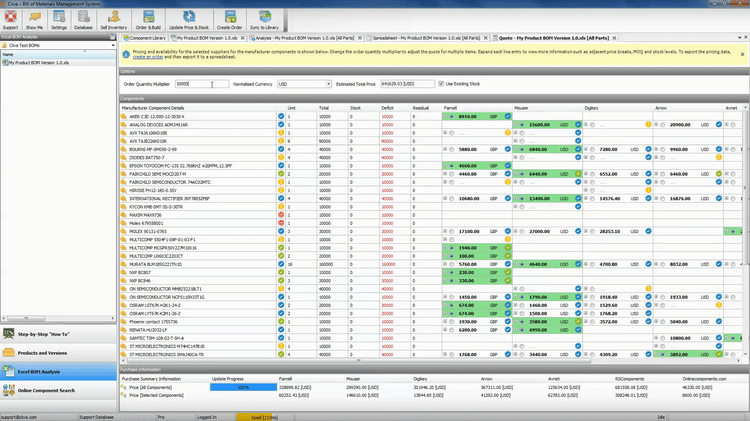 What Does a Bill of Materials Look Like?
Bill of materials are hierarchical, as in they have a top-level that represents a completed or manufactured product. From there, any levels below the top are known as sub-assemblies.
For instance, if you are building a clock, you might have two levels of assembly: one for the internal clock-works and one for the outer casing. The bill of materials for each assembly would detail the materials and the steps needed in each assembly.
For example, the outer casing assembly might include a materials list including the wood for the casing, screws, and paint. It would also specify the correct order of steps needed to cut the wood, assemble the casing, and paint it. Finally, the bill of materials would specify the labor and machine requirements for that step of the assembly.
In the real world, bill of materials can be used to manage much more simpler, but usually considerably more complex assembly processes.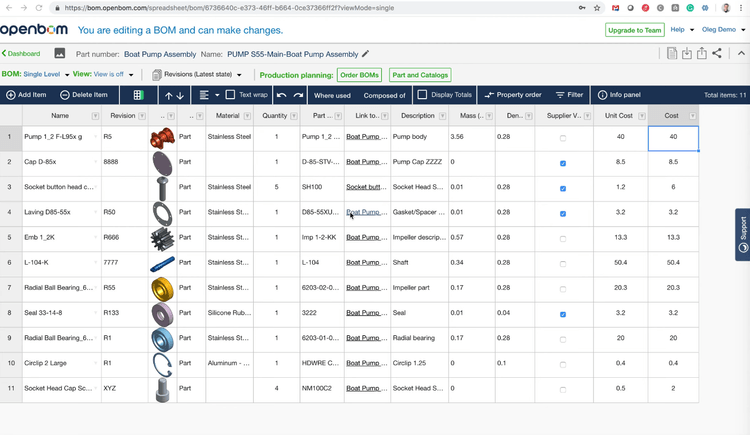 Features of Bill of Materials Software
Single and Multi-level BOM: Single level BOMs are top-level assemblies that grab all subassemblies and parts from one level and put them into a list. Multi-level BOMs create a hierarchy of parts and subassemblies which can be managed separated.
Flattened BOM: A report that shows the quantity of all components or parts across multiple assemblies used in the product. Displays a flat representation of your BOM with distinct components and quantities collected from all sub-levels
Revisions and Change History: Create multiple versions of BOMs that can be approved or adjusted. Track and propose changes made to all BOMs.
User-defined views: Create custom views for all team members. Add/update user permissions.
Production Planning (Routing) and Purchase Orders: Helps plan production on your shop floor by determining the need for materials and capacity in order to complete a production order.
Document Management: Create a single working version of a document through collaborative storage and management with other users.
Material Take Off (MTO): The process of analyzing drawings and determining all the materials required to accomplish the design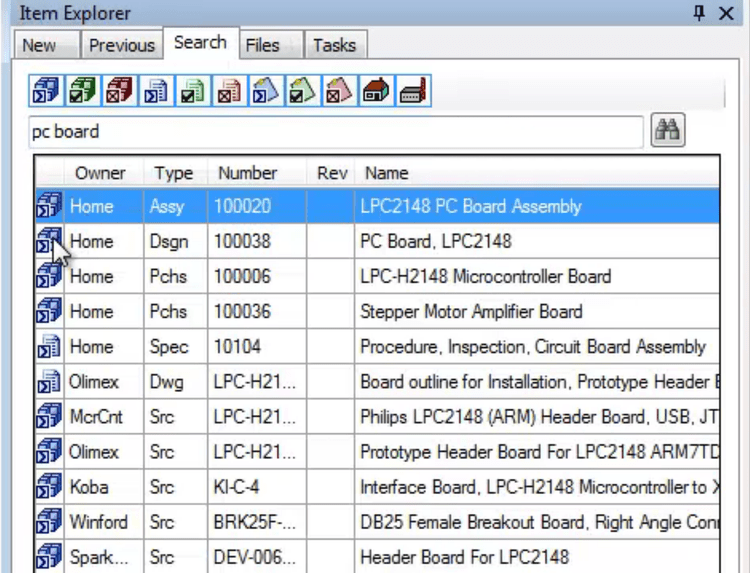 Benefits of Bill of Materials Software
A strong bill of materials software or an integrated BOM module within your ERP suite or inventory management solution can provide a number of benefits for your business:
Enforce Rules For Each Assembly Part Type
Ensure the correct bill of material creation in your company by automatically assigning documents and part numbers according to specified rules. A quality BOM software will let you find the exact materials needed to complete an assembly, or suggest possible alternatives via search tools within the program. You can also look at release status and life cycle, and monitor revision history for any changes that do occur within your bill of materials.
Saving Time With Bill of Materials Software Automation, Collaboration, and Templates
With a bill of materials software module, you can save time by eliminating the need to manually gather data. A bill of materials will automatically grab information from engineering drawings, part number lists, spreadsheets, and other paper documents. Bill of materials software modules promote collaboration by allowing employees from multiple locations to access the same information in real-time. You can basically eliminate the need to mail or fax a list of production components between plants. Another time-saving feature of bill of materials is the ability to edit previous instructions to create a new bill of materials based on your existing templates.
BOM Software vs PLM Software
Some argue that BOM can be used outside of a manufacturing concept, and thus become a critical part of a product lifecycle management (PLM) process. This is due to the extended definition some may give to BOM, which is based on the idea that a BOM can define products as they are designed (engineering bill of materials):
The concept of an engineering bill of material (EBOM) was introduced in PLM systems since there is very rarely a single tool that fully defines the design intent of a product. This is most commonly due to the increasing number of products that require mechanical, electronics, and software engineering … PLM EBOM addresses individual design tool limitations by synchronizing the CAD design structures from multiple tools to items in a single product's EBOM. Jon Gable, Director of Sales, Adaptive Corporation
Product lifecycle management software, or PLM software, keeps your business organized so you can manage the entire lifecycle of a product from conception through design and creation and finally disposal. A bill of materials is just a part of a product lifecycle, and usually the first step in structuring a product towards the creation, engineering, or manufacturing process. The best PLM tools will give additional capabilities that help a product design move forward, such as change management, quality management, product data management, and more.