If you are managing complex assemblies, a bill of materials software application will provide you with the functionality you need to make your manufacturing more organized and efficient. Find out about the bill of materials (BOM) software options on the market and how they can benefit you with the following topics:
What is Bill of Materials Software?
Bill of materials software specifies the raw materials, parts, and sub-assemblies needed to manufacture each specific product. By providing precise instructions on what is needed for each manufacturing job, a bill of materials module allows you to complete more jobs in less time with cost savings on both labor and materials.
Bill of materials software breaks the manufacturing of an item down to the component level. Bill of materials software provides specific instructions on both material needs and assemblies required for the creation of a product.
In order to create the requirements, the bill of materials software takes information from order entry systems, inventory control, and master production schedule modules. By integrating different functional areas, a bill of materials allows you to coordinate a variety of tasks, from provisioning of materials to specifying work, into a single instruction set.
Having a clear explanation of how to complete each manufacturing job will allow you to eliminate waste in materials and better coordinate machine usage and labor.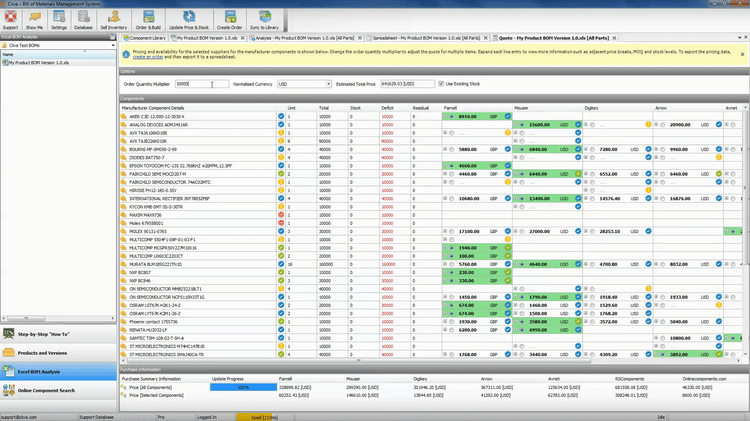 What Does a Bill of Materials Look Like?
Bill of materials are hierarchical, as in they have a top-level that represents a completed or manufactured product. From there, any levels below the top are known as sub-assemblies.
For instance, if you are building a clock, you might have two levels of assembly: one for the internal clock-works and one for the outer casing. The bill of materials for each assembly would detail the materials and the steps needed in each assembly.
For example, the outer casing assembly might include a materials list including the wood for the casing, screws, and paint. It would also specify the correct order of steps needed to cut the wood, assemble the casing, and paint it. Finally, the bill of materials would specify the labor and machine requirements for that step of the assembly.
In the real world, bill of materials can be used to manage much more simpler, but usually considerably more complex assembly processes.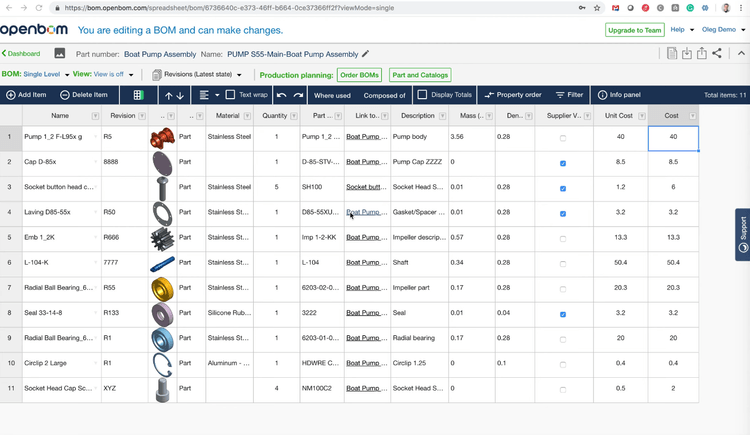 Features of Bill of Materials Software
Single and Multi-level BOM: Single level BOMs are top-level assemblies that grab all subassemblies and parts from one level and put them into a list. Multi-level BOMs create a hierarchy of parts and subassemblies which can be managed separated.
Flattened BOM: A report that shows the quantity of all components or parts across multiple assemblies used in the product. Displays a flat representation of your BOM with distinct components and quantities collected from all sub-levels
Revisions and Change History: Create multiple versions of BOMs that can be approved or adjusted. Track and propose changes made to all BOMs.
User-defined views: Create custom views for all team members. Add/update user permissions.
Production Planning (Routing) and Purchase Orders: Helps plan production on your shop floor by determining the need for materials and capacity in order to complete a production order.
Document Management: Create a single working version of a document through collaborative storage and management with other users.
Material Take Off (MTO): The process of analyzing drawings and determining all the materials required to accomplish the design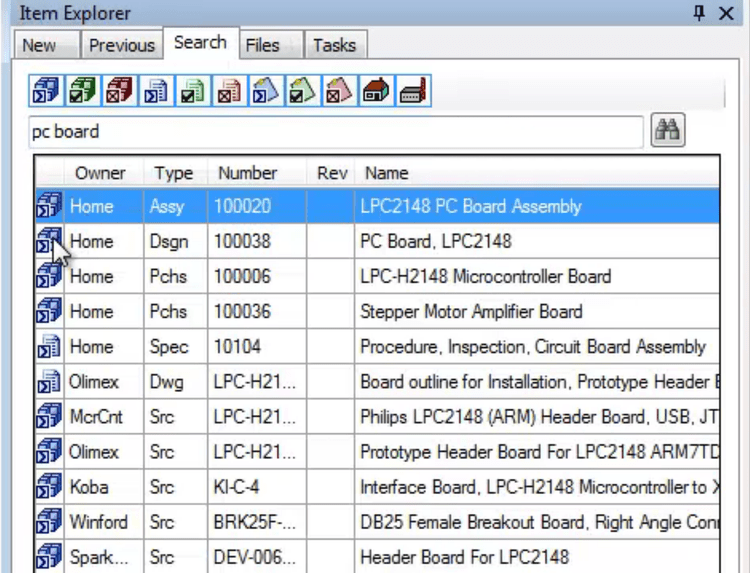 Benefits of Bill of Materials Software
A strong bill of materials software or an integrated BOM module within your ERP suite or inventory management solution can provide a number of benefits for your business:
Enforce Rules For Each Assembly Part Type
Ensure the correct bill of material creation in your company by automatically assigning documents and part numbers according to specified rules. A quality BOM software will let you find the exact materials needed to complete an assembly, or suggest possible alternatives via search tools within the program. You can also look at release status and life cycle, and monitor revision history for any changes that do occur within your bill of materials.
Saving Time With Bill of Materials Software Automation, Collaboration, and Templates
With a bill of materials software module, you can save time by eliminating the need to manually gather data. A bill of materials will automatically grab information from engineering drawings, part number lists, spreadsheets, and other paper documents. Bill of materials software modules promote collaboration by allowing employees from multiple locations to access the same information in real-time. You can basically eliminate the need to mail or fax a list of production components between plants. Another time-saving feature of bill of materials is the ability to edit previous instructions to create a new bill of materials based on your existing templates.
BOM Software vs PLM Software
Some argue that BOM can be used outside of a manufacturing concept, and thus become a critical part of a product lifecycle management (PLM) process. This is due to the extended definition some may give to BOM, which is based on the idea that a BOM can define products as they are designed (engineering bill of materials):
The concept of an engineering bill of material (EBOM) was introduced in PLM systems since there is very rarely a single tool that fully defines the design intent of a product. This is most commonly due to the increasing number of products that require mechanical, electronics, and software engineering ... PLM EBOM addresses individual design tool limitations by synchronizing the CAD design structures from multiple tools to items in a single product's EBOM. Jon Gable, Director of Sales, Adaptive Corporation
Product lifecycle management software, or PLM software, keeps your business organized so you can manage the entire lifecycle of a product from conception through design and creation and finally disposal. A bill of materials is just a part of a product lifecycle, and usually the first step in structuring a product towards the creation, engineering, or manufacturing process. The best PLM tools will give additional capabilities that help a product design move forward, such as change management, quality management, product data management, and more.