For the non-profit or public sector organization, success isn't defined by generating profits. Accordingly, nonprofits and government entities use different accounting methods than for-profit businesses. A fund accounting software offers visibility into your finances to better understand exactly how each dollar is spent. With improved financial clarity, you'll be better equipped to lower operational costs and maximize the impact of every dollar.
Using our review methodology, we've compiled a list of popular fund accounting systems to help you find the best solution for you:
1

Aplos

Why We Chose It: Aplos is a true fund accounting software which allows you to easily apply contributions and gifts to specific funds or projects. Keep track of how close you are to reaching your goals, and provide better financial stewardship for your organization.

Unlike other accounting software solutions, Aplos is specifically created for the complexities of nonprofits and churches—not for for-profit businesses.
2

Blackbaud Financial Edge NXT

Why We Chose It: Blackbaud Financial Edge NXT is a complete cloud-based accounting solution designed to meet the unique needs of nonprofits and government entities. Built on Blackbaud's expertise and experience of over three decades, this fund accounting platform delivers all the tools your NPO needs to manage financial reporting, monitor and track program success, support fundraising efforts, and ensure overall integrity.

Intuitive, reliable, and secure, Blackbaud Financial Edge NXT can streamline financial processes at your nonprofit organization, so you can spend more time and resources to drive your mission forward. And it comes to you on one cloud platform that's fast, secure, and always current.
3

MIP Fund Accounting

Why We Chose It: MIP Fund Accounting exclusively serves the financial management and fund accounting needs for thousands of nonprofits and government agencies. MIP has received the Campbell Award for several years in a row. This software is focused strictly on custom designs for your system to enable you to manage effectively, get timely information, streamline processes and provide strong controls.

MIP is a fully integrated system with comprehensive functionality including fund accounting, procurement, budgeting, payroll, human resources, timekeeping, fixed asset management, grant management, dashboards, and more. This flexible structure enables you to manage and report on multiple cost centers at the general ledger level including multiple organizations, funds, projects, grants, programs, departments, locations, etc.
4

FastFund

Why We Chose It: FastFund Nonprofit Software is a fully integrated fund accounting system designed by Certified Public Accountants. Affordable modules include General Ledger, Accounts Payable, Accounts Receivable, Cost Allocations, Payroll and Fundraising.

Handles the complex reporting requirements of multi-funded organizations. Designed to maintain separate financial records for each program. User definable chart of accounts to define funds, cost center and accounts. Powerful reporting capabilities produce custom reports to meet all your fiscal requirements including multi-year reports, budgets and reports that comply with FASB 116 and 117.
5

AccuFund

Why We Chose It: AccuFund Accounting Suite is specifically designed to meet the unique financial management and reporting needs of nonprofits, municipalities, and other government agencies. The software features an intuitive Windows interface across all modules, making it easier for new users to learn and use efficiently. Additional modules are available to customize the software for each organization.

Since AccuFund charges a one-time perpetual license fee, the total cost of ownership of AccuFund is typically lower than its competitors. This affordability is achieved through reasonably priced software, lower training costs due to its ease of use, and minimal hardware requirements, which reduce both initial investment and ongoing management costs
6

Fund EZ

Why We Chose It: Fund EZ features a 22-character account number structure that efficiently tracks funds, general ledger accounts, and cost center departments, with all data flowing smoothly to the general ledger for auto-posting. There are detailed modules for accounts payable and receivable, allocations, client billing, fund raising, general ledger, and purchase orders. Each of these modules comes with a suite of features designed to streamline various accounting tasks, such as managing vendors and clients, tracking donations, recording transactions, and creating detailed financial reports.
7

Sage Intacct

Why We Chose It: Sage Intacct is a GAAP-compliant financial management software system. This system, which is highly scalable, can support multi-entity operations, making it a valuable choice for larger nonprofits and government organizations.

Sage Intacct offers a wide array of core accounting applications, including general ledger, accounts payable and receivable, cash management, and order management. Additional functionalities such as built-in dashboards, real-time reporting, and revenue management, make it an ideal choice for organizations needing advanced financial management capabilities.
What is Fund Accounting Software?
Fund accounting software is designed to enable improved allocation management of resources which have been designated for specific uses. A common application found within nonprofit accounting software, funds are a special type of accounting entity which provides a self-balancing set of accounts allowing the reservation of cash and non-cash assets for specific purposes or activities.
Fund accounting is most commonly used by nonprofits and government entities because these organizations need to track expenditures and balances across multiple funds. Software automates these processes so these organizations can focus on other work instead of getting bogged down by bookkeeping.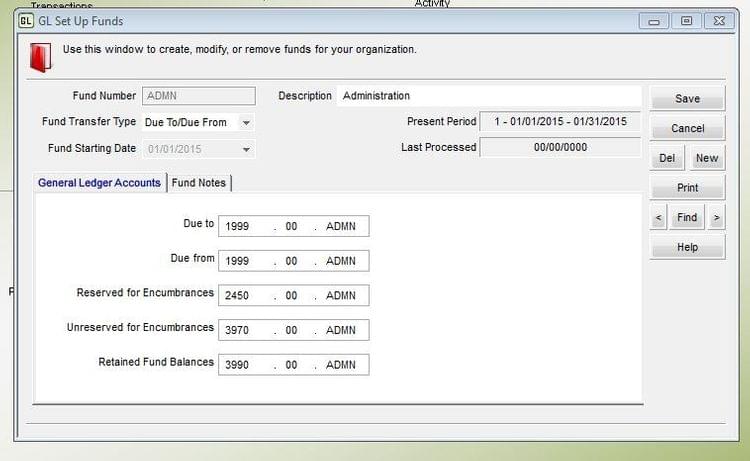 What are the Features of Fund Accounting Software?
Fund management: Gain a complete overview of your organizations financial data, from cash flow to incoming donations and grants
Donation tracking and management: Keep tabs of donations and manage how those funds are allocated
Financial reporting: Create comprehensive reports on all company spending and analyze patterns on a quarterly or annual basis
Accounts payable: Accounts payable software provides the ledger and related functionality for managing money owed by an organization
Accounts receivable: Accounts receivable software provides the ledger and related functionality for managing money owed to an organization
General ledger: General ledger software functionality provides the ledger and related functionality for providing a complete record of the financial activity of an organization, including transactional records and account structures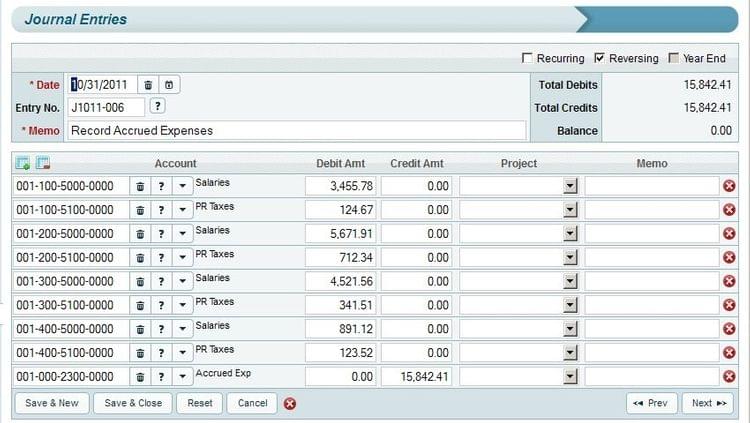 What are the Benefits of Fund Accounting Software?
A few of the most common benefits companies experience when utilizing fund accounting software include:
Track Expenditures to Fund Sources
To start, a fund is a unit of financial organization with a self-balancing set of accounts designed to record cash and other assets together with related balances and liabilities. Fund accounting software provides the automated ability to create financial statements and balance sheets for each fund.
Organizations providing funds often require clear reports detailing how the money has been spent. Fund accounting software can create detailed reports designed for this purpose. By improving your ability to document the impact of previous expenditures, you can help promote your ability to receive future funding.
Industry-Specific Applications for NPO Operations
Just as there are accounting packages designed with manufacturers or retailers in mind, software developers have created fund accounting software to meet the specific accounting requirements of nonprofit and government organizations. Using software geared for commercial for-profit operations can lead to a number of issues for nonprofits and government entities.
While the profit motive may not be behind it in the case of nonprofits and government entities, every organization is looking to maximize their efficiency. Fund accounting software provides an accounting approach designed to eliminate time-intensive workarounds necessary to make standard commercial packages work.
Tighten Your Financial Management
Fund accounting software modules provide a number of inherent benefits. Donations, grants, and endowments are frequently provided to the non-profit organization with specific instructions on the usage of the funding. Tracking these financial assets in funds allows the non-profit organization to easily see how each dollar was spent. The results of failing to meet specific spending restrictions can have negative consequences, including discontinued funding.
The first step of meeting spending restrictions is knowing where every penny is allocated. For any government entity, GASB standards actually require that accounts are kept on a fund basis. Fund accounting software allows governments to track a variety of different funds including general/operations, special revenues, capital projects, debt services, permanent, fiduciary, and proprietary funds.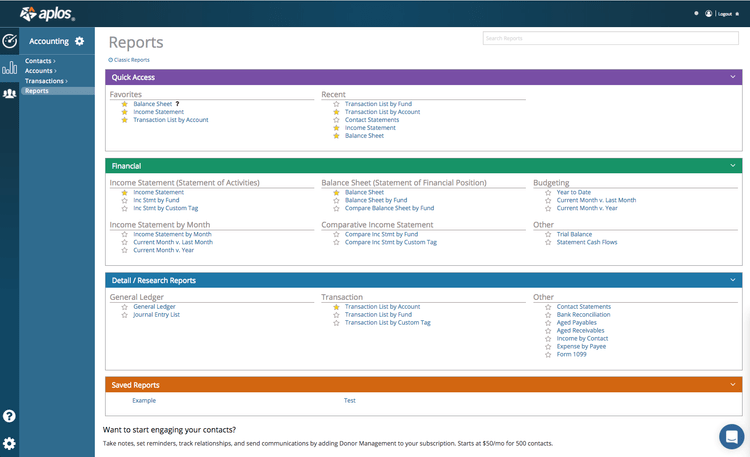 How Much Does Fund Accounting Software Cost?
Since fund accounting software is generally aimed at nonprofit and government organizations, the costs tend to be lower than full accounting solutions. There are even free fund accounting solutions available, though these are primarily for small nonprofits and have limited functionality compared to paid products.
Monthly SaaS plans tend to begin around $10 per month for multiple users and can reach up to $170 per user per month. One-time perpetual license fees start at $2,000 and go up to $16,000.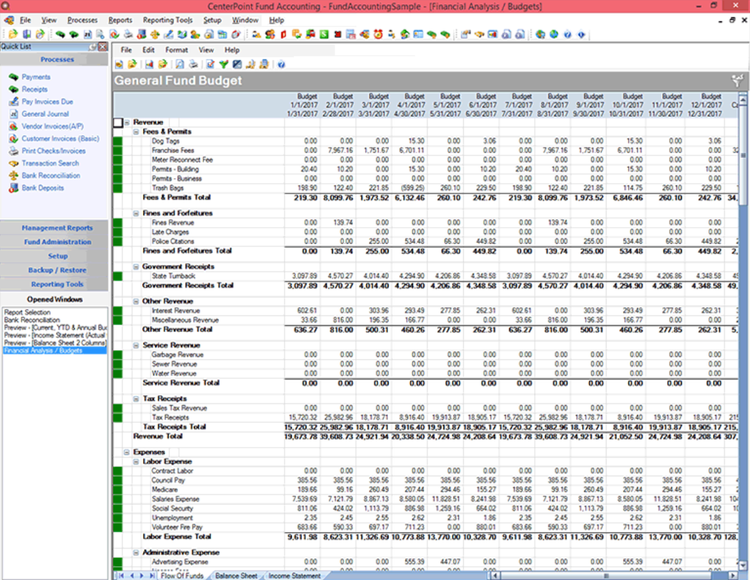 Does QuickBooks Use Fund Accounting?
QuickBooks is one of the most popular solutions for organizations with tight budgets, which rings true for many nonprofits and government organizations. QuickBooks does have nonprofit versions of their Desktop Enterprise solution, automating of fund and program accounting, and customization to create lists of members/donors and track budget by programs or funds.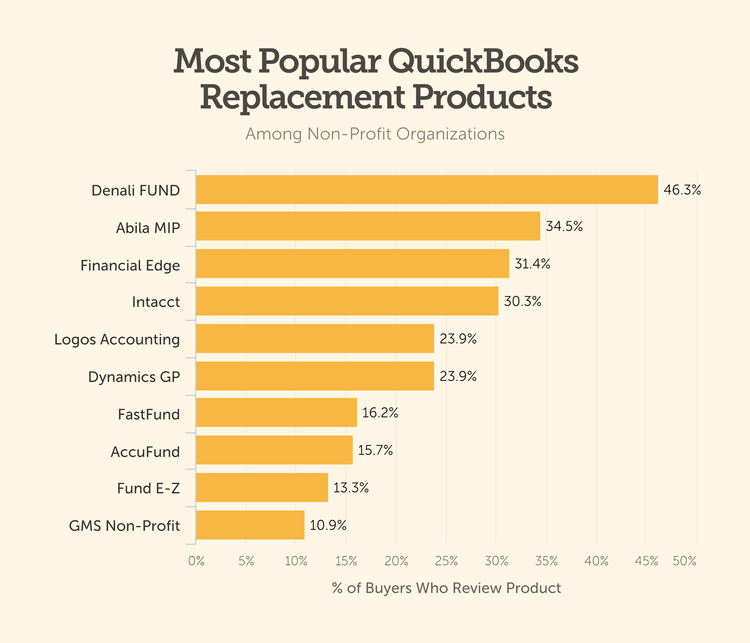 Yet in our recent study, we found companies looking to replace QuickBooks and find a new nonprofit accounting solution were more likely to review the options listed above than any other nonprofit accounting solution.
The reason? QuickBooks falls short when it comes to "true" fund accounting, as what QuickBooks consists of is:
Preparing an income statement for each fund
Preparing a balance sheet for each fund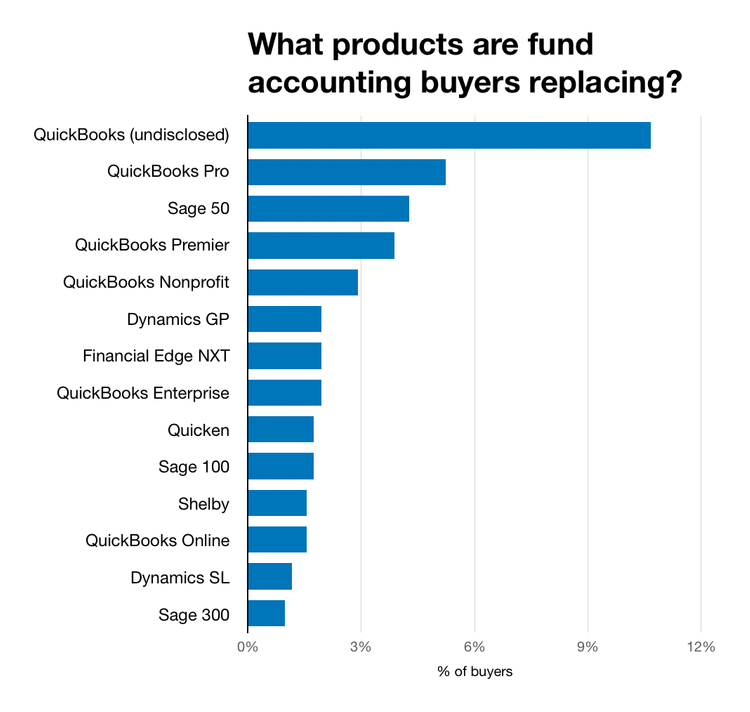 Trends in Fund Accounting Software
Adopt cloud-based systems. Many government and nonprofit organizations operate with strict budgets and adopt "make do with what you have" ideologies, resulting in aged/dated systems. Yet 37% of potential buyers wanted to "replace a dated" system with new web-based fund accounting software.
Separate fund and grant management. Most for-profit businesses may use the terms "fund" and "grant" interchangeably, but it's not as simple as that for nonprofits. A grant is what a business would receive from the government while a fund is other money which has been set aside for a specific expenditure. Fund accounting software can keep the two types of funding separate.
Provide transparency. Most millennial donors want complete transparency of where their charitable funds are going and how it addresses specific needs of an organization. A nonprofit with software can effectively show where donated funds have been allocated to attract and retain more contributors.
Make decision making easier. An Aberdeen study found that 28% of business managers need data to make decisions in under an hour, and 42% of managers need data to make a decision within a day. In order to provide visibility among the vast amount of reports separate employees may be dealing with, dashboards become the way to shift ad hoc reporting to real-time reporting.