What Is Freight Broker Software?
Freight broker software is a type of transportation management software (TMS) that streamlines freight brokerage operations by entering loads, sourcing and qualifying carriers, dispatching drivers, invoicing customers, and paying carriers. Also known as freight management software, these solutions can be customized to handle the real-time needs of the freight brokerage, such as trucking dispatch, tracking fuel tax, billing payroll to the drivers, monitoring driver logs, planning routes via GPS mapping, and conducting routine maintenance on vehicles.
Similar to freight forwarding software, these solutions will provide the technological advantage that assists shippers with freight ready to haul by finding carriers who are qualified to haul the load. These software options handle operations (logistics), financials (accounting), and customer service involved in managing a transportation and shipping business.
Varying types of freight broker software exist depending on the size of your operation. One major question to ask yourself is: Do you provide storage for your customers? A small third-party logistics operation may just be in charge of facilitating shipments between a manufacturer and a customer. Meanwhile, a largescale supply chain management operation may require the need to oversee procurement, inventory management, vendor communication, and deal with government regulations.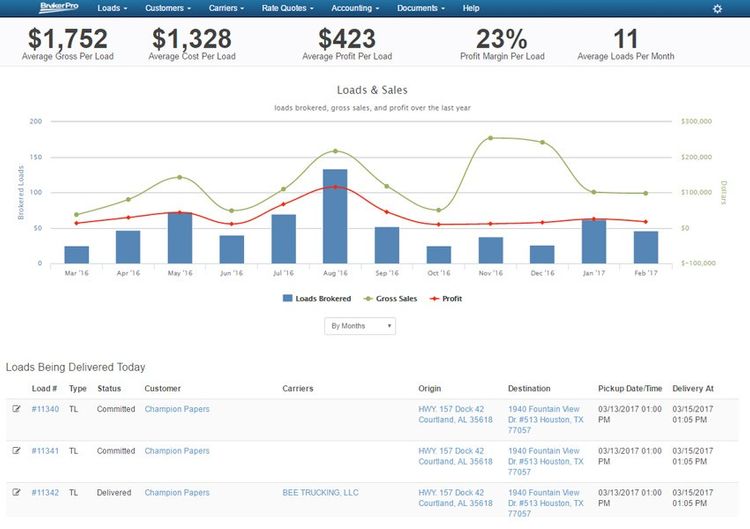 Features of Freight Broker Software
Load Management: View, organize, track, and update your load tracking throughout the load cycle. Displays information such as loads by customers, load statuses, drop date, drop time, carrier, driver, and equipment being shipped. Allows you to sort loads by keywords, customer, driver/carrier, reference number, city/state, and more.
Invoicing: Handle your shipping, land, and air freight by creating documents details what is owed to your shipping partners and others, such as agents, customs, and more. Handles primary accounting software capabilities such as multi-currency payments.
Quotations: Generate and send quotations for any of your modes of transportation. Track the status of quotes and convert them into orders whenever necessary. Include ad-hoc quotes, one-click shipment generation, email templates, shipping rate generation, and more.
Routing, Dispatching, and Planning: Find shippers fuel and time-efficient routes by analyzing maps, traffic information, speed limits, modal limits, and the cost of fuel. With this data, shippers can determine the best carrier for each delivery and help consolidate shipments into the most efficient loads possible.
Document Management: Digitally receive, maintain, and archive files, documents, and data. Customize templates and generate new documents; put metatags on documents for easy indexing, search and retrieval; add security and access features for certain documents, individuals and teams; and share documents internally and externally.
Electronic Data Interchange (EDI): Facilitates the exchange of business documents from one computer to another in a standard electronic format between trading partners.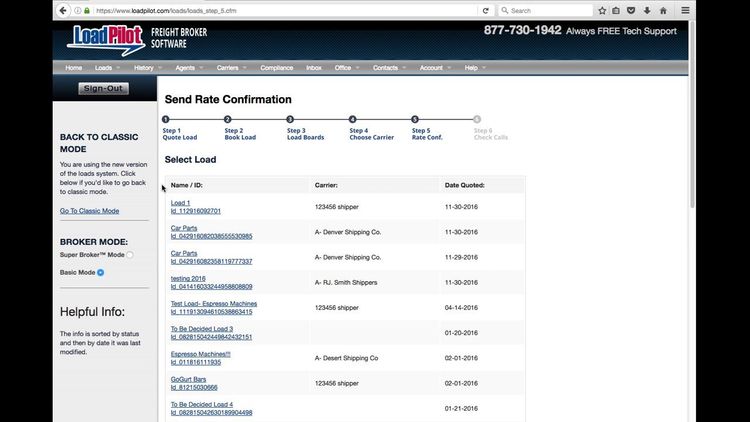 Benefits of Freight Broker Software
A freight broker has the goals of saving time, money, and resources for their clients. They basically become a shipping department for a company that does not have one, and as such, provide value through business expense savings. The core benefits freight brokerage software provides your business is:
Find The Right Carrier For The Goods Being Moved
Different types of goods are shipped differently. Many businesses will rely on a freight broker to figure out the best shipping methods available for the goods they provide their customers. A freight broker software will look at all carrier rates available and help determine the most cost-effective way of shipping the goods. Many freight brokers may have existing relationships with shipping contacts and can lock in lower rates.
Compare Proposals From Prospective Carriers
A freight broker business will want to routinely conduct audits on the carriers they frequently use. This could be an evaluation of their pricing or an evaluation of their shipping times. This level of review can take time if conducted manually. Freight broker software will let you compare your current carrier data side by side with carrier proposals you have received or recently discovered. Comparing prices, shipping speeds, and consignment rates can ensure you routinely have the best carrier possible.
Integration With Load and Truck Posting Websites
Most freight brokers will use popular load boards such as Getloaded or TruckStop.com. A load board (sometimes referred to as a freight board) is an online marketplace where truck owner-operators, shippers, and freight brokers can post and search for loads to keep freight moving.
When using a freight broker software, you'll be able to post on a variety of load boards across the internet. This will let you notify these truck owner-operators and shippers with work that your company is offering. Integrating with these boards will allow you to update your listings across multiple websites with a click of a button.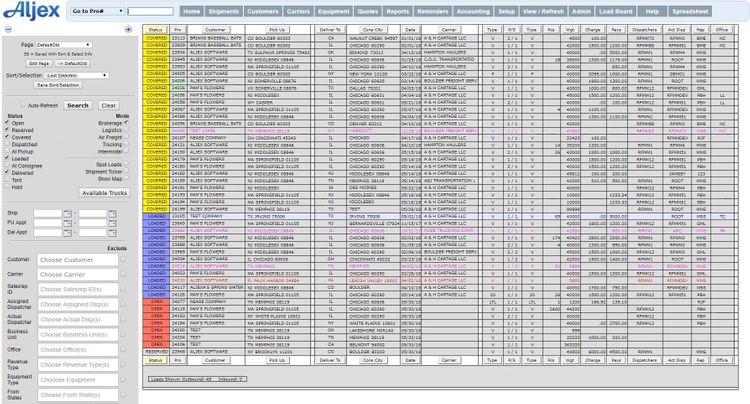 What Companies Use Freight Broker Software?
A freight broker is a crucial link between shippers and carriers. They come into play anytime a business requires outsourcing of its overall logistics process. Freight software programs such as TMS systems and ERP software can at times cover the needs of a freight brokerage, but there are many reasons a business may look for something industry-specific.
Single Freight Brokers
Freight brokers can easily run their own business if they are capable of arranging the transportation and tracking the load hauled by a freight carrier. These carriers can be as simple as parcel delivered in the mail (via UPS or FedEx), or via a large-scale transportation via sea or air. Freight brokers starting out may desire a simple tool that lets them match trucks with loads. With advancements in freight broker software technology, truckers and carriers can now see loads along their routes.
Once you begin to win broker contracts, you'll be dealing with a number of contracts, bill of ladings, and accounting work to handle. This will all happen while simultaneously reviewing carrier qualifications and ensuring you'll have the best relationship moving forward. This may sound overwhelming to a sole proprietorship, but the automation offered in freight broker software will help you find shippers, find carriers, set prices, and move freight.
Mid-Sized Freight Brokerages
A freight brokerage business will be made up of a number of employees all working together. This collection of employees will bring together their industry knowledge, contacts they've accumulated over the years, and general experience with freight laws and regulations. Collectively, a group of freight brokers will be better equipped to avoid hiccups and benefit both the shipper and the carrier.
Some freight brokers may consider third-party logistics software, which tracks and organizes items across the entire supply chain and to ensure goods arrive at their intended destination and its costs can be accounted for. 3PL software is a transportation management system built to handle the various needs of multiple clients, each with their own set of operational processes and billing requirements. Other businesses, such as trucking dispatch companies or businesses dealing with LTL truckloads, can provide freight brokerage services via trucking software.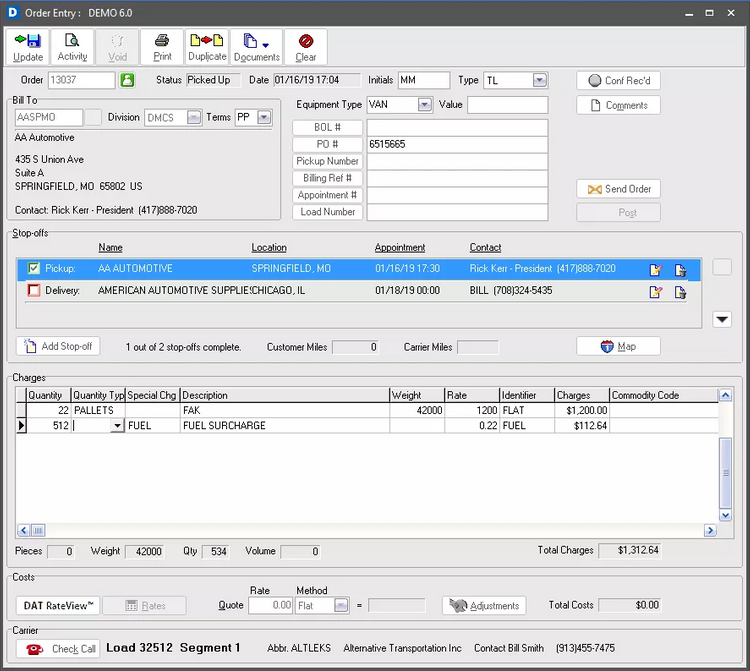 Freight Forwarding Software vs Freight Broker Software
Are freight forwarding software and freight broker software one and the same? The most obvious participants in the freight industry are the people doing the trucking and transportation themselves. There are also the carriers that handle the shipping methods that help businesses get their goods from A to B. While forwarders and brokers have interconnected roles, they do have some key differences.
A freight broker is a liaison that helps connect a buyer and a seller. The things being bought and sold is transportation. A shipper of goods needs to work with a transportation carrier, and at many points, they'll have different wants and needs. This is where a freight broker steps in. Their knowledge of contracts, freight laws, and paperwork ensures deals can be arranged and completed on time.
While a freight forwarder also acts as a medium between a carrier and a shipper, a forwarder provides a consolidation of freight services. Smaller shipments are combined into larger shipments that make them more easily transportable. A freight forward also arrange storage on behalf of their clients.
In short, the biggest difference between a freight broker and a freight forwarder is:
Possession of freight: Brokers do not handle storage of freight, while forwarders do.
Legal obligations: Brokers have less legal responsibility as they are not physically possessing the freight.
Is QuickBooks a Freight Broker Software?
While QuickBooks products such as QuickBooks Online can be used by a freight broker software, QuickBooks products are not inherently a freight broker software. QuickBooks will accommodate the bookkeeping needs of most freight brokers by providing estimating and invoicing tools that users can customize to their needs.
QuickBooks Pro and other product lines are known as industry-neutral accounting software, which plays a large part in the product's popularity. Because it can be used for basically any industry, many freight brokers have successfully used QuickBooks to run their business and posted about their success online. Many guides are available for users of QuickBooks to set up or tweak their program to work the way they want.
A major downside of using QuickBooks for your freight broker needs is that you will not receive any industry-specific applications such as load management or routing/dispatching. Many software companies provide these tools as add-ons to QuickBooks or allow you to integrate their stand-alone freight broker software with QuickBooks.