What Is Freight Forwarding Software?
Freight forwarding software helps freight companies manage cargo receipt, storage, and delivery in real-time. It also creates necessary documents such as air waybills and bill of lading needed to move shipments via land, sea, and air. This is primarily accomplished through quotations, bookings, and pickup orders. Freight forwarding solutions help get cargo from point A to point B by organizing shipments via air freight, cartage, ocean freight, import and export goods, expedited ground, truckload brokerage, LTL, linehaul, and rail transportation methods.
This complete handling of shipments from quoting through billing can sometimes be referred to as non-vessel operating common carrier (NVOCC) software and is considered to be a specific type of logistics software. Freight forwarding software is used by any domestic or international freight forwarder, any freight management company, or any logistics provider that desires a fully integrated package combining operations and accounting in their global freight operations.
In addition to logistics software, freight forwarding software shares many of the same characteristics as:
Which one is right for your business? All of these software solutions improve business processes by letting freight management companies manage the operations and transportation related to shipping goods via trucks, airlines, boats, trains, and more. They also include modules for maintaining vehicle maintenance, routing and mapping, warehousing, electronic data interchange and more. Alternatively, there are freight broker software options that may be better suited for your needs.
Primary functionality included in freight forwarding systems include modules to handle the operations (logistics), financials (accounting), and customer service involved in managing a transportation and shipping business. This can include managing master and house contracts, storing information on vendors such as their contact details and their shipping rates, recording details about cargo such as freight costs and weight, compliance documents, and customer sales and rate information.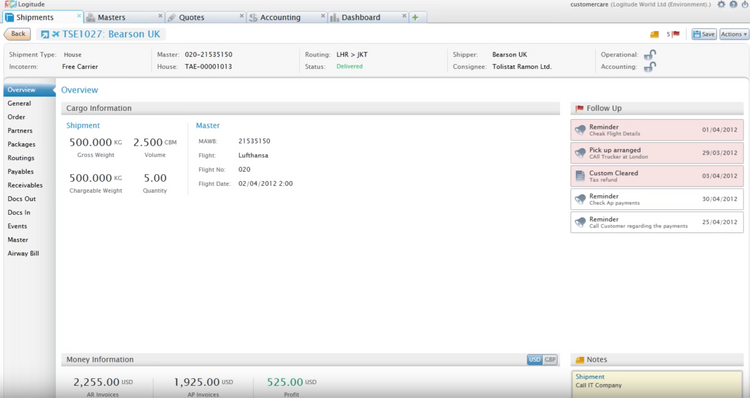 Features of Freight Forwarding Software
Invoicing: Handle your shipping, land, and air freight by creating documents details what is owed to your shipping partners and others, such as agents, customs, and more. Handles primary accounting software capabilities such as multi-currency payments.
Quotations: Generate and send quotations for any of your modes of transportation. Track the status of quotes and convert them into orders whenever necessary. Include ad-hoc quotes, one-click shipment generation, email templates, shipping rate generation, and more.
Order Management: Capture, track, and fulfill orders across multiple sales channels. Track the status of orders, manage invoicing, manage recurring orders, integrate with shipping carriers, clone orders, detect errors, handle back orders, manage returns, and reconcile with purchase orders.
CRM: An integrated view of your customers and prospects so you can get the most out of your marketing, sales, and customer service efforts. Includes email tools, phone call notes, and user behavior tracking in order to score leads and determine leads that are ready to buy services.
Air/Sea/Land Shipment Management: Carry out consolidations or direct shipments towards inbound or outbound destinations. Generate all required documentation such as waybills, cargo manifests, booking confirmations, TSA letters, loading plans, and more.
Supply Chain Planning: Anticipate customer demand and plan resources or production appropriately by coordinating data from separate units of the business. Collect historical data on order volumes and inventory turns while mixing it with continually updated forecasts from your sales personnel. Procure what is needed and remove the need to store too many raw materials or finished goods.
Warehouse Management: Manage and coordinate inventory and actions throughout a warehouse or distribution center. Optimize picking and shipping. Ensure a higher accuracy of order fulfillment, faster delivery times, efficient labor management, increased the visibility of an order's status, optimizes storage space, minimized inventory movement, and improves the yard and dock productivity.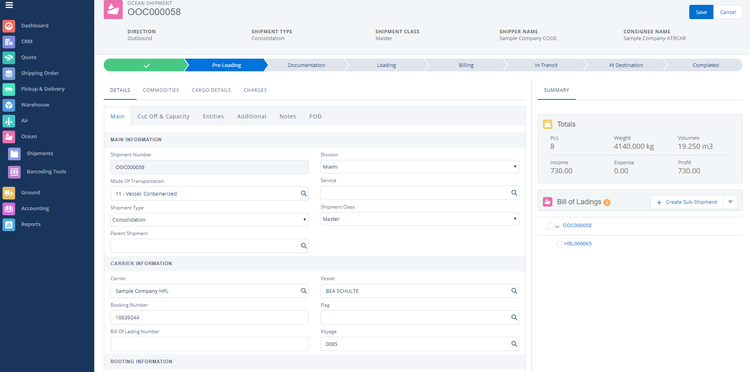 Benefits of Freight Forwarding Software
All areas of the logistics process will have access to freight forwarding software for a unified effort between procurement, inventory management, speaking with vendors, shipping with carriers, or dealing with government regulations. Some of the most unique benefits of freight forwarding software include:
Increase The Automation and Efficiency of Your Logistics Operations
Given the relationship with logistics software and transportation management software, freight forwarding software can be seen as an industry-specific ERP application for freight forwarders. These solutions are intended to provide a fully-integrated approach to managing your business operations.
Freight forwarding systems that have all internal modules connected with one another provide for a smooth transition of data (data import and export) from one piece of functionality to the next, which eliminates the need for double-entry. Personnel working in sales can convert a quote into an order, which is sent down to a shipyard to begin the fulfillment process. The accounting department can easily track paid and unpaid invoices from these orders and ensure the company is not missing any payments.
Moving all shipping information via an electronic system (such as a freight management software) will also help keep your data secure and stored safely. Manual methods of shipping include a large volume of paperwork, including original quotes, sales orders, bill of lading, warehouse documents, and any other documents needed. These can quickly pile up, and make your company slow to react to any changes made along the way.
Keep Better Tabs On Your Shipments
Incorporating all shipping methods your business uses (such as road, rail, ocean, and air) within your freight management software will allow you to better track where all of your shipments are at any given time. This may present insight into how efficiently your freight moves through the needed supply chain channels. Consolidating and optimizing shipments for time-saving purposes as well as cost-effectiveness can be the difference between repeat business from clients.
Knowing where your freight is at all times will overall help reduce errors in judgment. If a customer wants to check the status of their freight, you can provide them with an accurate timeframe and reassurance. Informing them of accurate shipping statuses will hopefully lower administrative costs involved with chasing down shipments and discovering bits of information.
Gain A Competitive Edge On Your Competition
The best freight forwarding software will be flexible and scalable, allowing you to add capabilities as your business grows. This means many solutions will let you start with your core functionality required, and add on what you need when you need it.
A scalable implementation lets your business save on initial costs, and ramp up your needs as you begin to become a more successful business. You may begin to use your freight broker software one way, but discover key areas your business can improve through built-in analytics features. For example, analytics can show key supply chain segments you may be able to improve, such as tracking the cost and service level of every shipment.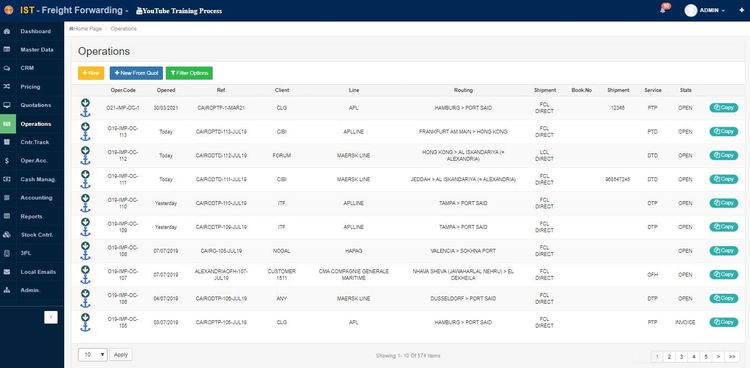 Freight Forwarding Software Pricing Guide
The cost of freight forwarding software ranges from $35/user/month to $2,000/user/month. This subscription-based pricing model is commonly found in web-based solutions providing cloud (SaaS) accessibility. This cost varies depending on the size of your shipping operations, the number of shipments you handle, the number of users that require concurrent access, and the level of included services such as support and hosting. It will also be dependant on the functionality included and any integrations needed with outside systems.
Locally-installed software (also known as on-premise software) can be found in the world of freight broker software options. These solutions will start as low as $4,000 to $11,000 for purchase with implementation and training. A large multinational company with detailed logistics needs could realistically spend upwards of $100,000 on a software package. Each company has varying needs, and it can be hard to pinpoint the average cost of freight forwarding software for this reason.