What Is Trucking Software?
Trucking software provides a unified way to manage dispatch records, track your drivers, pay invoices, and monitor interstate fuel tax agreement (IFTA) reports. Trucking software can be used by single owner/operators, or by a company managing a fleet of drivers or carriers.
The best trucking software can also help your transportation industry business become more profitable by monitoring needed maintenance on your trucks and finding ways to save on fuel costs through accurate mileage reports and expense records. Trucking software doesn't always include back-office functionalities such as accounting, simply because some developers will focus their efforts on the industry-specific features such as fuel tax management and proper route management.
Trucking Software Features
Routing and Dispatch Management: Coordinate dispatchers and drivers by assigning new orders in real-time to an available agent. Planning tools will help optimize the most efficient route for the driver to take and provide turn by turn navigation to reduce the miles driven, lower long-term maintenance costs, and improve customer satisfaction. Can also be referred to as load planning.
IFTA Services: Create the necessary fuel and mileage reports for your business. Track receipts, manage mileage logs, match fuel to taxes
Accounting: Process invoices, input receipts, and manage expenses. Store information on vendors/suppliers via accounts payable and track customer data via accounts receivable. Create financial reports in a general ledger such as profit and loss and balance sheets.
Fleet Maintenance: Establish preventable tasks on a set schedule to ensure vehicles in your fleet are inspected routinely. Create work orders for preventative and predictive maintenance. Keep a record of all repair history on vehicles to better extend the lifecycle in your overall fleet management.
Fuel Tax Management: Record trip by trip fuel permits connected with your IFTA account. Report and pay on fuel taxes owed quarterly. Monitor jurisdictions, track licenses and exemptions, automate data collection, maintain rules/rates/forms, and automate tax filing.
Dispatch Trucking Software
Trucking dispatch software (also known as logistics software for trucking companies) automates the routing and scheduling process for your drivers by monitoring orders, trucks, trailers, and drivers all from one centralized location. The main goal of the dispatching feature in trucking software will be establishing a reliable way to dispatch your staff and ensure your customer's orders are being fulfilled in a timely fashion.
GPS Tracking
Dispatchers at your primary base of operations will be able to monitor the location of trucks and see which drivers are available. This information is useful to determine if your business is operating on schedule or not. If your trucks are equipped with GPS tracking, or if your truck drivers are using tablets or mobile devices, movements can be tracked and messages can be sent back and forth from the office to the drivers on the road.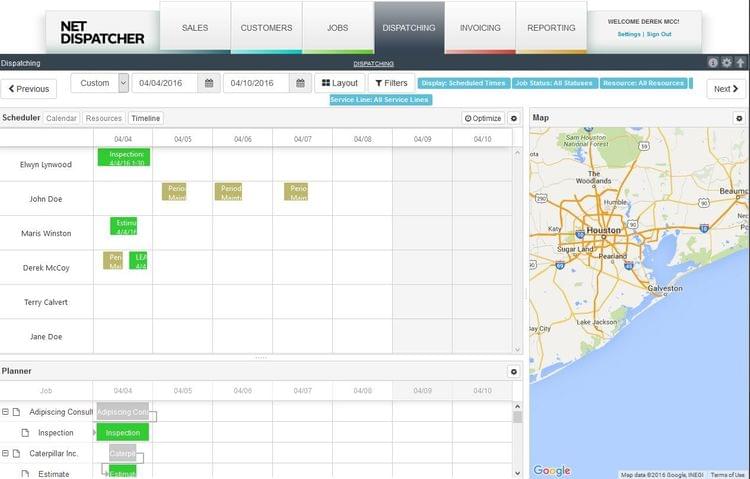 Scheduling
The best dispatching capabilities in trucking software will comfortably merge scheduling with dispatching to make sure your drivers are delivering on time, as well as using their time wisely when it comes to any additional orders that may come about.
Interactive maps will show you where your current and pending orders are at which will let your office determine the most optimal route to take to complete a certain order.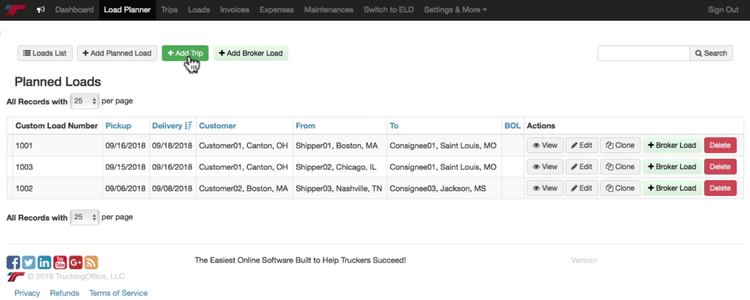 On The Road Access
As mentioned before, mobile apps let truckers receive important messages on the road and lets their location be easily tracked. This location tracking is vital for tracking driver movement and determining if they are following the most ideal route. This data is usually automatically logged into the trucking software which reduces human error during data entry.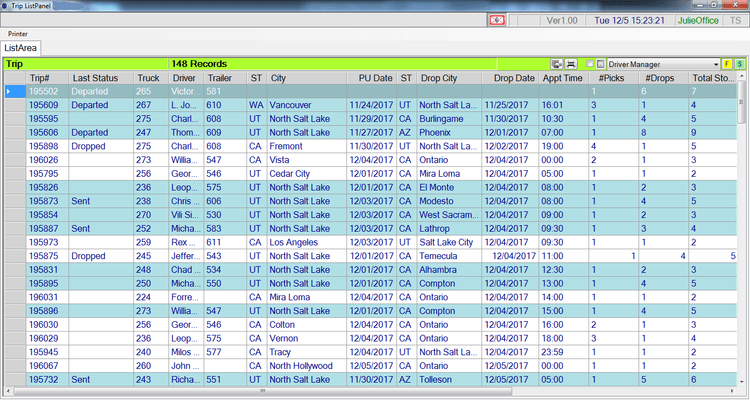 Trucking Software for Owner Operators
Trucking software for owner-operators will tend to be smaller scale solutions at a more affordable price point. This is because owner-operators are any one person who runs their own trucking business.
Owner-operators will either own or lease their own truck carrier and take care of the transportation themselves. Like any sole proprietor, they are on the hook for managing every aspect of their business, from closing deals, working through orders, and managing their finances.
A small fleet business that is only managing one truck will likely have fewer expenses and fewer data to record and thus need more basic trucking software.
Independent owner-operators are in charge of their entire business and can pick and choose the loads and schedules they want to work. However, these independent workers need to make sure they have every legality handled within their trucking software to ensure they operate efficiently, such as:
Permits
Licenses
Tax documents
Independent owner-operators should look for solutions that let them better control their:
Load planning and dispatches
Record information on vendors and customers
Create invoices
Handle IFTA reporting
Leased operators won't usually be their own boss, and will operate on contracts for specific trucking companies. These trucking companies will provide the load and dispatches to the driver directly, which can eliminate some of the work needed by the driver. Because of this, the main features they'll want to look for in any trucking software are:
Fuel management
Expense tracking
Scheduling management
Free Trucking Software
Trucking companies or owner-operators looking for a free solution to manage their business will have a hard time finding anything that was built with truckers in mind. Many truckers may simply try and get by using free programs such as OpenOffice, or programs they may already have access to such as Excel or Google Sheets. However, these programs will require a lot of pre-existing knowledge of spreadsheets if the goal is to make them work like accounting, invoicing, or load management solutions.
TruckBytes provides complete accounting and truck management at no cost to the user. The solution was created as an alternative for manual record keeping for independent users and owner-operators. Primarily the solution tracks loads, manages customers, and creates invoices, among other features. IFTA services are available for $15/truck/month paid annually.
Beyond TruckBytes, you'll be hard-pressed to find a truly free option. However, many trucking solutions provide free 30-day trials of their software that you can download and experiment with to see if it's the best fit. There are also plenty of low-cost options on the market, such as Truckn Pro from Fog Line Software, which starts at $79/one-time.
Transportation ERP Software
If your trucking business is large enough, you'll want to consider a full transportation management software (TMS). Also known as transportation ERP software, a TMS will improve the efficiency of your logistics company through inbound/outbound freight tracking, optimized routes, load building operations, freight auditing, and more.
Once a trucking business gets above a certain size, they will want to consider the added benefits that come with a fully integrated transportation management solution. While there is no industry standard as to when you should consider a more simplistic trucking solution or a more robust transportation software that is fully integrated, there are a few things you can consider:
How many trucks are in your operations?
Do you have more advanced methods of transportation, such as via airplane or cargo ship?
Are you ok with using different software solutions to manage your accounting and dispatching?
Would you consider your delivery and supply processes to be of a larger scale?
A larger fleet of trucks and a desire for a more complete unified system for complex operations means transportation ERP software could be a better fit.
Is QuickBooks a Trucking Software?
QuickBooks Pro and QuickBooks Online are generic accounting solutions that are intended for use by any industry. There is no trucking-specific version of QuickBooks available. However, many trucking businesses have found success using QuickBooks as their primary accounting software when pairing it with an industry-specific dispatching and route management option.
Many trucking software solutions claim they offer accounting functionality, but in reality, they only provide a basic invoicing feature. If you are looking for a general ledger or even accounts payable and accounts receivable to get better control of your company finances, QuickBooks can be a great fit. However, you'll have to put up with industry-neutral language, and without proper training on the software, you may be confused knowing how to properly record information pertaining to loads, orders you've received, and more.