The best quality management software will assess, maintain, and enhance the quality of your products and services in compliance with industry standards and regulations. Our top picks include:
Intellect QMS
DELMIAworks
Unifize
1

Intellect QMS - Best Overall

Why We Chose It: Intellect QMS stands out in the crowded market primarily because of its adaptability. Businesses across various sectors will appreciate its out-of-the-box solutions that not only align with industry best practices but are also fully customizable. This ensures that the software can be tailored to fit seamlessly into any existing workflow.

A highlight of Intellect is its no-code compliance platform. This feature allows users, even those without a technical background, to modify or create apps, workflows, and reports. All this is a testament to Intellect's commitment to user-friendly design and functionality. However, default workflows might not always align with specific industry standards, necessitating user configuration. Additionally, while the software's customization is a strength, it can sometimes require a deeper understanding than some users might expect.
2

DELMIAworks - Best End-to-End Solution

Why We Chose It: DELMIAworks is an advanced Enterprise Resource Planning (ERP) system designed to amplify your quality management operations. It bolsters defect prevention and continuous improvement efforts, integrating effortlessly with methodologies like Six Sigma DMAIC. This synergy allows for a precise, scalable quality management system that ensures reliability and consistency.

The system is instrumental in the execution, planning, and evaluation of all customer interactions, from the initial order through to product delivery. Moreover, DELMIAWorks is pivotal in helping companies maintain compliance with a wide range of quality and regulatory standards, including ISO 9001, ISO 13485, and FDA medical device registration. And it supports advanced manufacturing capabilities, such as low-particulate production, statistical process control, and cutting-edge vision inspection.
3

Unifize - Best for Collaboration

Why We Chose It: Unifize is an eQMS software that is built for easy collaboration from the shop floor to all departments of a manufacturing business. Integrations with email and existing ERP and PLM systems make Unifize an excellent add-on software for quality management. Enterprise-grade security and management of roles will meet your company's compliance needs.
4

ETQ Reliance

Why We Chose It: ETQ Reliance is a quality management system designed to enhance critical business processes and elevate overall quality standards. We found what sets this software apart is its user-friendly and adaptable nature, making it an ideal choice for businesses with diverse and unique requirements. The web-based platform allows for rapid implementation and regular updates to stay aligned with evolving quality management needs.
5

MasterControl Qx

Why We Chose It: MasterControl Qx is a QMS which focuses on quality from conception through manufacturing to delivery. This empowers businesses to maintain quality throughout the product life cycle. And we found that features like electronic document access and automatic notification systems improve efficiency.

Finally, the secure cloud-based nature of MasterControl ensures accessibility to the latest updates and features, making it a practical and future-proof choice. The responsive support also makes it a top choice for those manufacturers in regulated industries.
6

Qualio

Why We Chose It: Qualio is an eQMS tailor-made for life-science industries, making it an ideal solution for medical device companies, biotech/therapeutic firms, and pharmaceutical contractors. One top feature we found is its ability to simplify complex processes and help businesses meet industry standards such as ISO 14971 and ICH Q9.

Qualio pricing starts at $12,000 and charges $3,000 per user. The platform subscription includes all software in the package for up to 10 users, with the option to add additional users for a nominal annual fee. While there is no free trial, the pricing can accommodate various business sizes.
What is Quality Management System (QMS) Software?
Quality management software, also known as QMS, offers a comprehensive tool kit to analyze business risks, set quality objectives on product development, implement workflows to achieve these standards, and audit the product lifecycle for optimal performance. This integrated approach allows your company to craft standard operating procedures (SOPs) to optimize your business processes.
In particular, QMS helps businesses meet the regulatory requirements of ISO and FDA, in addition to compliance standards set by other government and industry-specific agencies.
Read more: What is a Quality Management System (QMS)? - ISO 9001 Processes
What is EQMS?
Enterprise quality management systems (EQMS) have a greater scope than generic QMS solutions. EQMS automates globalization by enhancing quality management practices across the supply chain. Many of these QMS products use the two terms interchangeably.
Read more: What is EQMS?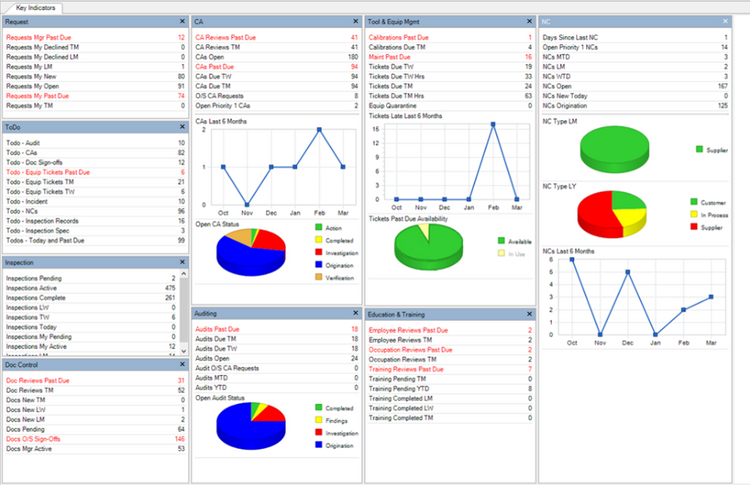 QMS Features
Quality management systems offer a wide variety of functionality. Modules often include the following core functions:
Quality Control: Set objectives on quality processes related to cycle times, scrap/waste percentages, defect rates, measurement deviations, durability metrics, and more.
Risk Management and Analysis: Create what-if scenarios to reliably analyze potential costs related to quality exceptions. Predict failure and service rates, as well as their financial implications.
Workflow Management: Define all processes involved in manufacturing an end-product. Includes reminders, timers, and alerts. Determine corrective action assignments.
Corrective Action/Preventative Action (CAPA): Includes task assignments, reporting, and monitoring to ensure that the right response has been implemented when quality has deviated outside of pre-identified standards.
Parts Non-conformance: Define the dimension your parts are measured upon for non-conformance. Track a database of standardized parts metrics. May include more sophisticated monitoring controls that integrate with operational equipment.
Customer Complaint Management: Assist service personnel in quickly resolving customer issues.
Audits and Inspections: Define, schedule, and execute regular audits and inspections to ensure continuous improvement of business processes.
Document Management: Coordinate the data management challenge, facilitate collaboration, and ensure easy access to important quality management documentation.
Training Management: Ensure your employees are all properly trained and certified in key areas to meet compliance standards.
Reporting and Business Intelligence: Reference key performance indicators and performance dashboards to turn quality management data into actionable business intelligence.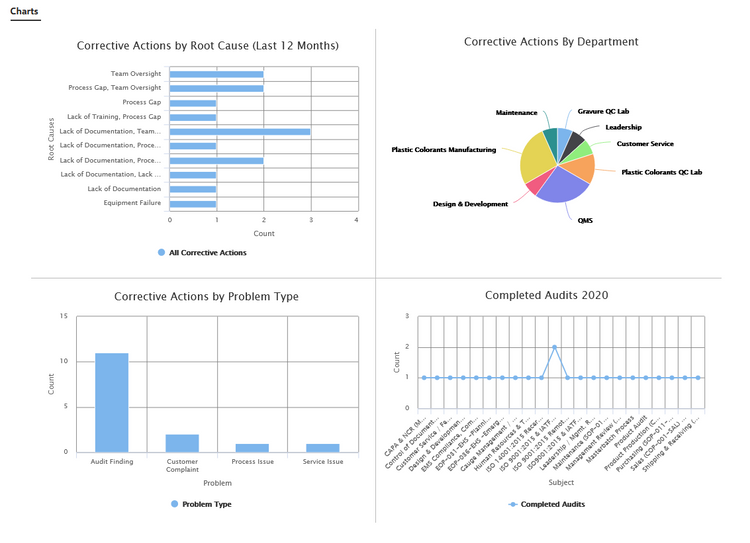 QMS Benefit #1: Ensure Regulatory Compliance
Managing the product lifecycle for regulatory compliance is complex work. To start, manufacturers are often subject to an alphabet soup of regulatory standards (FDA, ISO 9001, Title 21 CFR Part 11, NERC, SSOP, HAACP, and more). Compliance can be required for permitting, an eligibility condition for bid consideration, or a business necessity to avoid penalties or other legal action. A quality system provides the monitoring and reporting tools you need to simplify the complexity.
Different types of manufacturers need to comply with different regulations. For instance, manufacturers of medical devices, food, cosmetics, and chemicals all have unique, strict regulations to abide by. Selecting an industry-specific QMS system can help you control compliance for your industry.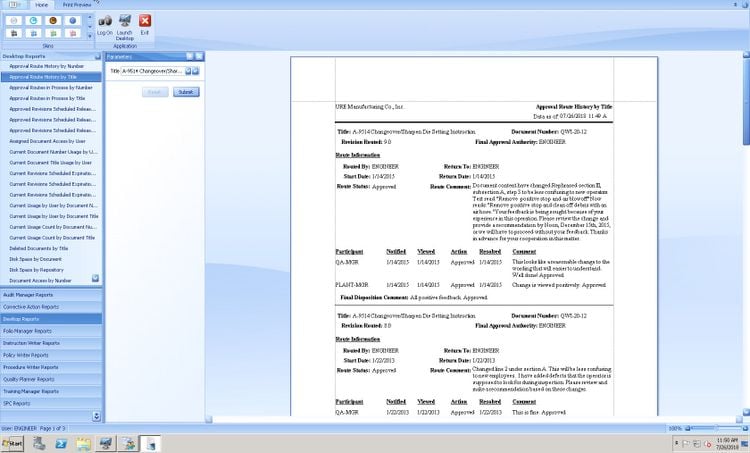 QMS Benefit #2: Analyze and Reduce Risk
Every business faces risk: production errors, product defects, unexpected service work, and more pose a threat to the financial health of your company. Improved quality management offers a chance to mitigate these business risks and smooth out the variance in your financial projections. QMS with quality standards and audit management tools provide an effective way to identify the root cause of any issues, allowing you to provide corrective action and enjoy higher quality results.
Analysis tools can quantify the financial risks related to quality exceptions. Identifying the cost of quality management improvements versus the likely impact of reduced financial liability is one of the more challenging business issues facing manufacturers.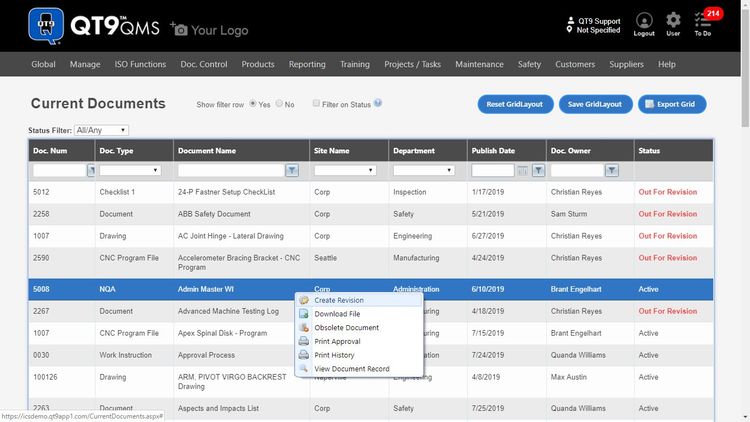 QMS Benefit #3: Increase Customer Satisfaction
Customer satisfaction is key to the success of every business model. Your customers are continually evaluating your products for quality, reliability, and whether or not they do what they are supposed to do. Quality assurance modules provide ways to review products for defects before they get sent to retailers or consumers, giving you the opportunity to make corrections. Fewer defective products on the market mean happier customers.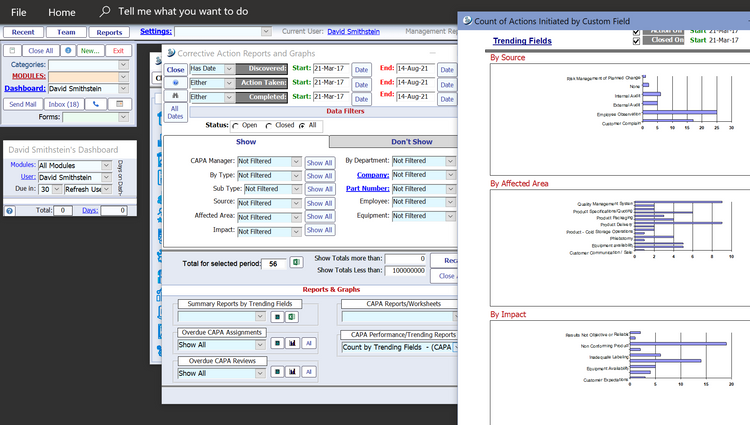 Common Certifications, Standards, and Compliance with QMS
ISO standards include:
| ISO Standard | Meaning |
| --- | --- |
| ISO 9001 | Sets out the criteria for a quality management system and is the only standard in the family that can be certified to (although this is not a requirement). It can be used by any organization, large or small, regardless of its field of activity |
| ISO 13485 | Similar to ISO 9001 but for medical devices. Has the specific requirement for software validation and requires validation reports to verify for the auditor that it will work as intended. Includes requirement for CFR 21 specific electronic signatures |
| ISO 50001 | Energy management standard for addressing the energy consumption and use of an organization |
| ISO 27001 | Information security, similar to ISO 9001 but with a change in focus to data security and integrity vs product quality |
| ISO 45001 | Health and safety, similar to ISO 9001 but with a change in focus to employee safety vs product quality |
| ISO 14001 | Health and safety, similar to ISO 9001 but with a change in focus to environment concerns vs product quality |
| ISO 17025 | Laboratory testing and calibration |
FDA certifications include:
| FDA | Meaning |
| --- | --- |
| FDA 21 CFR Part 11 | Electronic records and electronic signatures |
| FDA 21 CFR Part 211 | Drug and pharmaceutical manufacturing |
| FDA 21 CFR Part 820 | Medical device manufacturing and distribution |
Other common QMS standards include:
API Q1/Q2: Standards specific to the oil and gas industry that are similar in nature to ISO 9001. API W2 has the explicit requirement for contingency planning. Both API Q1/Q2 make the distinction between corrective and preventive action (something ISO 9001 does not)
ASME: Highly focused on product specifications and work instructions. Little emphasis on standard QMS requirements such as nonconformities and corrective action
API Design Stamps: Similar to ASME. Components have specific technical requirements to be met. Generally coupled with API Q1/Q2
IATF 16949: Automotive quality management standard similar to ISO 9001 with additional requirements
AS 9100: Aerospace quality management standard similar to ISO 9001 with additional requirements
HACCP: Food safety preventative maintenance
SQF: Food quality management
Non ISO Standards
Statistical Process Control (SPC): Identify product quality issues and process variations in order to take corrective action before extensive issues occur, as well as improve process performance. May pair well with a QMS but is better used to report on the output of the production process.
Production Design Lifecycle System (PDLC): Mainly used for showing verification and validation of a product design requirements. Focus on the interaction between suppliers, engineering, and test data. Includes production part approval processes (PPaP).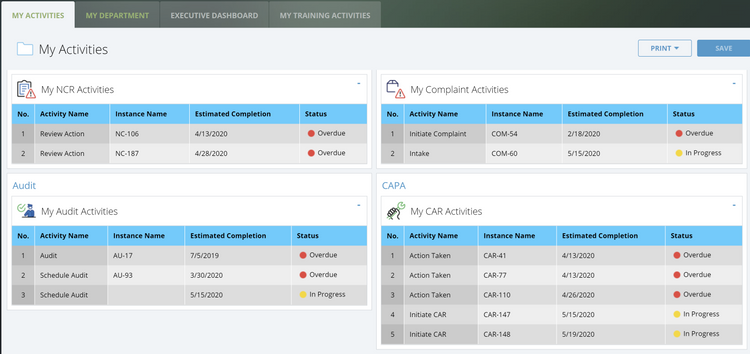 How Much Does QMS Software Cost?
QMS software ranges from $50 to $2,000 per user per month. Pricing of quality management systems depends on several factors:
Number of users
Required functionality
Additional integrations
Another variable to consider is whether you want an on-premise or cloud-based system. Generally, an on-premise software will have a one-time perpetual licensing fee while a cloud platform will be part of a monthly or annual subscription. The one-time fee and setup often results in a higher cost of entry while SaaS QMS can be more expensive over time.
Integrating QMS and ERP
Quality management software incorporates information from across the enterprise. Very often, QMS systems are found within larger ERP software
Because QMS systems typically operate best when they are taking a holistic approach to the enterprise challenge of optimizing quality, you may need to manage integrations with other information systems, such as:
Supply chain management systems manage the provisioning of goods from suppliers through to the customer. Relaying information regarding quality issues stemming from certain suppliers is an important piece of the quality management puzzle.
Customer relationship management software programs provide a coordinated approach to capturing customer specific information. Order histories and other customer interactions are logged to CRM programs. The ability to flow quality issue information from CRM software to QMS programs is important. It can assist in ensuring that quality issues addressed post-sale are being addressed both in terms of service work and process improvement.
Material resource planning and production scheduling software manages the materials required for production and the processes that go into the manufacturing operations. Importing quality related information from the QMS to the MRP system will help create more accurate manufacturing plans and forecasts.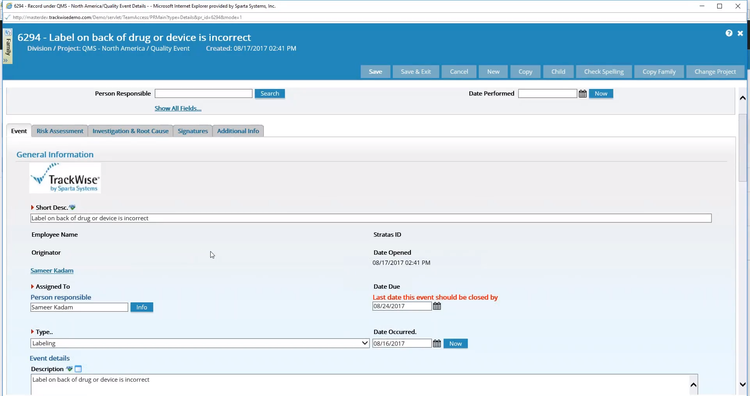 ---
Further Reading