Ensuring your organization consistently delivers the best products and services is what quality management is all about. The combination of quality planning, quality assurance, quality control, and quality improvement will help your business focus on product quality and the means to reproduce it. By ensuring members of your organization at every stage of production is aiming for long-term success through customer satisfaction, then your organization will benefit greatly from implementing enterprise quality management software.
What is EQMS?
EQMS stands for enterprise quality management software, which is a system that enables businesses to organize procedures, processes, and responsibilities related to best practices for achieving product goals and policies. Compared to standard quality management software, EQMS software specifically helps larger businesses (enterprises) with ensuring quality and compliance throughout their supply chain. This emerging technology can be viewed as a QMS platform with an integrated IT architecture and data model that facilitates cross-functional communication and collaboration.
Enterprises have the same desire as a non-enterprise for a comprehensive tool kit that analyzes risks, sets quality objectives, implements workflows, and audits for optimal performance. Heavyweight EQMS solutions focus on providing the concept of "hard" quality management, which accounts for:
The use of advanced manufacturing systems for just-in-time principles, quality data and reporting, design quality management, statistical process control (SPC), benchmarking, and zero-defect mentality
Continuous improvement and innovation, information and performance measurement, process management, planning, process control, and product and service design.
Cause and effect diagrams, scatter diagrams, affinity diagrams, relations diagrams, force-field analyses, run charts, control charts, quality function deployment, failure mode, and effect analysis.
EQMS software will typically focus on controlling both design and production processes in order to achieve specific goals of standardization. Because of this, EQMS options tend to be installed across an entire network and have very lengthy implementation times (weeks to months), along with long training sessions. The reason for this lengthy process is due to the rigid adherence to procedures, which includes plenty of simple exercises of confirmation and consent required to appease future auditors.
Note: In the early days of quality management, QMS was more of a traditional paper-based system that relied on records and documents stored safely for regulatory requirements. The advent of business software brought about the term electronic quality management systems, which was routinely shortened to eQMS. Today, QMS software just refers to any electronic method of managing quality, while EQMS is referred to the enterprise variety.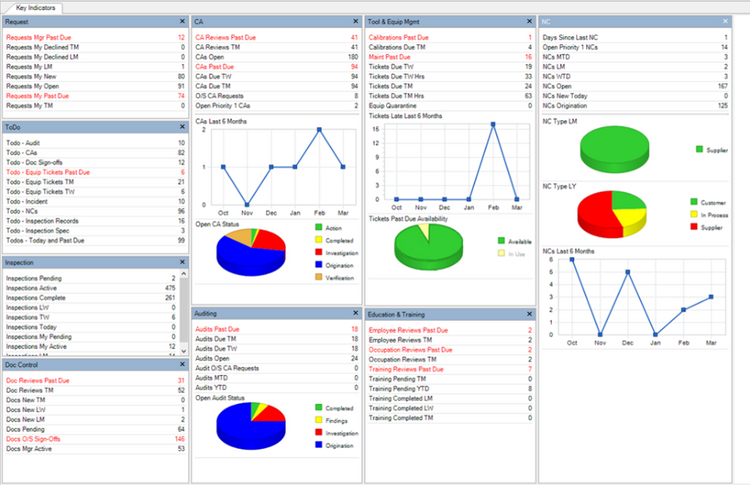 Who Uses EQMS?
Any organization with a desire for a more advanced internal quality process, external quality process, and improved compliance and risk can benefit from an EQMS software. The industries that most commonly use these systems include engineering, manufacturing, supply chain, service-based businesses, and suppliers.
Manufacturing is by and large the biggest benefactor and user of quality management systems. Examples of complex manufacturing industries that benefit greatly from enterprise quality management include:
Aerospace and Defense Manufacturing
Medical Device Manufacturing
Automotive Manufacturing
Circuit Board Manufacturing
Any manufacturer dealing with complex supply chain management and shop floor control will benefit from quality management options. Additional business processes that can be accomplished include inspections, dispositions, supplier ratings, shop floor execution, and configuration/traceability.
Manufacturers aren't the only industry that benefits from the use of the software. The global quality management software market size is estimated to reach $16.67 billion by 2028 according to a study by Grand View Research. This mostly has to deal with the advancements in artificial intelligence (AI) and machine learning (ML).
Healthcare is anticipated to emerge as a fast-growing industry that desires regulatory updates and innovation in medical devices. With an increase in the use of the Internet of Things (IoT), their demand for QMS solutions should increase over the coming years.
Distributors and retailers are becoming increasingly interested in varying forms of quality management software. These systems would be more for customer complaints, returns/RMAs, and keeping track of where these products need to be sent back to.
What Features Does EQMS Have?
Quality management software has introduced a wave of automated, standardized, and centralized processes for cross-functional communication and collaboration. Certain functionalities are given in standard quality management systems, including quality planning, parts non-conformance, approval management, and complaint management.
Corrective and Preventive Action (CAPA)
Corrective and Preventive Action software, or CAPA software, is a continuous improvement tool that collects and analyzes data to identify and eliminate product quality issues, process inefficiencies, and equipment issues. This means CAPA processes are used to correct nonconformances that may occur during production. By finding out the root cause, you'll be able to more easily resolve the issue, and actions can be taken to prevent the nonconformance from occurring again.
CAPA features within enterprise quality management software will alert you to these potential issues through risk assessments and root cause analysis, which identify the underlying problem with a product or process. When the issue occurs, you'll be able to easily determine why this issue happened and what can be done to fix it.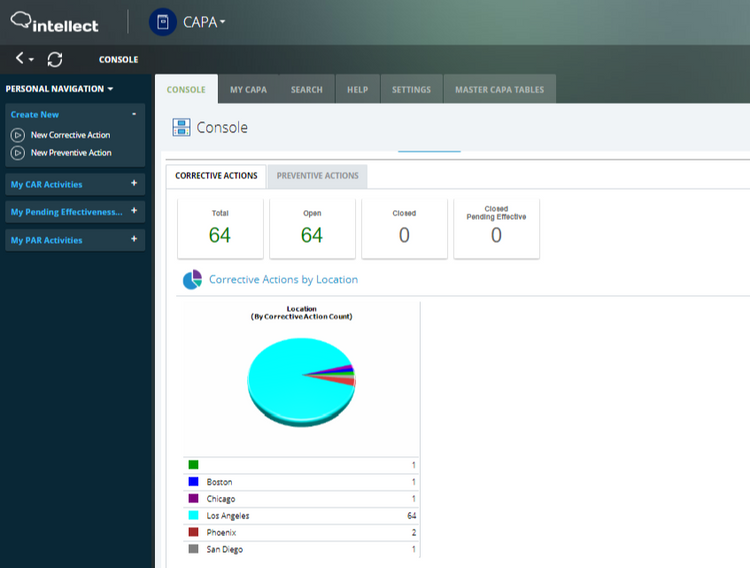 Audit Management
The right EQMS software can define, schedule, track, and execute audits and inspections–ensuring your documentation is always up to date, complete, and accurate. Audit management capabilities aim to implement best-practice audit planning, improve audit efficiency, reduce cost, manage findings effectively, drive continuous improvement, and enhance the visibility of results.
Audit management lets best practices be put into practice, such as creating audit programs and managing schedules and resources. These programs can be reused during future planning cycles–reducing time and labor costs. Audit efficiency can also be improved through useful tools such as email notifications, dashboards, and calendar integration with popular apps such as Outlook and Google Calendars–allowing your staff quick access to their schedules, open audits, and other pending tasks.
With audit results and findings recorded, you can look up responses, findings, and summaries and easily view scores assigned to specifics audits. This can also help rate supplier performances and ensure suppliers are chosen based on the ratings you provide.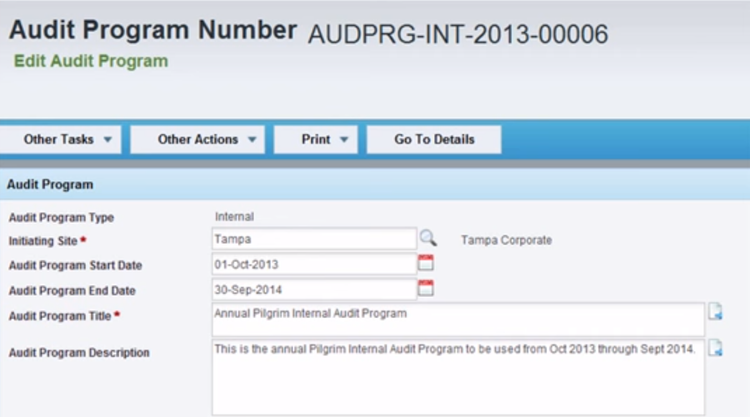 Risk Management
Risk management is used by manufacturers to identify hazards associated with their own production processes. Additionally, there are many compliance regulations they must deal with that specify how to estimate, evaluate, and control these risks, as well as monitor controls for effectiveness across the product lifecycle.
Risk management features within EQMS software allow you to create what-if scenarios to reliably analyze potential costs related to quality exceptions. This also includes the ability to predict failure and service rates, as well as their financial implications.
The important facet of risk management documentation is the flexibility that an EQMS solution provides. Risk will differ from product to product, so you won't want to limit your risk management processes to one method. By documenting your overall process, including risk assessment documentation, you should be able to control your project from concept through post-production–all while collecting details on your product line, machines, and overall project status.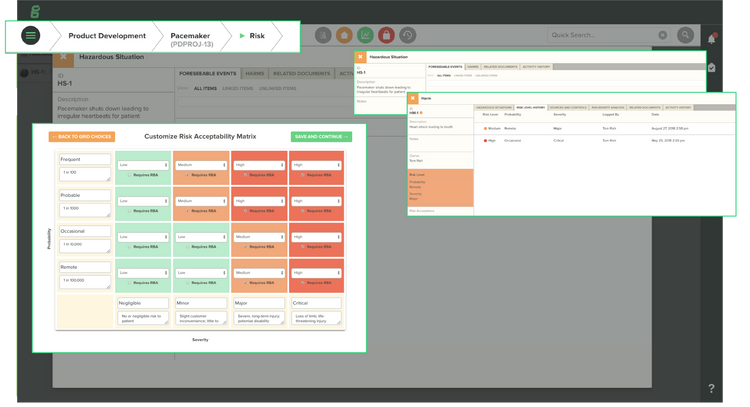 Statistical Process Control (SPC)
Statistical process control software, or SPC software, collects quality and performance data in real-time to identify product quality issues and process variations in order to take corrective action before extensive issues occur. SPC features can help reduce waste and downtime by measuring and controlling the underutilized resources in your organization–allowing for better decision-making with equipment issues.
SPC features within enterprise quality management software monitor product quality control data and the performance of machines and other manufacturing tools. This data is displayed to shop floor personnel whenever product quality or machine performance falls outside predefined acceptable ranges. This data is typically presented via control charts, Pareto charts, or histograms.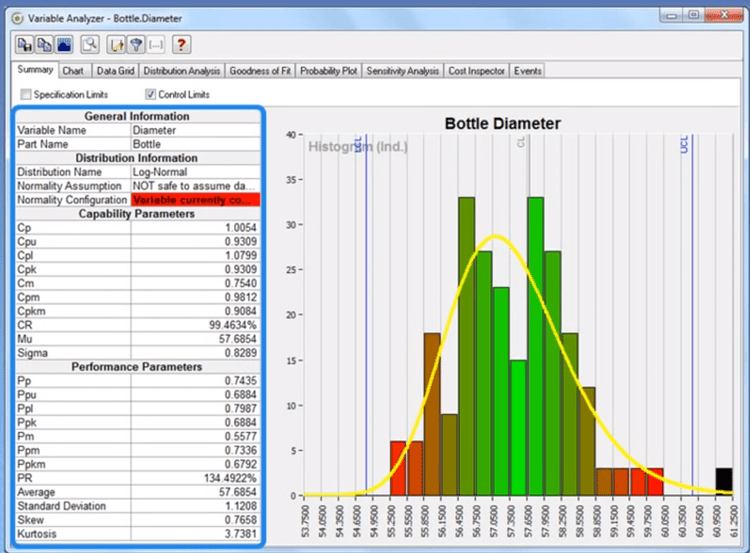 Failure Mode and Effects Analysis (FMEA)
Failure modes and effects analysis refer to studying the consequences of the ways (or modes) in which something might fail. Failures include any errors or defects–usually ones that can/will affect the customer. FMEA is best used when a product is being designed, serviced, or modified, but can also be used during improvement planning or throughout the lifecycle of the manufacturing process.
The following indicates a small sample of some of the benefits FMEA provides manufacturers:
Define corrective actions
Identify causes and effects
Improve economic production
Avoid defects
Prevent failure
Reduce product development time and costs
Define and minimize risks
Improve quality and reliability
FMEA features within EQMS software aim to decrease manufacturing costs by providing opportunities for preventive maintenance vs reactive maintenance. In other words, it can help eliminate issues or risks before they reach the consumer.
What Benefits Does EQMS Provide?
The benefits of enterprise quality management software are the same benefits of quality management software, which assist manufacturers in meeting some of their most critical business challenges:
Ensuring Regulatory Compliance: Includes ISO 9001, Title 21 CFR Part 11, NERC, SSOP, HAACP, and more.
Analyzing and Reducing Risk: Prevents errors, defects, unexpected service work, lawsuits, and recalls.
Increasing Customer Satisfaction: Ensure customers evaluate your products for reliability, ease of use, and performance.
Eliminating Inefficiency and Paper Waste: Electronic quality management systems help eliminate manual paper-based processes.
What Limitations Does EQMS Have?
While enterprise quality management software has a number of advantages (especially over basic QMS software options), it does have certain disadvantages.
These drawbacks include:
Lengthy and involved setup processes: These systems tend to be very advanced and require a complex implementation with your software vendor. Vendors may also have extensive training included with the purchase of their software. Depending on the size of your organization, it could take weeks or even months to get everyone properly trained.
Cost: Enterprise software of any variety has larger upfront costs for setup, implementation, and training. If going with a locally installed software, you'll be purchasing the software outright, and incur a large initial investment. Going with a cloud-based solution (SaaS) may allow you to pay on a subscription basis, but you'll still look at a sizeable initial cost to get the solution up and running.
What Are The Differences Between QMS and EQMS?
The difference between a standard quality management system and an enterprise quality management software lies within the benefits offered from an EQMS compared to a regular option.
Collaborate your teams and departments: Larger organizations tend to have diverse teams and departments that hold different roles and responsibilities. By reducing the gap of collaboration between different teams, integration can be thought of as a less tedious process.
Improved data management for an increased workload: Enterprises tend to deal with large volumes of data, including change controls, history of corrective actions, nonconformances, and customer complaints. Since all of this data is necessary to keep on hand for regulatory and compliance standards, it's important to have a system that can maintain a specific level of data.
Improved traceability: eQMS allows for the ability to trace all records from the beginning. Improved data integrity allows for more flexibility in accessing historical records, communicating needed information with your departments, and improving overall organizational effectiveness.
CAPA Management: The closed-loop nature of enterprise quality management software makes corrective actions easy to perform tasks–leading to an easier path of compliance and regulatory standards.