Alas. Hidden costs–they're everywhere.
Imagine this: You get a call from a friend. $30. That's all it takes to see 80's hair rock sensation Winger live in the flesh on-stage at the local casino theatre. Whether its the flood of hairspray-scented memories or a sparser than normal social calendar, you figure, "Why not?" Time to tight-roll the jeans and pencil in an ill-conceived night of pop metal and power ballad nostalgia!
Hold the phone, though. $7.25 in "service fees." $4.25 in "order processing" costs. $2.50 for the privilege to print the tickets at home. What the heck? Almost 50% in hidden ticket surcharges to see Winger? The price of ironic enjoyment just got too damn high!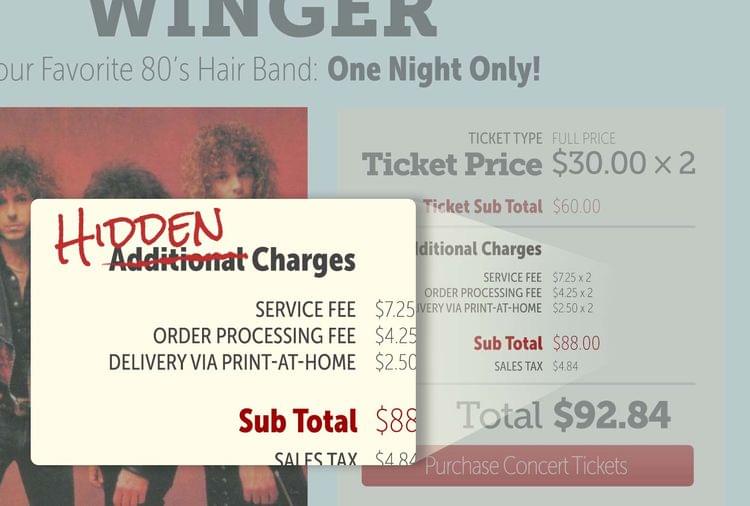 While you'll probably recover from the disappointment of passing on the Winger show, the fallout from hidden ERP costs can be tougher to manage.
ERP pricing–like, ahem, Winger concerts–can be divided into sub-costs. Winger shows are subject to a few particularly annoying hidden costs. But ERP projects can be broken down into a wide number of individual line items, each representing an element of purchasing and implementing the software. In part, it's the sheer volume of discrete ERP cost factors which makes it likely that some will sneak up on you.
Additionally, only a handful of ERP line items are actually predictable and stable from one ERP project to another. Most cost factors are highly variable and dependent on your specific needs. This volatility often leads to a delayed presentation of some price-contributors and an ERP hidden cost rude awakening.
Whether you are just working up initial budgetary numbers or you are comparing final proposals, consult this checklist for a comprehensive run-down of the ERP costs to keep an eye on:
Licensing
Module licensing. ERP systems are complex, multi-application systems. Which modules and feature sets you choose to license will majorly impact pricing. Published promotional pricing frequently refers to only the base module set-up.
User licensing. ERP software is generally priced on a concurrent user-basis. There's generally a major difference between a single user and, say, 10, 20, or 50 users. Be prepared for it.
OS and database licensing. Will deploying your ERP selection require the purchase of additional operating system or database licenses? It's an easy to overlook potential cost.
Supporting application licensing. Many ERP programs can be augmented with 3rd party applications. Report writers are a common example. Who remembers to include the report writer cost? You do now!
Remote access software. Looking to let users access network hosted software while they are out of the office? If you're not choosing a web-based ERP option, don't forget to figure in remote access software costs.
Client virtualization. It can be tough to find ERP options that support multiple operating system workstation access. Virtualization software like Parallels or VMWare may be needed.
Consulting
Needs analysis. ERP vendors provide needs analysis and process evaluation services as a free part of the sales process. Bigger is often better, but not here. With larger, enterprise projects, in-depth needs analysis consulting services usually come at a cost.
Project management. Juggling the scheduling of implementation, data conversion, and training can be complex work. If you're expecting your vendor to handle project management and produce the reference documentation, you may have to contract specifically for the service.
Implementation Services
Hardware preparation. Are your servers and workstations properly prepped to run your ERP software? Making sure the correct settings are established and ports are available is an important implementation step.
Software installation. Simply installing ERP software on servers and workstations can be complicated. It requires both experience administering your environment's operating systems AND specific ERP product knowledge. Can you handle it? Possibly. Should you? That's a different question.
Software configuration. ERP providers are happy to assist with configuration steps like establishing user profiles and setting up your chart of accounts. But there will be a charge for the service.
Data conversion. It can takes days or weeks of data entry to convert and import data into a new system. But vendors will complete the task more quickly. Look for the line item on the quote to determine if the time savings warrants the elevated per hour costs associated with outsourcing data conversion.
Testing. User access, security, functionality. Each element of a successful implementation needs to be tested across the entire system. Vendor testing protocols provide a comprehensive approach.
Customization. Why do most companies look to support functional needs through developer provided features? One major reason is that each instance of implementing custom code can significantly increase the overall project costs.
Training. A 5 minute YouTube tutorial won't cut it when it comes to ERP training. ERP systems support literally hundreds of different workflows. Vendor training carries a price-tag, but is an important part of maximizing your investment. Train-the-trainer approaches provide a budget conscious alternative.
Hardware and Hosting
Servers. Will your ERP project require new dedicated servers? It's quite likely. Even if you have existing server hardware available, you may need to invest in software that meets stringent server minimum requirements.
Workstations and laptops. ERP software is all about integrated, comprehensive system access. Are you extending system access to functional areas that may not have had it before–such as the warehouse or the manufacturing floor? If so, don't forget to budget for workstation hardware.
Network hardware. The implementation of a new ERP software system is sure to change your network data patterns–and likely increase traffic. Load-balancing boxes, routers, and other hardware may be needed.
Application specific hardware. A number of common ERP modules integrate with dedicated devices, which you'll need to purchase, if you don't already own them. Cash registers and inventory bar code scanners are common examples of application-specific hardware.
Mobile devices. Do you need to support user access off-site? If you're not taking a BYOD-approach, adding mobile devices like laptops, tablets, and smartphones will contribute to your project costs.
Hosting. The cloud is an option for ERP hosting, but it's not free. Dedicated hosting services represent an ongoing cost, which you'll need to figure into total cost of ownership calculations.
Software Support and Version Updates
Annual support contract. One of the easiest ways to underestimate costs is to only consider start-up costs. Make sure to also evaluate ongoing cost factors, such as tech support service contracts.
Access to continuing updates. Developers are continually releasing version updates not only to improve features and performance, but to patch security issues. Paying for access to software version updates is an important part of protecting your ERP investment.
One last thing to remember: Don't forget the soft costs! While there's no shortage of vendor costs you'll want to pin down to the exact dollar when evaluating ERP project pricing, there are also internal soft costs to consider. Forgoing vendor sponsored services like data conversion or training is an option, but consider it carefully. Tasking employees with unfamiliar ERP implementation tasks can take them away from primary job responsibilities and extend your rollout timeframe–outcomes unlikely to be net positives for your company's bottomline.
Too busy rocking out to consider all the potential ERP project hidden costs that might pop-up? Uh-oh! You might be "Headed for a Heartbreak."