What Are Higher Education ERP Systems?
Higher education ERP systems (enterprise resource planning systems) combine the functionality of student information systems (SIS), school administration software, human resources, and financial management. Higher education ERP software helps support academic-related business processes in colleges and universities, such as exams, grades, tuition billing, scheduling, and overall administration. These college ERP solutions combine the handling of academics of college between students and teachers with the administrative nature of running an educational organization.
Higher education has always had a unique organizational model compared to any other business structure. A normal business may need to handle financials and their operations (with operations meaning providing a service, manufacturing a product, running a retail store, etc.) In education, their operations mean holding classes, with an end goal of "pushing out a product" (creating educated students).
Educational ERP software systems are replacing the practice of having multiple software programs to handle specific needs, such as overall management, financials, and administration. Vendors are taking note, and are beginning to develop fully-integrated options that let universities provide best-practices for students, teachers, administration, and beyond.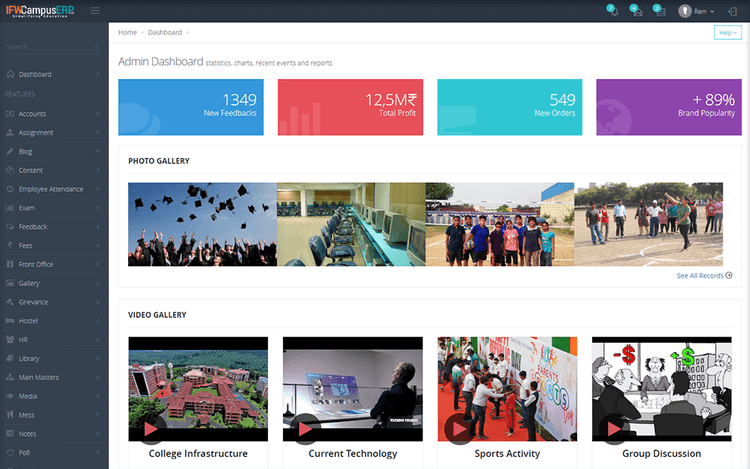 Features of Higher Education ERP Systems
Student Information: Store important details of students. Allow students to register for classes. Provide advising assistance to students. Includes administration tools such as grade management and tracking attendance. Creates reports for attendance data or other institutional goals.
Human Resources: Manage your teaching staff and fill voids to ensure all classes can be run at capacity. Monitoring budgets for potential new teaching positions. View timesheets, leave requests, and compensation. Identify the right candidates via talent management. Track tenure and any salary changes. Process payroll.
Financials: Handle the primary accounting and financial management involved with running your higher educational institution. Includes tuition and fee management, budgeting, accounts payable, accounts receivable, reporting, procurement and requisitions, and grant certification.
Financial Aid Management: Handle awarding and disbursing financial aid to students and link it with their payment accounts to pay for tuition, room and board, meal plans, and more. Calculate needs analysis reports to know where aid needs to go the most.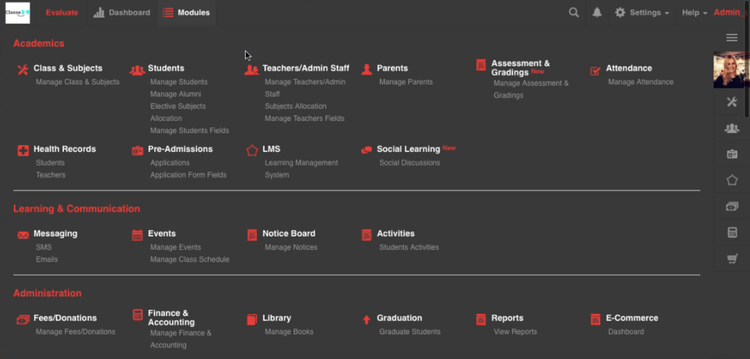 Benefits of Higher Education ERP Systems
ERP for educational institutions helps handle the administration of the education-related process including fees paid by students, managing the university library, monitoring student grades, and sending university information and details to students, alumni, and staff. Whether a community college or a large privately run university, some of the top benefits of higher education ERP systems include:
Manage Student Information Effectively
Colleges and universities need a higher education ERP system to help students, faculty, and administrative staff use data in a more organized and structured manner for effective project management. A correctly deployed ERP software will help your college organize data and automate processes in your academia management.
One example is staying compliance with any learning criteria your state has set forth, or any benchmarks your university has set up on its own. Some higher education ERP software will have a direct link to state entities or licensure boards to monitor your school's performance. You can also record all activities by program (whether recruitment, employment, school advertising, etc.), gather analytic data from prebuilt reports, and send useful information to program coordinators who desire the ability to chop up student enrollment data.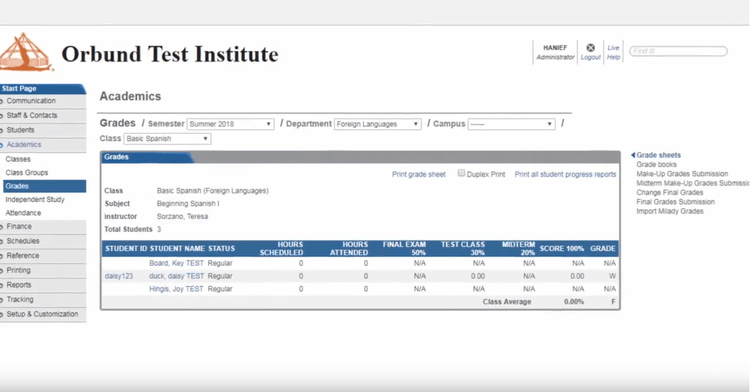 Connect Departments Across Campus With Improved Communication
Communication systems in higher education ERP systems will let teachers, non-education staff, administrators, and students have a voice and talk with one another. This can help ensure that all levels of your university are on the same page.
Once barriers have been removed from communication, students can easily ask questions online for other students, teachers, or TAs to help answer them. This sense of community can encourage discussion and help students explore previously unthought-of ways of answering questions, completing assignments, and studying for tests.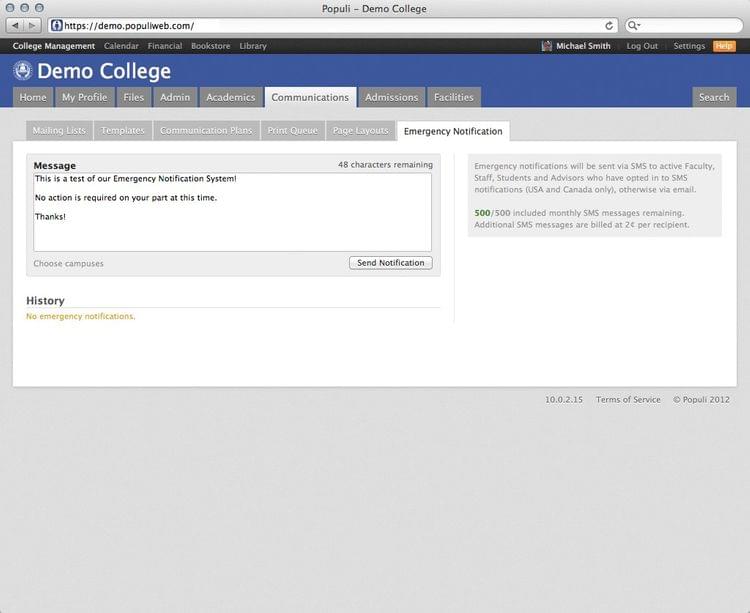 School Management Systems
A school management software automates the administrative tasks involved in running your educational institution. A higher education ERP system is known as a specific type of school management software, as the focus is just on higher-education learning environments (colleges and post-secondary schools).
Many people may refer to higher education ERP software as a school management software. The intent of both types of software is the same, but the environment they are put into is the key difference. K-12 schools may need functionalities that a college would not, such as disciplinary tracking on students, management of after-school programs, and reporting to the state for state-issued funding purposes.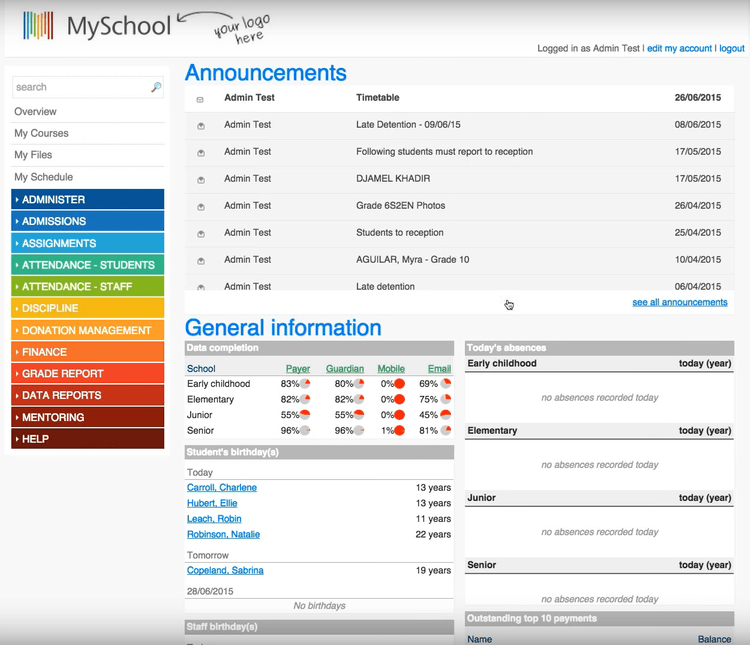 Student Information Systems
The core of any student management software is the student information systems (SIS) which store data on all students registered to your college. A student information system manages student data such as registrations for classes, grade management, transcripts, and schedules. In a college and higher education environment, students can access their record in a student information system to change their contact details, apply for a major, view their course load, and check their grades.
Students and faculty alike can also monitor financial aid disbursement, check residency status, look at next semester's course offerings, and take care of any academic services such as placement testing, scheduling meetings with advisors, and more.
Student information systems for higher education can also include learning management systems (LMS). An LMS provides the administering, documenting, tracking, reporting, and delivery of educational courses. This lets students browse available classes, sign up for courses that help meet their major requirements, message teachers, submit homework, and more.

School Administrative Software
In a higher education setting, school administration functionality is a core part of higher education ERP systems. It includes scheduling, attendance management, faculty management, and even health records of students.
Administrators in higher educational settings keep a pulse on the overall flow of getting students into classrooms, managing financials, and ensure they are being compliant with any state or federal laws. Administrators have less of a hands-on approach compared to teachers in the classroom, as they will take care of processing student payments and make sure classrooms, lecture halls, computer labs, and other key resources are up to par and operating as they should be.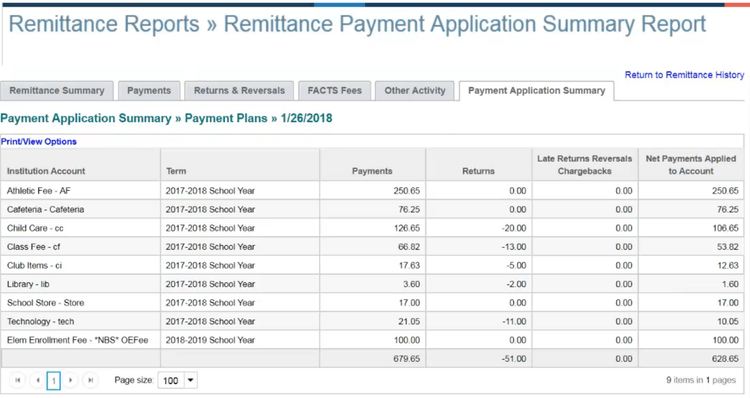 Pricing of Higher Education ERP Systems
As pulled from our list of popular products, the cost of higher education ERP systems can range in starting prices as low as $14/month to as high as $5,000/year. Keep in mind these are just starting prices intended to get people interested in the products. When you begin to factor in the number of users and functionality needed, those costs can rise exponentially.
The cost of higher education ERP software is typically dependent on the number of user seats, FTE students, staff level, or the level of published institutional endowments or state funding.
The ERP industry, regardless of industry, will bill for their products dependent on these stated needs as well as any level of customization required and included support. However, many schools and colleges can find discounts through nonprofit organizations. These organizations generally have established relationships with software vendors and can help negotiate better terms for software contracts.
Best Higher Education ERP Systems
Every higher educational organization will vary in what functionalities mean the most to them. For those looking for a perfect blend of student information management, administration tools, financial tracking, and reporting, here are some details on the best higher education ERP systems we've found:
Formerly known as SCT Banner e-Education from Sungard, Ellucian Banner holds one of the strongest names in the world of university ERP software. The software can handle all of your campus-wide needs from student management, school financials such as tuition billing, administrative staff management, and the allocation of financial aid.
Ellucian Banner is used by over 2,500 higher education institutions across the world and was designed exclusively for a complex higher education environment and processes.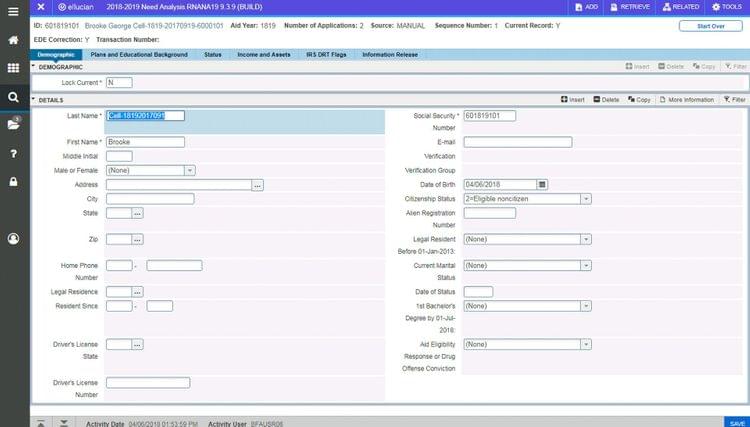 Oracle Student Cloud is a "next-generation" higher education ERP software, designed to streamline back-office operations and improve the student experience. Oracle is already a force in the world of ERP systems, and Student Cloud is their shot at staying competitive in the world of higher education.
Top features of Oracle Student Cloud include financial planning, recruiting, and a full student information system. This software is completely cloud-based (SaaS) and can be accessed anywhere it's needed on campus.