What is Automotive ERP Software?
Automotive ERP software improves the manufacturing process for automobiles cost control, improved lead times, and the development of new products that meet customer demand. The software includes features like inventory management, quality control, production planning, and more.
Automotive manufacturers use top ERP software solutions for research and development of new products to meet customer demand. The pace of market trends puts stress on the automotive industry to constantly reconfigure their manufacturing processes. For example, backup cameras and GPS systems caught on in a very short length of time. Fuel-efficient, hybrid, and electric vehicles are also becoming more popular as manufacturers make drastic changes to production required to build and support them.
Production planning is also an important feature of automotive ERP software. Keeping up production and reducing lead times without overproducing is only possible with the right software solutions. When proper production planning improves lead times, you strengthen your relationship with everyone downstream.
Depending on where you supply vehicles, they are made for stock or have custom features - custom car sales in America made up only 5% of new vehicle sales while 50% of new car sales were custom in Europe. Your manufacturing software needs to be able to manage custom orders as well as stock orders for dealerships. Customers might request custom features like specialized tires, blind-side cameras, upgraded sound systems, and more.
Vehicle manufacturers need to assign unique vehicle identification numbers (VIN) to each vehicle produced. The software will assist with generating and assigning the VIN according to the DMV standardized format.
Many systems for the automotive manufacturing industry are complete enterprise resource planning (ERP) solutions that help you improve your manufacturing operations and give you better visibility into the supply chain. The ERP system helps manage the manufacturing process along with other business processes like accounting and human resources management. Many automotive ERP software solutions also integrate with warehouse management systems
Features of Automotive ERP Software
| Feature | Description |
| --- | --- |
| Production Scheduling | Determine the labor and materials needed for each job. Schedule work according to available resources. |
| Quality Management | Perform and record QA test results on parts and finished vehicles. |
| Manufacturing Inventory Management | Track real-time data for inventory levels and costs of raw materials and finished parts used for manufacturing vehicles. |
| Bill of Materials (BOM) | Assembly instructions and material requirement lists are generated for each manufacturing order. |
| VIN Generator | Automate the creation of VIN for each vehicle manufactured. |
| Compliance Management | Ensures manufacturers are compliant with the automotive industry supply chain best practices and QMS standards under the MMOG/LE and IATF 16949:2016. |
Advanced Features
| Feature | Description |
| --- | --- |
| MRP | Streamline manufacturing processes with production planning, scheduling, and inventory control. Calculate material requirements, plan purchasing, and coordinate workloads. |
| MES | Improve overall quality and performance with shop-floor control, scheduling, and corrective action guidance. |
Production Planning and Scheduling with Automotive ERP Software
Automotive ERP software includes advanced planning and scheduling capabilities to help manufacturers determine the materials, resources, and labor needed for each job. Planning the right amount of resources for each manufacturing job helps manufacturers cut down on overall costs.
Production planning also helps cut down on the time it takes to commission a custom vehicle. You can start the manufacturing process and plan around when the other custom parts are planned to arrive. This allows you to continue the manufacturing process without slowing down or stopping altogether.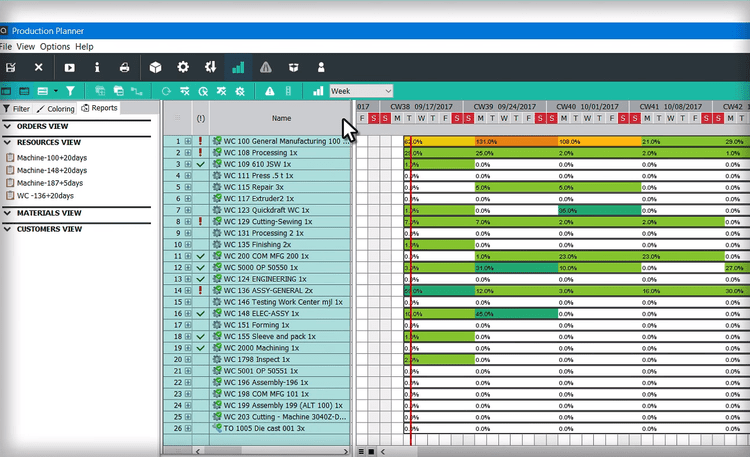 Lean Manufacturing with Automotive ERP Software
Automotive software helps many original equipment manufacturers (OEMs) cut down on waste and improve lead time with lean manufacturing strategies. Here are some aspects of lean manufacturing that require well-built, well-chosen software:
Just-in-time Manufacturing - Products are manufactured only when an order has been submitted. The product is designed, then materials are procured and production begins. This helps automotive businesses reduce wasted materials and labor on unused parts, assemblies, and vehicles. The software can automate order processing and generate purchase orders based on material requirements.
Continuous Improvement - Achieving lean manufacturing goals requires a systematized method of analyzing waste in your manufacturing process. The right software will make it easier to objectively quantify those sources of waste so you can properly prioritize and address them.
Material Waste Reduction - The right automotive ERP software solution will help you reduce material waste by tracking the byproducts of your manufacturing processes and the instances of part breakage. Quantifying the source of waste is the first step toward solving the issue.
VIN Generation with Automotive ERP Software
Automotive ERP software automates VIN generation. The VIN number needs to be unique to each manufactured vehicle. Vehicles made after 1981 have a standardized 17-digit VIN made up of numbers and letters. The VIN contains three sections:
The first three digits identify the country/region where the vehicle was manufactured and the manufacturer code. The next six digits certain features of the vehicle such as the body type, number of doors, and vehicle class. The last eight digits are completely unique, making it easy to identify the vehicle. This section identifies the vehicle's model year, the exact factory the vehicle came from, and other data like accessories, engine version, and drive type.
Automotive ERP software ensures the VIN follows the standardized format. The VIN can be integrated with barcode labels to make it easy to pull up a more detailed description of the vehicle.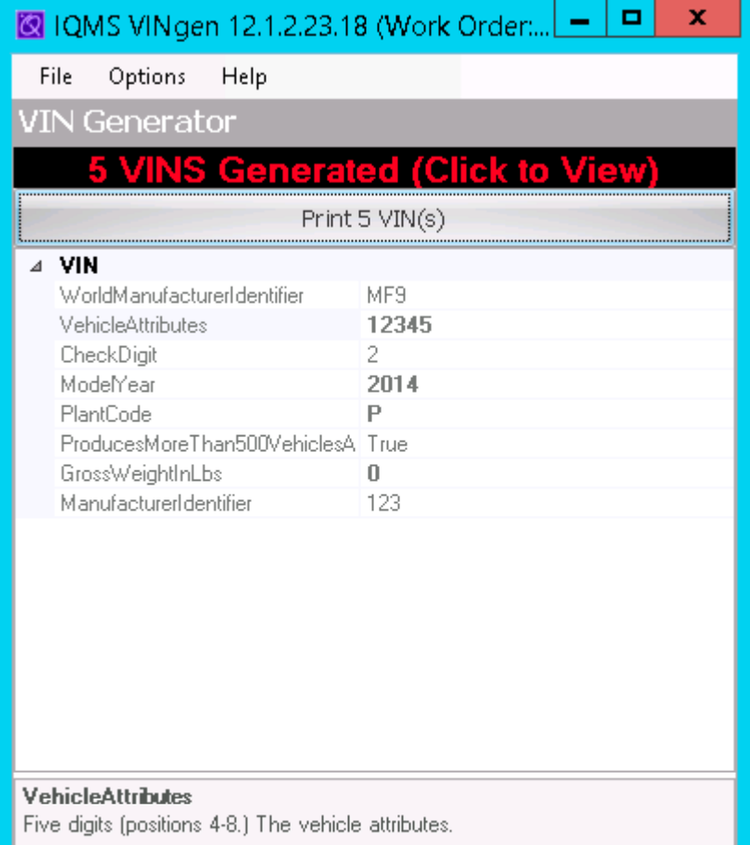 Compliance Management with Automotive ERP Software
Automotive ERP software helps manufacturers stay compliant with common industry standards. Modern software does a better job at helping manufacturers ensure the integrity of their supply chains. This means everything when it comes to achieving quality.
The Global Materials Management Operations Guideline/Logistics Evaluation (MMOG/LE) is a set of best practices designed to improve supply chain management processes.
The International Automotive Task Force (IATF) 16949:2016 is a quality management system (QMS) for the automotive industry.