If your business is looking to purchase ERP software, the next step before you can go-live is the implementation process. This process can seem overwhelming to a first-time buyer, or overly expensive to a company with a system already in place. However, a well managed ERP project implementation will lead to a shorter implementation timeframe, reduced costs, putting the best practices in play for software support, preserve your data security, and reduce the need for future support costs.
What is ERP Implementation?
An ERP implementation is the process involved with installing and setting up your ERP software, migrating your data from your previous system into the new system, and training your staff to use the new system properly and as intended. An enterprise resource planning implementation project is thought of as change management for your organization, as it considers all approaches to prepare, support, and help your team members, decision-makers, and entities in making organizational change.
This starts in the pre-deployment phase–where you receive technical consulting on your specific needs compared with the industry best practices. Project management helps your project team define your project scope to create schedules, monitor timelines, and accomplish milestones. Finally, system implementation and configuration is the process of deploying the software as you envision it.
Some ERP implementations are rather swift–this means an ERP solution is almost entirely functional "out of the box". This means it requires little to no customization and no add-on capabilities are needed. Other business requirements, such as having diverse application requirements or handling multiple entities may require a phased rollout and more involvement from your implementation team.
Need help choosing an ERP software? View our list of the best ERP software options.
Steps of a Successful ERP Implementation
The 5 key steps of an ERP implementation are:
Installation
Configuration
Customization
Data Conversion
Integration
At times these steps may run concurrently, and at times they may not be able to begin until the previous step has been completed. Some steps not mentioned (but equally important) include pre-deployment business and technical consulting, identifying your project scope, and training on your new ERP system.
1. Installation
Once the software has been loaded on to your hardware it can be considered "installed." There are some requirements along the way that a project manager just to simply install the software.
Finding the right hardware: Your ERP provider will determine your server specifications for you. Most ERP providers will publish precise minimum hardware requirements documentation. There are seven different hardware system qualities that should be considered when scoping system requirements: availability, latent capacity, performance, scalability, security, and serviceability.
Hardware must be properly prepped. This means ensuring that there is adequate disk space, making sure the network is configured to handle the required server availability, backing up the server before making changes, and addressing the required operating system level settings.
2. Configuration
Configuration is the process of adapting the raw functionality of the software to your specific security requirements, workflows, and preferences.
An example of the security requirements involves the user permissions. This will let varying levels of access be assigned to employees depending on their department and their job level.
The second process of configuration is making your software support your workflows. The significant time investment will be required to ensure your software performs as intended. This requires a multi-step process–such as inputting company details, deigning currencies and exchange rates, defining the chart of accounts and inventory levels, setting up banking integrations, and more. In any system set up, there are dozens, or more likely hundreds, of these kinds of system configurations.
3. Customization
Customization refers to instances where you are augmenting or altering the underlying software code. When it comes to ERP software, customization tends to be more limited than in other types of software systems.
Software providers handle most customization since the vast majority of ERP software is not open source ERP software. In situations where base system setting modifications and configurations do not provide the necessary functionality to meet requirements, it can be worthwhile to make the investment in customization.
| Customizing and configuring | Only configuring |
| --- | --- |
| Frequently creates reliance on original programmers | Easier to source external support |
| Often leads to pockets of undocumented code | Predeveloped documentation generally available |
| Can be relatively expensive | Economies of scale can lower cost |
| Highly tailored | May not fully provide optimal functionality |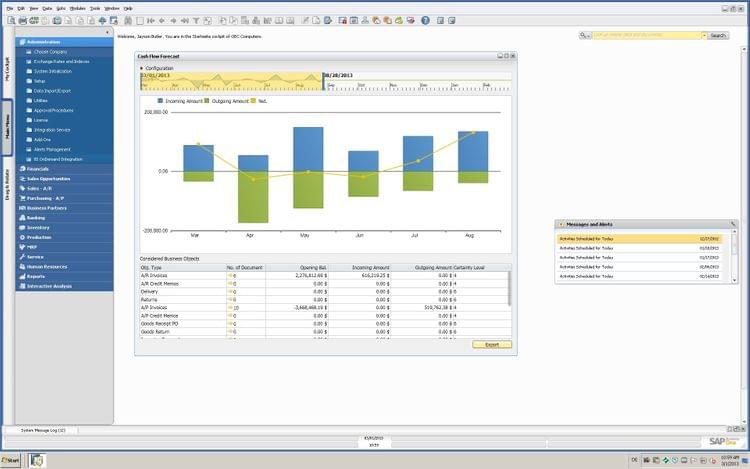 4. Data Conversion
Importing your existing data is a necessary step in any successful implementation. One major challenge is the fact that there is no single standardized format for data. The underlying database tables that track financial records–for example-- will differ from one ERP system to the next.
Manually inputting data–or even reformatting exported data dumps to the new format–can be tedious and cost-prohibitive. ERP software providers may have the experience needed to assist you, or the software utilities to speed up the process (sometimes both). Companies exist (such as CloverETL) who specialize exclusively in converting and migrating data.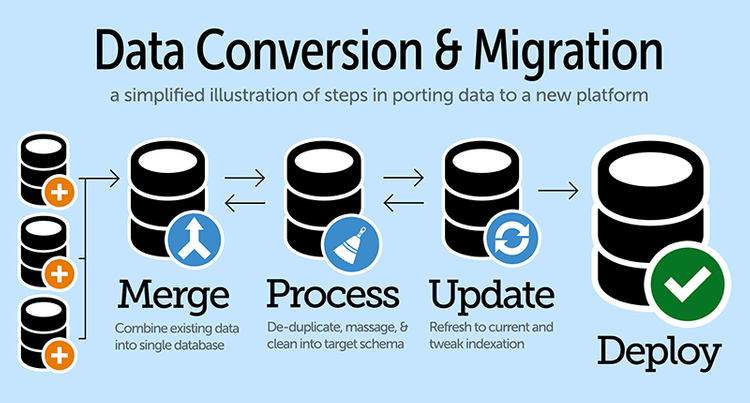 5. Integration
Integration establishes how your new software will communicate with your existing software platforms. If you maintain a legacy CRM software when implementing new ERP software, your business should desire customer data changes made within the CRM to be reflected in the ERP system.
Real-time integration lets changes in one system be reflected immediately in the other. This is accomplished through the use of a common database. Alternatively, many programs provide APIs (application programming interfaces), which pre-configures a set of usable instructions that allow for changes in one program's database to be triggered by actions in another.
From a functionality perspective, real-time integration is always better, but it may not always be technically feasible or cost-justified. As another option, you could generate reports and load updated data from one system to the other. While potentially less expensive to set up, batch integration can create issues where different data exists in two different systems until the reconciliation has been triggered. If the batches are executed regularly enough or the underlying data is infrequently changed, this may be supportable, but there will certainly be instances where this can be a major limitation.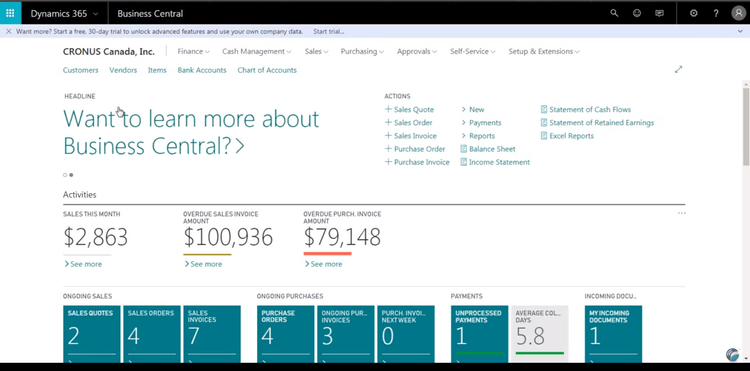 Benefits of ERP Implementation
There are a number of top-level business benefits associated with a well managed ERP implementation:
Shorter Implementation Timeframes
A poorly managed ERP implementation can and will take a long time to execute. Whether delays are caused by addressing hardware insufficiencies, managing for unexpected business process adjustments, or ill-planned training, delays put off the start date when you can begin reaping the rewards of the improved efficiency. Proper planning can shorten delays and ensure that key employees are not pulled away from their core duties indefinitely.
Implementation Cost Management and Reduction
ERP implementations require planning, employee input, and the allocation of resources to execute. Each represents an opportunity for costs to swell, if not properly managed. Contracting with a vendor offers a way to put a definitive cost on implementation services.
Software Support of Corporate Best Practices
Appropriately identifying, defining, and preparing for software to support best practices is critical. Consider for example software offering strong purchase requisition capabilities. The approval, reporting, and review process must still be mapped and implemented to effectively leverage the software to identify cost-saving opportunities in the purchasing process. Coupling the software tool to your specific processes is where the rubber meets the road in terms of project success.
Preservation of Data Security
A change in ERP comes with business continuity risks–including a data security risk. Best practices to ensure data security have been worked out over time with existing systems. A well-executed implementation will make sure the right user permissions and security measures are carried over and improved upon.
Optimization for Reduction of Future Support Costs
Strong implementations of ERP software can limit ongoing support costs with proper preparation. Identifying support workflows, setting up user-accessible documentation, and considering the requirements needed for scalability can greatly reduce ongoing support costs.
Cost of ERP Implementation
How much does a typical ERP implementation cost? This completely depends on the size of your business, the scope of the software being implemented (such as the number of applications required at setup), the number of user licenses (end users requiring access), and other services your business may choose to pay for (such as data migration).
Over the course of ownership, a small business ERP software can range between $25,000 to $150,000. Meanwhile, a mid-sized business or large enterprise can expect to spend anywhere from $150,000 to $500,000. This is usually spent over a certain period of time. However, the actual cost of ERP software is only a small fraction of the overall implementation costs.
When implementing an ERP system, your business should expect to pay for:
Licensing costs
Basic services (standard implementation, training, basic data migration)
Customizations (if any)
1st-year support
Licensing Costs
This is the cost of the ERP software itself. While not technically considered an "implementation cost" (ie the cost of implementing said software), these costs are usually the primary driver in whether or not your business can afford the software you want or not.
Not all businesses will have the same requirements for their ERP system as others. This is why many ERP software providers do not advertise their pricing online–because each company's situation is different. For example, a small distribution company who only needs to manage financials will likely pay less than a mid-size manufacturer looking for varying levels of user access (such as warehouse personnel, sales staff, and the accounting department).
As part of the overall implementation, the ERP software cost will usually be only about 50% of the total dollar amount spent. The remaining 50% of the total investment will be spread between the other factors.
Basic Services
Basic services include the cost of implementing the software itself, training your staff will require, and any data migration from your previous system. These services will almost always be required in an ERP implementation. Shopping around for the top ERP vendor will be important, as this part of the implementation is where the expertise of a local provider (who has experience in your industry) comes into play.
Similar to the licensing costs being dependant on a number of factors, the same holds true for implementation costs. The size of your company, the industry you're in, and the expected volume within the software itself are all factors into how complex–and thus how expensive–your implementation costs will be. It's important for your business to budget for the costs of the services to be on par with the purchase price of the software itself.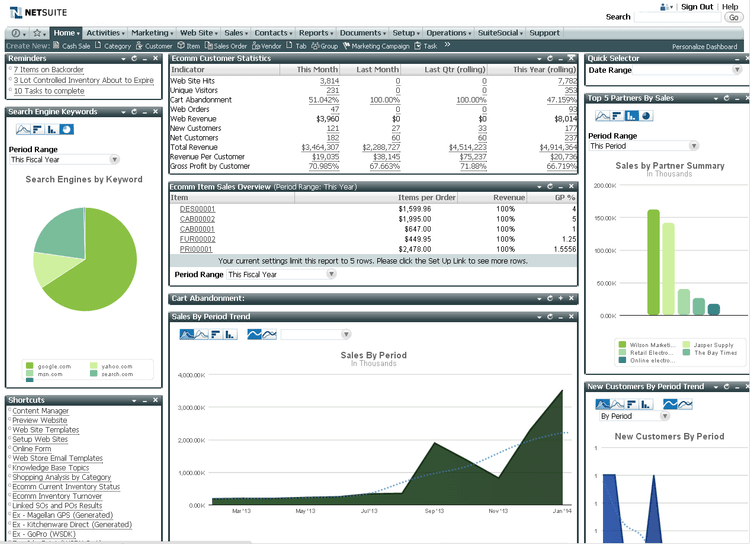 Customizations
Most ERP implementations require a significant amount of time. This largely depends on the level of customization needed in your system. Many ERP systems can be used in a multitude of industries. But how does one software work for a manufacturing company in the same capacity as a professional services organization? The answer is the customization provided by your software provider.
Customizations are usually considered add-ons and optional. However, most companies will require some level of customization in order to make the software operate as they envision. Many software companies will sell their solution on the ability to customize it to the needs of your business.
1st-Year Support
Support is known as a recurring cost, which will vary depending on your software provider. When purchasing an on-premise ERP, a software vendor is likely to include 1 year of support in the total upfront costs. Any support provided thereafter would be a recurring cost and will vary year to year based on the provider's rates. Some vendors may offer discounts on the implementation costs if you agree to a longer support contract.
SaaS options, or cloud ERP software, are usually billed on a subscription basis, and support is generally included in your monthly or yearly subscription.
Whatever support route you decide on, you can anticipate an increase of about 3% to 5% each year when it comes time to renew.
Examples of ERP Implementation Failures
Famous cases of failed ERP implementations include:
Hershey: In 1999, Hershey had a mishap syncing their SAP ERP, CRM, and supply chain applications, leading to an 8% stock dip. Source: Pemeco.com
Nike: In 2000, Nike incorrectly implemented a demand planning software that was intended to match supply with demand and shorten their manufacturing cycle. This led to $100M in lost revenue. Source: CIO.com
Hewlett Packard: In 2004, Hewlett Packard attempted to move all of their North American divisions into a single consolidated ERP system. A botched rollout led to $160M in backlogged orders. Source: ComputerWorld.com
How does a company avoid these failed implementations? A few quick tips:
Filter out providers who aren't focused on your needs. This means you need to establish trust with your provider, get reviews and case studies, and ensure they are experts in your industry.
Insist the software vendor provides you with a detailed ROI justification report. This means your software provider will show you the opportunity cost of improving your efficiency, project your revenue based on the improvement to you decision making, and overall help visualize the financial impact the ERP implementation will have on your organization.
Conduct demos in-person or through guided meetings. Rather than watching a YouTube video, make sure a provider can walk you through a program step by step and answer questions and concerns you may have.
Keys to a Successful ERP Implementation
Verify vendor certifications and training. On top of ensuring that they are an authorized seller of the software, many ERP providers need to stay current with various changes in end code. Make sure that your provider has an ongoing relationship with the provider so they are up to date on new patches and releases of your ERP.
Ensure the support staff is qualified. Usually, a smart sales team can be the deciding factor in a business deciding to choose one provider over another. However, once the ERP software has been purchased, any future interaction your business will have with that company will be for support. It's important that your vendor's support team is just as competent as their sales department.
Follow up on references. An accomplished ERP vendor will be more than happy to provide you with references of happy customers. This gives you the opportunity to ask the questions you may be afraid to ask the vendor directly.