Enterprise Resource Planning (ERP) Software can be an invaluable tool to help large companies stay organized and maximize profit. Though, more often than not, the quest to implement this software solution costs businesses hundreds of millions of dollars without a hint of success.
According to Gartner research, up to 75% of all ERP implementations fail.
Because of the complexity of the solution and the detailed planning that must go into the implementation process, there are seemingly endless opportunities for failure to occur. These opportunities include poor software fit, an unrealistic timeline for completion, and a lack of focus on the actual outcome of the software implementation. Failures can lead to lost revenue, lost time, and even lawsuits on top of the sunk costs of the implementation.
Here are 11 of the most notorious examples of companies that were looking for a high-tech solution but ended up with nothing but problems.
1

Waste Management: Poor Software Fit (2005)

In 2005, Waste Management chose SAP to implement an ERP software purported to be an "out of the box" solution specially designed for their industry. SAP told Waste Management that it had been used by companies in Germany and was scaled for use in the United States.

SAP promised Waste Management that the software could be implemented in 18 months, but 18 months passed, and the failure was evident. In 2008 Waste Management filed a lawsuit against SAP for $100 million, then increased the lawsuit to $500 million to recoup the implementation costs and the $350 million in promised benefits. The case claimed that SAP had deceived Waste Management with fake demos to make them think that the software was functional when it was untested and unable to handle the complexity of their American business.

On the one hand, SAP admitted that the demonstrations used to convince Waste Management to purchase the software were not created with the actual software. On the other hand, Waste Management takes some of the blame for the failure because it was their responsibility to do their due diligence to ensure they were purchasing a suitable product.

In 2010 the companies settled the lawsuit out of court.
2

PC Connection: Poor Vendor Fit (2013)

In 2022 PC Connection sued IBM for what they claimed was a "negligent misrepresentation" of the time and money it would take to upgrade their ERP system.

PC Connection was already using JDE World from J.D. Edwards and relied on the software for all aspects of its business, making it critical for its functioning. In talks with IBM since 2013, IBM convinced them to upgrade their system to another J.D. Edwards product, Enterprise 1 (E1). IBM promised an implementation time of 17 months at $9.2 million.

These estimates were nothing more than hopes and dreams.

Although IBM promised a rockstar team to help implement the software, the team assigned to PC Connection was inexperienced with E1. This inexperience created many problems for the implementation, and deficiencies in the software started to arise. Since many of the fixes needed to run the software correctly were considered outside the contracted specifications, they would require change orders. To accommodate the changes, IBM increased the contract's price and ultimately created delays to the implementation.

PC Connection reported that in May 2020, IBM insisted on going live with the system despite PC Connection's fears that it was not yet ready. However, after going live, business-critical systems were not functioning, and they could not revert to their original system as was promised by IBM.

PC Connection had to spend $3 million in additional fees to IBM and tens of thousands of hours on internal labor to fix the issues and their fallout. They also spent significant money to hire a new partner to complete the E1 implementation.

As of the posting of this article, IBM has not yet responded to the lawsuit.
3

Revlon: Inaccurate System Requirements (2016)

After merging with Elizabeth Arden, Inc. in 2016, Revlon sought an ERP to fully integrate the company's existing Oracle and Microsoft Dynamics systems. They chose SAP HANA.

The 2017 rollout of the ERP ended in disaster. Their Oxford, North Carolina manufacturing facility could not create quantities of finished goods, resulting in millions of dollars lost due to the inability to fulfill orders and expedited shipping fees. As a result, $64 million worth of products could not be shipped, and $53.6 million had to be spent to fix the lapse in customer service. This failure came to light two years later, in 2019.

When the failure came to light, stock prices fell, and multiple class action lawsuits were filed in response. One lawsuit was filed on behalf of Revlon shareholders, citing Revlon's failure to design and monitor the implementation of a system that would be able to handle their manufacturing and distribution.

The issue ultimately stemmed from the unreasonably short timeline to complete the software implementation for a newly merged company and the need for more planning to ensure that the system requirements were suitable for what the company needed.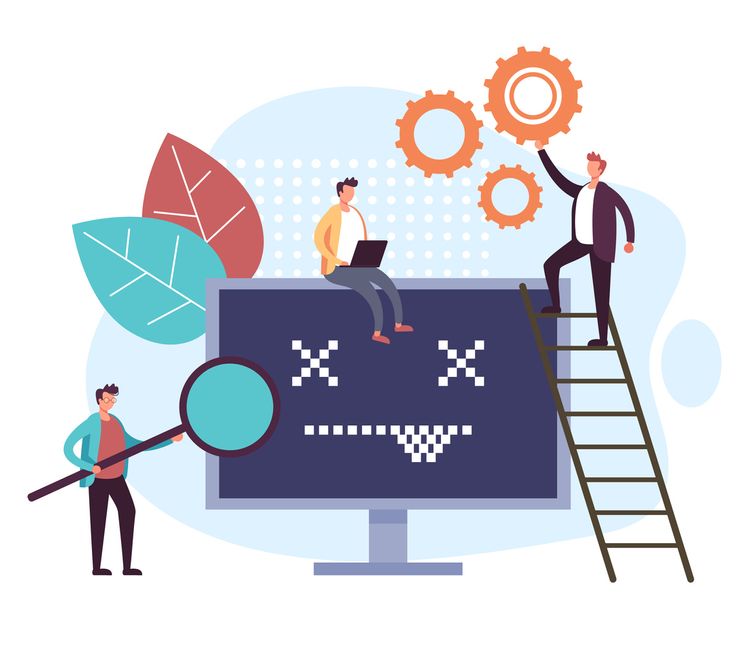 4

U.S. Air Force: Poor Project Leadership (2004)

What started as an honest effort to consolidate financial systems within the U.S. Air Force ended in a financial drain on taxpayer funds to the tune of $1.03 billion.

So what happened? According to an IEEE Spectrum report, the Air Force decided in 2004 to consolidate and modernize its financial systems and supply chains with ERP technology. Unfortunately, there were failures on many fronts, starting with the goal of combining 240 data silos into one system. While not an impossible feat, budget and timeline expectations needed to be much better understood for the implementation to be remotely successful.

In their report, the Air Force cited six root causes for the failure of what they dubbed the Expeditionary Combat Support System (ECSS). Ultimately the ECSS flopped because of a failure to instill trust in the new system. Few wanted to change how they conducted business, and many used this project as a promotion opportunity. Management turnover included six Program Managers, five Program Executive Officers, and even more changes that led to a lack of consistent leadership.

With seven years down the hole and a projected $1.1 billion more to get the ECSS up and running, they opted to scrap the project entirely and cut their losses.
5

Lidl: Undefined System Requirements (2011)

In 2011 German supermarket chain Lidl chose SAP to help them upgrade their outdated in-house inventory management system.

Problems stemmed from their insistence on retaining a record-keeping method that was non-standard for the industry-- their inventory records are based on the price they pay for products instead of the price they sell them. Because of this non-standard approach, SAP needed to be customized in a way that created problems for implementation. Of course, software is customizable to a certain degree, but the more significant the change, the more likely it will cause other systems to break.

Executive leadership turnover also played a hand in the failure of this implementation. When leadership changes, priorities often shift.

By 2018 Lidl had spent seven years and $580 million on the implementation. Despite successful system rollouts in Austrian, U.S., and Irish stores in 2015, the newest CEO decided to scrap the project and revert to their original in-house system.
6

Target Canada: Uncleansed Data (2011)

What happens when undertrained entry-level employees with tight deadlines are responsible for entering your ERP's critical data? Your supply chain might just completely collapse. This scenario played out for Target Canada's 2013 launch, which ended up making them pull out of the Canadian market altogether.

The aim was to use all new data to avoid any issues importing legacy data, but it was their greatest mistake. In their post-mortem investigation, it was discovered that only roughly 30% of the new data was error-free. The other 70% had errors partially from the manufacturers that Target did not train employees to notice. These errors caused incorrect pricing that left products too expensive for the Canadian market, and store shelves were empty while the warehouses remained fully stocked.

Another downfall of Target Canada was its rush to implement the ERP in all of its new stores instead of using a phased approach. If they had tested the software in 1 or 2 stores, they would have been able to catch the glaring data errors that would eventually lead to their demise.

By 2015, Target decided to close all 133 of its Canadian stores, leaving over 17,000 employees out of jobs and $7 Billion down the drain.

ERP Software centralizes your business's processes from finances to manufacturing and beyond.
7

Hershey: Unrealistic Project Timeline (1999)

One of the most famous cases of an ERP implementation failure comes from Hershey's 1999 SAP fiasco. In an earnest attempt to avoid the (perceived) impending chaos of Y2K, Hershey sped up the implementation timeline from 48 months to 30 months. This hasty timeline led them to a launch that not only didn't allow enough time to train employees properly but also coincided with Halloween.

The launch was a complete failure. Fulfillment could not process $100 million worth of orders during their busiest season. This snafu led to a %19 profit decrease and a 12% decrease in sales.

Hershey taught the business world a lesson that highly complex software solutions require enough time, a low-risk launch date, and thorough employee training to have a successful implementation.
8

National Grid: Lack of Testing (2009)

National Grid, a power distribution company serving New York, Massachusetts, and Rhode Island, was eager to replace its old Oracle system with SAP software. Already three years into the project, they couldn't afford to wait any longer. Then, Hurricane Sandy struck, decimating the east coast of the United States. Less than a week later, they decided to go ahead with their launch date of November 5th, 2012. Any savings they would have had from launching on that due date were blown away by the chaos ensuing.

A couple of things went wrong: The project management strategy was doomed from the start since, well, there was no strategy. National Grid was under the incorrect assumption that their system integrator Wipro would take charge of it. Next, testing of the ERP was only done under best-case conditions. Testing wasn't conducted for simulated emergency scenarios, the kind of emergency scenarios like hurricane Sandy they would inevitably face. This testing would have shown the system's inability to properly coordinate with the hundreds of outside utility vendors needed to manage the aftermath of disasters like Hurricane Sandy.

The aftermath was a financial storm of its own. 15,000 vendor invoices couldn't be processed, and many paychecks were too big or too small. National Grid ended up shelling out $8 million for overpayments and went into debt to the tune of $12 million for short pay. To make matters worse, financial reporting collapsed, so the short-term loans they relied on for cash flow were unavailable.

National Grid sued Wipro for $75 million and won, but this was a fraction of the $585 million sunk into this failed implementation.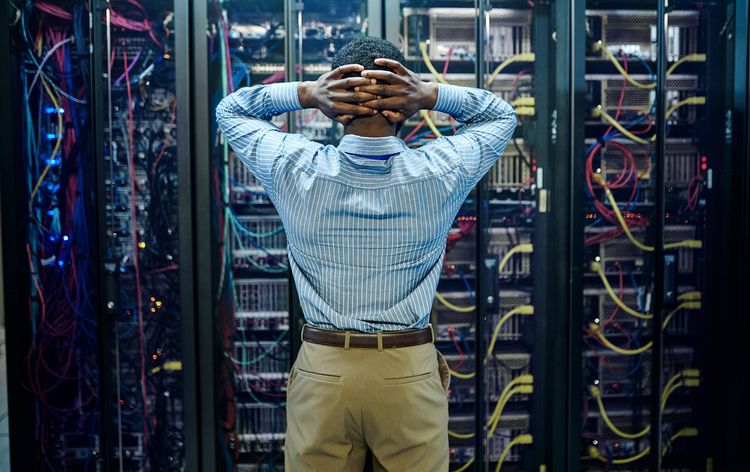 9

Hewlett Packard: Insufficient Employee Training (2004)

In a 2004 effort to replace decentralized legacy systems, HP decided to migrate their North American divisions to the SAP ERP solution. What they ended up facing was a host of problems that individually were manageable, but added together became uncontrollable.

Employees were accustomed to the decentralized legacy systems, so training them on the new system proved difficult. Then, data for orders became lost, delaying fulfillment and upsetting customers. Legacy system data was also lost, and information was hidden by data silos making it nearly impossible to access. On top of everything, demand suddenly jumped for HP products, but the teams were so focused on managing the dysfunctional software that they could not handle the increase in orders. Ultimately the software became riddled with bugs and broke down.

The failure cost them $160 million in lost sales and orders they could not process, which was five times more than the initial estimated cost of the implementation. They also lost $400 million in revenue for their Enterprise Servers and Storage (ESS) group.
10

Avon: Lack of Investment in Change Management (2009)

Avon's eagerness for a digital transformation with SAP wasn't enough to keep the company from moving backward.

Although Avon tested the e-commerce project in Canadian sales regions, they failed to align it with the actual business processes properly. As a result, what started as an effort to streamline operations (as most ERP implementations are) quickly became an even more complicated mess.

One-third of Canadian sales representatives quit because of an inability to handle the intricacies of the new system, with many unable to simply log into the website portal. Since Avon sales reps are independent contractors rather than employees, it is imperative to implement a system that is easy to use. This issue could have been avoided if Avon had invested in proper training and developed a system that could work for the skill level of its end users.

In 2013, $125 million, and four years later, the issues came to a head, and they scrapped the project.
11

Nike: Lack of Focus on Project Outcomes (2000)

"This is what you get for $400 million, huh?" - Phil Knight, co-founder of Nike, in response to the catastrophic software glitch that threw Nike's supply chain into a tailspin.

In an effort to get an even greater edge on the world's market, Nike decided to implement i2 demand planner software in 2000. The plan was that this ERP would automate their supply chain by forecasting demand for certain products rather than relying on the intel of retailers.

A 2002 CNET report explains how rushed implementation contributed to a problematic start. It was slow and full of bugs, and Nike needed to devote more resources to training employees to run it. Then, a software glitch ordered too many of the Air Garnett, a lower-demand sneaker, while failing to predict demand for the famous Air Jordan. This glitch ultimately caused the supply chain to collapse altogether, highlighting the need for rigorous software testing before launching.

On top of the $400 million spent on this ERP implementation fail, $100 million worth of revenue was lost, their stock value dropped 20%, and multiple class action lawsuits were filed. After five more years and at great expense, Nike was able to fix its ERP and repair its supply chain.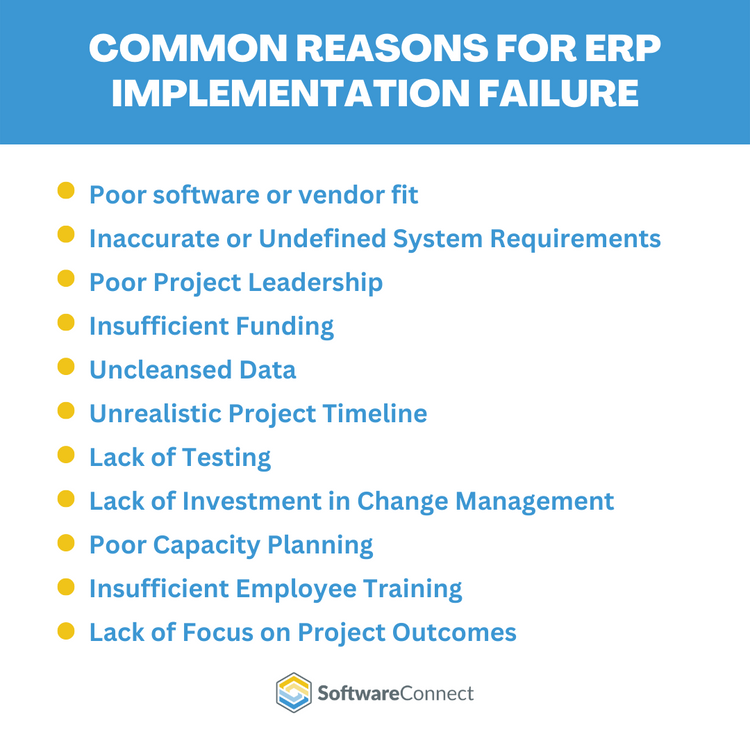 FAQ
Q: What is implementation failure?
A: An ERP implementation is considered a failure when the company cancels implementation before launching the system, the system is underemployed, or the company withdraws the system after the intended financial or operational gain is not attained.
Q: Which is the most important failure factor of ERP system implementation?
A: The most important failure factor of an ERP implementation is software that is a poor fit for the company or requirements that are undefined or unmatched to the actual needs of the company.
Q: How can an ERP implementation be successful?
A:
Get continued support from executive leadership
Hire an implementation partner that is familiar with your industry
Work with partner to clearly define requirements of the ERP
Involve employees in the project's development
Make a plan to transform business processes during and after implementation
Create a dedicated team to conduct change management
Establish project management tools to help the ERP launch on budget and on time.
---
Further reading
---