Buying an enterprise resource planning (ERP) system, is an unfortunately difficult process, especially when software providers hide their prices from the public. This guide can help you at least get in the ballpark when estimating the total cost of ownership (TCO) of a new ERP.
To start, the average cost of ERP software is between $1,740 and $9,330 per month, though this range can significantly increase depending on your annual revenue. To get an accurate estimate, you also need to know the number of users, implementation fees, and add-on functionality requirements.
Important Note: ERP vendors often customize their pricing structures to fit specific buyers. As a result, some of the numbers presented here are averaged and may not reflect any recent price changes.
What is ERP TCO?
ERP vendors estimate software should cost about 3% of annual sales, customizing the cost for each buyer. However, this ignores important factors like profit margins and can lead to inaccurate numbers.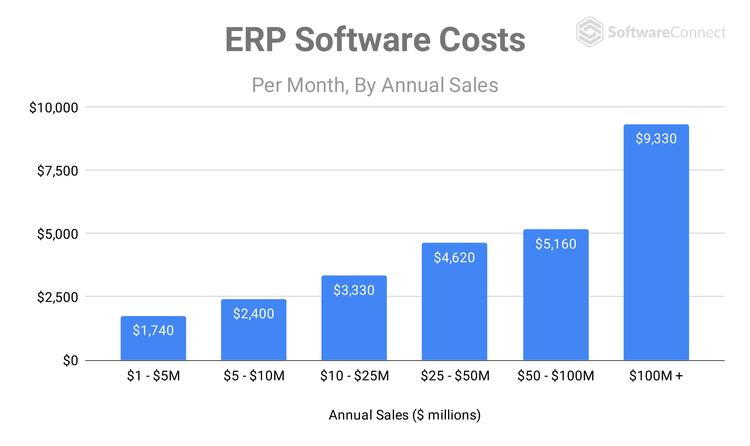 This chart reflects three years TCO of ERP systems. As seen here, the average monthly cost of ERP software for a small business ($1-$5 million in annual revenue) is $1,740. For an enterprise-level company making over $100 million annually, the monthly cost increases to $9,330.
In total, annual ERP costs range from $20,880 to $111,960. This is just the cost for the software itself, and does not include implementation, support, or user training.
ERP costs can vary wildly from business-to-business. Talk to one of our advisors today to get pricing customized for your business.
Price Guide for ERP Systems
ERP is expensive because it contains a multitude of business tools, making it incredibly valuable to businesses of every size across every industry. Modules cover everything from basic financials to human resources (HR) and customer relationship management (CRM). However, there are far more factors to consider than functionality, which can come across as hidden costs if you're not prepared.
The main variables which influence cost are:
Number of users
Subscription or perpetual licensing
Deployment method (cloud-based or on-premise)
Customization (if necessary)
Add-on modules (if available)
Implementation plan
User training and support
Hardware upgrades
Learn more about the impact each has on the TCO of ERP software.
Number of Users
The key variable when calculating ERP pricing is business size: small, mid, or enterprise. According to the Census Bureau and U.S. Small Business Administration (SBA), this is based both on your total employees and annual revenue. This will determine the starting range. One of the first variables to consider is how many users will be accessing your ERP: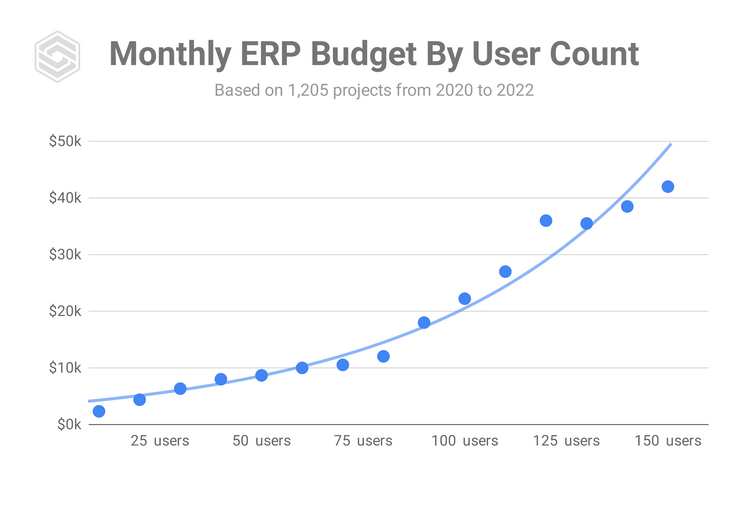 Further, the pricing models ERP vendors use charge per active user in addition to the base subscription package, adding anywhere from $40 to $200 per month to the total cost. Other providers charge based on the total number of employees, separating out payment plans based on the business size. Ten users at $100 each can increase the total monthly cost by $1,000.
Cost of ERP for Small Business
For a small business earning about $1 million in annual revenue, ERP prices are expected to range between $1,740 and $4,620 per month. This adds up to $20,880 to $55,440 per year, which doesn't include initial implementation or user training. And this doesn't account for the per user costs.
Fortunately, small businesses tend to have fewer employees and ERP users than midsize and enterprise companies. Depending on your industry, total employees can range from 50 to 1,500, resulting in lower per user costs.
ERP providers for small businesses are sometimes referred to as Tier 3, referring to the low degree of complexity and correspondingly affordable cost.
ERP Pricing for Midsize Businesses
Midsize businesses earning $50-$100 million per year can expect to pay between $4,620 and $5,160 per month for an ERP system. At this level, a major factor on software pricing is customization or integrations to better fit business needs. The higher number of employees and potential users raises the cost.
Midsize ERP vendors are classified as Tier 2, offering more robust solutions than Tier 3 and thus being priced higher.
Cost of ERP for Enterprise
For an enterprise-level company making over $100 million annually and with at least 1,000 employees, the monthly cost for an ERP averages $9,330. Understandably, larger companies with more employees and functionality requirements will be paying significantly more upfront than their small and midsize counterparts. While it should be obvious a global enterprise will pay more for software than a small business, there are additional factors to consider when calculating costs.
For instance, a large company might restrict ERP to active users, such as department heads, managers, and important decision makers. In some circumstances, ERP systems for an enterprise-level company are competitively less expensive on a per user basis, as there can be bulk discounts applied to companies with a high number of employees.
Enterprise-grade ERP vendors are Tier 1, providing users with the most functionality at the highest price point.
On-Premise vs Cloud-based ERP Pricing
A perpetual license is often described as a one-time fee for an ERP solution which is installed on-premise. Cloud-based or hosted solutions are accessible from anywhere in the world, as long as there is an Internet connection.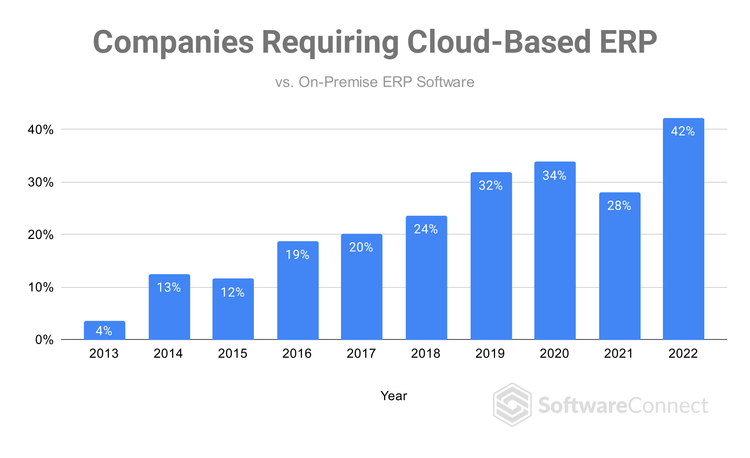 In previous years, on-premise ERP solutions were seen as the most secure option for businesses of all sizes. Due to improved security measures, cloud-hosted solutions have been on the rise for the past decade, quickly becoming the preferred choice for growing businesses in need of greater on-the-go accessibility.
Cloud ERP is generally software as a service (SaaS), meaning it charges a monthly, quarterly, or annual rate for continual use. Some plans allow for discounts when paid on an annual basis, providing significant savings for companies willing to plan ahead.
Perpetual License vs Subscription vs Open Source
The deployment method you choose often goes hand-in-hand with how you pay for your ERP: a subscription SaaS or a single, one-time perpetual license fee. Generally, but not always, perpetual licenses are for desktop applications while subscriptions are for cloud-hosted software. As seen on the below graph, one-time license fees tend to result in higher upfront costs, though a monthly or annual subscription package can add up over time.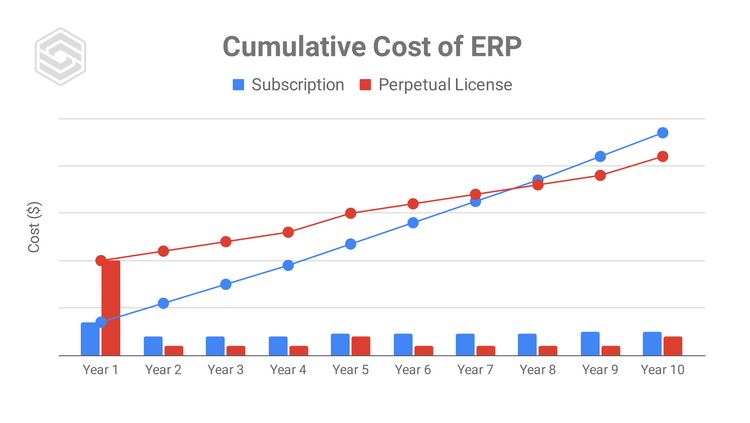 Subscription costs can appear cheaper since payments are divided on a monthly, quarterly, or annual basis. The total cost of ownership for a subscription usually adds up to the upfront costs of a perpetual license within a decade.
Open source ERP allows buyers to fully customize their system to best suit their needs. They are also, usually, free, though there are paid versions. There are still the usual costs associated with implementation and maintenance as seen with perpetual and subscription plans.
Implementation Process
The next pricing factor comes from the ERP implementation plan. Properly rolling out an ERP can take months or even years to complete. Waiting for implementation to finish can add to the costs
The implementation of ERP software is, generally, twice the cost of using the software annually. Using a starter package as an example, software which is $20,880 annually would really be at least $42,000 in implementation costs. However, this is a one-time payment which is only necessary when starting with a new provider.
The Cost of Adding Modules
One of the biggest influences on the cost of your ERP will be the addition of any extra modules. Basic plans cover several business processes, such as inventory management or accounting. But if you want project management to automate your workflow, or a more robust solution for financial management, you might need an additional module or two.
Some of the most popular add-ons for ERP include:
Industry-Specific ERP Pricing
Every industry has a different approach to selecting ERP software. However, there is an undeniable demand across every industry. Those which are most often seeking ERP solutions are: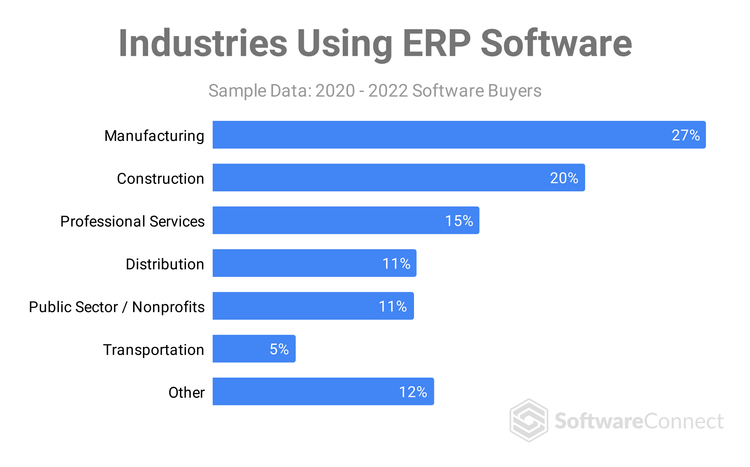 At 27%, manufacturing is the most represented industry when it comes to buying ERP software. Construction isn't far behind at 20%. Distribution and transportation, which fall under the larger scope of the supply chain industry, combine to form 16%.
The next highest response, professional services at 15%, covers a wide range of service-based work:
Consulting
Engineering
IT
Legal
Of all these respondents, it's no surprise there are industry-specific ERP solutions for certain business areas:
Manufacturing
Industry-specific manufacturing ERP options often cover purchase planning, demand forecasting, and master production scheduling functionality. This can also refer to MRP software, which offers further functionality for production planning, scheduling, and inventory management.
Construction
Construction management ERPs cover contractors, architects, and engineers. The core ERP features are based on what these professionals need most for construction jobs, such as accounting, job costing, project management, and estimating.
Just a few additional industry-specific ERP options are:
ERP costs can vary based on your industry. Get ERP pricing for your business.
Straightforward, core ERP systems are expensive to implement because of the above variables influencing price, yet there are a few hidden costs to consider as well:
Hardware and Data Migration
During implementation, companies might have to purchase additional hardware to support their new ERP. After all, a desktop from the '90s won't have the power to run a modern, cloud-based ERP. They will also have to figure out how to migrate data from any legacy systems. Many ERP vendors offer ways to automate this process to reduce data loss, although it adds to the total cost of implementation.
Training and Support
Finally, the implementation process will include user training and support options. Both may be optional, though are often recommended to ensure a smooth rollout. One year of customer support is usually, though not always, included in implementation fees. Consistent, real-time support might cost extra. Training plans are more flexible, as companies can arrange training for all employees or only key users who can then handle the rest of training in-house.
ERP Pricing of Top Products
Want to compare the pricing of some of the top ERP products on the market? Here are the minimum monthly prices and TCO a small to midsize company can expect to pay for a new system:
| ERP Vendor | Base Price | Cost Per User (Monthly) | Implementation (Est.) | Min. TCO (1 Year + 1 User) |
| --- | --- | --- | --- | --- |
| Acumatica | $1,800 per month | NA | $43,200 | $64,800 |
| Epicor Kinetic | NA | $175 | Unknown | $2,100 |
| Microsoft Dynamics | NA | $70 | Unknown | $840 |
| NetSuite | $1,300 per month | $99 | $31,200 | $47,988 |
| Odoo | Free | $28 | Unknown | $336 |
| Sage Intacct | $715 per month | $2,600 | $17,160 | $28,340 |
| SAP ERP | $1,357 (one-time) | $39 | $32,568 | $34,393 |
Disclaimer: ERP costs change frequently and are heavily influenced by customization and add-ons. These numbers are based on publicly available pricing information from the time of publication. Implementation estimates and TCO costs were calculated according to industry standards. More exact quotes can be requested from the vendors.
Does Free ERP Exist?
There are a few ERP vendors who advertise their systems as free, at least to start. And as previously described, many open source solutions are free to use, though require payment for maintenance, upgrades, and more.
Several top ERP providers offer significant discounts and sales opportunities throughout the year. Some deals are available quarterly while others are end-of-year rewards. Free trials are sometimes available for testing out a software solution before buying. However, the best way to keep costs down on your ERP project is to consider all the above price factors so you can have realistic expectations when requesting a quote.