As an apparel or textile manufacturer, you have to predict customer demand, be aware of current fashion trends, comply with governmental importing and exporting requirements, handle shipping logistics, and keep track of an expansive matrix inventory. ERP software designed specifically around apparel & textile manufacturing and sales will help you manage all of the unique manufacturing and operational challenges you face.
If you're looking for an apparel ERP software, there are many solutions tailored to the fashion, clothing, and textile industries–it's just a matter of narrowing down your search based on the functionalities and features you require out of a software solution.
This guide will provide you with valuable information on:
What is Apparel & Textile ERP Software?
ERP software helps you make the best use of your resources by managing financials, manufacturing processes, human resource, supply chains, and other aspects of your business. Apparel manufacturers and retailers need industry-specific ERP software to coordinate their supply chain efficiently and reliably.
Apparel and textile ERP software can cater to retailers, manufacturers, and wholesalers. Depending on the solution and your company's needs, apparel and textile ERP software can also be used for things like product design and development, customer relationship management, and capacity requirements planning.
Features of Apparel ERP Software
Apparel ERP software has a variety of modules to keep your clothing and textile business running smoothly at virtually every stage; from conceptualizing and designing products to getting the products into your customers' hands in a timely manner.
Apparel and textile ERP solutions often feature:
Feature
Description
Order processing
Order processing ensures customers are getting the right products delivered on time.

Includes the creation of shipping notices and invoices for customers, address verification, order status monitoring, backorder management, invoice creation, order cloning, sales tax management, and generation of pick tickets and pack lists for order fulfillment.
MRP
Manufacturing resource planning and material requirements planning streamlines production processes to increase productivity and efficiency.
Includes master production scheduling, purchase planning, demand forecasting, shop floor control, and equipment maintenance scheduling.
Inventory management
Keeps track of product information including inventory costing, location tracking, and stock count tracking, so you know what you have and where to find it, as well as when to re-order more products.
Apparel Matrix Inventory System
Lets you set size, color, and style variations and tracks each product as a separate SKU.
Planning Apparel Lines and Seasonal Products
Tracks products by season and provides notifications when a specific line or style should be put on clearance or produced for an upcoming season.
Logistics
Coordinate, calculate, and maintain shipments, shippers, and vehicles.
Quality control
Analyze quality-related risks, set quality objectives, implement workflows to achieve standards and audit for optimal performance.
Project management
Coordinates the execution of project tasks including planning, scheduling, resource allocation, quality management, time tracking, and collaborative document sharing.
Customer relationship management (CRM)
CRM functionality helps you manage and improve business-customer relationships.

Includes contact management, recording customer order history, issue ticketing, and marketing/email template management.
Accounting
Tracking of revenue and expenses including accounts payable, accounts receivable, and a general ledger.
Benefits of Apparel & Textile ERP Software
Improved delivery times. Apparel and textile ERP software streamlines business processes like inventory management, project management, and logistics, so items can quickly be picked, sorted, packed, and shipped to customers efficiently. Having organized processes will help get your products out to customers faster.
Improved customer relationship satisfaction. Having faster delivery times improves overall customer satisfaction. Another way to improve customer satisfaction is the use of issue ticketing, which will help you keep track of comments or complaints, allowing you to reply quickly and address their concerns. Having an average turnaround time of 1 day (or less, if possible) will give your customers greater satisfaction than making them wait multiple days, weeks, or months for a response.
Decreased machine downtime. Equipment maintenance scheduling keeps your machine downtime low. You will be able to schedule, organize, and track regular preventative maintenance, as well as unforeseen critical maintenance tasks.
Language and currency translation. Some apparel ERP software can automatically translate languages and currency based on your customers' location and preferences, so you can cater to a wider client base in various regions and locations.
Improved data security and management of digital documentation. Documents, emails, forms, and other key company data can be stored securely, and shared with specified users throughout your organization. Manually entering important information can lead to errors and can slow down your operations. Digital documentation management gives you the ability to securely store or retrieve customer contact or order information, product design documents, and confidential information like credit card info.
What Does Your Business Need?
New buyers and small apparel businesses: Startups and smaller apparel and textile companies are often satisfied with off-the-shelf software that handles basic accounting and inventory management.

There are some ERP solutions catered towards small businesses that give you the flexibility of adding on modules (such as point of sale or production management) down the road. Many small businesses invest in these small business apparel ERP options if they foresee growth and company expansion in the future.
Existing ERP users requiring additional functionalities: If you're using something like QuickBooks Enterprise or a small-business ERP solution, you'll want to upgrade to a solution that provides functionalities tailored to your growing business. Look for an ERP with features like payroll, POS, and production management that offers scalability.

When you start getting to be a medium-sized business, you're more likely to need a fine-tuned apparel industry-specific option instead of an industry-neutral software to assist with things like product design and manufacturing, interaction with suppliers, customer service, and order tracking.
Large companies: Large, enterprise-level businesses use ERP software to automate and manage nearly all of their business processes and management capabilities. Multinational retailers especially need to have powerful software that can reliably convert currency and taxes, as well as manage multiple warehouses around the country (or even around the world). Apparel sizing also differs from country to country, so you'll need a solution that provides sizing definitions or conversions based on the customer's location if you ship worldwide.
Popular Solutions
FDM4 ERP (shown in the video above) is a full ERP system developed by Cutsey Business Systems and provides apparel wholesale distribution and E-commerce solutions. FDM4 ERP's key functionalities include AR and AP, CRM, general ledger, inventory control, order processing, purchase order management, sales analysis, and work order tracking. FDM4 ERP has been installed by apparel companies with 20 to 1000+ users, and annual revenues of over $5,000,000.
NOW ERP (shown in the video above) is a system developed by Datatex tailored specifically to textile, fashion, garment, and fabric manufacturers. Key features include order management, merchandising, procurement management, inventory tracking, and production planning.
A2000 is an ERP system developed by GSC Computers for distribution and wholesale trade companies. This solution was developed with the fashion industry in mind. It's meant for businesses manufacturing and selling apparel, garments, textiles, accessories, footwear, and home furnishings. Key features include data analysis, EDI, financial management, forecasting, inventory management, warehouse management, and product development.
Is QuickBooks an Apparel ERP Alternative?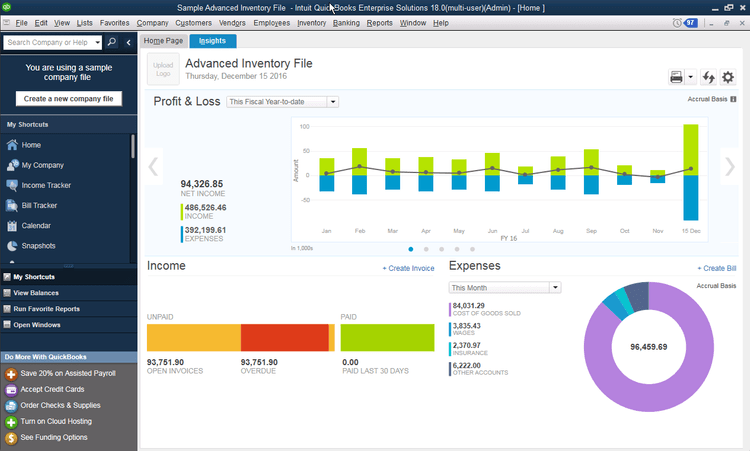 Many businesses have gotten by with QuickBooks Enterprise either as-is or by finding available add-ons, but it doesn't offer industry-specific features. Finding an apparel or textile ERP software still works best for some small businesses and is especially recommended for medium to large businesses.
Pain Points
Replacing older legacy systems. If your current ERP isn't doing its job for your business or is outdated, it can be time-consuming to replace it with a newer system. Many older ERP solutions are coded in languages that may not be widely used anymore and may not be keeping your data as secure as they should. Today, you can get apparel or textile ERP software that is more secure and easier to maintain than older systems.
Figuring out which modules or functionalities you need. Most apparel ERP software systems have extra modules and functionalities like customer relationship management and quality control to keep your business performing above the competition. Some systems allow you to turn modules on and off, or allow you to select which additional modules to purchase based on your business's needs. It can be difficult to decide which modules and functionalities are the best fit.
Integrating your new ERP with existing systems. If you have proprietary systems in place, it can be too time-consuming to migrate all of your data from one system to another. Some ERP software vendors prefer their system to be fully integrated, but that might not always be possible. You will have to decide what integrations you need based on your company's requirements and your budget.
Industry Trends
Business intelligence tools becoming more necessary. Fashion and apparel retailers, as well as textile manufacturers, are using business intelligence tools more frequently to gather information on things like trends and patents. Our accounting buyer trends survey mentioned previously found that companies with more than 50 employees were 70% more likely to need software that handled business intelligence.

Personalized ecommerce shopping experiences are important to consumers. Research by Bazaarvoice found that "66% of fashion and apparel shoppers said that a personalized shopping experience and product recommendations are somewhat or very important."

If your online retail store isn't showing customers any recommended products or inaccurate recommended products, your potential customers are less likely to remember your business, putting you at risk for losing potential sales.

An apparel ERP software will be able to provide recommendations to customers based on their viewing habits and previously purchased items, as well as recommending other products in a specific product line or style.

Mobile and cloud ERP being more widely used. Businesses in the apparel and textile industries have been choosing a form of cloud ERP or mobile ERP. These solutions allow sales staff to easily access customer information or warehouse staff to see information on orders needing to be filled. Information can easily be shared between departments, increasing communication efficiency.

We've found that cloud ERP software is much more common among smaller businesses than large businesses. Our accounting buyer trends survey discovered that companies with over 50 employees were 41% less likely to consider cloud-hosted accounting software.