Apparel ERP software is a highly specialized tool engineered to streamline and manage every aspect of the apparel manufacturing process, from order acquisition to distribution. It offers a myriad of advantages including precise inventory management, effective supply chain coordination, seamless integration of various related systems like accounting and marketing, and the ability to adapt to evolving market demands–ultimately bolstering the efficiency and profitability of your apparel business.
We've examined 20+ providers across 7 metrics to rank the best apparel ERP software. Our ratings take into account factors such usability, support, scalability, security, value, performance, and the range of features offered. All ratings are determined solely by us, enabling you to make the most informed decisions for your business's needs.
1

BlueCherry ERP - Best Overall

BlueCherry ERP is built upon proven Microsoft technologies, so it will be familiar to your users and easy to use so they can be instantly productive.

Blue Cherry is scalable to companies of all sizes. It can be implemented on-site or on-demand (SaaS), providing flexibility to leverage what you need today and be expanded as your needs change.
2

ApparelMagic - Best for Multi-Channel Stores

ApparelMagic is an apparel software which includes multi-channel sales, multi-warehouse inventory, multi-currency accounting, purchasing and manufacturing, powerful integrations, and customer support. This ERP acts as a central hub for all your business needs.
3

FDM4 ERP - Best End-to-End Features

FDM4 ERP is an ERP solution designed with apparel in mind. This ERP system provides end-to-end functionality and visibility across your entire business.

FDM4 ERP software includes:
Financial accounting
Purchasing
Order processing
Inventory
Manufacturing
Decoration
EDI
4

N41

N41 is an ideal solution for online apparel businesses seeking to optimize their operations and stay competitive in the fashion industry. N41's track record in servicing fashion brands, manufacturers, and wholesalers worldwide underscores its expertise in meeting the specific needs of the apparel sector.

One standout feature is the mobile app tailored for tradeshows and showrooms, offering the convenience of on-the-floor scanning without the need for bulky computers. And the enhanced user security and audit trail capabilities contribute to a secure and compliant operation, making N41 a top choice for apparel businesses looking to thrive in the online marketplace.
5

A2000

A2000 by GCS is another top choice for online businesses seeking a comprehensive ERP solution tailored to the fashion and apparel industry. This software makes it easy for expanding beyond QuickBooks and Excel spreadsheets.

A few of the features offered by A2000 include:
Product lifecycle management (PLM)
Warehouse management
Order processing
Financials
Inventory control
6

Apparel Maestro

Apparel Maestro by IGG is built on the Sage 100 platform. As an ERP, it offers comprehensive sales tracking, UPC code management, cost support, stock management, and automated purchase order generation.

Apparel Maestro seamlessly integrates with MAS 90, simplifying size and color management by enabling the sale and purchase of items by size, style, and color. This integration makes Apparel Maestro a must-have solution for apparel companies seeking to thrive in a dynamic market.
What is Apparel ERP Software?
Apparel manufacturing ERP software manages the ordering, inventory, and assembly of clothing and textile products. A type of manufacturing software, apparel ERP systems utilize industry-specific features such as product label management, cutting ticket management, season and line planning, and size and color matrixes–features that help coordinate their supply chain efficiently and reliably.
Apparel business management software can cater to retailers, manufacturers, and wholesalers by integrating applications for supply chain and logistics, design and product development, manufacturing, and electronic data interchange (EDI). Depending on the solution and your company's needs, apparel management software can also be used for things like product design and development, customer relationship management, and capacity requirements planning.
The best apparel enterprise resource planning software will combine traditional features such as financial accounting and purchasing along with eCommerce, warehouse management, and customer relationship management (CRM).
Real-time transactions can automatically generate G/L postings.
Purchasing can forecast future needs and centralize vendor information related to vendor performance
Order processing includes style-based entry-screens that promote accuracy
Inventory helps ensure goods are available to complete customer orders
Manufacturing helps lower operating costs while improve inventory turns through work orders and raw material assembly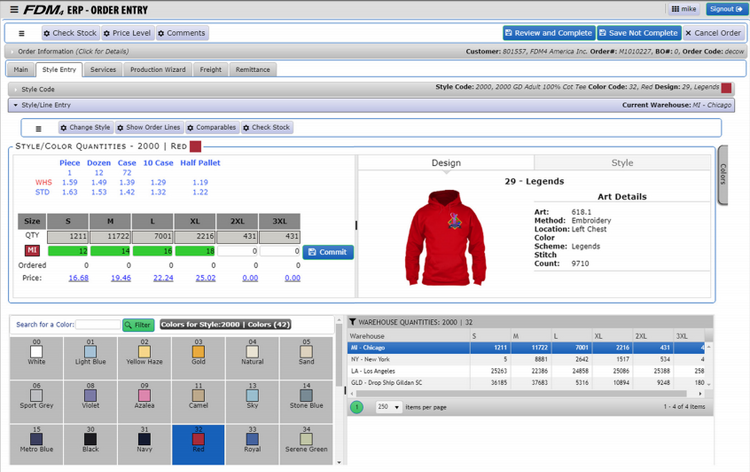 What Are Features of Apparel ERP Software?
Apparel management software has a variety of modules to keep your clothing and textile business running smoothly at virtually every stage; from conceptualizing and designing products to getting the products into your customers' hands in a timely manner.
Apparel ERP solutions often feature:
Order Management: Includes the creation of shipping notices and invoices for customers, address verification, order status monitoring, backorder management, invoice creation, order cloning, sales tax management, and generation of pick tickets and pack lists for order fulfillment.
MRP: Streamlines production processes to increase productivity and efficiency. Includes master production planning and scheduling, purchase planning, demand forecasting, shop floor control, and equipment maintenance scheduling.
Inventory Management: Includes inventory costing, location tracking, and stock count tracking, so you know what you have and where to find it, as well as when to re-order more products for proper inventory control.
Product Lifecycle Management (PLM): Develop new products faster by aligning data and processes from conception to the design and manufacturing stage.
Apparel Matrix: Lets you set size, color, and style variations and tracks each product as a separate SKU.
Planning Apparel Lines and Seasonal Products: Tracks products by season and provides notifications when a specific line or style should be put on clearance or produced for an upcoming season.
Logistics: Coordinate, calculate, and maintain shipments, shippers, and vehicles.
Quality Control: Analyze quality-related risks, set quality objectives, implement workflows to achieve standards and audit for optimal performance.
Accounting: Tracking of revenue and expenses including accounts payable, accounts receivable, and a general ledger.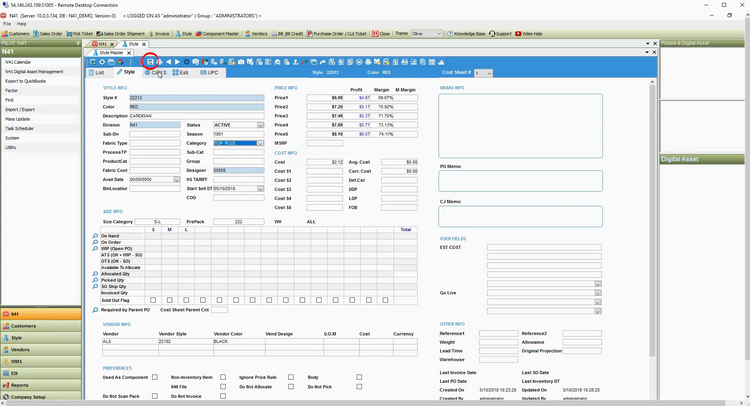 What Are The Benefits of Apparel ERP Software?
Apparel business software can help source raw materials, manage manufacturing and quality control, control warehouses, and manage distribution and accounting. By organizing these capabilities into a single centralized platform, users can experience a number of benefits to increase profitability.
Improved Delivery Times
Apparel management systems streamline business processes like inventory management, project management, and logistics, so items can quickly be picked, sorted, packed, and shipped to customers efficiently. Having organized processes will help get your products out to customers faster.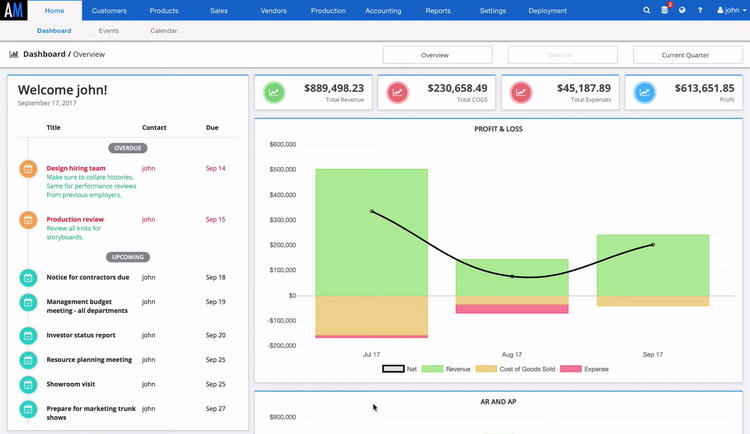 Improved Customer Relationship Satisfaction
Having faster delivery times improves overall customer satisfaction. Another way to improve customer satisfaction is the use of issue ticketing, which will help you keep track of comments or complaints, allowing you to reply quickly and address their concerns. Having an average turnaround time of 1 day (or less, if possible) will give your customers greater satisfaction than making them wait multiple days, weeks, or months for a response.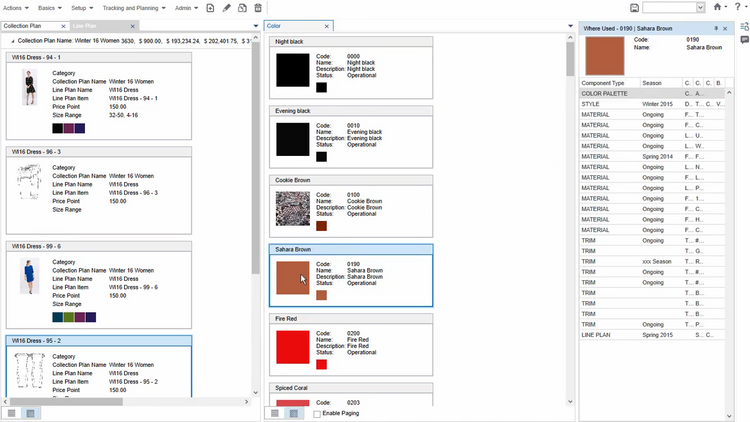 Decreased Machine Downtime
Equipment maintenance scheduling keeps your machine downtime low. You will be able to schedule, organize, and track regular preventative maintenance, as well as unforeseen critical maintenance tasks.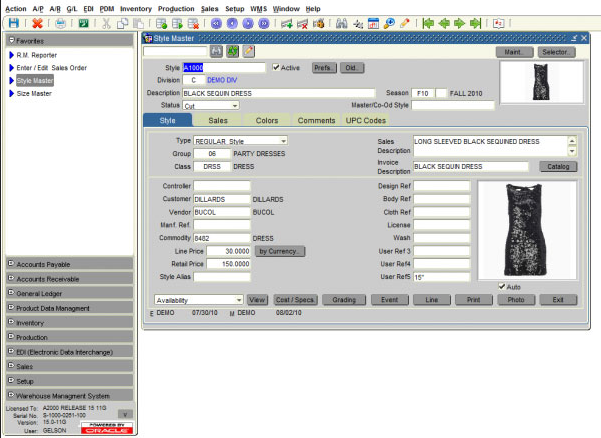 Language and Currency Translation
Some apparel ERP software can automatically translate languages and currency based on your customers' location and preferences, so you can cater to a wider client base in various regions and locations.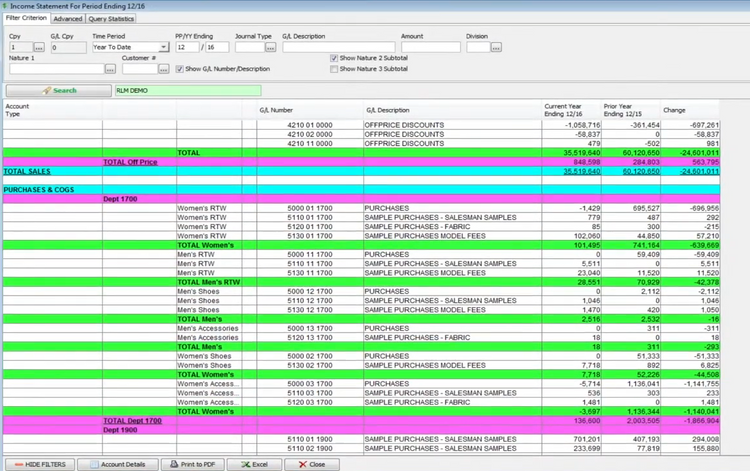 Improved Data Security and Management of Digital Documentation
Documents, emails, forms, and other key company data can be stored securely, and shared with specified users throughout your organization. Manually entering important information can lead to errors and can slow down your operations. Digital documentation management gives you the ability to securely store or retrieve customer contact or order information, product design documents, and confidential information like credit card info.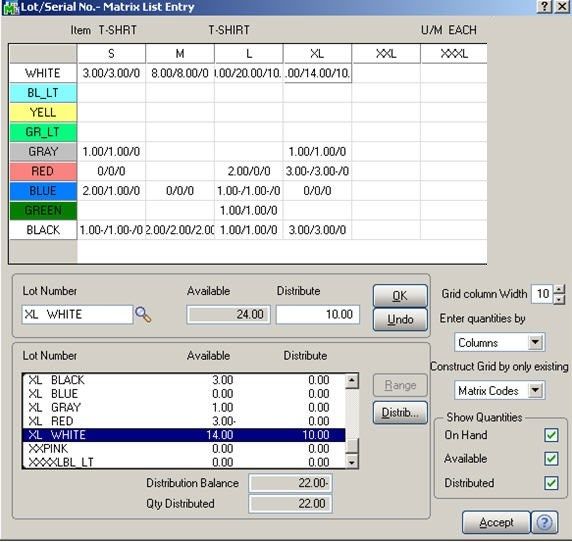 What Should Your Business Look For?
Depending on the size of your business, your business will need varying levels of optimization and decision support. Will a simple accounting system work? Or does your business require heavy integration via APIs? Do you need to manage purchase orders, or do you handle a large volume of manufacturing in-house with a bill of materials?
New Buyers and Small Apparel Businesses
Startups and smaller apparel and textile companies are often satisfied with off-the-shelf software that handles basic accounting and inventory management. There are some ERP solutions catered towards small businesses that give you the flexibility of adding on modules (such as point of sale or production management) down the road. Many small businesses invest in these small business apparel ERP options if they foresee growth and company expansion in the future.
Existing ERP Users
If you're using something like QuickBooks Enterprise or a small-business ERP solution, you'll want to upgrade to a solution that provides functionalities tailored to your growing business.
Look for an ERP with features like payroll, POS, and production management that offers scalability. When you start getting to be a medium-sized business, you're more likely to need a fine-tuned apparel industry-specific option instead of an industry-neutral software to assist with things like product design and manufacturing, interaction with suppliers, customer service, and order tracking.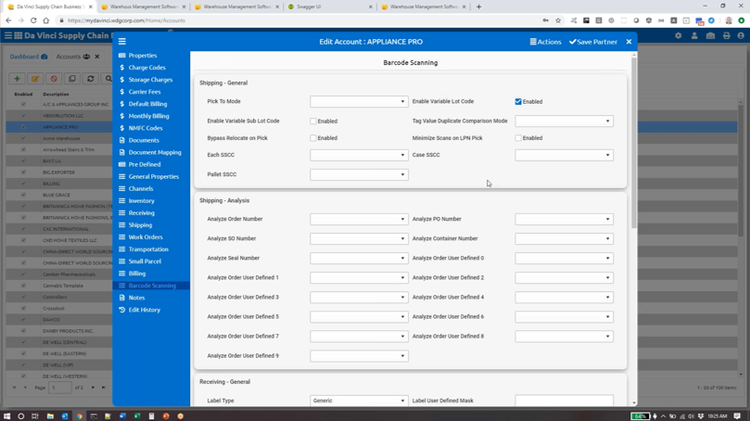 Large Companies
Large, enterprise-level businesses use management solutions to automate and manage nearly all of their business processes and management capabilities. Multinational retailers especially need to have powerful software that can reliably convert currency and taxes, as well as manage multiple warehouses around the country (or even around the world). Apparel sizing also differs from country to country, so you'll need a solution that provides sizing definitions or conversions based on the customer's location if you ship worldwide.