ERP Definition: What Does it Actually Mean?
ERP is an acronym that stands for "Enterprise Resource Management", the consolidated process of gathering and organizing business data through an integrated software suite. ERP software contains applications which automates business functions like production, sales quoting, accounting, and more.
In layman's terms, ERP facilitates your company operations across every department. ERP solutions improve how you handle business resources, whether it's raw materials for manufacturing or staffing hours for human resources.
There are many more ERP definitions, which vary on whether they're intended for developers, vendors, or technology media. Most agree ERP is intended to serve all departments of a company with better business processes.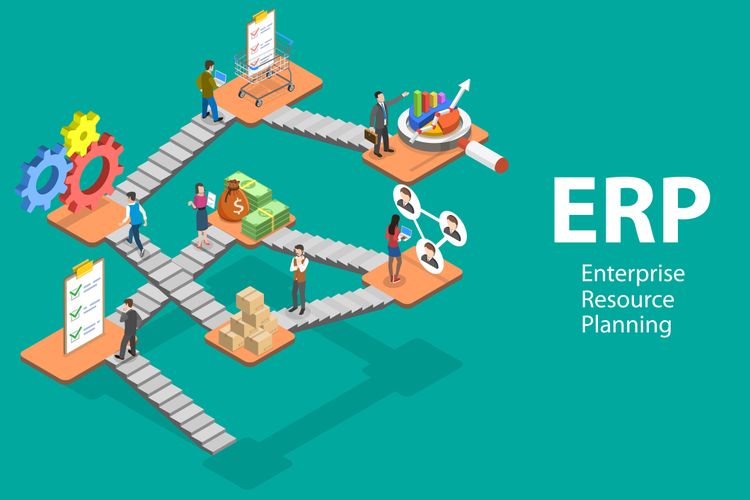 The History of ERP Practices
Businesses have always tried to use enterprise resource management, even if it didn't have that name. Companies have always struggled to balance all their different practices with sacrificing resources elsewhere. For a long time this meant companies had to hire additional staff to manage each department. International companies had to rely on outsourced labor abroad with no way of checking in.
The first traces of ERP were found in manufacturing, with the economic order quantity (EOQ) model, a paper-based scheduling system. This was replaced by material resource planning (MRP) tools developed in the late 1960s which eventually became manufacturing resource planning (MRP II) tools. Modern ERP practices began in the 1990s due to the rise of computer software being integrated with daily business operations. Coined by the Gartner Group, the term originally focused solely on the new digital tools allowing manufacturers to manage their supply chain relations, control inventory, automate accounting, and much more.
Today, ERP is found across a variety of industries, not just manufacturing. And since the early aughts, ERP software is now available from Cloud-hosted platforms.
Types of ERP by Industry
There are several different types of ERP designed for several industries in order to address their specific needs:
Why is it so important to use an industry-specific ERP solution? A general ERP system will weigh you down with unnecessary features. For example, manufacturers need applications for sourcing raw materials while the higher education sector mostly needs scheduling tools for student, teacher, and staff. While a manufacturing plant still needs ERP with scheduling applications, a school doesn't need ERP to manage raw materials.
If your business downloads a general ERP full of features you don't need, all you're doing is slowing down your own resources. Instead of overloading your computers with a bloated software package, save computing space by only installing the ERP you need.
Types of ERP by Implementation
There are also different operational types of ERP software:
On-premise ERP: This is any ERP software which is deployed directly on your in-site devices. These systems are designed for businesses of all sizes though may be more appropriate for small and medium companies.
Open Source ERP:Like any open source software, this solution lets you inspect, modify, and enhance your ERP source code. Using an open source ERP lets you customize your application to better suit your workplace.
Cloud-based ERP: Any ERP Software-as-a-Service (SaaS) which is available over a Cloud-hosting service rather than on-premise deployment. This option lets you access real-time data as long as you have Internet access and is suitable for large enterprises.
Hybrid ERP: Enterprise resource planning systems which blend on-premise and Cloud-based deployment.
Cloud-based ERP software is ideal for companies with multiple locations which need to stay in coordination with one another. Wondering which is right for your business? Contact Software Connect for ERP software recommendations specific to your business!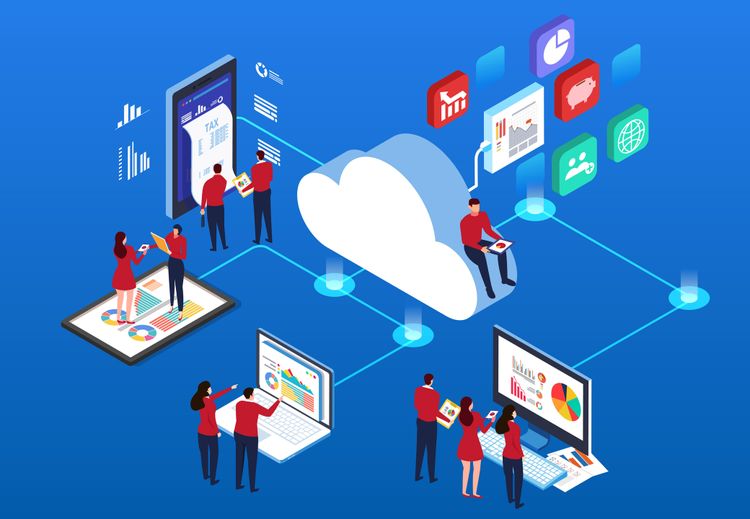 Benefits of ERP
Enterprise resource management provides better business performance with these great benefits:
Workflow Visibility and Streamlining
Before ERP systems, coordinating between multiple worksites took a lot of time and effort. If you wanted updates on a specific part of your business, you had to call or visit the site physically. Large corporations with national and international locations alike had to work around time zones. And if there was an issue with one of your production partners abroad, it could set back your entire business while you made endless phone calls and site visits.
Fortunately, ERP systems revolutionized workflow visibility. Now, even when you're in your office headquarters, you can open a common database from your ERP suite to get real-time details about what's simultaneously happening at your manufacturing plants abroad and distribution centers right at home.
Business Intelligence and Data Analytics
In order to run your business, your decision-making needs to be guided by accurate data. ERP solutions use business intelligence (BI) tools to provide data collection, analytics, and reporting methods. There are even ways to analyze data in real-time to make instant changes to your production processes. You can additionally use historical data for business forecasting.
Or put your data into customized reports. Present these reports to important shareholders, business partners, or your team to keep everyone informed of key performance indicator (KPI) metrics.
Scheduling Solutions
Scheduling tools are a highly customizable part of ERP solutions. You can organize when workers come in for shifts, when inventory is delivered, and when your factories undergo maintenance. Then coordinate each schedule into a single calendar so all your departments and supply chain partners stay on the same page.
Cross-Department Collaboration
The more departments your company has, the more important it is to manage internal communication practices to avoid mistakes. And if your company has locations all over the world, you need a way for everyone to stay in contact across time zones and language barriers. A miscommunication between your raw material supplier and distribution center can lead to costly inventory errors. ERP communication tools organize scanned documents, files, emails, texts, and phone call recordings. There are even private, internal channels for instant communication.
You can also use customer relationship management (CRM) tools to schedule external customer interactions, like quote follow-ups and lead tracking.
Risk Management and Data Security
Protecting your company from fraudulent practices is more important than ever in the digital age. If your business operates online in any way, you can be at risk. Real-time risk management tools give your company additional security by performing automated audits and fraud monitoring.
Your company handles a lot of sensitive data. Using a single ERP system provides security by keeping all your important documentation and communication in one place. You can also cut down on data duplication by keeping all your information within one cohesive system.
Customizable Solutions
Every company has to factor in some unique variables in their operations. Does your business work with international companies? Do you regularly have to submit official documents to government entities? Does your marketing department target audiences across social media channels? Good news: there are ERP softwares with custom modules to fit your exact business needs!
New technology is changing the capabilities of ERP applications. The latest trends include artificial intelligence computing and the Internet of Things (IoT) solutions.
Popular ERP Software Brands
Here is a sample of the most popular systems in our network. For a more exhaustive list, check out our list of ERP software.