What is Auto Repair Software?
Auto repair software manages the day-to-day operations of an auto repair shop, whether they are commercial enterprises, local body shops, collision centers, or independent service garages. Also called shop management software, these solutions are designed to streamline service by providing everything from basic accounting to detailed vehicle history through VIN decoding.
Auto repair software helps shops of all sizes and configurations gain access to parts dealers nationwide. Shop owners, mechanics and auto repair specialists can use these systems to automate garage operations in the back office and on the shop floor. By turning over day to day operations to a software, you can stay focused on performing repairs, scheduling maintenance, and keeping customers happy.
Features of Auto Repair Software
Vehicle history: Track vehicle maintenance history, parts replacement, and other relevant information about specific parts and repairs
Vehicle identification number (VIN) decoding: Use the VIN of each vehicle to learn important details about vehicle history and the original equipment manufacturer (OEM)
Work order management and service tickets: Send out tickets to your shop team for all necessary repairs and other work orders
Appointment scheduling: Allow customers to schedule maintenance and repair appointments through an online portal
Customer relationship management (CRM): Manage new and existing customer contact data and track their service history
Point of sale (POS) system: Provide customers with an easy way to pay with an easy to operate system; make sales on-the-go with mobile POS apps for mobile devices; allow credit card transactions and other forms of payment
Estimates and quotes: Determine service pricing based on labor rates and parts necessary for repairs
Billing and invoicing: Automatically generate invoices to customers in a timely fashion; consolidate billing information into one easily accessible location
Time tracking: Calculate labor from employees against labor guides to calculate wages and invoices
General accounting: Gain basic financial tools such as general ledger, accounts receivable, accounts payable, and more
Parts inventory management: Maintain an accurate count of all parts you carry in stock along with a list of dealers you work with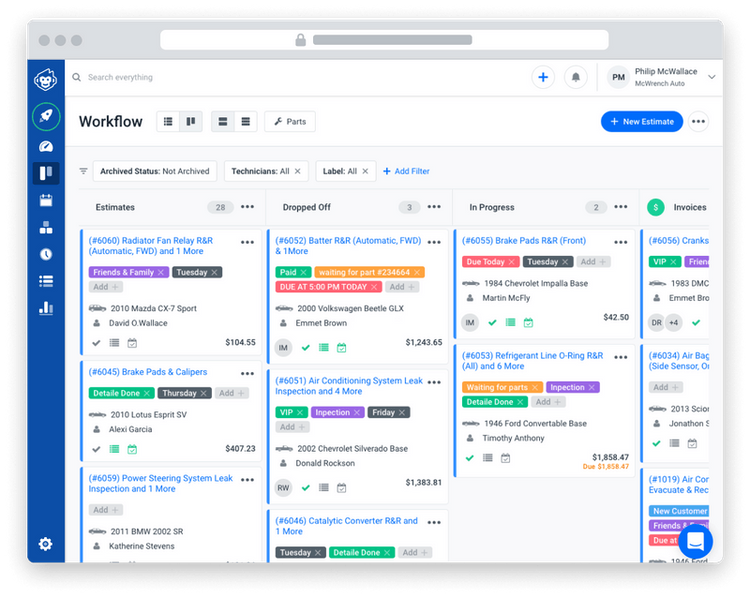 Best Auto Repair Software Benefits
Adding an automated software to your automotive repair shop can provide many useful benefits, including:
More Accurate Vehicle History
One of the first problems many mechanics run into with auto repair is trying to figure out what is wrong with a vehicle. Customers who are unsure about car mechanics can increase confusion by mixing up terminology when describing problems. And sometimes it's impossible to recreate an engine issue in the controlled environment of your shop floor. How can you determine what is wrong with the vehicle in a reasonable amount of time?
The answer is to have a detailed vehicle history providing a framework for any current and future service. Auto repair software provides many valuable tools to mechanics and garage managers. First, VIN decoding can trace back to the OEM directly, allowing you to procure the exact replacement parts necessary for optimal repairs.
Next, knowing the VIN can lead to valuable data about the vehicle's general condition. For example, if there are any active recalls for that specific make or model. All of this information can be tracked thanks to auto repair software. You can even directly access nationwide databases when getting new or replacement OEM parts to ensure compliance with the manufacturer in the event of a recall.

Better Customer Management
How many times has a customer come into an auto repair business and made an impossible to decipher noise to replicate what they've heard the engine do? They're left frustrated when you're unable to perform diagnostics based on their descriptors alone and you're left falling behind on repairs trying to keep them happy. As described before, a detailed vehicle history can provide valuable information about a vehicle's past without having to consult the customer. This can lead to better relationships with your clients, as they no longer have to try describing complicated engine problems themselves. Instead, they can simply schedule service through an online appointment portal, drop off their car at your shop, and know the issues will be resolved.
Additionally, CRM tools can track basic customer information such as their contact details, billing records, and payment history. No more worrying about which number to call when repairs are done, or where to send the final invoice. You can completely automate customer service so your team can keep working on repairs instead of tracking down customers when invoicing.
Scalable Solutions
Whether you operate a small service center or are part of a commercial chain, auto repair shops of all sizes can benefit from custom software. Single mechanic garages can utilize auto repair systems to streamline the majority of business processes to keep operations running. For a busy shop boss, this can be the difference between falling behind on repair orders or completing jobs ahead of schedule.
A single garage can quickly become the starting point for an automotive repair empire. Auto repair software can scale to match your expanding business, allowing you to organically grow over time. Cloud-based systems can even be utilized at multiple locations, allowing you to keep and share information between various facilities in real-time. For instance, if one garage you operate only performs general maintenance while another does full collision repairs, you can use the software to coordinate between the two if a damaged vehicle is brought into the first location and needs to be moved to the second.
Auto Repair Software Pricing
Auto garages often operate on tight budgets, which is why utilizing the right software can greatly reduce expenses by automating back office work. Some SaaS plans begin at $59 per month and go up to $699 per month. Pricing for auto repair software can vary greatly depending on several factors:
Size of operation
Number of users
Number of facilities
Once these variables are taken into account, there is also the question of using an on-premises or Cloud-based software solution. The former is popular with small businesses while the latter is ideal for large operations, particularly those with multiple locations.
Next, the full range of tools provided can impact the price. Most shop management systems include basic accounting software to balance the general ledger, freeing you and your employees up to focus on actual repair work.