NetSuite has been one of the leading integrated cloud business software suites since the company was formed in 1998. The solution is routinely considered to be one of the best enterprise resource planning software (ERP software) options on the market, due to integrating business accounting, CRM and eCommerce capabilities.
Likewise, SAP has been a leader in business applications since the launch of its first ERP system in 1972. Today, the company has over 425,000 customers in over 180 countries and employs over 100,000 people worldwide. They offer dozens of ERP solutions for seemingly every size of business and every type of industry, and as of 2021 unveiled the first step toward creating the world's largest business network with SAP Business Network.
If you'd like, feel free to skip ahead to our individual comparisons of NetSuite vs SAP software:
When comparing NetSuite vs SAP products, you might notice a large amount of overlap when it comes to functionality. So how do you choose which is right for your organization?
Below you'll find our side-by-side comparison of Oracle NetSuite ERP, SAP Business One, SAP ERP, and SAP S/4HANA. This includes a look at their deployment options, their pricing levels, and more.
Comparing SAP vs NetSuite is like looking into a Venn diagram. While the software offerings from both companies overlap in many ways, they also have their own strengths and weaknesses. While technically an industry-neutral solution, NetSuite tends to cater to manufacturing and supply chain businesses. SAP, on the other hand, has traditionally always had strong sales and professional service capabilities.
Choosing the wrong ERP software for your business can lead to thousands of dollars spent on future customization needs and consultation fees. Because of this, your business will want to make sure you have all the facts before jumping into a commitment with an ERP vendor.
Before getting started, you'll want to assess your business processes, develop selection criteria, choose which software you want to evaluate side-by-side and connect with a software vendor.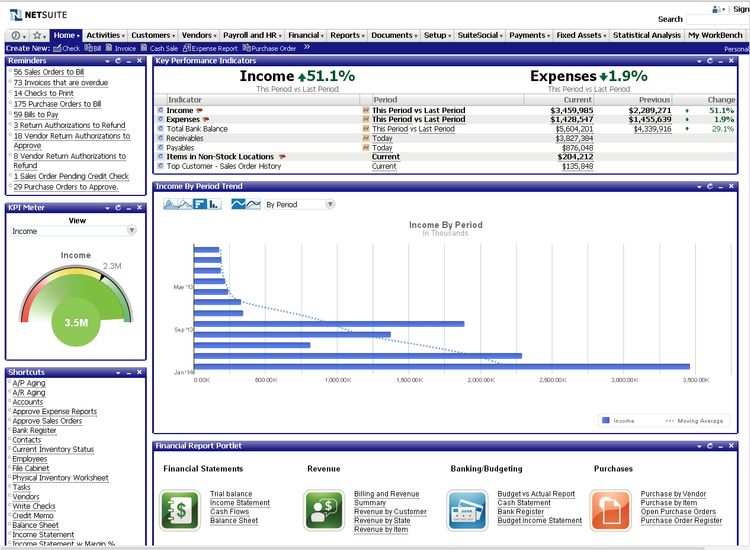 NetSuite vs SAP Business One
Most SAP products such as SAP Business One were originally intended to be on-premise. SAP has evolved and now has a large library of cloud ERP software that can be externally hosted if the user chooses. SAP Business One is one of those options.
Alternatively, NetSuite was designed to be a cloud ERP system from its inception. As such, there is only one version of NetSuite to deal with, and accessibility issues across multiple devices aren't as prevalent of an issue compared to some SAP options.



Starting Price
$410/user/year
Deployment
Cloud or On-Premises
Some users claim SAP Business One provides a lack of flexibility to choose what you want. Many small and medium businesses desire an ERP that lets them pick and choose the modules or functions they want and leaving out anything else. SAP Business One does not give you this choice, with the exception of being able to drop the CRM application.
SAP Business One has a reputation as a proven software solution backed by a more reputable developer. Due to this, they may be perceived as having more stability and experience in ERP compared to NetSuite. However, Oracle's acquisition of NetSuite should change this perception down the road. Which works best for your business will come down to your tolerance levels with affordability, reliability, scalability, and performance.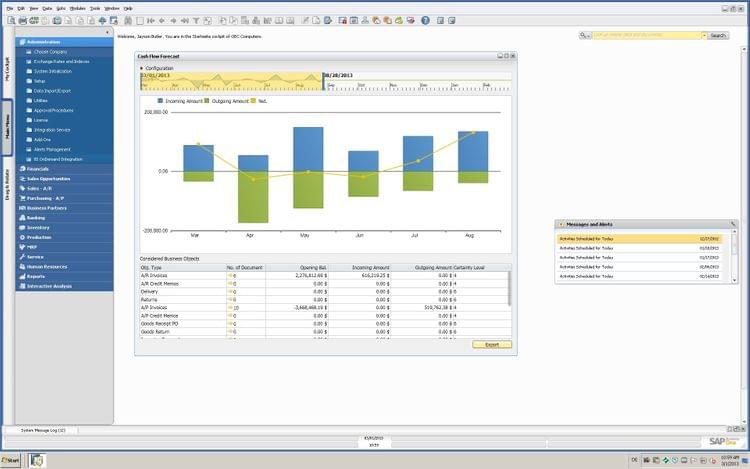 NetSuite vs SAP ERP
SAP ERP has been one of the most successful on-premise offerings since it's inception in 2006. With the market share leadership of SAP, it's marquee ERP software is a very sophisticated product with a wide application breadth.
SAP ERP has made a strong push to use HANA (their in-memory columnar database) as it's core relational database, which can help CIO's save money and advanced their Big Data opportunities. The use of the NetWeaver, a tool designed to transfer data between SAP and non-SAP systems, provides master data management capabilities to mobile clients and other applications.
While SAP ERP has tried to become a more mobile product, SAP still lags behind NetSuite. NetSuite has its roots as a cloud-first solution, and SAP has been trying to fit a square peg through a round hole in that aspect. With SAP's industry expertise and corporate visibility, it won't be long until SAP ERP capitalizes on becoming a top cloud ERP software. But for companies in the market right now, just remember that SAP ERP is thought to be more of a traditional on-premise offering.
When it comes to pricing, NetSuite has a strong advantage in its clarity. NetSuite advertises a very affordable user per month pricing model. While this is slightly deceiving (as NetSuite has large upfront costs), their position of at least giving something related to pricing online is refreshing, compared to the reluctant-to-share nature of SAP ERP vendors.
Due to the complex nature of SAP ERP pricing, you'll be hard-pressed to find anything figures online. Many customers may feel like they are being gamed by salesmanship, and a constant stream of updates that have costs associated to them don't bode well for clarity when it comes to the true cost of ownership.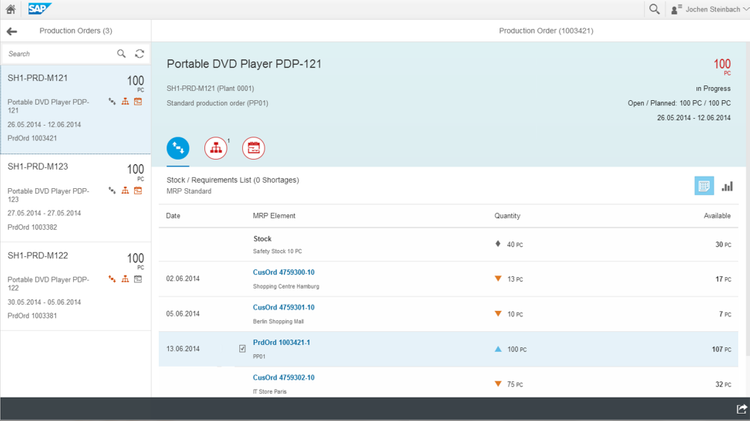 NetSuite vs SAP S/4HANA
SAP S/4 HANA stands for Suite 4 HANA, which is a new generation ERP solution that runs on SAP HANA database architecture. Deployable in the cloud or on-premise, SAP S/4HANA is designed to drive instant value across all lines of business and industries.
When it comes to business intelligence and reporting tools, SAP S/4HANA has a big advantage over NetSuite. Things such as analytics, data modeling, and database management are all strong suits of SAP's HANA in-memory relational database management system.
Additional capabilities of SAP S/4HANA include machine learning-enabled business processes, real-time embedded analytics, automated group-wide processes, live material requirements planning, and delivery delay prediction and intelligent remediation.
Overall, when comparing NetSuite vs SAP S/4HANA, it's important to keep the needs of your industry in mind. Both systems will be able to handle your manufacturing and supply chain management needs. SAP S/4HANA offers more marketing and HR capabilities compared to NetSuite. Does your business need an all-in-one enterprise system, or are you fine using NetSuite for manufacturing processes, and adding on a separate HCM software?