What Is Open Source ERP Software?
Open source ERP software is an enterprise resource planning system whose source code can be inspected, modified, and enhanced by anyone who uses it. This lets users and businesses create and customize software as they see fit rather than pay for these services through a software vendor. These customizations mean open source ERP software can be much more cost-effective, and even a free option, over a proprietary or closed-source program
Companies choose to implement open source ERP for more control over their IT investment and insurance against vendor inattention. In the world of ERP software, the agendas of a software vendor and the end-user may be two different things. While many companies may share core common functionality requirements, variations and specific business processes demand a flexible approach. Open source communities can help balance these needs.
Open source ERP software includes all of the needed functionality modules that a regular ERP software has. This includes invoicing, inventory management, sales management via e-commerce platforms, human resources, and project management.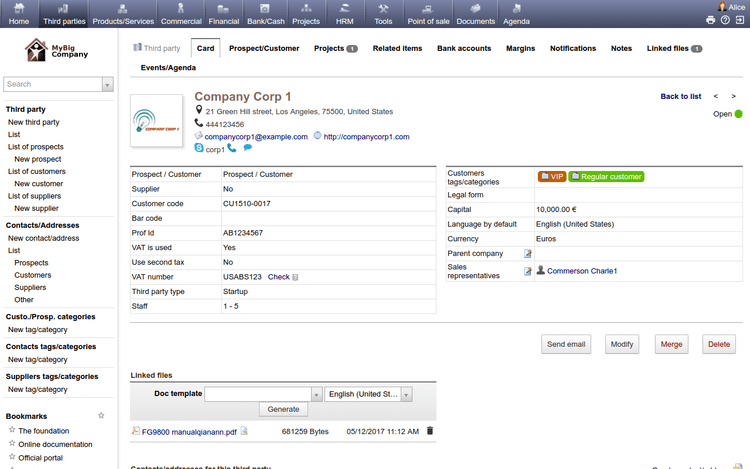 Benefits of Open Source ERP Software
There are many benefits to using open source ERP solutions over some of the more well-known ERP options such as Oracle or SAP. This includes lower costs, more control over customizations, and a simpler way to scale. The flexibility that an open source ERP software can provide business and the freedom they provide over a partnership with a software provider remains some of the top reasons to consider using one.
Freedom From Licensing
The main reason a company may use open-source enterprise resource planning software is due to it's lower costs and ease of customization. These benefits are derived from a lack of licensing that is usually found in a commercial ERP system.
Open source ERP software systems use open source databases and operating systems, which by definition is a license-free option. This is in comparison to commercial systems that may require the use of expensive commercial databases and operating systems. Since open source ERP systems are developed by a community, it relies on the input from users, which usually come in the form of passionate developers.
Competition between these developers leads to a higher quality product and constant updates and improvements. The vendor-independence and freedom from licensing provided by an open-source ERP software mean you don't need to rely on proprietary software which may not be as open to product development ideas.
To discuss more about how passionate some developers are about open source ERP, many IT departments can benefit from having a community-driven support network. While being very new and experimental, many younger IT professionals may prefer this way of solving problems instead of relying on a large vendor to solve their issues (normally at a high price).
Fully Customizable
Having access to the source data allows passionate developers to criticize existing code and make improvements. These improvements are usually shared within a community and made easy to implement. It also allows your in-house users and participants to modify and redistribute the underlying source code at will. Overall, open-source ERP systems are far easier to upgrade than commercial options.
The best benefit of heavy customization capabilities means that the software can be fine-tuned to what your organization needs. Any changes to the program code or added functionalities that were created by the development community help further get the software to perform as your business needs and also helps save costs on paying a commercial software provider to custom create that feature for you.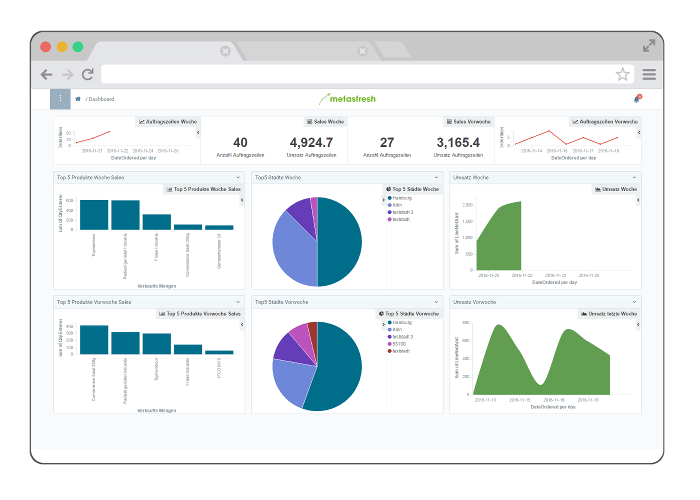 Drawbacks Of Open Source ERP Software
Implementing an open source ERP system isn't without certain drawbacks. Your business will need to weigh the benefits and drawbacks equally to find out if open source ERP software is right for you.
Security Concerns
A common misconception with open source software is the word "open", which can be perceived as a lack of security. This can cause concerns to housing sensitive financial data in the system. Since one of the primary uses of ERP software is for managing accounting processes, this can cause hesitancy to use open source options.
The availability of source code has no impact on the operational security of the software. Because of this, open source ERP is no more or less secure than a commercially developed and bought ERP system. However, as the purchasing company is usually responsible for both the implementation and further development of the system, open source ERP can be considered as a slightly more risky option in the event of errors or system failures.
Less Support
The benefits of a community-supported product are obvious; you'll get great new features developed by real users of the software, and you'll get great suggestions for ways you can improve the use of your software. However, community-supported products will only be as successful as the community size allows for. This means using a lesser-known option will yield fewer results when looking for troubleshooting assistance.
If a company doesn't buy a support plan from a provider, you'll have to rely on either your own internal IT staff or a community of developers, which could pose uncertainty in the event of a major system failure. If a company does buy a support plan from a provider, it may also be in lieu of a package deal with other advanced features, proprietary modules, or training, which could be just as sizable of an investment as what you would get with a normal ERP software.
No Easy Installation or Training Process
It can be difficult to convince an organization of substantial size to change systems, let alone move into an open-source environment. While open source ERP will not require any substantial licensing costs, it could still result in higher IT costs if you are making your own customizations in house. If not, you'll need to rely on paying a developer to make needed changes.
Professional training may be available for the software, but it will come at a price. Otherwise, you'll be looking to educate your entire staff solely on documentation found online and through support communities, which may slow down your implementation process.
Is Open Source ERP Software Really Free?
If a solution is advertised as open-source, then it is 100% free. Depending on the size and scale of your company, self-hosting software in a locally installed or on-premise environment can be the right choice for you. This means you'll have full access to the software at no cost. However, if the cloud (SaaS) is right for you, you'll be looking at costs of around $40/month for a VPS, paying extra for security and backups, and spend the time it takes to set everything up. For some companies, this can get expensive, and they'll choose to utilize a hosting partner for a predetermined monthly cost.
To better illustrate the difference between free, open-source, and paid options, you can view our table below:
| – | Free | Open Source | Paid |
| --- | --- | --- | --- |
| Description: | Simple, reduced version with limited features | Source code is made publicly available | Licensed and bought from a software provider |
| Target Market: | Start-ups and small businesses | Knowledgeable IT departments | Medium to large businesses |
| Advantages: | Free | Community-backed | Robust features |
| Disadvantages: | Limited functions | Requires a higher level of IT knowledge | Expensive to implement and maintain |
Best Open Source ERP Software
What are examples of the best open source ERP software? There are a large amount of free, flexible, and feature-rich open source ERP software solutions available. Applications and modules for these solutions are usually available through the hosting provider's website, GitHub, and other code repositories. Many open source solutions also have premium versions or options that are sold by a value-added reseller who provides applications out of the box, on top of hosting services.
Free ERP systems are rare to not have some sort of financial investment behind them (usually for the initial implementation and ongoing maintenance). Here are some examples of some of the best open source ERP software on the market today:
Odoo
Odoo is an open source ERP and CRM tool with over 10,000 apps to cover all of your business needs. Used by millions of users worldwide, Odoo is one of the most well known open source ERP options on the market. The software can help boost sales with CRM and point of sale capabilities, help your business provide services via project management and time tracking applications, or streamline your manufacturing operations via inventory control and material resource planning (MRP).
Odoo is completely free to use if going with their Community version. There is an Enterprise version that is sold by vendors of Odoo, who specialize in hosting and implementing the software into specific industry environments.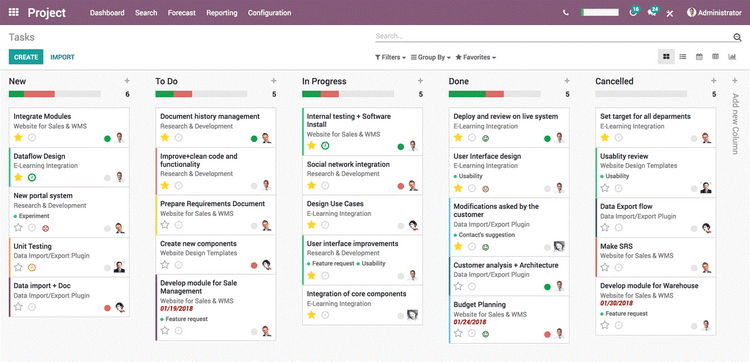 xTuple
xTuple is an open-source ERP that specializes in the manufacturing industry. Customers of xTuple rave about how user-friendly it is in managing operations, streamlining supply chain processes, and growing their business. This is behind a strong inventory module that helps manufacturing and inventory-centric companies increase their profits.
One user of xTuple discusses the differences between the free open source version and the enterprise edition:
There is a free community version which is very good for evaluation, testing and learning and will be sufficient for many small and medium-sized companies. There are also premium enterprise solutions which handle advanced manufacturing and distribution for larger companies. Fred, Fred Blauer and Associates
Ned Lilly, the CEO of xTuple, sat down with us recently to discuss the future of open source ERP and what it means for companies: Is The Future of ERP Open Source?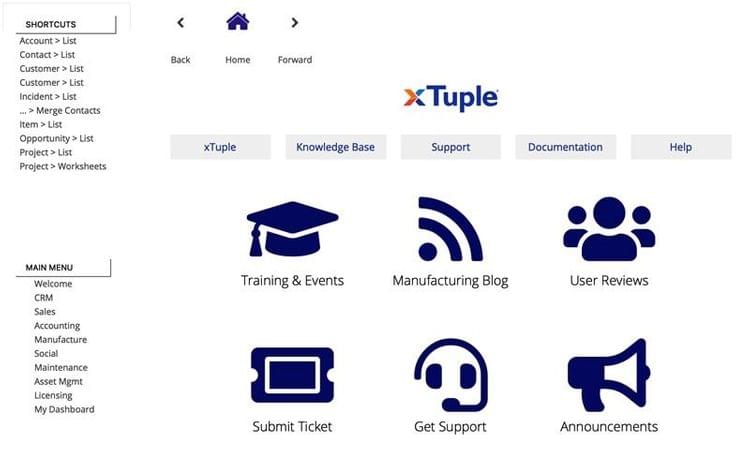 ERPNext
ERPNext is a 100% free and open-source software. Designed for self-implementation, most companies have succeeded in getting the solution up and running strictly with the videos and resources provided online. Services provided by ERPNext are for hosting, priority support, and data backups, which start at $10/user/month.
Used by dozens of industries, ERPNext has found a majority of its success working in manufacturing, distribution, services, retail, education, health care, agriculture, and even nonprofit. Some modules and integrations that are available with ERPNext include financial accounting, CRM, inventory, sales, purchasing, and project management.