The best Odoo alternatives include Acumatica, ERPNext, Oracle NetSuite, and Microsoft Dynamics 365. We've reviewed some of the best ERP software to help you find alternatives that will allow you to drop Odoo and continue to streamline your operations, improve customer service, and ultimately boost your bottom line.
Best Odoo Alternatives Shortlist
Below are detailed summaries of the best Odoo alternatives that we'll be covering in this article:
Understanding Odoo and Its Limitations
Odoo ERP is an open-source suite of business applications designed to provide comprehensive coverage of business requirements, including:
eCommerce
Customer relationship management (CRM)
Accounting
Project management
Point of sale
While Odoo offers a wide range of functionalities, it has limitations. Selecting an alternative ERP system may be more suitable for your company's individual requirements, such as cash management and other financial aspects.
By understanding the limitations of Odoo, you can make an informed decision when choosing an ERP solution that better aligns with your business needs. The following sections will explore the top 9 Odoo alternatives to help you find the perfect fit for your business.
Top 9 Odoo Alternatives
To cater to different industries and business requirements, we have compiled a list of 9 alternative ERP systems:
Acumatica
ERPNext
Oracle NetSuite
Microsoft Dynamics 365
QuickBooks Online
Epicor Kinectic
SAP Business One
Sage X3 ERP
Syspro
These alternatives are suitable for small-scale businesses and medium-sized businesses across various industries.
Let's dive into each Odoo alternative and explore their unique offerings.
1

Acumatica: Best Cloud ERP Solution

We We Chose It: Acumatica is a cloud-based ERP system that provides modules for financial management, project management, accounting functionality, customer relationship management (CRM), and other services.

With powerful automation and workflows, Acumatica offers general ledger management, accounts receivable and payable, expense tracking, invoicing, cash and currency management, multi-entity and multi-company management, time tracking, payroll, inventory and warehouse management, point of sale features, and document templates.

Acumatica is applicable for the following industries:
Construction
Manufacturing
Retail
E-commerce
The platform offers powerful customization tools to customize existing practices, giving users real-time visibility into data anytime. This helps users make the most informed decisions and improve customer service.
Read our full Acumatica review.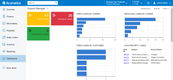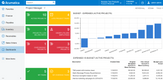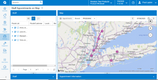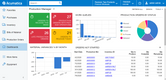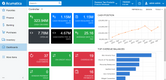 Open architecture for rapid integrations
Multi-entity support
Mobile accessibility
Must schedule a consult for pricing calls
High learning curve
Tedious setup
Price Range: $$$$
Starting Price: $1,800/month
Client OS: iOS, Android, Web
Deployment: Cloud or On-Premises
2

ERPNext: Best Free and Open-Source Alternative

We We Chose It: ERPNext is a powerful enterprise resource planning solution developed by Frappé Technologies Pvt. Like Odoo, there is an open-source option available. The architecture of the system is based on the MariaDB database. It also uses a server-side framework that has been written in Python.

ERPNext offers a free (open source) option and a cloud ERP option for $10/month, with additional pricing tiers available for growing businesses.

Suitable for individuals, startups, and small businesses, ERPNext provides a cost-effective alternative to Odoo with premium packages available should your business needs evolve and you wish to expand your business processes. It caters to various industries, such as education and healthcare, making it a versatile choice for businesses searching for an affordable ERP solution.




Open-source architecture
Multilingual support
Highly customizable
Performance issues when handling large databases
Dependency on community for customizations
Limited reporting capabilities
Price Range: $$
Starting Price: $10/user/month
Client OS: Web
Deployment: Cloud Hosted
3

Oracle NetSuite: Best for Growing Businesses

We We Chose It: Oracle NetSuite is a comprehensive, cloud-based ERP solution tailored to the needs of medium to large-sized businesses, enterprises, nonprofits, and government institutions. It offers a variety of applications, including:
Human Resources
Financials
Professional services
Automation
Omnichannel commerce
NetSuite provides a scalable solution for businesses looking to grow.
NetSuite's intelligence user interface provides users with pertinent business data within the system, allowing them to understand their tasks and how they contribute to the business. With over 24,000 customers in more than 200 countries worldwide, Oracle NetSuite has proven itself as a reliable and robust ERP solution.
Read our full Netsuite review.







Hundreds of third-party add-ons available
Feature sets for multiple industries
Highly customizable
Must schedule a consult for pricing details
Tedious setup
Difficult to build reports
Price Range: $$$$
Starting Price: $99/user/month
Client OS: Web
Deployment: Cloud Hosted
4

Microsoft Dynamics 365: Best Integrated ERP

We We Chose It: Microsoft Dynamics 365 is a suite of business software from Microsoft, which includes accounting, HR tools, CRM, and much more. It suits startups, small and medium-sized businesses, large enterprises, HR departments, manufacturing, financial services, and professional services.

Dynamics 365 Business Central provides features such as supply chain management, invoicing, analytics, customer relationship management, financial management, social media management, and more.

The Business Central Essentials plan is priced at $70 per monthly user. Whereas the Business Central Premium plan is priced at $100 per user per month. This integrated solution offers various functionalities to cater to various business needs.

Read our full Dynamics 365 review.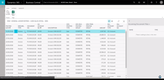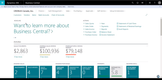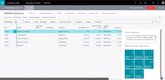 Combined ERP and CRM
Similar interface to MS Word and Outlook
Integrations with Microsoft applications
Not ideal for complex manufacturing needs
May require extensive training
No free version
Price Range: $$$
Starting Price: $70/user/month
Client OS: Web
Deployment: Cloud or On-Premises
5

Intuit Quickbooks Online: Best Budget-Friendly Option for SMBs

We We Chose It: Intuit Quickbooks Online is a cost-effective accounting solution for individuals, freelancers, startups, and small-to-medium businesses (SMBs). While limited in features compared to Odoo, it is a great alternative for those looking to downsize into something more basic, while also providing features Odoo may not excel at, including tax management.

Read More: Is QuickBooks an ERP System?

It is an all-in-one online business accounting software designed to facilitate the management of business finances. Intuit Quickbooks Online provides a budget-friendly alternative to Odoo without compromising on essential features. It is perfect for businesses looking for a straightforward, affordable ERP alternative to manage their finances.

Read our full QuickBooks Online review.















Widely used by most accountants
Tons of integrations available
Customizable invoicing
Comparatively expensive
Few industry-specific features
Limited users per plan
Price Range: $
Starting Price: $30/month
Client OS: Web
Deployment: Cloud Hosted
6

Epicor Kinetic: Best for Manufacturing

We We Chose It: Epicor Kinetic (formerly known as Epicor ERP) is a cloud-based ERP tailored for manufacturing. Here's why it's an excellent alternative to Odoo:
Future-Ready: Designed for digital transformation, it harnesses data to drive growth and innovation.
User-Friendly & Scalable: Browser-based, configurable applications integrate key capabilities like APS, CRM, and CPQ.
Expertise: With 70,000+ cloud manufacturing users, it's built on Epicor's deep industry knowledge.
Employee Engagement: Modern tech features boost productivity and foster a connected workforce.
Customer-Centric: Ensures top-notch experiences at every touchpoint and streamlines complex product configurations.
Industry 4.0 Ready: Advanced project and production management tools maximize revenue.
Supply Chain Excellence: Enhanced visibility and control streamline global supply chain processes.
Data-Driven: Clear business intelligence and analytics offer actionable insights.
Financial Mastery: Modernizes financial processes, promoting growth.
Efficient Product Management: Streamlines the product lifecycle, from design to delivery.
Optimized Services: Resource management tools boost customer satisfaction and profitability.
Robust Compliance: Meets international standards, ensuring security and regulatory adherence.
In essence, Epicor Kinetic provides a comprehensive, future-focused solution, making it a compelling switch from Odoo for manufacturers.
**Read our full Epicor ERP review.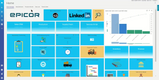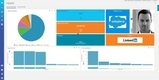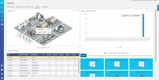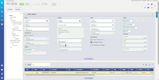 Built for manufacturers
Collects real-time shop floor data
Built-in artificial intelligence support
Not ideal for multinational organizations
High learning curve
Price Range: $$$$
Starting Price: $175/user/month
Client OS: Windows, macOS, iOS, Android, Web
Deployment: Cloud or On-Premises
7

SAP Business One: Best for Robust Accounting Needs

We We Chose It: SAP Business One stands out as a robust alternative to Odoo, particularly when considering its comprehensive accounting features. At its core, SAP Business One offers total control over finances, ensuring businesses have a holistic view of their financial health.

It streamlines and automates essential accounting tasks, from maintaining ledgers and journal entries to supporting intricate tax calculations and facilitating multicurrency transactions. This automation not only reduces the risk of errors but also enhances efficiency.

Moreover, SAP Business One's integration of financial operations with other critical business processes, such as sales and purchasing, ensures real-time synchronization. This integration accelerates transactions and provides unparalleled visibility into cash flow, a feature indispensable for businesses aiming for agile decision-making.

The platform also boasts a simplified management system for fixed assets, eliminating repetitive manual data entry and ensuring assets are tracked accurately. Banking and reconciliation are made effortless, with capabilities to process reconciliations, bank statements, and various payment methods swiftly.

Lastly, the financial reporting and analysis tools in SAP Business One are top-tier. Businesses can generate both standard and customized reports using real-time data, a crucial feature for strategic planning and audit reviews. In essence, for businesses prioritizing a seamless, integrated, and efficient accounting system, SAP Business One emerges as a compelling choice over Odoo.

Read our full SAP Business One review.



Highly customizable
Improved decision-making capabilities via extensive BI
Multi-currency/multi-language support
Requires phone consult for pricing
Setup usually requires help from a Value Added Reseller (VAR)
No payroll module
Price Range: $$$$
Starting Price: $410/user/year
Client OS: Windows
Deployment: Cloud or On-Premises
8

Sage X3 ERP: Best for Supply Chain Management

We We Chose It: Sage X3 ERP is a specialized business management software focusing on supply chain management. It offers a range of tools for financial planning, project management, and product lifecycle management.

It enables integration of sales, inventory, purchasing, and financing. Sage X3 also allows for discounts, orders, and requests to be factored in, as well as multi-level signature management.

Sage X3 ERP caters to startups, SMBs, large companies, nonprofits, and professional services.







Compiles data in real-time for better decision-making
Covers finance, sales, customer service, manufacturing, and more
For mid-sized companies
Price Range: $$$$
Starting Price: $4,500/user (perpetual license)
Client OS: Windows, Web
Deployment: Cloud or On-Premises
9

Syspro: Best for Warehouse and Inventory Management

We We Chose It: Syspro is a comprehensive ERP with warehouse and inventory management capabilities. It also provides integrated CRM and business process modeling tools for startups, SMBs, and large enterprises.

The platform offers unit and quantity tracking, lot and batch tracing, valuation and costing, and warehouse control with barcode scanning.

Syspro utilizes artificial intelligence and big data to maximize operational efficiency in financial accounting and other business aspects. This warehouse and inventory management solution is an excellent choice for businesses seeking a robust and efficient ERP system for their inventory needs.

Read our full Syspro review.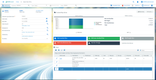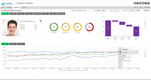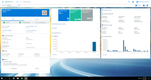 Mostly straight-forward and user-friendly
Accessible from any device
Built with over 40 years of manufacturer and distributor expertise
3rd party add-ons may be necessary, like EDI and shipping notifications
Difficult to customize
No payroll or HR modules
Price Range: $$$$
Starting Price: $199/user/month
Client OS: Windows, Web
Deployment: Cloud or On-Premises
Key Factors to Consider When Choosing an Odoo Alternative
When selecting an Odoo alternative, it is essential to consider industry and business requirements, and budgetary constraints. Different industries have varying requirements and needs, and different businesses have distinct needs and objectives, making selecting an ERP system that can fulfill those needs and objectives imperative.
Moreover, different ERP systems have varying price points, and additional costs may be necessary for customization or additional features. By considering these key factors, you can ensure that you choose the right ERP solution that best suits your business requirements and budget.
Summary
In conclusion, selecting the right ERP system is crucial for optimizing your business processes and achieving success in your industry. By considering the key factors discussed, such as industry and business requirements, budget, and scalability, you can make an informed decision in choosing the perfect ERP solution for your business. Embark on your journey to streamline your operations, improve customer service, and ultimately boost your bottom line with the ideal ERP system.
Still not sure which option is best? Get recommendations from our team today!
Frequently Asked Questions
What is better than Odoo?
Popular options for businesses looking for an alternative to Odoo include NetSuite, SAP ECC, Acumatica, and SAP S/4HANA Cloud, depending on specific needs. Quickbooks suits light accounting, while heavier ERP systems such as Sage, SAP, or Dynamics are recommended.
Open-source solutions such as iDempiere or ERPNext can also be considered.
Who is the competitor of Odoo?
Odoo's top competitors include Oracle NetSuite ERP, Wrike, Acumatica, Kechie ERP, Multiview, TallyPrime, Vyapar, myBillBook and AlignBooks. All of these solutions offer similar features and benefits at competitive prices.
Reviewers have also rated Oracle NetSuite ERP, SAP ECC, Acumatica, and SAP S/4HANA Cloud as the best alternatives and competitors to Odoo ERP.
What are the main limitations of Odoo ERP?
Odoo offers many functionalities but may not fit individual companies' needs, especially regarding cash management and other financial aspects.
What industries do the Odoo alternatives cater to?
Odoo alternatives cater to various industries, including manufacturing, retail, and professional services, making them well-suited for small and medium-sized businesses.
These solutions offer a range of features, such as inventory management, customer relationship management, and e-commerce capabilities, that can help businesses streamline their operations and increase efficiency.
Odoo alternatives are also cost-effective.
Are there any free or open-source Odoo alternatives?
Yes, there is an open-source Odoo alternative: ERPNext. This free ERP solution is ideal for individuals, startups, and small businesses.