What is Retail Management Software?
Retail management software is the combination of a point of sale software along with back office functions that allow a retailer to manage every aspect of their business–from financials, operations, and their overall supply chain. The included functionalities include point of sale transactions, accounting, inventory management, procurement, and warehousing.
Any retail business from a single mom-and-pop store to a large multi-national chain with hundreds of locations can benefit from using a retail management software. While retail point of sale solutions can be sold by themselves, a retail management software will encompass this capability along with accounting such as accounts payable and accounts receivable, more in-depth inventory control that goes beyond a simple stock count, and collecting data on your customers through business intelligence.
Retail systems are more than just point of sale systems. An integrated retail software provides a suite of tools designed to make your retail operation more efficient, easier to manage, and more profitable. Increase margins with better inventory control, generate additional sales due to suggestion selling, track staff performance, and optimize your marketing efforts.
Many new age retail management systems will also include eCommerce capabilities, which provide the capability to setup online webstores on your website. These shopping cart experiences let customers order your products online complete with shipping options and payment processing. When synched, these systems will automatically communicate with your backoffice and reorder goods when needed, or automatically trigger when items need to be shipped from your store.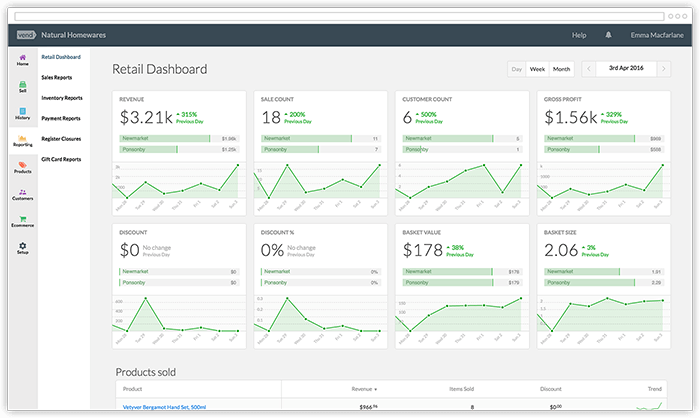 Features of Retail Management Software
Point of Sale: Hndles the payment collection, receipting, and inventory updating involved with a retail sale in real-time at the point of purchase. Scans items at checkout, calculates the amount owed, and prepares an invoice that a customer can pay right away via credit card, cash, or check.
Retail Inventory Management: Manages the stock and merchandise across multiple stores, eCommerce operations, catalog orders, and marketplaces. Coordinates to reflect on-hand quantities in real-time across all of your sales channels.
Purchase Orders: Create the financial document issued to vendors when you are buying supplies or services. Purchase orders will include information such as product type, quantity, and pricing.
Reporting: Create reports with detailed inventory data, profit margins on products, customer buying patterns, expense details, and waste information.
Customer Relationship Management (CRM): Store data on customers such as sales history and personal information. Use this information to identify high-quality customers and increase upselling opportunities.
eCommerce: Lets businesses sell their product or services online. Creates a web store complete with a shopping cart, shipping options, and payment processing. Helps manage inventory, calculate taxes and everything else that may be needed to fulfill orders.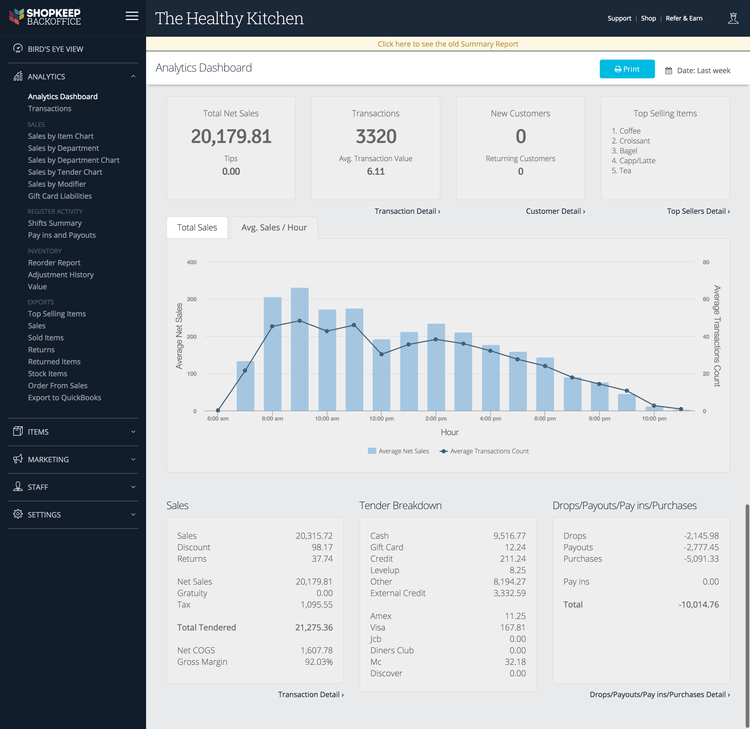 Benefits of Retail Management Software
Retailers are increasingly demanding comprehensive software suites. Integrated retail systems require less time to learn and are easier to support than piecemeal systems. In order to leverage existing technology investments, many retailers seek out task specific programs to augment their current capabilities.
Whether you need a retail-focused module added on to your existing accounting system or a complete retail management system, strong software capabilities will provide a large variety of benefits that present opportunities to improve your chances of retail success.
Manage Purchase Transactions With Point-of-Sale
Point of sale software handles all aspects of the purchase transaction. The ability to provide a quick and easy purchasing experience is one of the key differentiation opportunities for your retail business. The biggest reason is due to increased efficiency. When cashiers have the right tools in order to speed up transactions with customers, your business can ultimately serve more people and increase sales.
Traditionally, POS software ran on a computer located at the sales counter. Toyda, many retailers are also taking POS software to the sales floor through the use of tablets such as iPads. Providing sales associates the ability to conduct part or all of the transaction on mobile devices can not only improve the customer experience, it can make a memorable impression on customers. Rather than having to wait in line, a customer's needs (such as ordering something out of stock exclusively for the customer) can be done right where the customer is.
Regardless of where the transaction occurs, effective POS software needs to handle multiple different payment options. Modern POS systems are optimizing the purchasing experience whether customers are purchasing via cash, credit cards, checks, or even gift cards. POS software integrates with your POS hardware in order to allow for cashier item inputs, product bar code scanning, check and credit payment processing, and receipt/invoice printing.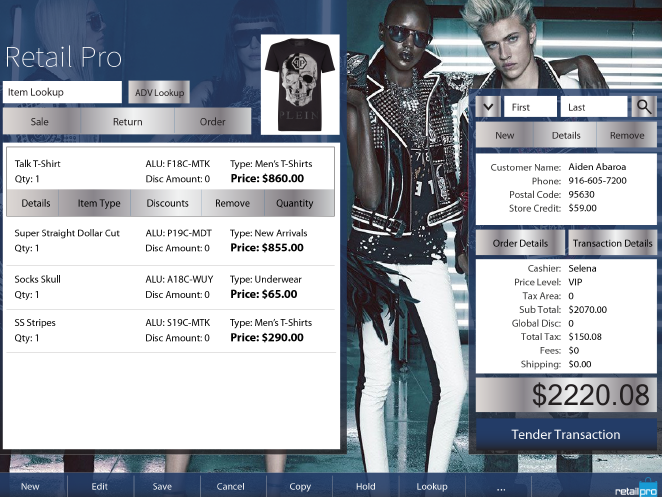 Streamline Your Accounting Processes
A growing retail business may have started with a generic accounting software such as QuickBooks before quickly realizing they were missing industry-specific capabilities (such as point of sale and inventory). This may lead to a business buying an add-on system that works alongside their existing financial management software.
Integrating your accounting within your retail management software will help to lower your retail business's overhead costs. A complete accounting solution will provide functionality to manage accounts payable transactions, bank reconciliations, and fixed asset depreciation.
Tight integration between your cross-platform sales channels and accounting provides the opportunity to import full transaction details to create an auditable record of purchase histories. The ability to document assets and liabilities, as well as expenses and revenues in your general ledger is a key component of effective retail financial management.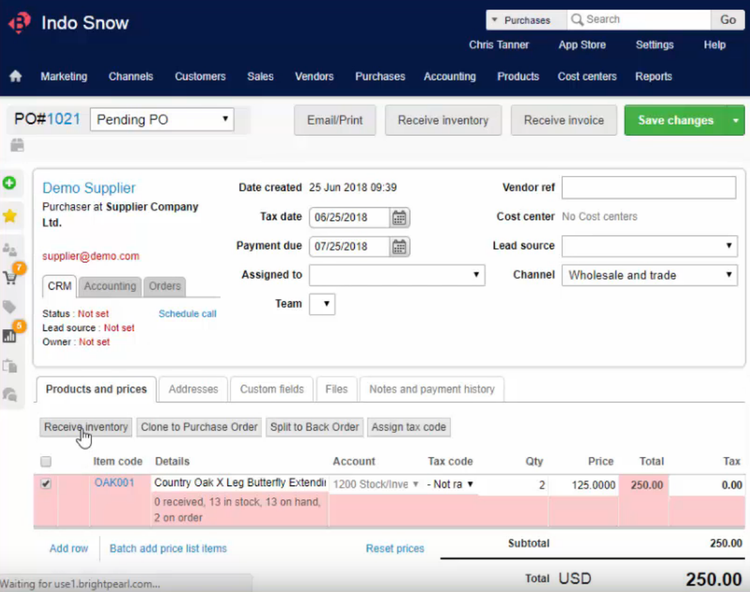 Store Data On Customers With Retail CRM
Retail CRM modules provide you with the capabilities to turn customer information, including sales histories, into actionable business intelligence.
For instance, a customer relation management (CRM) module can help provide customer service representatives with personalized upsell and cross-sell recommendations based on the customer's previous purchases. Retail CRM software is also useful in terms of managing marketing efforts. Marketing groups can be established based on customer purchase histories, demographics, and location.
Many CRM modules also include capabilities to directly execute email, direct mail, and social media based marketing campaigns right from the software. These features may be obvious within a larger retail management software, but otherwise may come in the form of "contact management" labels, or simply being extension of your vendor lists and customer profiles.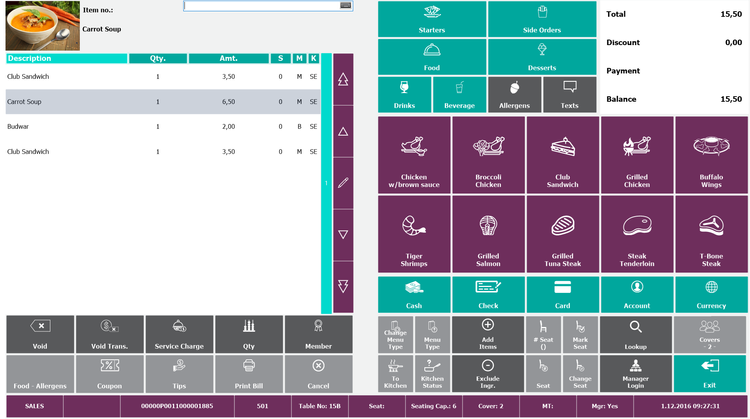 Identify Trends and Transactions in Customer Purchase Records
Most reputable retail software will store information on and allow access to purchase transaction records. The ability to identify trends and transactions in customer purchasing is critical to spotting profitable business opportunities.
For the multi-store retail operation, it's very important to be able to not only report on the enterprise as a whole, but also to flexibly break reporting down to the store, district, or channel level. Advanced retail reporting capabilities allow retail executives and store-owners the ability to identify sales trends and adapt to shifting customer demand. Dashboards and business intelligence systems are incorporating more and more sophisticated capabilities to turn key performance indicators into actionable business information.
Together, these reports will help connect your team, drive data-backed strategy, and reduce inventory risk. Cross-departmental decisions can be easily made after breaking down organizational silos. These silos and bottlenecks can be reduced to boost productivity and equip staff with better insights on cost, revenue, and profitability.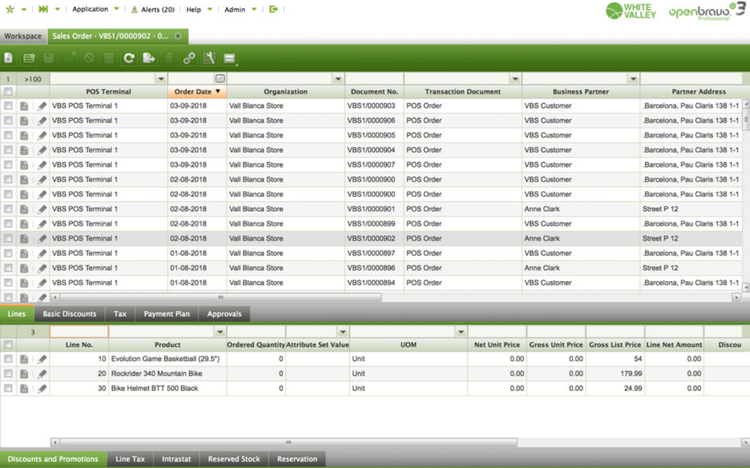 Better Store Retail Inventory Data
Retail inventory control modules provide you with the ability to track and access critical product information. Typical data points that inventory management solutions will track include item titles, SKU numbers, product descriptions, supplier SKUs, stock counts, item locations, and pricing.
One unique feature of retail inventory is multi-channel inventory, which will order and sell products across multiple channels online. Your retail management software will be able to connect to eCommerce apps such as Shopify, WooCommerce, and BigCommerce–automatically adjusting inventory levels based on online sales, marketplace sales, social media sales, or in-person sales.
Retail inventory software manages the stock and merchandise across multiple stores, eCommerce operations, catalog orders, and marketplaces. Today's retailers may have a variety of locations while also selling on online platforms such as Amazon or even their own web store. This means inventory will need to be coordinated to reflect on-hand quantities in real-time across all of your sales channels.
Inventory management software specific to the retail industry helps your retail business allocate merchandise to stores, plan assortments per store, stock inventory received from purchase orders, pull stock for sales orders, transfer items between multiple stores, process returns, and manage a variety of different styles, brands, and more.
Negotiate Lower Costs and Improve Business Terms With Purchasing Capabilities
Effective purchasing capabilities in a retail management software can help your organization not only better meet customer demands, but also better manage supplier relationships to negotiate lower costs and improved business terms. Purchasing modules do much more than provide the ability to cut purchase orders (POs). Sophisticated retail purchasing systems will integrate with retail inventory control to provide alerts and automation when stock levels are low. Demand planning features can help you anticipate customer needs to avoid shortages and back-order situations that can threaten customer satisfaction and loyalty.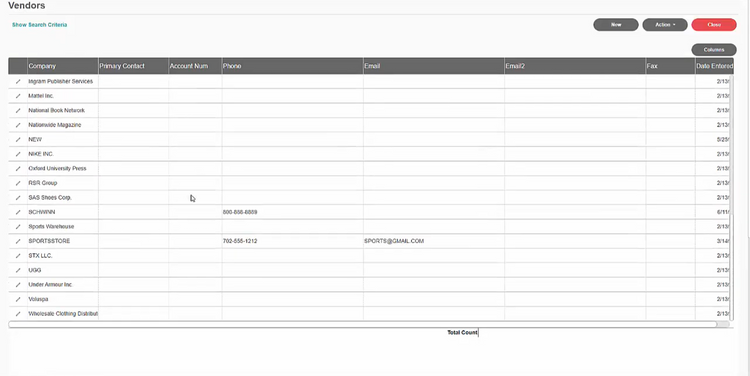 Determine Appropriate Product Pricing
One of the main challenges facing your retail business is figuring out appropriate product pricing. Price management modules bring a normalized, data-driven approach to this challenge, helping you to optimize pricing to find the right balance point between maximum margins and keeping products moving.
Retail price management software utilizes rules based management that integrates real product histories to help you set optimal pricing points. Planning for phase-out dates and stock movement rates can help you determine when it is appropriate to discount items and by how much.
Repricing will help set minimum and maximum prices for your goods, create custom rules for these values, and you'll become notified when competitors change their prices. When prices are updated across your sales channels, a retail software will ensure your inventory costing figures are updated as well.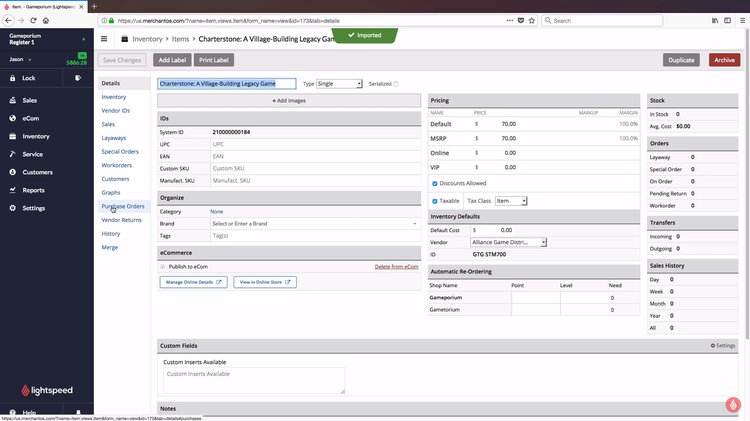 Manage Sales Tax Compliance
Sales tax calculation is one of the areas where software automation can make an otherwise time-consuming and challenging business issue a snap. Many retail POS and full retail suites integrate with sales tax compliance systems to automatically apply relevant sales and use tax based on customer or delivery location. Sales tax calculation capabilities can be integrated across sales-channels to manage sales tax both for on-premise and online transactions.
@Erply self checkout retail management software Sales tax is automatically generated during self checkout in Erply.
Promotional pricing, loyalty programs, and coupon discounts are key tools in the retailers arsenal for attracting new customers and strengthening existing relationships. The management of these programs can be difficult though. There are many out-of-the-box solutions on the market though that prevent retailers from having to re-invent the wheel when it comes to promotions and loyalty programs. Software tools can help your company more easily create and manage promotions and loyalty programs. Additionally, these software options will allow you to capture customer data that can be passed to your CRM to assist in future marketing efforts.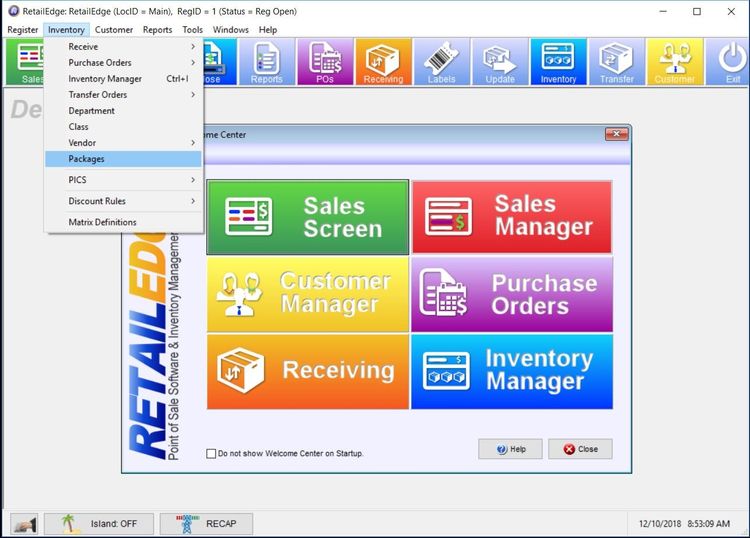 Manage Online Sales Through eCommerce Stores
The ability to execute sales online has revolutionized the way many retailers do business and added a very important sales channel. There are full retail management and accounting suites available that integrate complete eCommerce capabilities, including web stores. More often, though, what's critical is that the transaction and order detail from separate web stores can be integrated easily into the accounting records. Whether you require a fully integrated solution or the ability to incorporate web transaction histories, there are solutions available that can help you optimize your online selling in a way that maintains the integrity of your accounting records.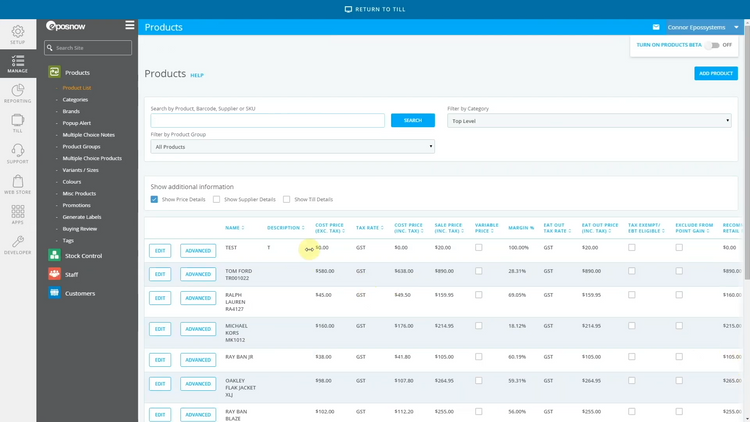 What Type Of Buyer Are You?
Today, it's important that your retail software provides more than a way to receive customer payments. Customers have more buying options than ever before. In an increasingly competitive retail environment, tools that can help you better anticipate and meet customer demand, as well as execute transactions with ease and convenience, are critical components to retail success.
Retail management software systems are helping retailers answer some core business challenges, including:
How can the convenience and speed of the actual purchase transaction be improved?
How can we collect and tap customer information in order to better meet customer demands, increase sales, and build customer satisfaction?
How can administrative tasks be automated and improved to lower the overhead costs?
How can we effectively manage product pricing to ensure maximum revenues?
How can we manage relationships with suppliers to get better pricing and partnership terms?
Small Businesses
Small businesses usually desire affordable software that is easy to use and quick to implement. This is because employees usually wear multiple hats and don't have time to dedicated hours to learning a complex system (or training other employees). Because these well-rounded employees handle a variety of tasks, they don't necessarily need to be experts at software–they just need to be able to use it effectively.
With increased capabilities in integrated retail accounting software systems, there is a need to make sure that the software is still easy to use. Set up wizards, help screens, and simplified touch-screen interfaces are typical approaches to making sure that increased functionality doesn't lose it's impact by becoming overwhelming.
Small retail businesses will also find cloud-based software more approachable, as it's month to month pricing means lower entry costs and a subscription that they can use as long as they like and upgrade/downgrade/cancel at anytime.