Sage 50 and Sage 300 are the two most popular products Sage Software makes. Sage 50 is often more appropriate for small businesses, while Sage 300 is a better fit for larger enterprises (100+ employees).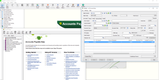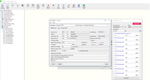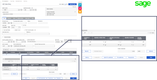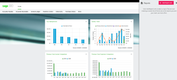 Multi-currency and multi-company support
Strong financial module
Difficult for new users; high learning curve
Somewhat outdated user interface
Some users report performance issues, especially with large datasets
Price Range: $$$
Starting Price: $2,075/user (perpetual license)
Client OS: Windows, Web
Deployment: Cloud or On-Premises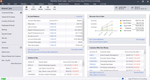 Powerful job costing
Robust financial reporting
Great invoice customization
Poor inventory management
Dated user interface
No remote access to data without add-on
Price Range: $
Starting Price: $439/user/year
Client OS: Windows
Deployment: On-Premises
Sage 50 and Sage 300 are two of the most popular business management products offered by Sage. The first is specifically an accounting software while the second is intended for full-scope ERP.
Each offers valuable functionality necessary for streamlining business processes. However, there are several differences as well.
What is Sage 300?
Sage 300, once known as AccPac, is an ERP or business management software designed for small and medium-sized companies along with some enterprise-level corporations. Main functionality includes tools for accounting, sales, purchasing, and inventory management.
Sage 300 is used by larger businesses to increase their cross-departmental collaboration via an integrated management platform which is fully accessible via the cloud.
This gives users from all over the company an up-to-date view of corporate finances and operational performance metrics, allowing for responses to ongoing situations in real-time.
With Sage 300, companies can minimize human error and reduce transactional inefficiencies in order to optimize productivity. And with analytical tools, this ERP enables decision-makers to access key management functionality anytime and anywhere.
As a popular ERP solution, Sage 300 has thousands of active deployments all over the globe across every industry. The most common are:
Distribution
Manufacturing
Service
Consulting
Construction
What is Sage 50?
Sage 50 is a small business accounting program, originally known by the name Peachtree Accounting.
Sage 50 is primarily used by small businesses for accounting purposes, with prevalence in the professional services, distribution, retail, and manufacturing spaces.
Since being rebranded as Sage 50, this software has become one of the most popular yet inexpensive accounting solutions on the market.
This accounting software provides many benefits by making it easier to:
Pay bills
Invoice customers
Track cash availability
By streamlining these administrative tasks, businesses can spend more time on their core services. Using this Sage accounting software helps businesses to avoid costly mistakes caused by human error.
Sage software is used by accountants to more accurately create budgets and control cash-flow of all financial aspects of company operations in order to make effective business decisions.
There are different versions of this software tailored for your country's finances. Currently, there are specific multi-currency variations for operating within the US, Canada, and the UK.
How are Sage 300 and Sage 50 Similar?
Developed by the same company, Sage 50 and Sage 300 have several similarities.
First, both products provide basic accounting services for businesses in just about every industry. In fact, both are heavily used by manufacturers and distributors.
While Sage 300 is an ERP, it was originally designed to cover both management and accounting services. As such, it has several overlapping features with the purely accounting-based Sage 50. Each software allows:
General ledger accounting
Sales order transactions
Inventory management
Invoicing
Budgeting
Cash flow in multiple currencies
Job costing and payroll accounting
Financial reporting
Read More: Top Accounting Software Solutions
As Sage products, each software is available as a subscription (SaaS) or on-premise.
Sage 300 is available in two product versions:
The legacy Sage 300 product, which is on-premise, and Sage 300c, a cloud-based subscription-based version of the software, hence the "c" added to the name.
The second option is accessible to users via any web browser. This allows companies, especially those with multiple locations, to easily coordinate their business management processes.
Similarly, Sage 50cloud is a web-based option for easy access anywhere.
How are Sage 300 and Sage 50 Different?
The initial difference between these two Sage products come from their intended uses: Sage 300 is a full ERP solution while Sage 50 is primarily used for streamlining accounting processes.
While some features overlap, Sage 300 has far more modules and options. This extra functionality offers all sorts of business management processes vital to smoothly running a company in any industry.
Other significant differences include scope:
Sage 50 is recommended for smaller businesses, though it can be used by freelancers and mid-market companies as well.
Sage 300 is also popular with small businesses, though it is more popular with mid-market and enterprise-level corporations.
Which Sage Software is Best?
Both Sage 50 and Sage 300 are popular for various reasons. However, Sage 50, is mostly focused on just accounting while Sage 300 is a full business management package.
Which one is right for you will depend on exactly what you are looking for in a software.
Both solutions have limited customization available, depending on your exact industry, number of locations, and country of origin.
Pricing is another factor to consider, as both Sage products are priced based on the number of users. Additionally, each software has monthly or annual payment plans which can change the total costs.
Most users generally agree Sage 300 has far more functionality than Sage 50. In recent years, many companies currently using Sage 50 may want to upgrade their accounting system with Sage 300. They'll retain a lot of the same tools while gaining new features valuable for complete business management.
Summary
Sage 50 is more appropriate for a small business with a focus on accounting, while Sage 300 is a better fit for larger enterprises (100+ employees) who have robust functionality requirements.
Looking for Sage ERP or accounting software? Request free software recommendations from one of our advisors now.