What is Applicant Tracking Software?
Applicant tracking software is a subset of human resource (HR) software, specifically focusing on the area of bringing in new talent. Like recruiting software, applicant tracking systems (ATS) are generally used to hire highly qualified employees for your organization by filtering out poor applications. Further, it can streamline the hiring process for other companies by creating online job listings for staffing agencies which can be shared on career sites, employment marketplaces, and job boards to recruit the best matches possible for each opening.
ATS software is also aimed at helping job seekers respond to available positions to find their ideal employment. Auto-populating applications let candidates apply instantly to jobs they are qualified for and share their updated resumes with recruiters. Intuitive applicant tracking systems bring together top talent candidates with hiring managers to fill job openings faster through streamlined recruiting, screening, and interviewing.
Note: While this type of HR software has similarities with human capital management (HCM), as both have tools for streamlining the hiring process, applicant tracking stops once an employee is hired, onboarded, or trained. HCM and talent management software are useful solutions for managing benefits, scheduling, and meeting company goals through encouraging employee performance.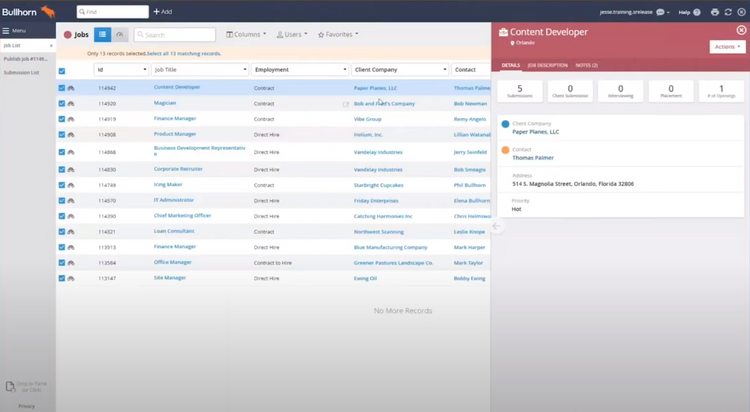 Features of Applicant Tracking Software
Job posting: Place job openings online to sourcing channels with details about wages, compensation, hours, and other expectations
Custom templates: Create custom job listings with set fields to maintain a cohesive, on-brand style; automatically populate different fields for each listing
Social media links: Instantly share job openings through embedded links to company social media accounts
Resume search: Use certain keywords to automatically filter through different resumes
Resume management: Store and organize resumes, CVs, referrals, and other documents from each candidate
Candidate tracking: After an application has been received or a prospect has been contacted, follow the candidate's journey to ensure every step is met, such as screenings and follow up reminders for interviews
Background screening: Gain oversight into candidate backgrounds before the hiring process goes too far, check employment records, criminal history, certification status, and other relevant factors to the job post
Applicant scoring: Grade prospective applicants to rank top talent and prioritize interviews
Interview calendar: Schedule interviews between candidates and hiring managers which work for all parties involved and avoids overlap
Onboarding and training: Once an application accepts the terms detailed in an offer letter, HR professionals can begin the onboarding process, gather necessary paperwork, and schedule any necessary training
Reporting: Use historical data and advanced analytics to improve the hiring process in the future
Best Applicant Tracking Software Benefits
Applicant tracking software streamlines the hiring process in several ways. The main benefits include:
Find the Right Resumes and Candidates
The first job of applicant tracking software is to help recruiters and hiring managers find the right candidates for each position. Unlike recruiting software, which performs outreach to potential candidates, ATS waits until prospects submit their application to parse through each resume to find the best match based on predetermined metrics.
Most ATS software is compatible with the most popular job boards, including:
LinkedIn
Indeed
Monster
CareerBuilder
And more Using one or more of these sites can greatly expand the reach of your job listing, leading to more candidates applying. And many of these staffing boards include easy ways to share listings on social media, further widening your net.
Manage Countless Resumes, CVs, and More
The more applicants you have, the more resumes will start piling up on your desk. And jobs which require additional information, such as cover letters, proof of certification, or professional referrals, will all add up over time. In a traditional HR office, it's very easy for this loose paperwork to get separated or mixed up. This might lead to calling in the wrong applicant for an interview or overlooking a qualified prospect due to a misplaced CV. Rather than sort through dozens of documents, an ATS keeps all the material correctly matched to the right candidate.
By cutting down on the chances of human error, you can speed up your entire application pipeline. ATS software shows you which applicants have provided all required documentation, who still needs to submit paperwork, and if anyone has withdrawn their application from consideration. All the paperwork is kept digitally so there are no more lost applications and negative candidate experiences after calling someone the wrong name.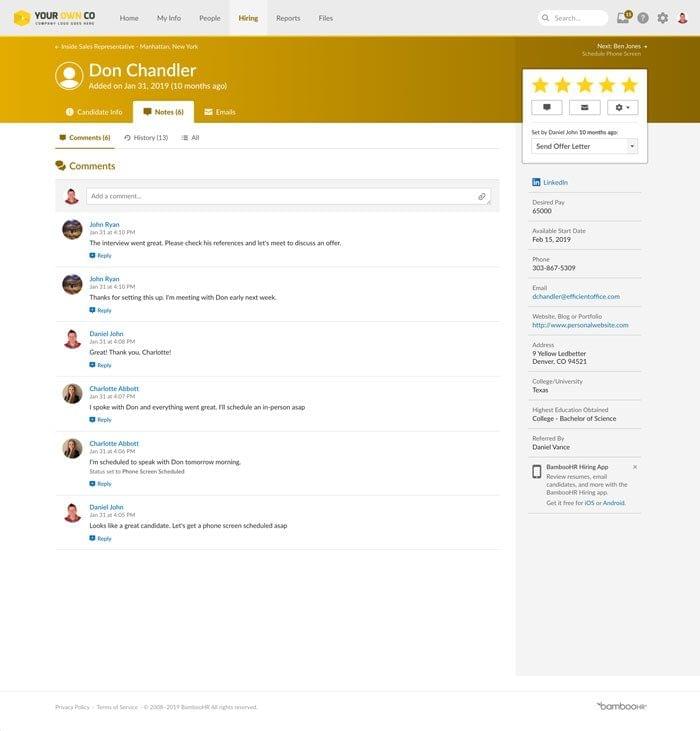 Screen All Applicants in Advance
Talent acquisition takes time, even with software automation. After all, each candidate is human, and reading even a single-page cover letter can add up when there are more coming in every day. And arranging interviews with a job seeker means accommodating their schedule alongside that of the hiring manager or recruiter. Fast-track the recruitment process by using ATS to find qualified candidates faster through automated resume searching. You can use keywords to search through each resume instead of personally reading through dozens of resumes.
Plenty of hiring managers have gone through the entire hiring process only to discover a candidate is wrong for the position after a background check has been completed. This greatly slows down the recruiting process as hiring managers have to wait to learn if they can make an offer. Basic background screening tools from an ATS lets recruiters rule out ineligible candidates in favor of top talent right away, saving you and the candidate valuable time.
Mobile Apps Provide Fast Responses
Finally, apps for mobile devices like smartphones and tablets allow recruiters, hiring managers, and applicants alike to check the status of applications in real-time. This is particularly useful if you're conducting a lot of interviews and are constantly moving between conference rooms and an office space. Or if you're traveling in order to facilitate interviews with remote candidates.
An automated workflow lets you send follow-up communications instantly. Whether you're ready to offer someone a job or just need to schedule an interview, you can use the user-friendly ATS to sort out timely follow-up with all your candidates. And potential new hires can respond to job offers from anywhere as well, letting you start the onboarding process as soon as they accept.
Applicant Tracking Trends
Recruiting and hiring processes are always changing to meet the demands of an evolving workforce. Here are some of the recent trends:
100% Remote Recruiting
It should come as no surprise that the biggest trend of ATS is the increase in completely virtual recruiting practices. Even before the COVID-19 global pandemic, Millennial and Gen Z applicants preferred virtual job applications over other application methods. If a business doesn't at least offer a way to apply online, many of these young candidates won't bother. In order to make your company competitive, an ATS can help your HR teams modernize your recruiting process to reach the best new talent on the market.
"Tricking" ATS Algorithms with Spam
In recent years, potential hires have become aware of the way applicant tracking systems work and have found ways to "trick" them. Specifically, by stuffing keywords to their resumes in order to flag recruiters, regardless of their own qualifications. While this can lead to an initial contact or interview, it unfortunately tends to have the same results: wasted time for both the candidate and the hiring manager once it's revealed the applicant doesn't meet the requirements of the position.
Fortunately, applicant tracking software is always evolving. Artificial intelligence (AI) and machine learning algorithms have grown considerably, constantly being tweaked in order to cut down on these spam applications.
Follow Up Offers after Rejection
Occasionally, a candidate comes along who would be a great fit at your company but doesn't quite fit the position to be filled. Maybe they don't yet have the experience, maybe their area of expertise is in a different area. Or perhaps management decided to rescind the offer and promote from within. Whatever the reason, an ATS lets you keep top applicant information on hand, so in the event there is a new opening, you can contact those promising candidates again.
Along with these new trends, there has been an increase in ATS software which also covers additional HR services, ranging from basic recruiting to compensation management.