Each year we help thousands of distributors and manufacturers select warehouse management platforms. Many high order volume businesses need to optimize inventory logistics, storage, and shipping. These regular conversations provide unique insight into market trends and common software requirements.
For this report, we defined WMS buyers as businesses who have a high order velocity and want to optimize inventory movement. This often excludes buyers looking for a discrete order picking system.
This report summarizes 116 conversations with WMS  buyers over the past two years. Responses highlight essential areas that WMS software buyers hope to address in 2018.
Key findings:
In this study we'll discuss:
Why Businesses Buy WMS
WMS software helps businesses optimize warehouse operations–including inventory, picking processes, and auditing. Over one-third of those surveyed want to buy new warehouse management software because they need more or better features. Another 20 percent are looking to replace an outdated system.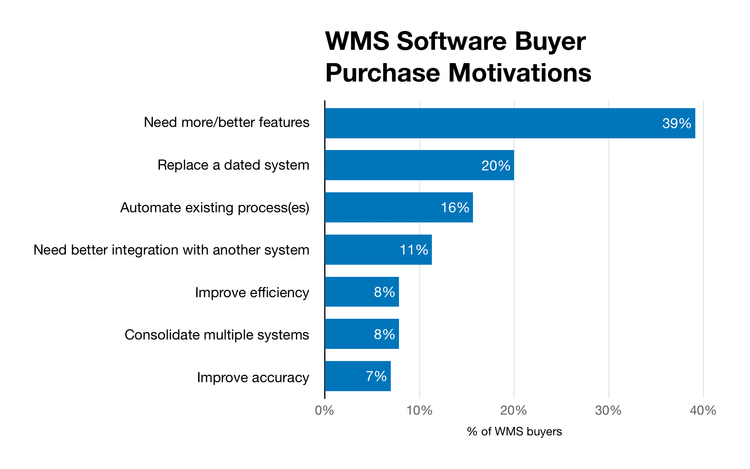 A luxury linen bedding manufacturer needed help with order picking and shipping. "We don't want to prioritize an order that we receive once in a blue moon over a large customer that regularly places $100,000 orders. We don't want to have someone sifting through orders to try to rank them."
Currently, every morning an employee adjusts a priority list–a time-consuming task. Otherwise, essential orders won't ship out in a timely matter.
A manufacturer in South Carolina wanted an LED picking system–aka "pick-to-light." They wanted lighting to "idiot-proof picking and placing." When new picklists generate, LEDs should guide pickers to target aisles and bins.
The manufacturer preferred pick-to-light over a wireless headset/voice guided system. Many of their employees were non-English speaking, and lights are language-agnostic. Furthermore, pick-to-light keeps users hands-free.
Barcoding vs. RFID
It wasn't even close. Three-quarters of buyers still want barcodes over radio-frequency identification (RFID) to track inventory.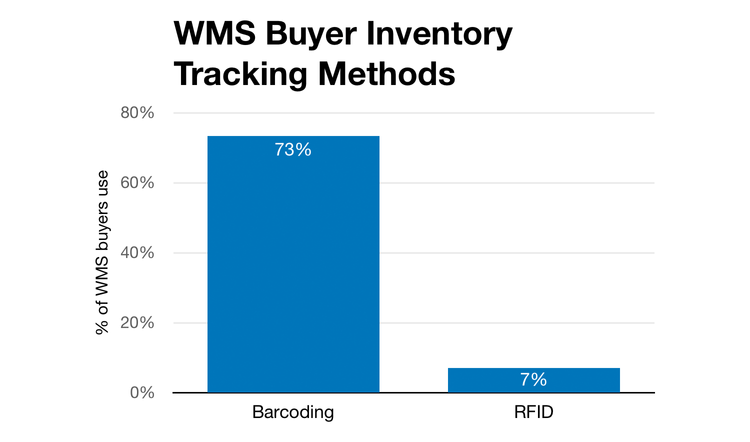 The trend is becoming more like 90 percent of WMS buyers need barcode scanning. If they want real-time inventory allocation, there is no other way. The benefits of having a real-time locator outweigh the costs. ROI with barcode scanning vs. no barcodes is significant. Kim Gregory Emond, VP of Marketing/Logistics for Royal 4 Systems
Average WMS Budgets
Not surprisingly, WMS budgets increase with the size of the company. Investments in WMS were moderate with smaller businesses (between 1 and 99 employees). But budgets accelerated when company size exceeded 100 employees. On average, companies with 50-99 employees allocated budgets half the size of the next bracket (100-499).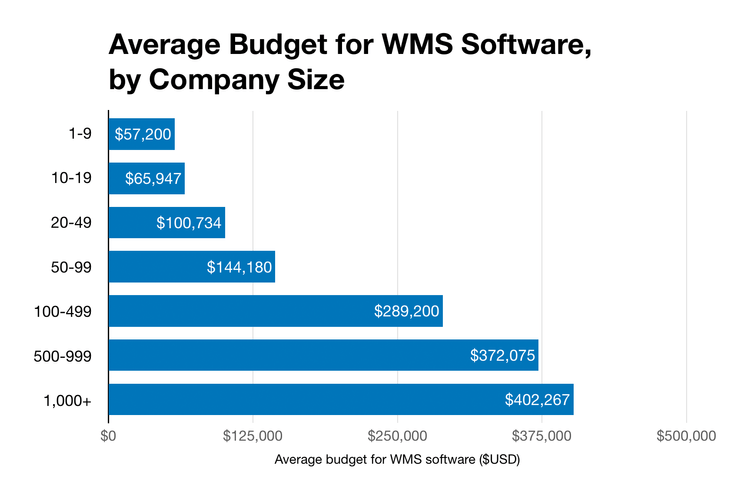 Number of Warehouses
Over half of respondents were looking for software to help manage multiple warehouses. Thirteen percent were responsible for five or more locations.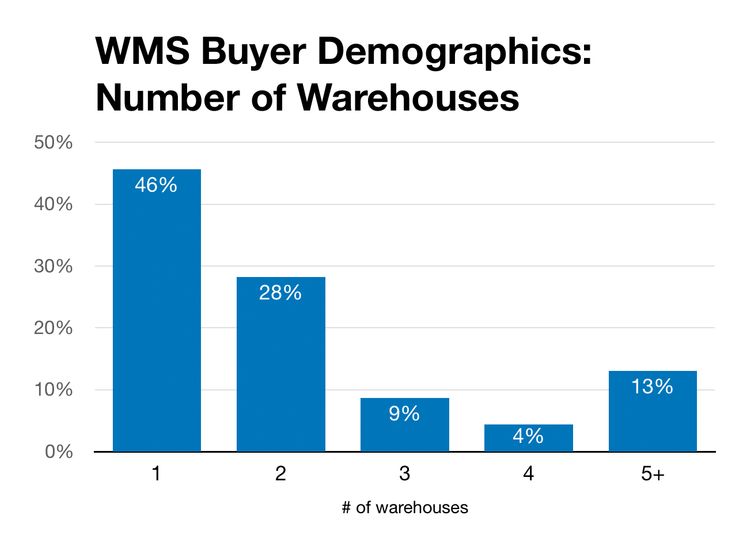 [Multi-warehouse requirements] have increased with the addition of mobile WMS capabilities. Mobile doesn't need a dedicated RF infrastructure. Companies can now manage off-site bulk locations and perform all WMS functions in the remote site(s).

Then they either use a store-and-forward functionality to sync back to the primary server once in range, or they use the web or cell network to facilitate a near real-time process without the expense of setting up an RF network. – Kim Gregory Emond
How Many SKUs Are You Managing?
The vast majority of WMS customers polled–70 percent–track 10,000 or fewer SKUs. Over half of that group has between 1,000 and 10,000 SKUs.
To put that in perspective, a North Carolina manufacturer housed 30,000-40,000 SKUs in one warehouse the size of one long city block. They were looking for a system to interface with Honeywell Vocollect (voice picking). Many of their employees are visually impaired, so they turned to a voice-guided picking system.
ERP+WMS vs. WMS
Warehouse management systems can operate independently or integrate within an ERP package. Survey participants requirements split down the middle between stand-alone WMS and ERP+WMS.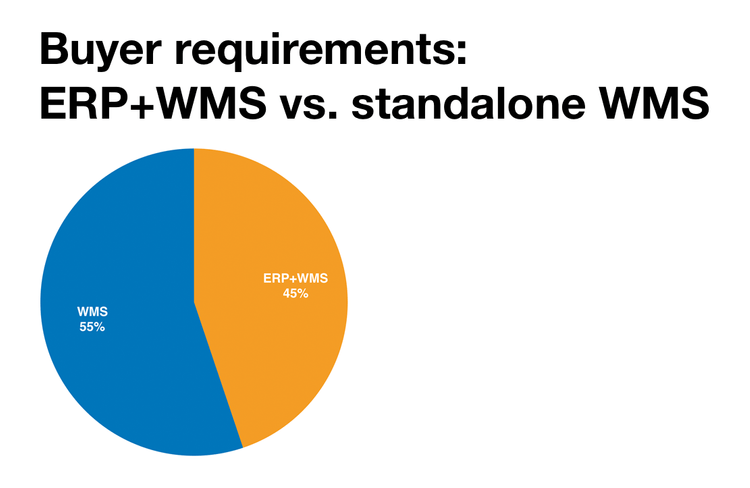 For reference, we qualified projects as ERP+WMS when they required significant features beyond warehousing, inventory, purchase order, and order management.
Third-Party Logistics Providers
Third-party logistics providers (3PLs) often have particular WMS requirements. A 3PL-specific WMS must be able to manage multiple clients (inventory owners). Additionally, 3PLs must provide concurrent support for each inventory owner's business processes.
Each inventory owner often has unique labeling requirements or ERP systems/versions. 3PL WMS needs to accommodate different customer ERP systems. Multiple export methods are often necessary; via legacy EDI or more modern APIs. About 25% of our sample of WMS buyers had supplier owned inventory–3PL requirements.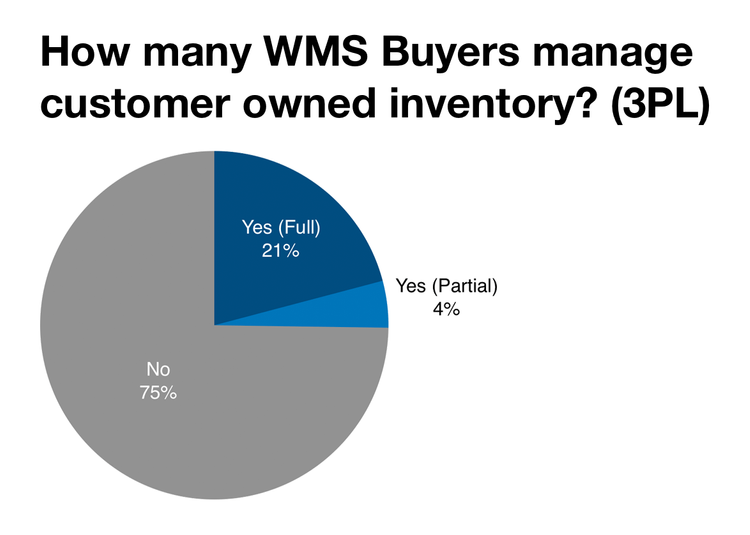 A Jamaica-based 3PL provider wanted to distinguish between each customers' products. "Our scenario is peculiar. A typical warehouse categorizes all items by SKU. But it is not in our line of business to record every single item," stated the 3PL buyer. "We want to show the customers all their items–pallets of items–when they ask."
What Products Are WMS Buyers Replacing?
Buyers used a wide array of products. QuickBooks Enterprise was the most common system replaced. 8 percent, planned to get rid of Sage 300. And less than 5 percent targeted Dynamics GP, NetSuite, or SAP for replacement.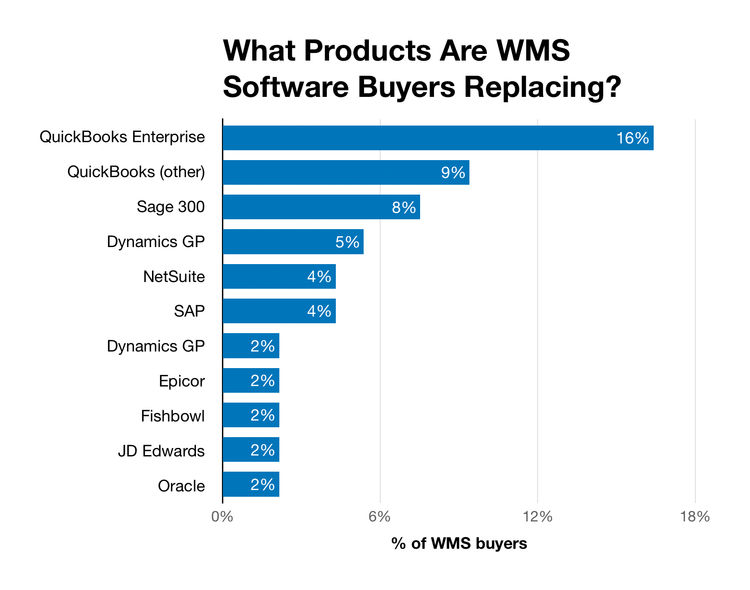 Survey Demographics
Most WMS buyers focused only on supply chain distribution. Yet, the study included manufacturers who handled parts of their own distribution.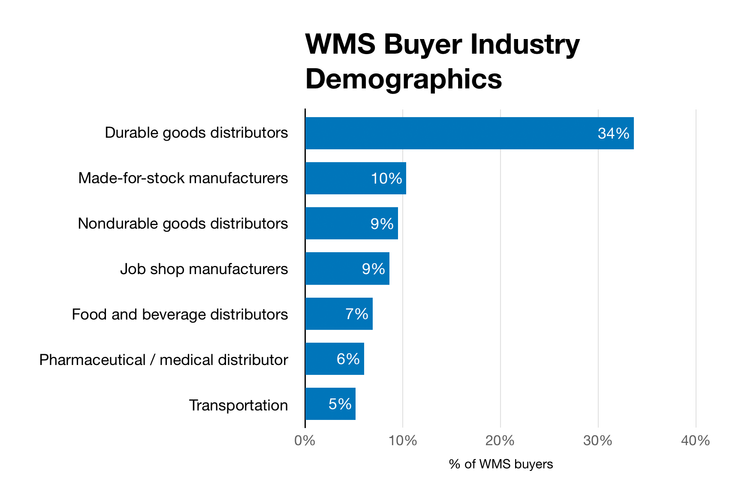 The Takeaway
WMS software has grown in importance as customers demand faster delivery times. Businesses need to better coordinate warehouse operations while supporting growth in product sales. Buyers often look for packages to catalog thousands of bar-coded SKUs across multiple warehouses.
A WMS must be able to process all the steps necessary to complete an order. Often buyers demand software integration with other  ERP, distribution, and supply-chain systems. All to better connect their warehouse, enterprise, and partner relations.
Software Connect provides a free software-matching service. We connect end users looking to evaluate software options. Our team of independent experts gather project requirements and match top products to meet needs best.