No matter the size of your business, bookkeeping software is a must-have. QuickBooks Online and FreshBooks are two of the most popular accounting software options for small businesses looking for a cloud-based platform.
They boast exceptional tools for streamlining critical business tasks like cash flow, budgeting, customer billing, and keeping track of your company's overall financial health.
These products have many similarities and a few key differences you need to know about before making a purchase. Read on to discover which product is the best accounting solution for your business.
QuickBooks vs. FreshBooks: Software Overview
About QuickBooks Online and FreshBooks
QuickBooks Online and FreshBooks are both popular cloud-based accounting software designed for small businesses. These user-friendly tools save you time and money on financial management and other business tasks with helpful templates for invoices, financial reports, and spreadsheets. In addition, an intuitive interface allows you to easily manage your finances, track time for billing, and send invoices automatically to clients.
Features
Both of these online accounting tools offer a variety of features to help you effectively manage your business. These features include:
Accounts payable and receivable
Unlimited invoices
Recurring invoices
Reports - profit and loss, chart of accounts, balance sheet, and sales tax summaries
Expense tracking
Customizable estimates
Bank account connection
Credit card and ACH payments
Time tracking and billable hours
Project management
Double-entry accounting
Integration with hundreds of third-party apps and software
Free IOS and Android mobile app
Customer support
In addition to these shared features, both have modules for inventory tracking and project profitability. However, they are only available as add-ons in FreshBooks while they are built into all QuickBooks plans.
QuickBooks also offers:
Inventory management
More detailed invoice designs
Built-in inventory tracking
Most importantly, QuickBooks has more robust accounting features like mileage tracking and 1099 contractor management.
In contrast, FreshBooks offers a simple to-set-up software with a more user-friendly interface, which is perfect for beginners and solopreneurs.
Winner: QuickBooks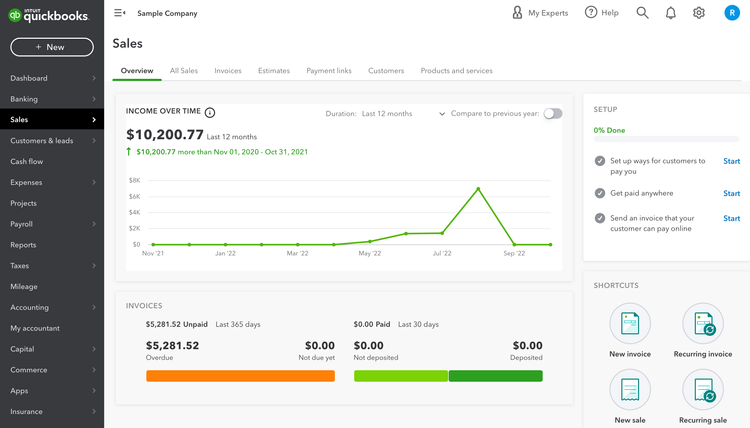 Integrations
QuickBooks Online has integrations with over 400 software tools to help you manage your business. Integrations with online payment platforms like Shopify and PayPal are critical tools for e-commerce businesses.
FreshBooks has over 100 free and paid software integrations. Free apps like the Income Importer allow you to import income from credit card processing platforms like Square and Stripe. Visit the FreshBooks website for the most up-to-date list of their official software integrations.
Winner: QuickBooks
Who Uses This Software?
QuickBooks Online is an excellent accounting and business management tool for small to medium-sized businesses. Several QuickBooks products will work for different sizes and types of companies. A higher-tiered software plan is the best choice to manage inventory if you have a business with a large amount of physical stock.
FreshBooks is an excellent tool for self-employed business owners and businesses with few employees. As it does not offer a payroll feature, you may need to use another software or conduct it manually. For service-based companies looking for uncomplicated bookkeeping, FreshBooks is known for its ease of use.
Winner: Tie - It depends on your business model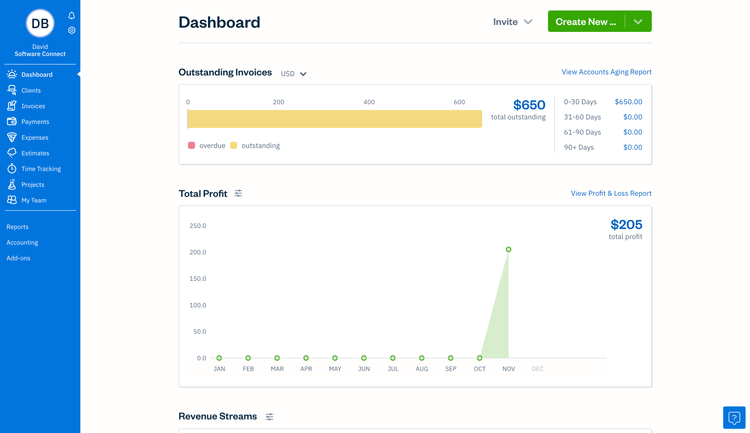 Scalability
For small to medium-sized businesses that intend to grow, QuickBooks is the best option for your accounting needs. QuickBooks offers a much greater number of software integrations to increase functionality as the demands of your business change. In addition, all their plans include support for an unlimited number of billable clients.
Freshbooks is a great solution for freelancers and small business owners who do not anticipate sudden or explosive growth. While FreshBooks has reduced functionality compared to QuickBooks, its simplicity makes it ideal for small operations. Another downside to FreshBooks is that the base product only allows one user unless you go to the next price tier. Finally, Freshbooks only initially includes support for 5 billable clients, whereas QuickBooks is unlimited from the start.
Winner: QuickBooks
Pricing
QuickBooks Online has several different product tiers businesses can select. The four main products are: Simple Start, Essentials, Plus, and Advanced. The base plan is $30/month, and the highest-priced plan is $200/month. QuickBooks has a free 30-day trial and often offers discounts, so check the QuickBooks website for the latest pricing details.
FreshBooks also has a range of products to meet your small business's accounting needs. There are also four options: Lite, Plus, Premium, and Select. The base plan is $15/month, and the highest-priced plan is $55/month. The FreshBooks pricing plans allow you to pay on a monthly or annual basis, which will provide extra savings. FreshBooks also offers a free 30-day trial, and there are often discounts on their monthly pricing.
Winner: FreshBooks
QuickBooks vs. FreshBooks: Which is Best?
When to choose QuickBooks
You need many features and integration options
You plan to grow your business and need a scalable solution
Your business sells products
You're comfortable using a more complex solution
When to choose FreshBooks
You need a basic all-in-one accounting software
You're a solopreneur comfortable with your company's size
You're a service-based business
You want software that's easy to set up and use
The software you choose will ultimately depend on your company size and business needs. If you require simple accounting software with a more beginner-friendly interface or have a smaller number of billable clients, FreshBooks will be the best accounting software. On the other hand, you should choose QuickBooks if your company sells a high volume of products, you have plans to grow, or you need many software integrations.
Looking to compare more accounting software options? Review all our options or request a free software consultation with one of our experts.