To help you choose the right solution for your business, we found and ranked the best small business manufacturing software in the market today.
1

Katana Manufacturing ERP

Katana Manufacturing ERP is an excellent choice for small businesses seeking to improve efficiency and competitiveness with their peers who may be using more complicated systems.

Here are just a few of the benefits of using Katana:
Real-time visibility: Katana gives you real-time visibility into your inventory, production, and accounting data. This means you can make informed decisions about your business at any time.
Streamlined workflows: Katana streamlines your manufacturing workflows, so you can get more done in less time. With Katana, you can easily create and track orders, manage production schedules, and track inventory levels.
Automated tasks: Katana automates many of the tasks involved in manufacturing, so you can focus on running your business. With Katana, you can automatically generate purchase orders, track production costs, and generate reports.
Scalable: Katana is a scalable software that can grow with your business. As your business grows, you can easily add new users and features to Katana.
As a small business looking for your first manufacturing system, you may be unwilling to give up using certain programs, such as QuickBooks or Shopify. Katana offers integration with dozens of popular options or allows you to create workflows via API.
Here are some additional reasons why Katana is the best small business manufacturing software:
It's affordable. Katana is one of the most affordable manufacturing software solutions on the market.
It's easy to use. Katana is designed with small businesses in mind. The user interface is intuitive and easy to learn.
It's reliable. Katana is a cloud-based software, so you can access it from anywhere.
It has a great support team. Katana's support team is available 24/7 to help you with any questions you have.
As a cloud-based solution, it provides affordable access to powerful tools that rival high-cost enterprise software. The Essential version of Katana starts at $99/month and allows for up to 500 shipped sales order lines per month. If you aren't sure, Katana offers a 14-day free trial.
2

MRPEasy

MRPEasy helps small and medium-sized manufacturers streamline their production processes. It is also easy to use and affordable–making it the perfect choice for small businesses of all sizes.

It offers features such as:
Production planning: with automatic scheduling and dynamic rescheduling, based on current inventory levels, pending sales orders, and manufacturing resources that are available (such as employees or machines).
Inventory management: Ensure you have the right materials on hand to meet production needs by tracking stock movemements and optimizing stock levels through purchasing integration. Offers batch and serial number tracking
Order management: Helps manage orders from start to finish, including tracking order status, generating shipping labels, and sending invoices
MRPEasy stands out as one of the best manufacturing software for small businesses due to its affordability, ease of use, and comprehensive functionality. Its integrated system allows manufacturers to manage all aspects of production in one place, reducing the need for multiple software solutions. Additionally, its cloud-based platform allows for remote access, making it a flexible and convenient solution for manufacturer
3

Fishbowl Inventory

Fishbowl is mostly known for its inventory management capabilities. However, Fishbowl also has a number of manufacturing features that make it a great choice for small and growing manufacturers.
Customizable bill of materials: Define and manage simple or configurable builds, use sub-assemblies in your order of operations, and create unique BOMs for a single part.
Capacity planning: Schedule production around factors like seasonality and growth
Labor cost capture: Plan production around labor costs
Manufacturing work order management: Track order status, generate shipping labels, and send invoices
Quality control: Maintain the quality of the goods being produced from inspection to final reporting
Fishbowl has one of the most popular integrations with QuickBooks and can help ensure your accounting is synced exactly the way it needs to be. With your invoicing and budgeting in control, Fishbowl will then provide the added inventory and order management functions needs to ensure you have the right materials on hand in order to finish production on-time.
4

Infor CloudSuite Industrial

Infor CloudSuite Industrial, also known as SyteLine, has been serving manufacturing businesses for several decades. This platform stands out due to its adaptability; not only is it robust enough to cater to the needs of larger enterprises, but its high versatility ensures that smaller manufacturers can also harness its capabilities effectively.

Key features include:
Advanced planning and scheduling: This allows businesses to optimize their production processes, ensuring timely delivery and resource efficiency.
Customer and supplier management tools: With these, businesses can maintain strong relationships, streamline communications, and manage transactions efficiently.
Product lifecycle management: This feature ensures streamlined product development, from ideation to retirement, making sure products are competitive and aligned with market needs.
5

NetSuite

NetSuite offers small to mid-sized businesses a comprehensive solution that addresses every aspect of their operations. One of its standout attributes is its capability to support rapid scaling, making it an ideal choice for businesses poised for exponential growth or those juggling a broad range of products. As the business expands, NetSuite's modular design allows for easy integration of new functions and features without overhauling the entire system.

Key features include:
Real-time data and analytics: This ensures that businesses can make timely and informed decisions by accessing up-to-the-minute insights on production, order management, and finance.
Complete CRM and ERP capabilities: This comprehensive system allows seamless management of customer relationships and core business processes, ensuring that all departments are aligned and functioning optimally.
Strong inventory and warehouse management features: As businesses grow, maintaining an efficient inventory system becomes even more crucial. NetSuite's robust tools ensure that stock levels are optimal, order fulfillments are timely, and storage costs are kept in check.
6

Acumatica

Acumatica stands out as a leading cloud-based solution specifically crafted for small to medium-sized manufacturing businesses. The cloud-native architecture ensures anywhere, anytime access with real-time data synchronization, making it ideal for teams that operate in diverse locations or those that require mobile accessibility. Its flexible licensing and platform model not only guarantee affordability but also allow for easy scaling as business needs change. This seamless cloud integration eliminates the need for on-premise hardware, reducing IT costs and ensuring automatic updates.

Key features include:
Bill of materials and routing management: This ensures that every product is manufactured consistently to specifications, regardless of volume or complexity.
Production management with real-time insights: Acumatica's cloud-native nature enables manufacturers to monitor production processes in real time, allowing for timely adjustments and more efficient resource utilization.
Inventory and order management capabilities: These tools ensure that stock levels are maintained optimally and that orders are processed efficiently, all in real time, thanks to the power of cloud computing.
What is Small Business Manufacturing Software?
Small business manufacturing software processes purchase orders more efficiently, gives you greater inventory control as your product line expands and sales orders ramp up, manages shop floor operations, and gives you greater visibility across your supply chain. Dedicated manufacturing software keeps your business more organized than tracking complex processes through manual methods or accounting software alone.
Manufacturing software designed for small manufacturers often features a multi-module system that allows you to pick and choose the functionality you want. This allows you to cut costs and have a system that isn't too complex for your needs.
Small business manufacturing software includes a range of products that vary in functionality and specialty. Some businesses need a solution tailored to specific manufacturing industries like food manufacturing or medical device manufacturing to ensure regulatory compliance. Businesses that want to handle everything including human resources, accounting, production management, and more from a single system often choose a small business manufacturing enterprise resource planning (ERP) system that can be scaled with your business.
Features of Small Business Manufacturing Software
| Feature | Description |
| --- | --- |
| Manufacturing Inventory Management | Manage real-time data on inventory levels of your finished products and raw materials. Manage prices and descriptions of your inventory. |
| Production Planning | Assign schedules of labor and resources for each manufacturing job. |
| Bill of Materials (BOM) | Includes instructions for manufacturing and lists of materials and equipment needed for the manufacturing process. |
| Sales Order Management | Create and send invoices. Convert sales orders into work orders for fulfillment. |
| Supply Chain Management | Track the flow of goods from acquiring the required materials to delivering the finished product. |
| Quality Control | Track defects in finished products and raw materials, and take corrective action as needed. |
Inventory Control with Small Business Manufacturing Software
Small business manufacturing software gives you better control of your inventory. Tracking inventory quantities and costs of inventory items manually is prone to errors and miscalculation. As your business grows and you have more inventory to manage, the right solution will help you track your growing inventory demands.
The manufacturing system will track the quantities and costs of your on-hand finished products and raw materials. When your supplies are running low, the system can automatically create and send a purchase order to the right vendor. This ensures you always have the necessary materials on-hand and allows you to focus on other aspects of your business.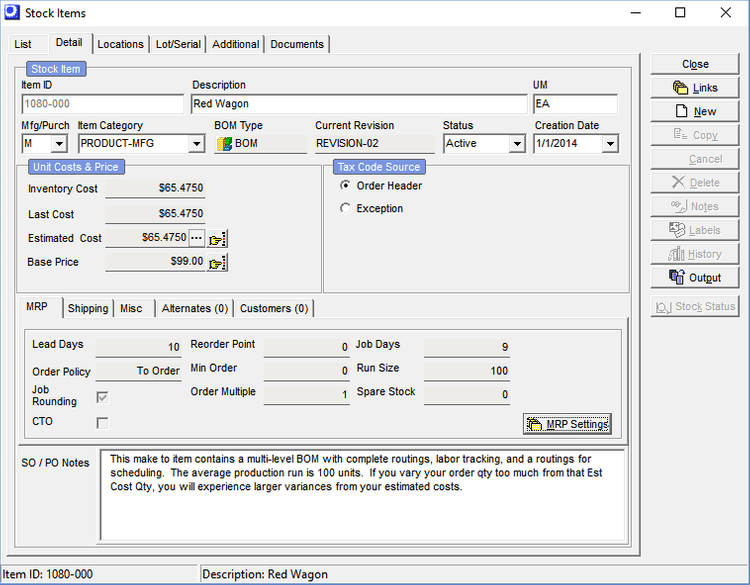 Production Planning with Small Business Manufacturing Software
As your business grows and takes on more manufacturing jobs, it becomes more difficult to manage production schedules. Small business manufacturing software includes production planning and scheduling features that allow you to assign materials, equipment, and labor to each job. The software also features calendar views and Gantt charts, making it easy to visualize work order progress and the schedules of employees and materials.
If there are any conflicts with double booking equipment, materials, or employee time, the system will alert you immediately. This allows you to take corrective action such as ordering more materials or reassigning jobs as needed.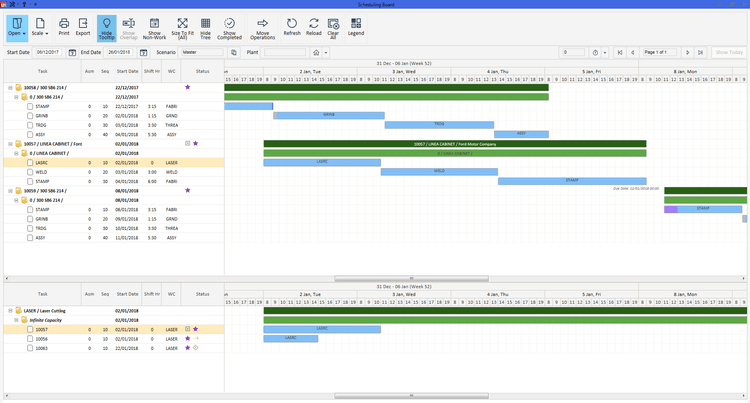 QuickBooks for Small Business Manufacturers
Small manufacturing companies commonly use QuickBooks Enterprise as an alternative to ERP software. QuickBooks Enterprise helps small manufacturing businesses with income and expense tracking, invoicing, and job costing. Small manufacturers also benefit from advanced inventory tracking, sales order status management, and purchase order creation. QuickBooks also helps manufacturers calculate the true cost of manufactured products. The system factors in labor, freight, insurance, and other costs to help you determine prices for your products and increase your profit margins.
For a single user, QuickBooks Enterprise starts at $1,155/year for an on-premise solution and $140/month for cloud hosting - pricing goes up with additional users and higher-level plans.
Alternatives to QuickBooks
Some manufacturers quickly outgrow QuickBooks as their manufacturing system for a solution that offers features like material requirements planning, quality management, production scheduling, and BOM. Manufacturers can choose to either find a software solution that integrates with QuickBooks in order to keep accounting on a familiar platform, or completely replace QuickBooks with a fully integrated system.
In a survey we conducted, we've found that the most popular QuickBooks replacements among manufacturers were: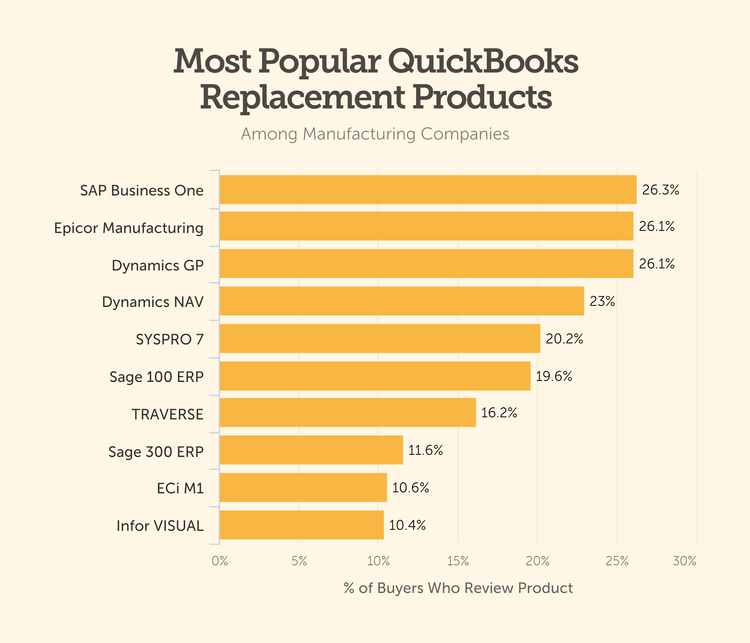 Small Business Manufacturing ERP Software
Small manufacturers may choose an ERP system instead of standalone manufacturing software to manage all business processes from one system. ERP solutions designed for small manufacturing businesses are often customizable while reducing overall costs. However, small manufacturers may find some ERP solutions too complex for their needs and find a manufacturing solution that fills in the functionality where their business is lacking.
Some common features in manufacturing ERP software include financial management, costing, customer relationship management (CRM), human resources management, inventory control, and material requirements planning (MRP).
ERP software can have other advanced features that can be added on as your business grows. Some ERP solutions feature ecommerce functionality for manufacturers that create and sell products directly to consumers. Some solutions feature warehouse management for manufacturers with a large number of inventory items to track.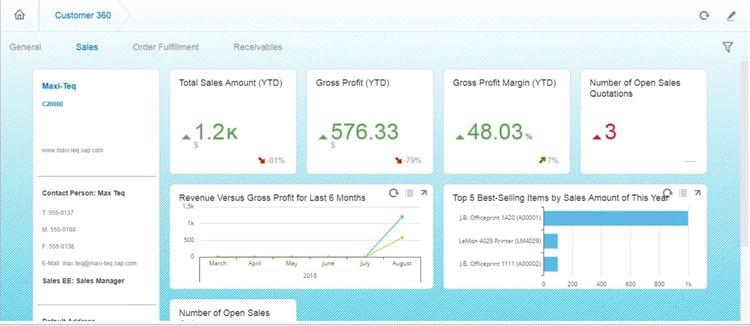 Industry-Specific Small Business Manufacturing Software
Some small business manufacturing software solutions are distinctly designed for specific industries or certain types of manufacturers including:
Discrete Manufacturers
Small business discrete manufacturing software manages business operations for manufacturers that produce distinct products that can be counted individually. The software helps improve lead time and reduce costs through effective inventory control, production planning, and MRP. Made-to-stock, made-to-order, engineer-to-order, and mixed-mode manufacturers can find a solution specific to discrete manufacturing to improve their business processes.
Process Manufacturers
Small business process manufacturing software manages the manufacturing of products that are created with recipes or formulas and packaged as individual units. The process manufacturing solution will ensure your formulas and recipes are secure and consistent. These systems also assist with lot traceability and compliance management to ensure your products meet regulatory standards. Industries that use process manufacturing software include pharmaceutical, chemical, and food manufacturers.