What is Mac Accounting Software?
Mac accounting software assists your business with managing financial transactions all from the operating system you're loyal to. Solutions for Mac will work like any other accounting program but are created specifically to run on a Mac OS.
Finding an accounting software that is built only for Macs is possible, but rare. Software developers usually have a PC-first mindset given that PCs are far more popular than Macs overall. While accounting software with a Mac-specific UI are available, Mac users will find more options to choose from if they are open to online accounting software.
Cost of Mac Accounting Software
Prices for basic on-premise Mac accounting systems fall around $250 - $400 (one time charge) for limited user licenses (more licenses add to the cost).
Online Mac accounting software is priced per month, and often has an extra charge per user. Cloud-based software pricing can fall around $9/month for very limited solutions to $150/month for more full-featured systems.
Free Accounting Software for Mac
Free accounting software for Mac is available but usually comes with very limited functionality. In most cases, you will be limited to only one user, so free options are generally used by very small companies.
Two popular free accounting software options for Mac include:
Wave - a popular cloud-based accounting software that works in any web browser.
GnuCash - a free, open source accounting software that can be downloaded on desktops running Mac OS X.
Best Accounting Software for Mac
The best Mac accounting software won't just be a facelifted version of PC software. It has to be designed with the Mac user in mind. Mac users value their Apple products because they're well-built and easy to use - your software should have the same strengths. Below are some of the top accounting systems designed for Macs:
Intuit's QuickBooks for Mac is a small business accounting software that can be locally installed or hosted. Core functionalities include:
Tracking expenses and revenue
Invoicing
General ledger
Inventory tracking
Payroll
Purchase order management
Time tracking
iCloud document sharing is also available - it lets you share your files between Macs connected through iCloud. QuickBooks Desktop for Mac starts at a one-time fee of $299.95.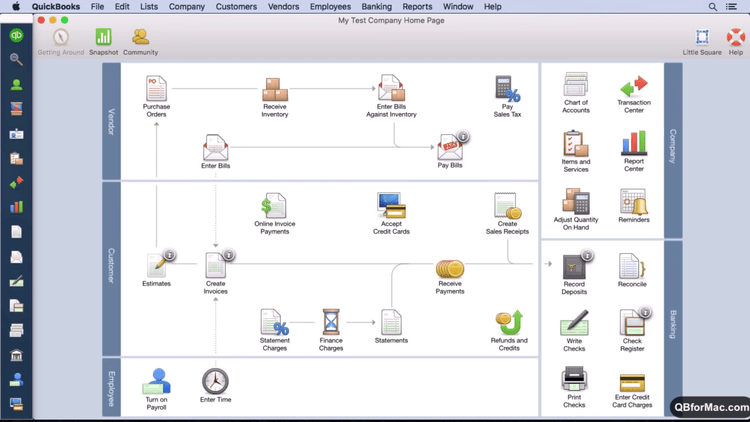 AccountEdge Pro is a full-featured on-premise accounting system for Mac and PC users. AccountEdge features accounts payable, accounts receivable, general ledger, invoicing, time billing, purchase order management, payroll, and inventory management. Business Insights are available to Mac users only - this functionality calculates financial information and provides information on profits, operating balances, and turnover in the fiscal year.
AccountEdge Pro starts at a one-time fee of $399 for up to 10 users. Additional licenses can be purchased for $199 per user. Another plan, AccountEdge Basic has a one-time fee of $149, but has limited functionality and is meant for single-owner or very small businesses.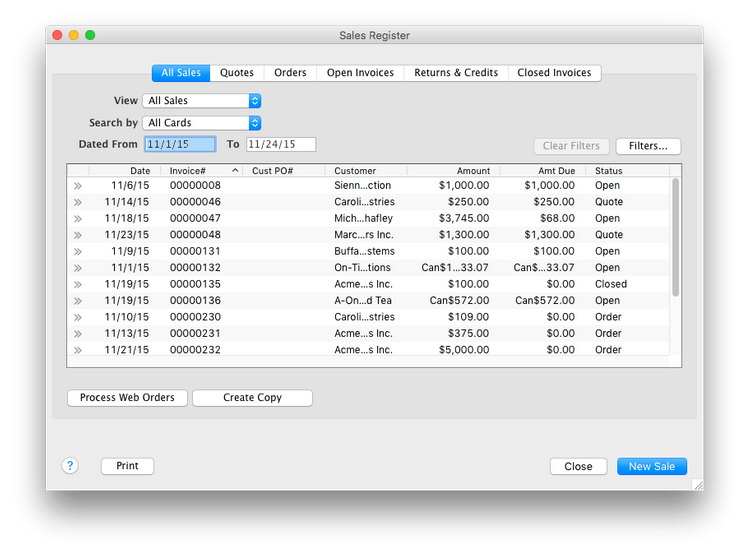 Xero is a popular cloud-based accounting solution that markets heavily towards Mac users. Some functionalities include:
Importing transactional data from linked bank accounts or PayPal
Tracking cash flow
Keeping detailed financial records for tax time
Creating financial reports
Automating sales tax rate calculation
Sending payment reminders
Mobile apps are also available for the iPhone, iPad, and Apple Watch to manage your financials on the go. Xero also uses Apple's Touch ID to increase the security of your data.
Xero's pricing starts at $9/month for a limited plan that lets you send up to 5 invoices, enter 5 bills, and reconcile 20 bank transactions. The Growing plan and Established plan doesn't limit invoices, bill entering, or bank reconciliations. The Growing plan starts at $30/month and the Established plan starts at $60/month.