What is Purchase Order Software?
Purchase order software (also called PO software) helps create the financial document issued to vendors when you are buying supplies or services. Purchase orders typically include information such as product type, quantity, and pricing, along with other relevant data.
Purchase order management software functionality is a key part of any accounts payable process. Purchase order systems can help automate the creation of purchase orders, which will save time when stock levels are running low by alerting your team before a shortage can start. Because of this, purchase order software goes hand in hand with inventory management software.
Purchasing workflows used to require a lot of manual processes, especially when it came time to collect signatures for approvals. PO software can also streamline the approval and requisition processes. Anytime someone in your company desires a purchase to be made, they will go through the approval process:
Employee puts in a purchase request to the appropriate approval workflows
Request moves up the chain to the corresponding management personnel
Management evaluates the need and the current budget allowances
The decision-maker either approves or denies the request
Key Features of Purchase Order Software
Automated POs: Create purchase orders (POs) when certain conditions are met. Reduce manual dependency and eliminate duplicate data-entry. Automatically send these PO documents to the appropriate vendor.
Approvals Management: Manage approvals and requisitions. Let employees submit pre-spend approvals. Route the document to the appropriate person for review. Set up email notifications to ensure the right people see the request in a timely fashion.
Catalogs: Create digital catalogs to share specific pricing information with clients or customers.
Electronic Approvals: Approve requisitions from anywhere they may be via a web browser, email, text message, or mobile app. Automatically create the PO and have it sent out upon approval to eliminate having the original requester step back to the computer to handle the next step.
Multi-currency: Establish a default currency and allow POs to be converted to any applicable currency, depending on the vendor/client receiving the PO and their local currency.
Invoice Matching: Attach POs to invoices for clients to ensure the appropriate party is paying for each task, service, or good.
Real-time Reporting: View financial data on spending and exceptions in real-time. Spot hold-ups in your processing and prevent delays from occurring.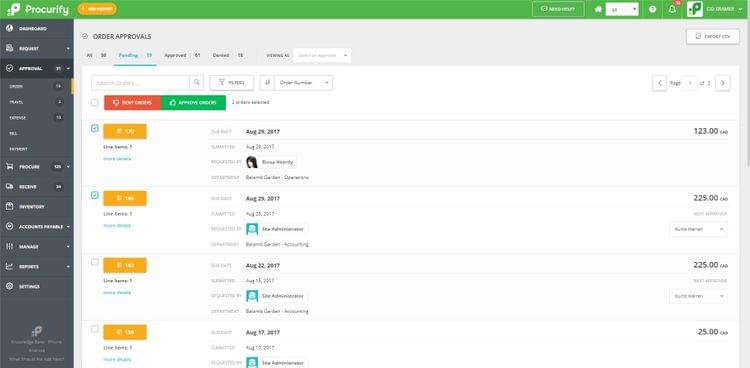 Best PO Software Benefits
By automating your purchase order management, software offers many benefits to your business:
Process automation: Avoid time-consuming manual processes when getting approvals for purchases
Control spending: Limit unapproved company spending
Gain visibility into purchases: Review all approved and denied purchase requisitions across every department for greater spending transparency
Ease design with templates: Ensure your key purchasing documents are consistent with templates
Track purchases for audits: Keep detailed records on all company purchases in the event of an audit
Reduce paperwork: Use digital applications and signatures to cut down on paper
Minimize human error: By automating your processes with software, you can limit human error in your accounting data entry
PO Software Integrations
Since purchase orders are only part of your business's accounting system, it's important you know when and how to integrate with other systems:
Invoicing Integration
If a job or service requires the purchase of additional goods, a purchase order can be attached to bills or invoices in order to pass the cost onto the customer. For this reason, purchase order software can be integrated with a variety of accounting software and invoicing solutions so your purchasing staff create POs and track the related invoices. Purchase orders can be created from requisitions or an integrated enterprise resource planning (ERP) system. Invoices can be paid directly through the program rather than having to upload/attach the PO into an accounts payable solution.
Many stand-alone purchase order solutions will not have invoicing capabilities built into the solution and will require you to integrate with an accounting or invoicing solution for that purpose. Fortunately, any accounting solution with an accounts payable module should allow for an easy transition from purchase order creation to invoice generation.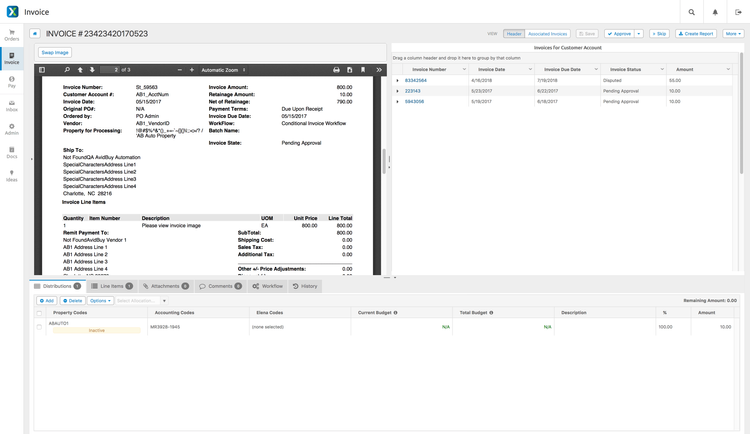 Inventory Management Integration
Many businesses use purchase order software to track stock levels in order to stay on top of replenishing inventory. POs hold the information on needed parts or products from vendors your company has a relationship with. If your inventory stays well stocked with raw materials or assembled spare parts, you'll be able to fulfill any manufacturing or distribution jobs that come your way.
An integrated inventory software can save information on which vendors you've purchased from previously, who has the most affordable costs, who has the best turnaround time, and more. Then, the PO software can automatically generate a PO when inventory level hits a certain threshold, called the "reorder point", and have it sent to the vendor without any needed user interaction.
Procure to Pay Integration
Purchase order software has a lot of similarities with procure to pay solutions, which itself is generally seen as a subdivision of the procurement process. When integrated together, these two provide a full overview of purchasing by clearly showing buying habits, cash-flow, and financial commitments.
Best Small Business Purchase Order Software
What are the best purchase order software solutions for small businesses? We've done the research to find a few options which are continuously affordable, simple to use, and easy to set up.
Coupa is a complete spend management program providing purchase orders and purchase requisition capabilities. The software can be as simple as something you use to create purchase orders, or as complicated as handling anything that relates to your purchasing process.
Coupa has a variety of products you can purchase depending on your needs, such as Procure for e-procurement, Invoice for AP automation, Expense to monitor travel/employee expenses or Pay for B2B payments. They can also be fully integrated to operate as a complete spend management platform, making Coupa stand out as being one of the most versatile purchase order software options available.
Price: Coupa does not make its pricing available online. Coupa does have a free open-source version of the software, although it has not been updated since 2009 and requires an advanced installation process.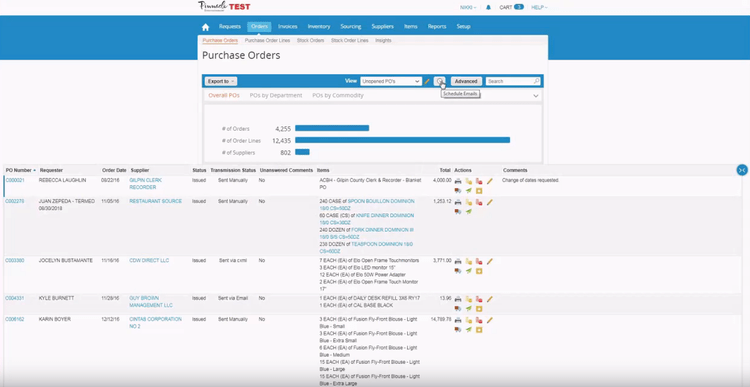 Bellwether has a variety of PO products that can work for your business:
PMX: A free desktop solution to record purchases, payment, and simple inventory tracking.
BPM: Intended for small businesses, provides a simple cloud-based approach with the standard functions such as requisitions, approvals, purchasing, receiving, invoice matching, self-service order status, inventory management, and mobile capabilities.
EPMX: Includes all the features of BPM but is intended for companies with a higher PO volume. Additional features include e-Catalogs, RFQs, asset management, and contract management.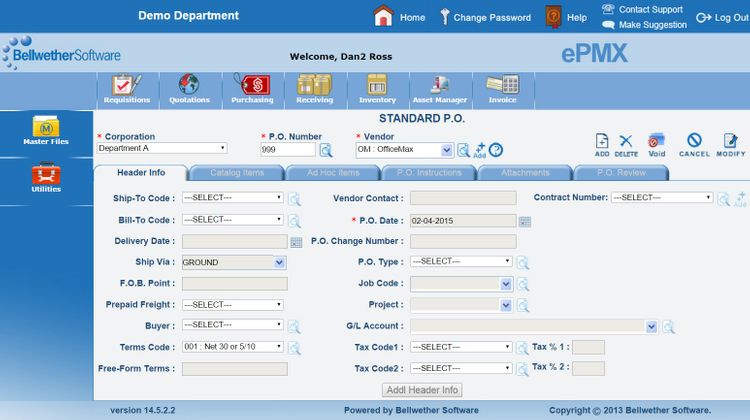 Creating a purchase order can be done with ease in the accounts payable workflow of QuickBooks Pro. QuickBooks has long been one of the leading small business accounting solutions to provide a general ledger with accounts payable and accounts receivable. A part of the account payables process is the ability to create a purchase order.
Quickbooks can help track items ordered and received, plan expenses, and manage your funds wisely. The combination of these factors and a strong audit trail will make QuickBooks a great choice for small businesses looking for PO capability with full accounting.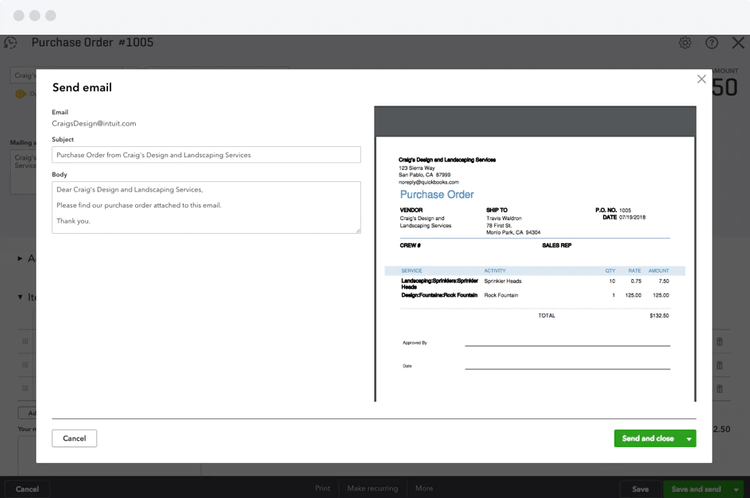 Growing businesses looking to make a jump to a mid-sized accounting solution with a strong purchasing functionality will want to consider a product such as Sage Intacct. The purchasing module automates purchasing transactions using dashboards and reporting tools so your staff can monitor merchandise and service acquisitions in real-time.
Sage Intacct lets you implement best practices for purchasing supplies, and lets you create custom templates for requisitions, requests for quotations, purchase orders, and adjustments. It also lets you database your vendor prices. Anytime you pay a price on a purchase order, you can automatically update your vendor costs with those figures for future POs.
Price: Varies depending on the number of users and functionalities needed. Typically starts at $400/month/user.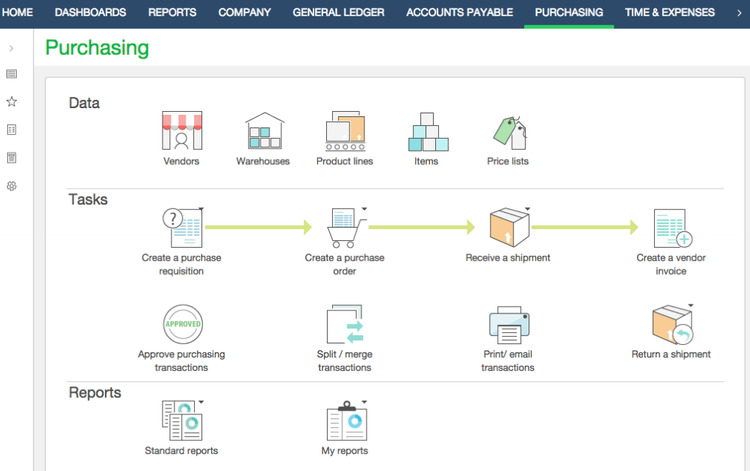 Xero is a web-based accounting software designed for small businesses and startups. Known for ease of use, this cloud-based platform is accessible anytime, anywhere. You can even see your cashflow in real-time! Pay bills, claim expenses, or secure bank connections with Xero.
A wide array of add-ons include:
Freshbooks
Salesforce
ADP
Harvest
And more!
Price: Starts as low as $9 per month. A free trial is available, so you pay nothing until you are ready.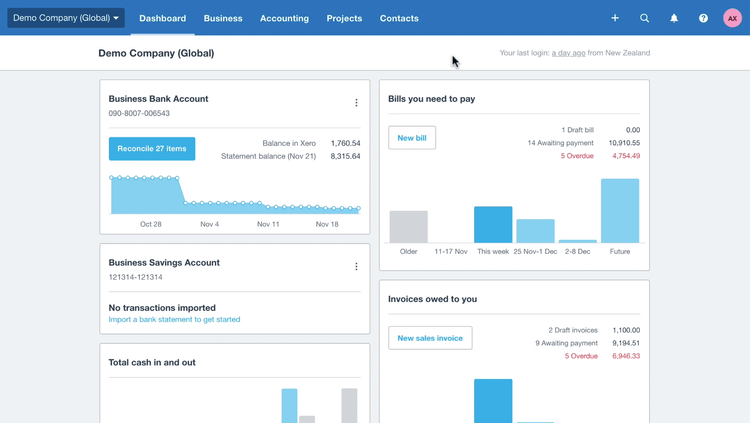 Free and Low Cost Purchase Order Software
For new and growing businesses, it may be hard to budget for a purchase order software to adequately meet your needs. Luckily, free and affordable options exist. These can be in the form of forever-free packages, limited use packages (usually capping business owners at a specific number of purchase orders each month), or a limited number of multi-day trial versions of paid options.
The Free-Procurement Project by SpendMap is a true free purchase order software. It does not provide limited functionality or only a trial version of their paid-version. Your business can automate the purchase order process with an unlimited number of POs in the Free-Procurement Project solution from SpendMap.
Key features include professional looking POs, email integration, supplier management, and budget tracking. Paid versions of SpendMap are available starting at $20/month/user which offer a wider range of functionality.
Zoho Inventory is a free solution in the Zoho suite of applications. Included in Zoho Inventory is the Purchase Order Generator, which can create simple purchase orders with editable fields. You can add your billing address, add your vendor's address, enter a PO number, and even include descriptions of the bought items.
While Zoho Inventory is free to use, it is in inventory management solution and not necessarily the best for all your purchasing processes. It will mostly act as a simple tool to create a quick purchase order, but it will not allow for a level of automation, collaboration, or customization of a paid version. You are also limited to only 20 orders/month with the free version. The price for paid versions of Zoho Inventory start at $39/month and included the capability to handle up to 1,500 orders a month.