What is Procure to Pay Software?
Procure to pay software manages all aspects of the procurement process for a business, which includes requisitions, purchasing, receiving, paying, and proper accounting for received goods and services. While related to procurement software, a procure to pay system goes a step further by helping the purchasing department link with the accounts payable department to ensure a streamlined purchasing supply chain for your company. This can provide deeper insights into the buying habits of your company and overall improve cash-flow and reduce financial commitments.
Procure to pay is more of a subdivision within the procurement process. It manages the supply of needed purchases, enables requisition of products, creation of purchase orders, handles receiving and invoice reconciliation, and finalizes the proper recording within accounts payable. The procure to pay process can be very complex for some companies. This has led to the development of end-to-end software suites that can automate each step along the way.
Some ERP applications will include core parts of a procure to pay process, such as an accounts payable and general ledger module. These ERP systems can have a built-in procure to pay process, while some procurement solutions are marketed as a complete procure to pay tool that can integrate with your existing ERP solution.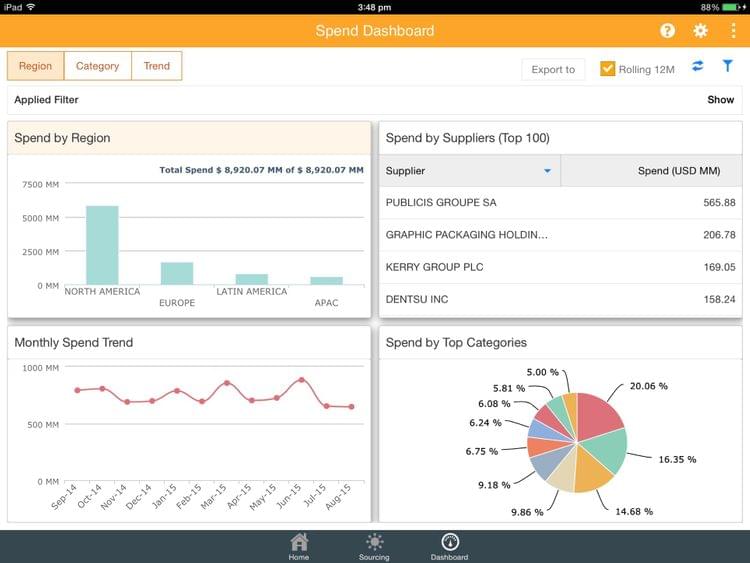 Features of Procure to Pay Software
Supplier Management: Manage supplier relationships. Onboard your suppliers into the system, collect outstanding information, attach invoices or receiving POs to specific suppliers, monitoring supplier risk, and optimize the companies you partner with.
Vendor Database: Research vendors and choose the ones to purchase from. Sort vendors by risk score, prices, location, and more.
Approvals: Manages your purchase requisition process. Let users submit purchase requests for products. Send requests to management for approval. Send approved requests to vendors.
Purchase Orders: Create purchase orders detail product orders. Ship to the appropriate supplier for speedy delivery.
Inventory Management: Manage receiving and shipments that come in from purchase orders. Enter in orders into your inventory once they arrive. Record any remaining costs left to pay towards vendors and suppliers.
Invoicing: Create invoices for your accounting department to pay and pair them with purchase orders. Code charges correctly and link them with any organizational budgets.
Contract Management: Automate contract workflows and extract necessary purchase and financial details.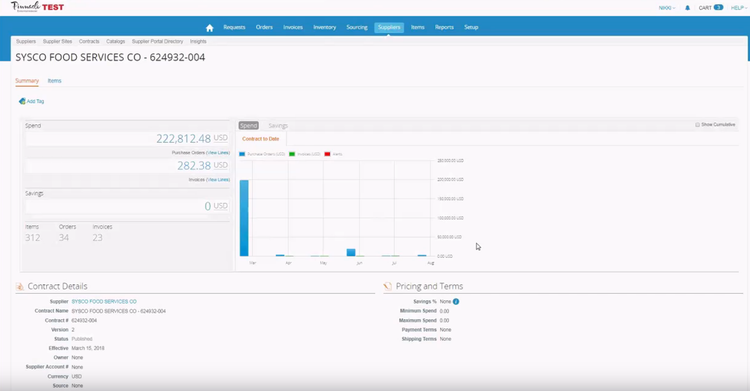 Benefits of Procure to Pay Software
The advantages of procure to pay software include a streamlined purchasing process and better real-time insight into your company's buying habits. Purchase to pay software can also highlight problem areas in your buying cycle (inefficiencies) and which suppliers you have the most difficulty with (regarding shipping times, costs, and other risks). Some of the top benefits of procure to pay systems include:
Unified Purchase Management Platform
A procure to pay software provides one location for all purchase-related activities. This includes all requests for goods, services, components, tools, and travel expenses. The more uses you find for your procure to pay software means a larger percentage of users that will need access. This can provide better analytics on your spend, and hold employees more accounting for any business expenses they incur (or are looking to incur).
User-friendly views on both the back and front end should be considered. Today's options offer shopping experiences for the users which lets them request purchases on goods and services they need t perform their job well. These requests flow through the proper channels to management who have better insight into how purchases affect the overall budget.
Eliminate Errors, Lower Risk, and Prevent Fraud
The automation provided within a procure to pay software will help reduce the time spent with manual processes, which will reduce the risk of human error. The software will also help keep your supplier information organized in one easy to access location. This can get rid of any barriers in communication between buyers and suppliers.
P2P Software vs Spend Management Software
Procure to pay software, sometimes referred to as P2P software, is commonly associated with spend management software. A business looking to implement either has the same end goal; to automate their purchasing processes. While marketed under separate names, procure to pay software and spend management software will provide you with the same desired functions.
P2P software focuses on automating the entire procure to pay cycle by giving control at each level in the procurement system. This means the flow of data can move along from the department making the request, to the purchasing department to approve, and finally to the accounting department to record.
Spend management software is also used to handle the beginning to end management of a company's purchasing cycle. However, spend management software has a stronger focus in analytics. The solution is best used to analyze spend, categorize your transactions, and look at the performance of your purchasing department. This, in turn, will provide greater efficiency, lower supply costs and risks, and make for more effective collaboration between your purchasing department and the rest of your organization.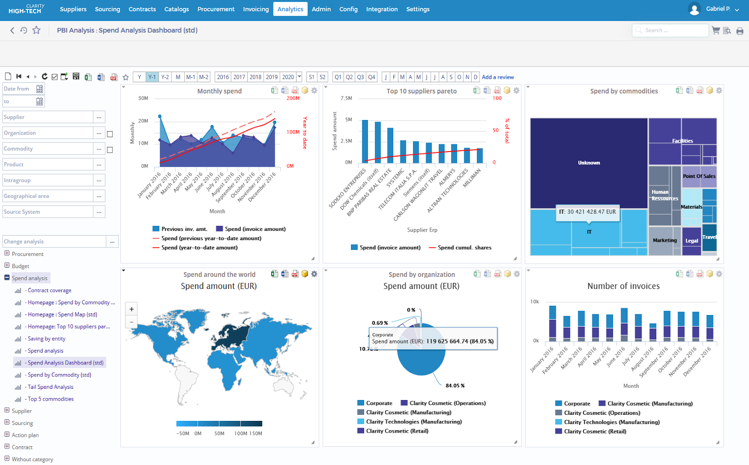 Contract Management in Procure to Pay Software
Contract management plays a big role in procure to pay software as it helps connect spending to individual contracts. This will help turn negotiations into savings for you and your suppliers. Contract management modules will usually handle the entire lifecycle of a contract; from the request, creation, approval, negotiation, compliance, management, and more.
In order to better your company's financial portfolio, a contract management functionality within procure to pay software will be able to access all necessary financial data included in the contract language. This information can be captured during the contract creation process, or for outside or 3rd-party contracts, some procure to pay software will provide OCR capabilities or extracting features that can scan any relevant data.
Contracts can be stored and prioritized based on their procurement needs, compliance needs, and ease of ongoing management. Ultimately this will help maximize the value of your contracts and ensure your suppliers stay happy as they continue to do business with you.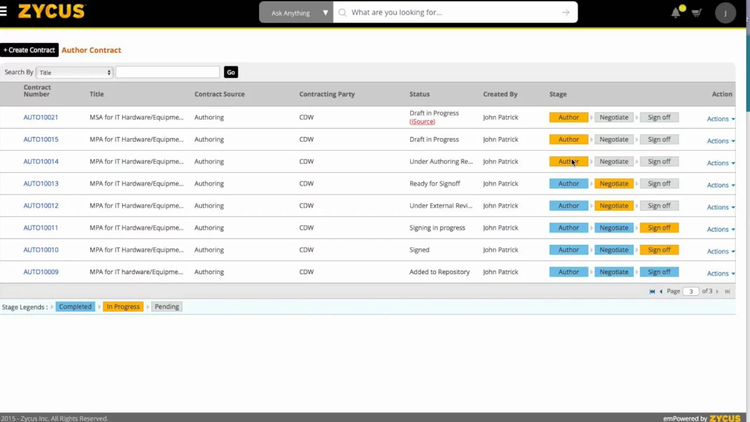 Control Budgets in Procure to Pay Software
Budgeting functionality within your procure to pay software helps you implement a proactive way to track expenses and invoices and overall manage your budget before your spend occurs. This prevents any reactive measures of using old historical data to make future budget decisions.
Budgets can be driven off many pieces of data and created for whatever department, project, or capital you are looking to drill down into. A budgeting and forecasting tool within a procure to pay software can create a full budget adjustments ledger. This ledger will show expense reports, non-PO invoices, and PO creation which gives you line-items details to know what has been approved towards your budget.
If the procure to pay software has an enhanced end-user shopping experience (complete with a shopping cart that employees/users can add items to), users can be given budgetary details directly in the shopping cart. Prior to any "checkout", users will be able to see how the purchase of these items may affect their budget.
Budgeting capabilities are built directly within procure to pay software to help give a sense of owning spend before it gets committed to a vendor. Employees and managers may think twice before submitting purchase requests if they can see the overall effect it could have on their project, department, or company's overall financial goals.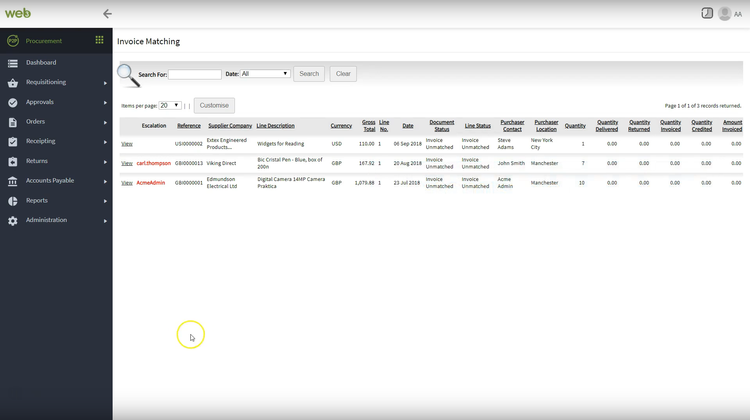 Invoicing in Procure to Pay Software
One of the quickest ways to streamline work in your accounts payable department is via improved cash flow via invoicing. Invoicing is a critical feature found in procure to pay software. Implementing invoicing capabilities via procure to pay software will help reduce paper invoices, reduce your cost-per-invoice, and improve working capital management.
Within procure to pay software, suppliers can send electronic invoices immediately. This capability is offered via a supplier portal, which lets a supplier receive an email and click a button to send an invoice, with no registration or sign up. These invoices can be handled automatically without the accounts payable department having to do any work at all, except for the occasional invoice approval.